1.
OK, here's my WHY FLYNN LIED thread.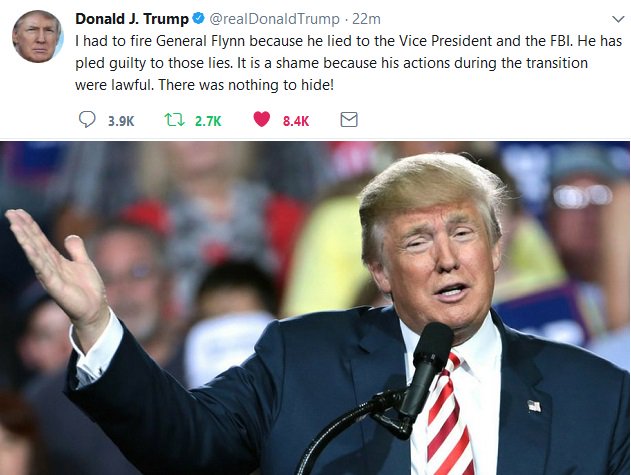 2.
First, you have to remember the frenzied and toxic media stew in January '17. Any contact with Russians was proof of collusion with Russians.
That was the media narrative.
3.
If you don't remember the media spin. You can't now fathom the reasons for decisions within that per-inauguration frenzy.
4.
After the election, and during the transition period, Michael Flynn was tasked with reaching out to -and communicating with- various foreign emissaries.
No big deal. It's part of his job. It's customary and each administration does it.
5.
However, after the entire 'Russian Conspiracy Theory' was pushed so hard by the media, there was angst and unusual political issues surrounding any contact with Russian emissaries.
6.
President-elect Trump expressed numerous times that the media's frenzied banter about Russia could/would/was having a negative impact on his pre-inaugural ability to establish stable contact with Russia.
7.
On December 29th, to further drive an antagonistic wedge, the Obama administration levied sanctions against Russia. Neither Obama, nor the media, cared what trouble that caused the incoming Trump admin.
8.
The primary focus was RUSSIA BAD. Russia was the reason Clinton Lost. Therefore anything Russia was horrible. Angry
#Resistance
emotions, not my president, directed toward Russia.
9.
However, amid (and despite) all this Russia frenzy, the administration still had to make some kind of a cursory relationship outreach toward Russia.
10.
That task was Michael Flynns'.
[Remember, there is no Sec of State confirmed yet etc.] Flynn has the job of contacting all nations, not just Russia - but Russia was the one every media was focused on 24/7.
11.
So on December 29th, sanctions day, Flynn spoke to Russian Ambassador Sergey Kislyak... Essentially, saying 'chill out, we'll get through this' etc.
12.
Of course, the hint of any contact between "transition Flynn" and Russia was immediately the subject of SCREAMS from the mob. Russia Bad. Bad Russia.
13.
Fast forward through two subsequent weeks of constant Bad Russia, Russia conspiracy, Russia is the end of the civilized world, Russia caused global warming, Russia hurt Hillary, Russia, Russia, Russia, etc.
14.
We arrive at Sunday January 15th. VP-Elect Mike Pence appears on Sunday talks to discuss political stuff and the Trump administration.
16.
What does Dickerson start off with?
Of course - The Vast Russian Hacking Election conspiracy: "did any advisor or anybody in the Trump campaign have any contact with the Russians who were trying to meddle in the election?"
cbsnews.com/news/face-the-…
17.
Amid the questioning, there is no distinction between *BEFORE* the election, and during the President-Elect transition period (ie. *AFTER* the election). It's just one long framed question about "contact" and "collusion" etc.
18.
And with that framework VP-Elect Pence says:
"Of course not. And I think to suggest that is to give credence to some of these bizarre rumors that have swirled around the candidacy."
cbsnews.com/news/face-the-…
19.
VP-Pence says "of course not", ie NO CONTACT. In doing so, and without pointing out the transition team would have ordinary and customary contact, Pence has now painted Flynn into a corner.
20.
Flynn has had contact (ordinary and appropriate contact), but VP-Elect Pence gave an emphatic: "Of course not."
21.
Flynn talked to Kislyak December 29th, 2016
The Pence statement was Sunday January 15th, 2017
Inauguration Day was Friday January 20th, 2017
Flynn was questioned by FBI Tuesday January 24th,
23.
At the time of the interview the media cycle was filled with intelligence leaks.
During that interview Flynn had two options:
Option #1) tell investigators he did have conversations with Kislyak in December - and as a consequence contradict VP Pence.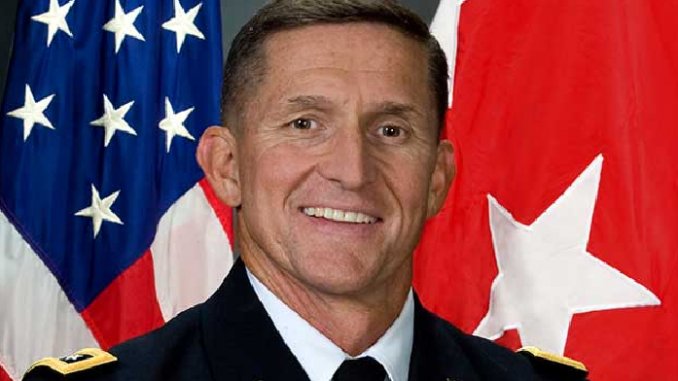 24.
Option #2) tell investigators he did not have conversations with the Russians (Kislyak) and align with VP Pence statement a week prior.
Option #1 puts the criticism and Russia story on VP Pence for lying to CBS. (He didn't, because the question was vague on timing but that didn't matter amid the frenzy) and as an outcome weaken the incoming administration 4 days after inauguration.
26.
Option #2 puts himself at risk; but protects VP Pence and avoids the immediacy of a narrative against the White House and new administration.
27.
Likely Flynn knew the FBI was up to no good because they probably already knew the answer to the question (wiretapping). But these decisions were about politics amid the frenzied media swarm. The downstream shit-storm on Pence would have been brutal.
28.
The very next day, Wed Jan 25th, Sally Yates (DOJ) gets an after action report on the FBI questioning of Flynn.
29.
Thursday Morning Jan 26th, Yates calls WH Counsel Don McGahn to tell him she had a "very sensitive matter" to discuss.
30.
Thur Afternoon, Jan 26th, Sally Yates traveled to the White House along with a senior member of the DOJ's National Security Division, Bill Priestap, who was overseeing "the matter".
31.
Yates said she began their meeting by laying out the media accounts and media statements made by Vice President Mike Pence and other high-ranking White House officials about General Flynn's activity "that we knew not to be the truth."
32.
According to Sally Yates testimony, she and Bill Priestap reportedly presented all the information to McGahn so the White House could take action that they deemed appropriate. When asked by McGahn if Flynn should be fired, Yates answered, "that really wasn't our call."
33.
Yates also said her decision to notify the White House counsel had been discussed "at great length."
According to her testimony: "Certainly leading up to our notification on the 26th, it was a topic of a whole lot of discussion in DOJ and w/ other members of intel community."
34.
Friday January 27th, 2017 – (morning) White House Counsel Don McGahn called Yates in the morning and asked if she could come back to his office.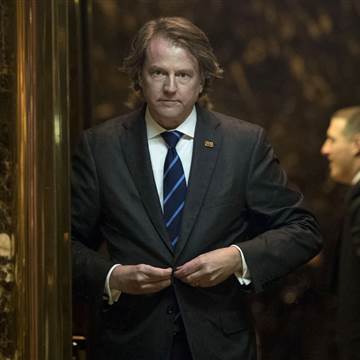 35.
Same day, Friday January 27th, 2017 – (late afternoon) According to her testimony, Sally Yates returned to the White House late that afternoon. One of McGahn's topics discussed was whether Flynn could be prosecuted for his conduct.
36.
Specifically, according to Yates, one of the questions McGahn asked Yates was, "Why does it matter to DOJ if one White House official lies to another?" She explained that it "was a whole lot more than that," and reviewed the same issues outlined the prior day.
37.
Note the presumption here is that Flynn had lied to VP Pence. However, there is nothing to indicate that angle/aspect is or was actually correct. Specifically, there is ample evidence the 'lie to Pence', evolved from a storyline -driven by necessity- to save face for Pence.
38.
The administration was now boxed in. Flynn lied to protect Pence's political posture/integrity/position, (ie. Military Leadership Training 101: never compromise your leadership), but was now confronted by Sally Yates. FUBAR!!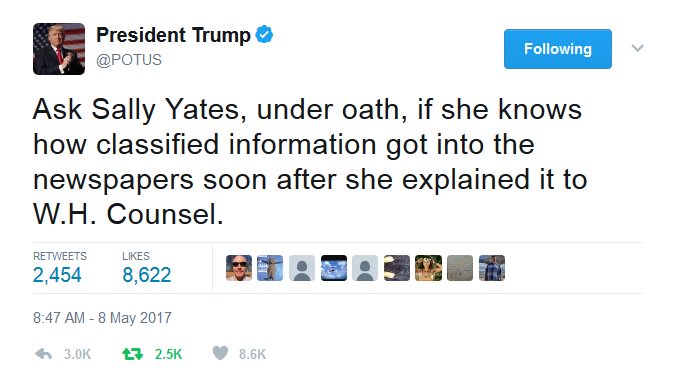 39.
Coincidentally, that same day Friday January 27th, 2017 – (evening) In what appears to be only a few hours later, President Trump is having dinner with FBI Director James Comey where President Trump asked if *he* was under investigation.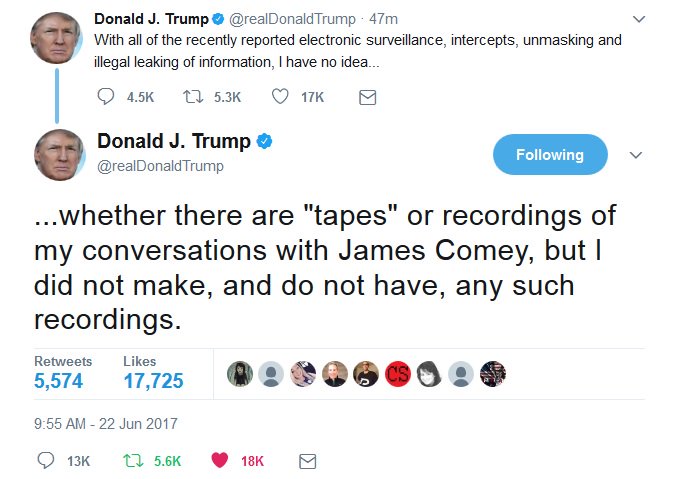 40.
And that's the story that explains THIS:
*The End*