1.
You can see how the Dems and the media are trying to clear the deck of their sexually perverted perps in order for them to launch a massive assault on Trump.
washingtonpost.com/powerpost/why-…
2.
The charges will all be along the "Trump is a pig" style of argument with more women coming forward making claims. Very likely Gloria Allred will be front and center representing them. All very orchestrated. All very neatly presented.
tmz.com/2017/12/05/don…
3.
They have been trying set the stage for a while - the only problem for them is that they keep finding more and more sexually perverted perps in the Dem party and the media!!
4.
Expect the next wave of attacks to happen just as the Tax Cut Bill is getting ready for the final votes after it comes out of conference committee. The DC establishment CANNOT have Trump win anything legislatively.
5.
Since the media has been shown so many times to be
#FakeNews
they will be hard pressed to make their attacks stick. However, they have no choice - this type of attack is the only way they know how to operate.
6.
We all know that Trump will not let any attack go without counter punching...HARD.
Trump is smart but more importantly, he's street smart. He will have anticipated this battle and have his counter-attack ready. After all, if we can see it coming he most certainly can.
7.
What will his counter attack be? I'm sure it will be multi-faceted and it will be audacious.
8.
Just like when he brought in Kathleen Willey, Juanita Broderick, Paula Jones and Kathleen Shelton before the 2nd Presidential Debate to counter the Access Hollywood tape that NBC used as an October surprise.
beta.latimes.com/nation/politic…
9.
I think this next counter punch will be even bigger and more audacious than anything we've seen before.
10.
After all, the US economy is humming, Trump is keeping his promises (with the latest being moving the US embassy to Jerusalem) and he has not turned into a DC swamp creature or closet liberal like so many so-called Conservatives have been predicting.
bbc.com/news/world-us-…
11.
Trump is on pretty solid ground with the "normal" people in America even though the media tries its best to make it look like Trump is teetering on the brink of the abyss.
drive.google.com/file/d/1ntB6NG…
12.
So what could some of these counter-punches be? Remember, Trump knows these people. He was a big star in media circles for years.
13.
He attended that roast where Matt Lauer showed everyone what kind of reprobate he is and everyone else who was there, like Matt Zucker, are now claiming they are so "shocked" by Lauer's actions.
foxnews.com/entertainment/…
14.
- Trump could come out with painful facts on major media antagonists. He's already fired a shot across the bow of Joe Scarborough.
16.
- Trump could announce indictments against the Clinton Foundation for money laundering and other charges.
- Trump could announce the indictments of Hillary and the Podesta brothers for the Uranium One scandal.
nytimes.com/2015/04/24/us/…
17.
Trump could do any combination of the above and probably many other things that I have not even thought of.
18.
The point is that whatever is thrown at him will not stick since the "normals" in America will not abandon Trump. The attacks will quickly devolve once the light of day is shown upon them just like all the other attacks against Trump have.
19.
And when Trump hits back this time it will be with the biggest sledge hammer we have yet seen. He has had a year to set the battlefield. His administration has had the time to find the leakers (notice how few leaks there are now compared to earlier this year?).
20.
Jeff Sessions has reigned in the DoJ and Chris Wray is the polar opposite of James Comey at the FBI.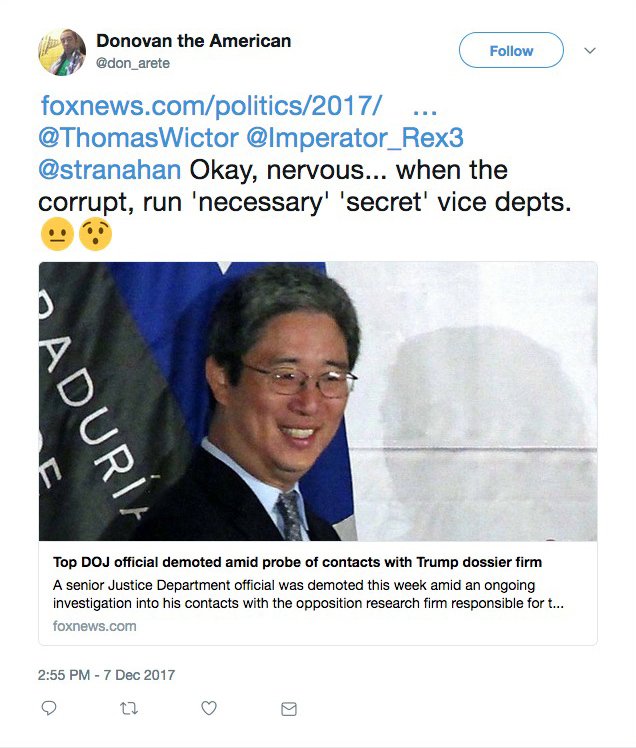 21.
The time is set. It will be wild. It will be "bloody". It cannot be avoided.
But after Trump wins this battle, it will go a long way to truly draining the
#Swamp
.
End.