(THREAD) An August Washington Post report contains evidence Trump's campaign knew as early as early as May 2016 that the Russians wanted to negotiate U.S. policy with Trump, the campaign *knew* such negotiations were illegal, and it conducted them anyway.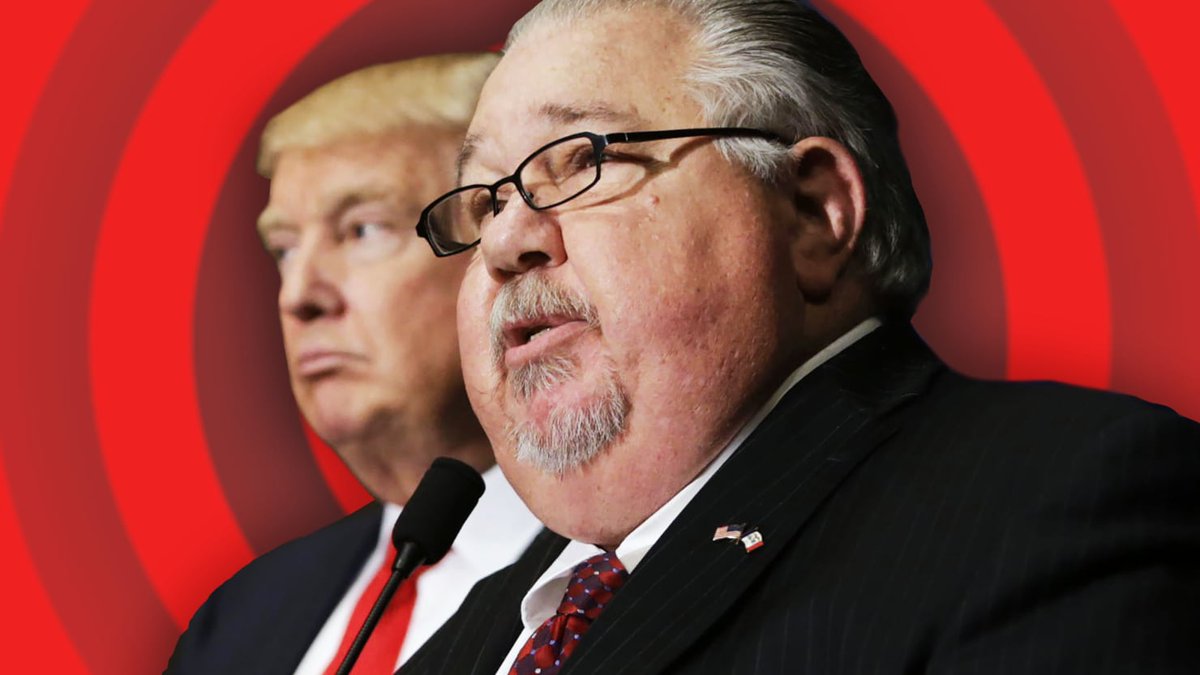 1/
In August 2017, The Washington Post published an explosive report about contacts between the Russians and top Trump NatSec advisor George Papadopoulos, who later pleaded guilty to a federal crime.
But hidden in that story is another story just as big.
washingtonpost.com/politics/trump…
2/
WP detailed a flurry of emails among top Trump campaign officials about the Russia-Papadopoulos contacts. The most significant one—little noticed in media coverage at the time—was from Trump National Co-Chair Sam Clovis to Trump's NatSec team and top Trump aides.
An excerpt:

3/
No one ever asked the logical question: what statute was Clovis referring to that could be violated by a private citizen meeting with an official from a foreign government? Republicans always say such contacts between private citizens and foreign officials happen all the time.
4/
Republicans are right: private citizens meet with foreign officials often, and it's not illegal.
But Clovis was clearly worried about a situation in which a private citizen meets a foreign official and it *is* illegal. What law can make such contact illegal?
The Logan Act.
5/
As I discuss at the link below, The Logan Act prohibits not *contact* between private citizens and agents of a foreign government, but *negotiation* on a subject of *inter-governmental dispute*. Like—say—sanctions on Russia for its annexation of Crimea.
6/
So when Clovis received an email from known Kremlin agent Timofeev, he warned Trump's NatSec team and top Trump aides that a private citizen meeting with Timofeev under the circumstances then extant could be severely problematic. Why? Because he knew Putin wanted to negotiate.
7/
Clovis wasn't *guessing* Putin wanted to negotiate sanctions with Trump. Kushner spoke in April to the Russian ambassador by phone; two Russian agents—Papadopoulos and Burt—helped write Trump's first foreign policy speech, in which he promised Putin a "good deal" on sanctions.
8/
Papadopoulos had met repeatedly with Russian agents, and of course Trump, Sessions, Kushner, Manafort, Miller, Don Jr., and other top Trump aides had hosted the Russian ambassador during a "VIP cocktail hour" at the Mayflower Hotel prior to Trump's infamous "Mayflower Speech."
9/
So Republicans now allege that the Logan Act is irrelevant—and was only obsessed over by the Obama DOJ post-election—but here we have Trump's *National Co-Chair* obsessing over the *exact same criminal statute* (and it is a criminal statute) in early May '16. This is stunning.
10/
But even *more* stunning is the two decisions that the recipients of Clovis' email—Trump's NatSec team and his top policy aides—made *after* Clovis warned them that negotiating U.S. policy as private citizens could violate (he said without citing it explicitly) The Logan Act.
11/
First, Trump assigned Sessions to lead the sanctions negotiations—because Sessions, as he'd later repeatedly—now suspiciously—declaim, could credibly say he was "acting in his capacity as a Senator." He met Kislyak to talk sanctions at the RNC, and again in his Senate office.
12/
Sessions is clear that sanctions came up both at the RNC and in his Senate office, though of course he was only clear about it after lying about it repeatedly under oath—suggesting he didn't *want* to use his "Senate capacity" excuse. Why? Because he knew it was just a ruse.
13/
Sessions *ran* Trump's NatSec team, so there's no reason to think he wasn't sent Clovis' email either directly or indirectly. It would be astounding if Sessions were kept out of the loop on this—and even if Clovis had tried to do so, that effort would have failed before long.
14/
But it's now clear that the Trump team had a *second* plan to—*quite consciously*—circumvent The Logan Act during the 2016 campaign: besides using campaign members who could credibly claim "non-private citizen" status, Trump would send private citizens overseas to negotiate.
15/
Just *days* after Clovis sent his email, George Papadopoulos would travel to Greece on what Greek media would later describe as a reconnaissance mission to develop high-level Greek contacts. This trip was plausibly "private" because Papadopoulos was born to Greek immigrants.
16/
Moreover, Papadopoulos has family in Greece (an uncle and other relatives) and was active enough in the Greek-American community in Chicago that a pilgrimage to Greece was non-suspicious.
That is, it *would've* been non-suspicious if he hadn't returned a second time in May.
17/
Papadopoulos scheduled his second trip to Greece for the week Putin would be in Athens—the Russian president's *only* trip to an EU nation during the campaign, and, per Russian media, a trip explicitly taken to (wait for it) negotiate sanctions relief.
18/
Papadopoulos' wife-to-be recently gave an interview to ABC News in which she said that *all* his foreign travel was authorized by the Trump campaign.
This is confirmed by trips of his (e.g. to Moscow in late Summer 2016) we know the campaign forbade.
abcnews.go.com/Politics/georg…
19/
While in Greece, Papadopoulos met with many of the same people Vladimir Putin did—most notably Putin pal Panos Kammenos, the Greek Defense Minister and an outspoken opponent of sanctions against Russia. Kammenos is still one of the only people Papadopoulos follows on Twitter.
20/
Even without knowing if Papadopoulos met with Putin or his agents in Greece—though given his trip was made, per Greek media, in "secret" and "incognito," and given what we know about Papadopoulos he almost certainly tried to get such a meeting—these were foreign negotiations.
21/
So when Mueller implied that there were *other* charges that could've been brought against Papadopoulos that weren't, The Logan Act is a very likely one (as is Conspiracy to Commit Computer Crimes, if he helped Trump's campaign use Russian intel about stolen Clinton emails).
22/
Who else went abroad for the campaign under cover of private business? Carter Page, who also received the campaign's blessing for his trip and admits to talking sanctions with both Kremlin officials and Rosneft executives. Like Papadopoulos, he would've gotten Clovis' email.
23/
Remember how Trump went berserk on Twitter when Brian Ross (ABC) wrote that, per a Flynn confidant, Trump ordered Logan Act violations *during the campaign* and not just during the transition? Well, guess what—retracted or not, that part of Ross's report is looking *correct*.
24/
Who had authority to overrule Trump's National Co-Chair, when he implied the Logan Act was an obstacle to negotiating with Russia? Who was above him in the campaign hierarchy? How many people? And how many of them could've ordered Logan Act violations without Trump's say-so?
25/
Trump himself has said that he *would* have been willing to order Flynn to violate the Logan Act in December 2016, though he didn't (the latter a claim which the Flynn confidant quoted by ABC News says is a *lie*—and *that* part of the ABC News story wasn't *ever* retracted).
26/
So it appears Trump's top campaign officials were aware of The Logan Act as of May 4, 2016; knew that it was implicated because Russia wanted to not just talk but *negotiate* on sanctions; deliberately devised multiple work-arounds that were still illegal; then lied about it.
27/
Will someone who (like me) was or is a criminal attorney explain how in the *world* that's not a criminal conspiracy and therefore—to use the lay term for all this—"collusion"?
And didn't Trump acknowledge that it would be by going berserk over Brian Ross's ABC News report?
28/
Clovis testified before a grand jury, which means Mueller has asked him these questions. If asked what legal considerations he was referring to in his May 2016 email, Clovis would have to say The Logan Act. So the only question is whether the campaign authorized negotiations.
29/
If you look at Trump campaign lies—Sessions about Kislyak; Page about Moscow; Papadopoulos about Mifsud; Don about Veselnitskaya—what does *every single one* have in common? They're all attempts to hide the fact that the campaign was negotiating sanctions with Kremlin agents.
30/
So not only—as I've alleged before—did these negotiations happen after the Trump campaign knew about Russian crimes—making them illegal—they *also* knew the mere *act* of negotiating was illegal under the Logan Act. And they conspired to do it anyway. Which is collusion. /end