1)
Inspector General Friday Night Surprise!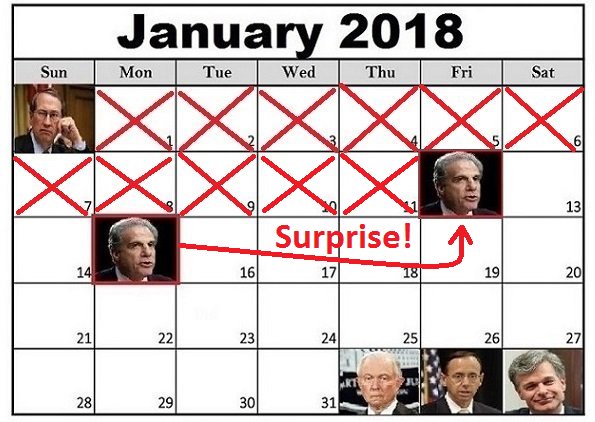 2)
At 5:56pm Capitol Hill Reporter Chad Pergram tweeted this out.
(He does not identify the original source of the documents)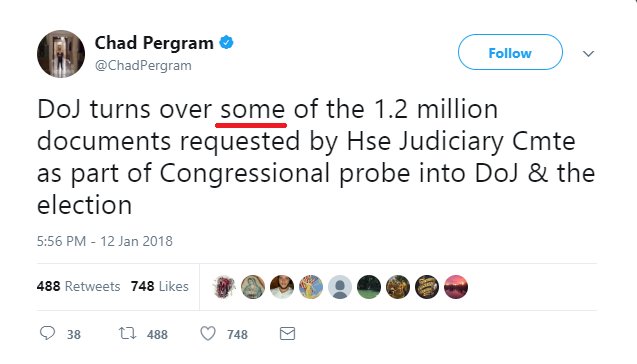 3)
At 2:45 pm on December 13th, 2017 (during the Rosenstein hearing) I tweeted this.
4)
That was when we were tipped off as to when the IG was going to BEGIN releasing information. It is important to note that Goodlatte tells us he is getting the information from Boyd.
5)
Stephen Boyd is Department of Justice Assistant Attorney General for Legislative Affairs. He is the liaison between the DOJ and Congress. He is a Trump appointee that replaced Podesta's buddy Peter Kadzik.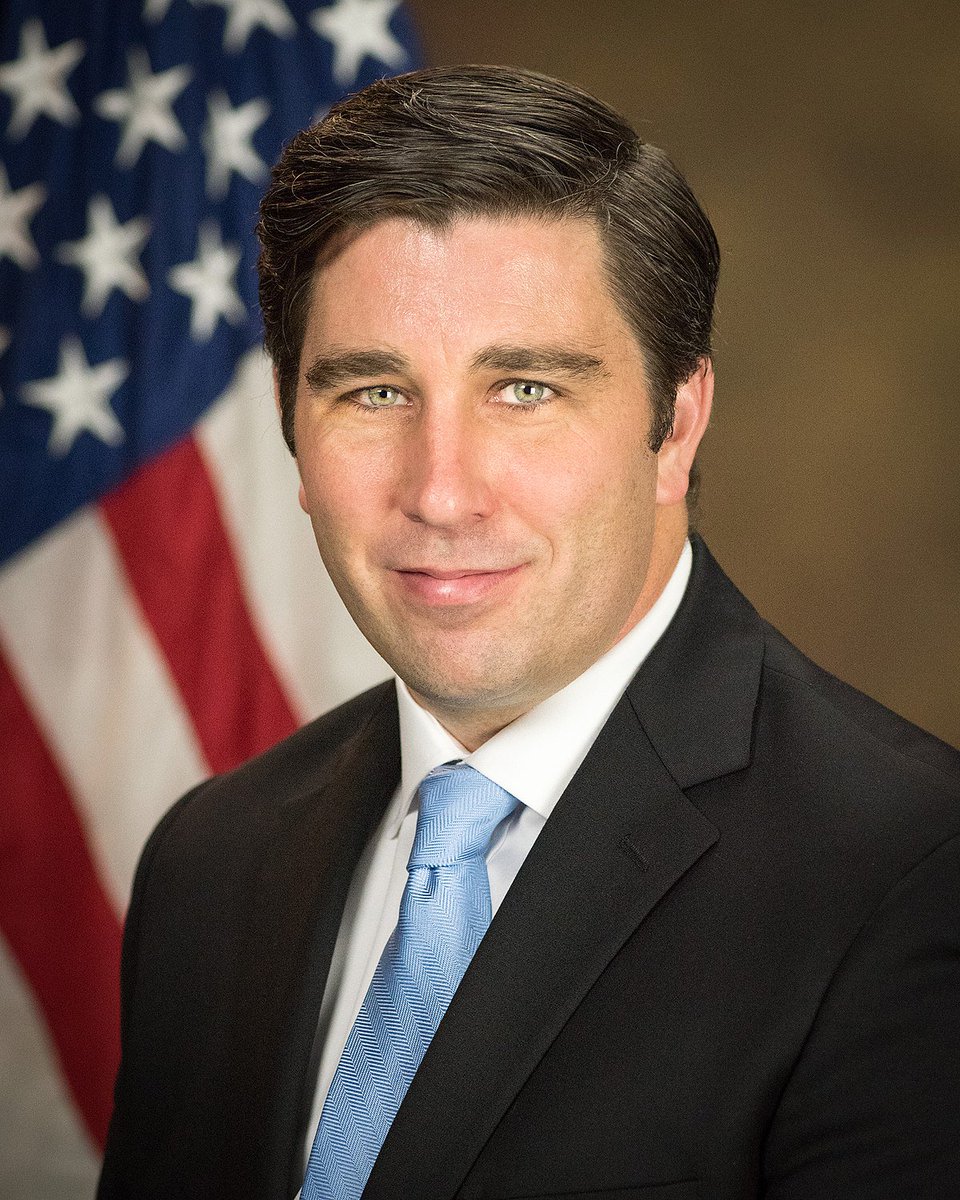 6)
It is always important to pay attention to the specifics:
"We sent a letter asking for certain information and commitments (this is the SOME that Chad mentioned) "to pursue the investigation that this committee is pursing."
7)
Those specifics generate two important questions.
What letter?
What investigation?
By answering these questions we can identify what the House Judiciary Committee received from Boyd today.
8)
There have been multiple letters from Goodlatte to the DOJ. Here is the list as of July 21st, 2017 (pgs 5-6)
judiciary.house.gov/wp-content/upl…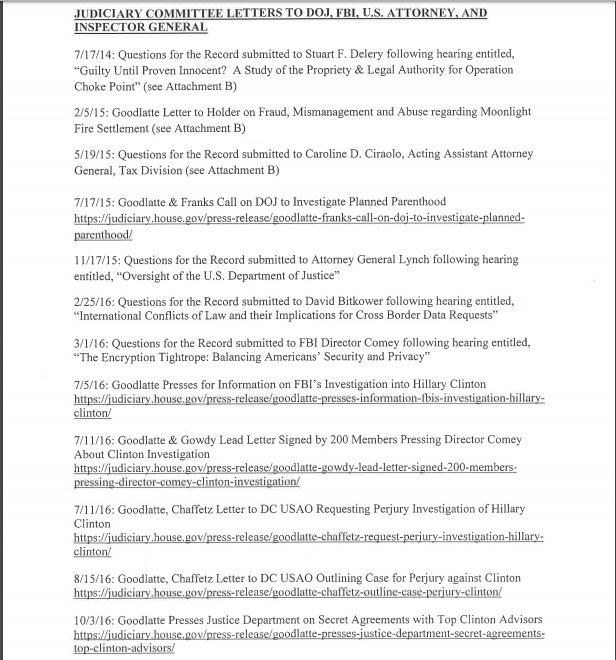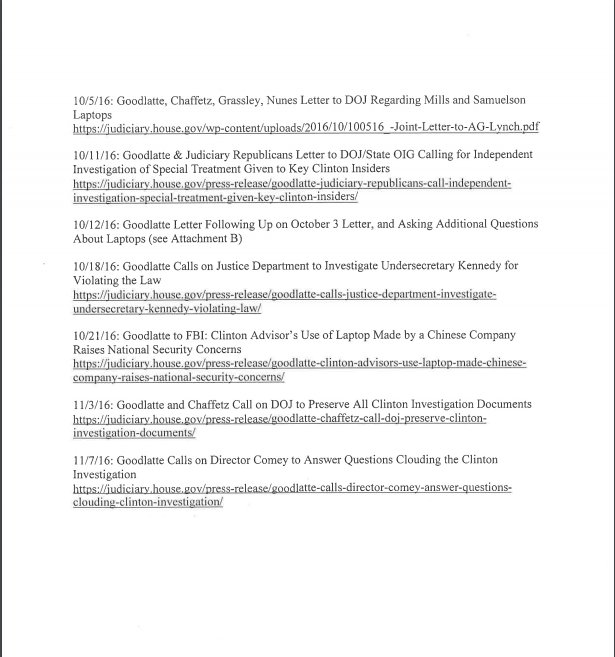 9)
Here is the letter from July 27th, 2017. This is the KEY LETTER.
It demands a Special Counsel and outlines Goodlatte's investigation.
The letters before it (in the above list) are the precursors. The ones after the add-ons.
PDF>
judiciary.house.gov/wp-content/upl…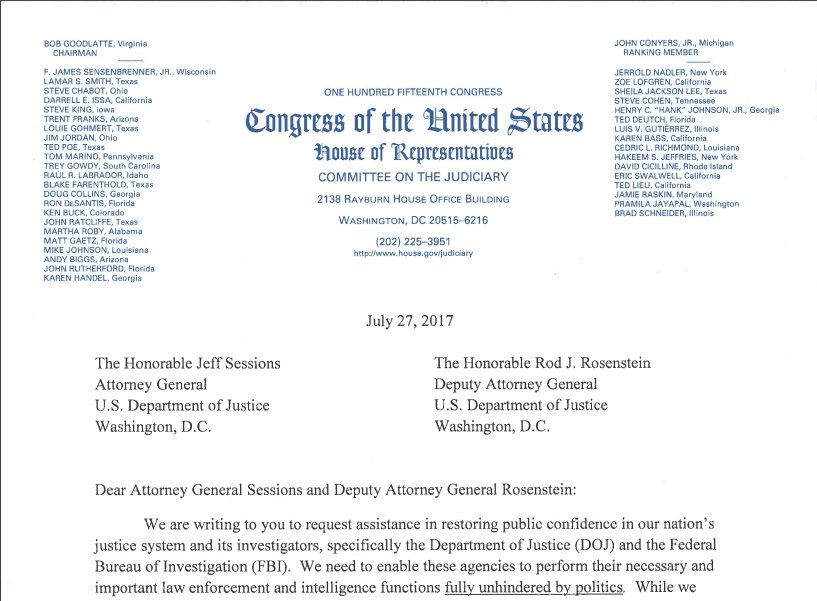 10)
In the July 27th, 2017 letter Goodlatte demands a Special Counsel and demands answer to these 14 questions. This is the "certain information" that he wants from the DOJ. READ pages 4 and 5>>>
judiciary.house.gov/wp-content/upl…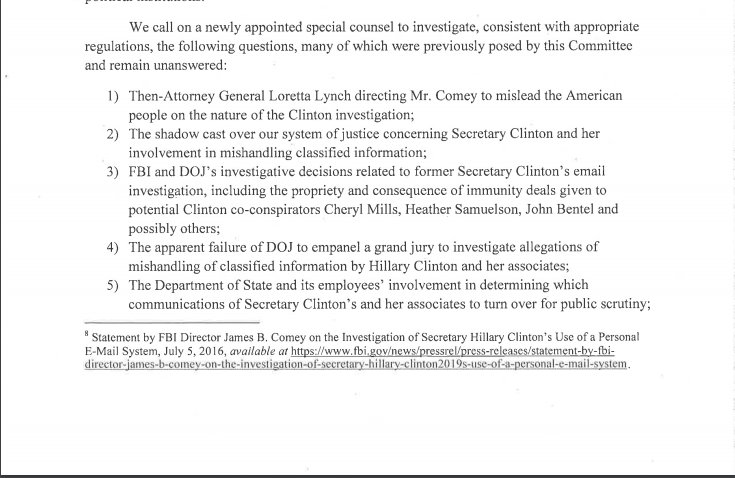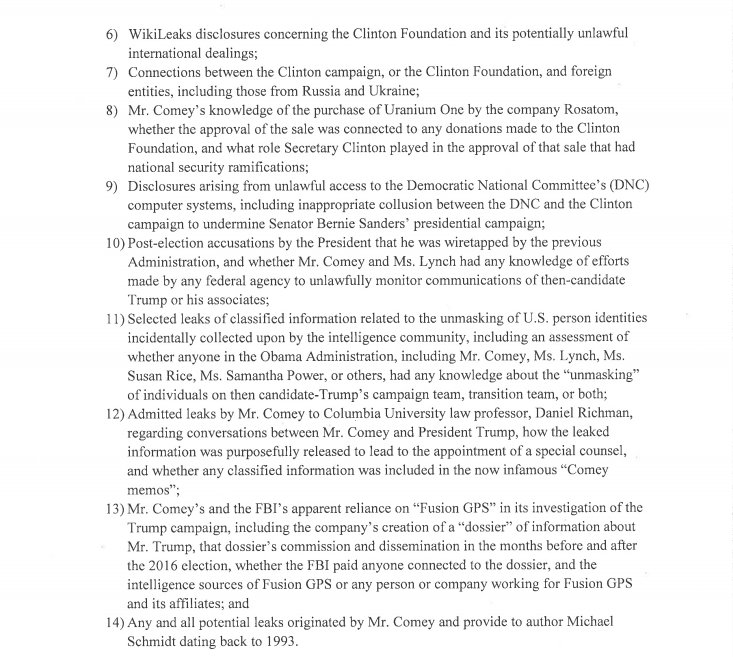 11)
On November 13th, 2017 Stephen Boyd responds to Goodlatte informing him that he sent the July 27th letter to the Inspector General.
politico.com/f/?id=0000015f…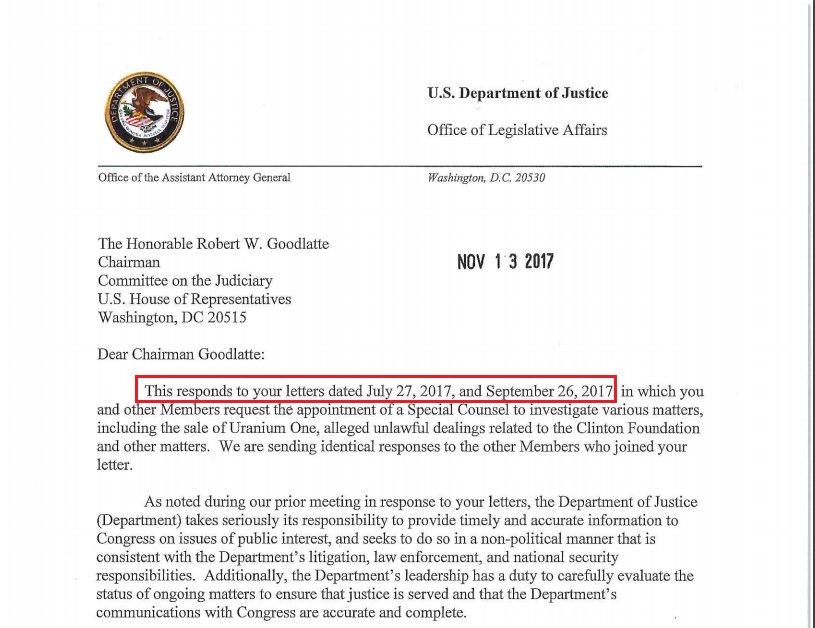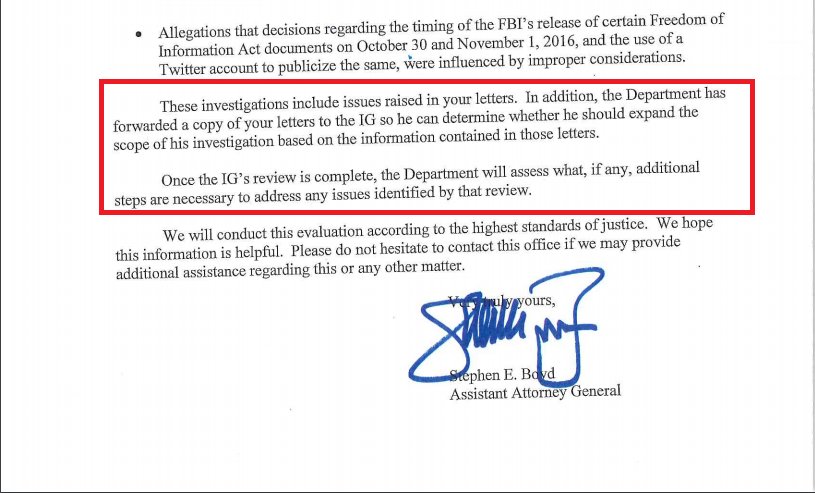 12)
Important to note that Goodlatte will be getting the information from Boyd. That tells us that the DOJ gets the information first.
13)
Which brings us to this action by the DOJ today.
Former President of Maryland-Based Transportation Company Indicted on 11 Counts Related to Foreign Bribery, Fraud and Money Laundering Scheme
justice.gov/opa/pr/former-…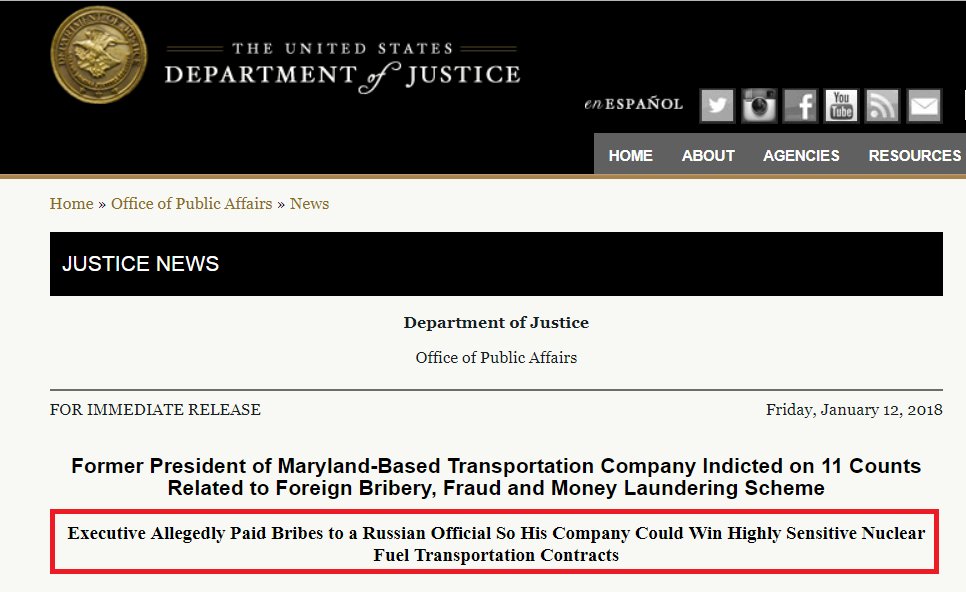 14)
It is unclear when the finalized report will be released. What is clear is that SELECT information from that report is going to the DOJ and Congress (Goodlatte and Nunes) and both entities are reacting to it.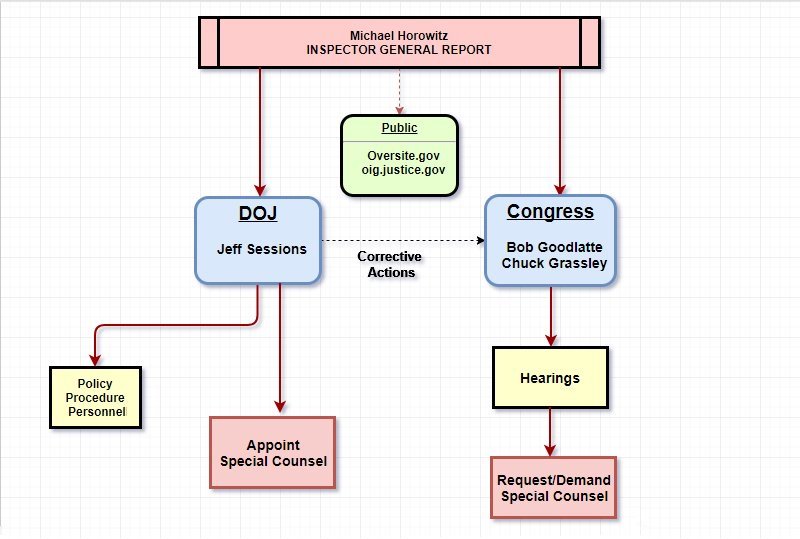 15)
The timing of public release with regards to the January 12th, 2018 release to Congress is unclear. Pubic release of information will be determined solely by Inspector General Michael E. Horowitz.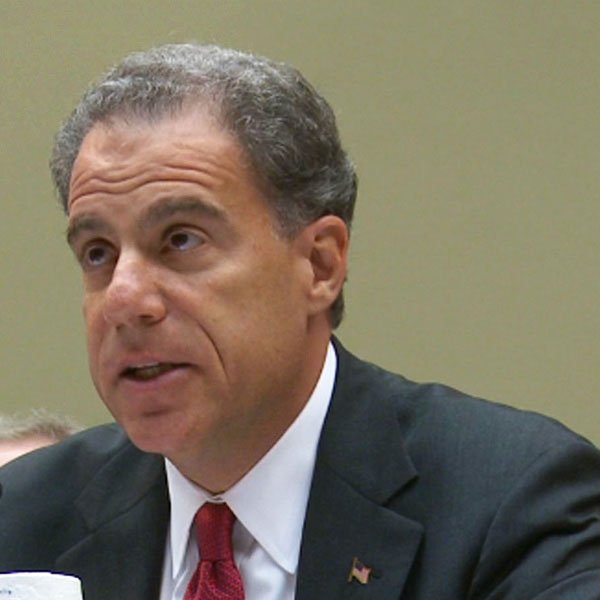 16)
We are at the stage where the control of evidence is critical so we must be patient with regards to public information from the IG.
17)
We are not without recourse. We can monitor the public actions of the DOJ and Congress. They will tell us by their PUBLIC actions what is coming.
18)
For entertainment purposes we get to also watch people like Chad and the media play catch up. What they say does not matter. All that matters are the actions of Congress and the DOJ. Actions that will make a Special Counsel to investigate the Department of Justice inevitable.
19)
The DOJ does not need a special counsel to re-open the Clinton Email Investigation. What they do need is the ever important independent and politically neutral justification that the IG provides.
20)
Rescinding immunity agreements and re-opening investigations can be handled without a special counsel. Any findings that require the DOJ to investigate itself (
#SteeleDossier
) will have to be handled by a SC.
21)
Focus on these Congressional Committees and their Chairmen:
House Judiciary Committee: Bob Goodlatte
Senate Judiciary Committee: Chuck Grassley
House Select Committee on Intelligence: Devin Nunes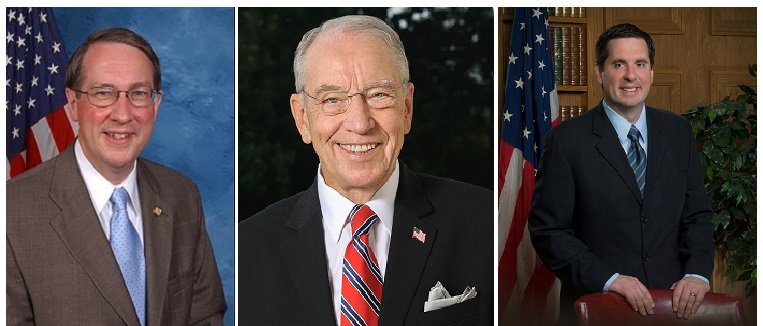 22)
Keep an eye on the DOJ/FBI and how they respond to the action. At times they will appear at odds with Congress, but make no mistake about it, they are working together and their actions will line up.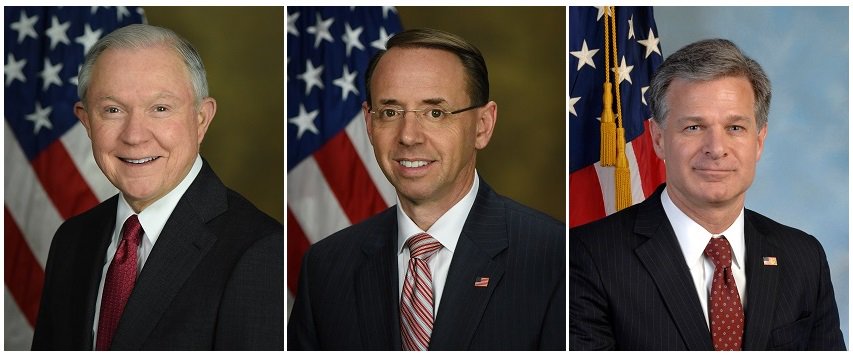 23)
For those that are paranoid about the DOJ/FBI leadership and want to view them as an adversary that is fine. IT WILL MAKE NO DIFFERENCE. Even if they were opposed to cleaning up (which they are not) they are between a rock (IG) and a hard place (Congress) and will comply.
24)
Lastly, for amusement pay attention to the targets of the investigations and their surrogates in both the media and Congress. They will attack, distort, distract, and flail about in panic. Do not worry about them. They are powerless and along for the ride. ALL OF THEM.
25)
Sit back, relax, and enjoy the show.
Addendum: If you are late to the game open this thread. Within it are additional threads regarding the Inspector General.