Thread. This Manafort story from
@FranklinFoer
is jaw-dropping. It provides essential context and makes Manafort's whole involvement with the campaign even more suspicious. Manafort is suicidal in 2015 – yet a year later he's volunteered to be on the Trump campaign…1/
First the context, post Maidan revolution in Ukraine in 2014, puts Manafort into financial tailspin. He loses his top patron when Yanukovych govt falls. He owes Kremlin oligarch Oleg Deripaska $18.9M. And can't access offshore Cyprus money b/c FBI investigating him.
2/
He is so hurt for money he is line-iteming his daughter's wedding, "scaling back the menu to hot dogs and eliminated a line item for ice."
3/
Manafort's family also finds out about an affair he is having. So he has no money, owes millions to mob-tied oligarch, FBI after him, can't get clients… so he is suicidal and in a clinic in Arizona. His daughter says "he is in the middle of a massive emotional breakdown."
4/
So the question is how does Manafort go from that terrible state to running the Trump campaign a year later?
5/
In Sept. the WSJ reported that US has signals intelligence that Manafort met w/ "Russian operatives" 6/
wsj.com/articles/u-s-m…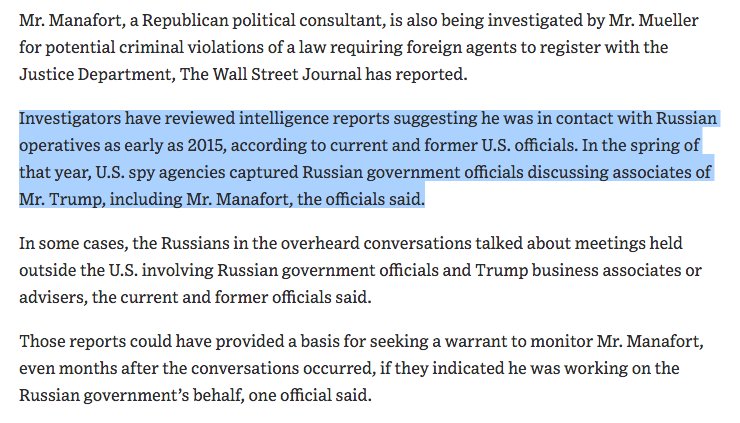 What is confusing about WSJ wording is that it says "In the spring of that year (2015), U.S. spy agencies captured Russian government officials discussing ASSOCIATES of Mr. Trump, including Mr. Manafort, the officials said." But Manafort IS NOT a Trump Associate in 2015.
7/
Manafort has met Trump before, he is close to Roger Stone and Tom Barrack, and has a "pied-à-terre" in Trump Tower. But calling him a Trump associate in 2015 a real stretch. Especially when Manafort needs Stone and Barrack to connect him to campaign and to Trump in 2016.
8/
This matters b/c why w/d the Russians be discussing and therefore linking Trump and Manafort in 2015?
9/
So when Manafort joins campaign he: 1. Is in debt to the Kremlin oligarch 2. US intel has SIGINT of Russians talking about him in context of Trump 3. Has broader cash problem. 4. Volunteers for the campaign ...
10/
Needless to say, this is all incredibly suspicious, especially when we all now know there is a vast Russian campaign to influence the 2016 election. 11/11
theatlantic.com/magazine/archi…
One point I left out... Manafort has also been out of the game for decade+. His friends all think him joining a campaign is a bad idea b/c it will sign a spotlight on his shadiness.