***THREAD***

Question: Why did the FBI announce the reopening of Hillary's email probe and issue its FIRST search warrant when her emails were discovered on Weiner's laptop?
First, the fact that the FBI conducted an "investigation" involving computer servers, dozens of cell phones (smashed, SIM cards removed), and contradictory witness testimony for 12 months without getting a search warrant already screams "the fix was in"
The question is – if they went a full year with people smashing cell phones, bleaching hard drives, and removing SIM Cards without getting a search warrant, why would they get one 8 days before the election? Suspicious.
Even more suspicious – the search warrant was probably invalid because it didn't even establish probable cause. So now a warrant was suddenly so necessary they had to bend the rules to get it?
politico.com/story/2016/12/…
Why flimsy? Under 4th Amend, search warrants require evidence of (i) probable cause that a CRIME occurred and evidence of said CRIME exists at the location, or (ii) probable cause that illegally possessed contraband (drugs, etc) exists at the location.
Stop & think - Comey publicly exonerated Hillary on July 5th and said she committed no crime. Then in October they find Hillary emails on Weiner's laptop and he tells an FBI Agent, "so, ya, I need you to submit a search warrant application and argue a crime was committed."
Imagine being that FBI agent? He now has to draft an affidavit showing probable cause to search for evidence of a crime, 3 months after the FBI Director told everyone no crime was committed.
Pg 5 of PDF is a boilerplate Warrant Application form with a checklist of 4 potential bases for probable cause. "Evidence of a crime" and "contraband, fruits of a crime, or other items illegally possessed" are checked off (can't remove "crime" from boilerplate form, sadly)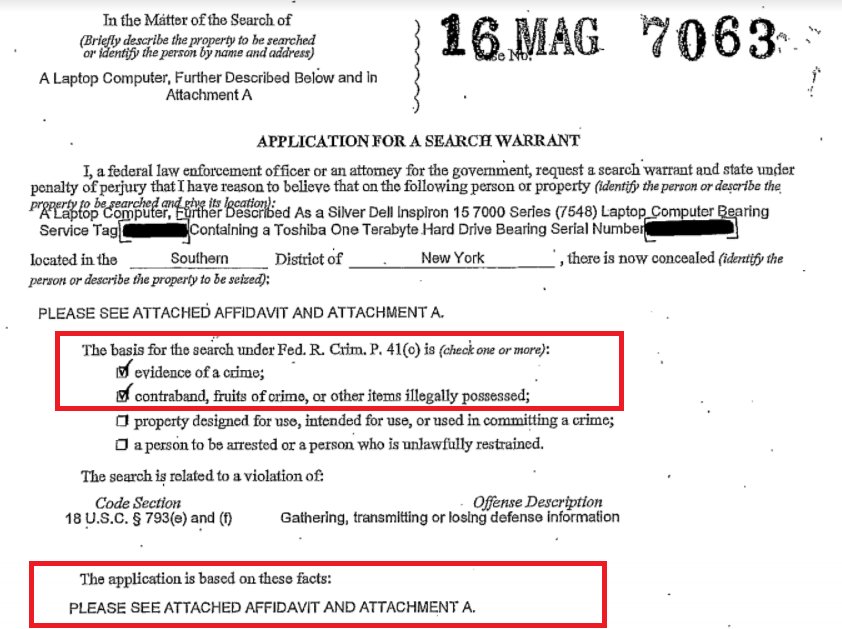 But for (i) a description of the laptop to be searched and (ii) the facts that the application is based on, the FBI Agent refers to "Attachment A", a supplemental document he drafted.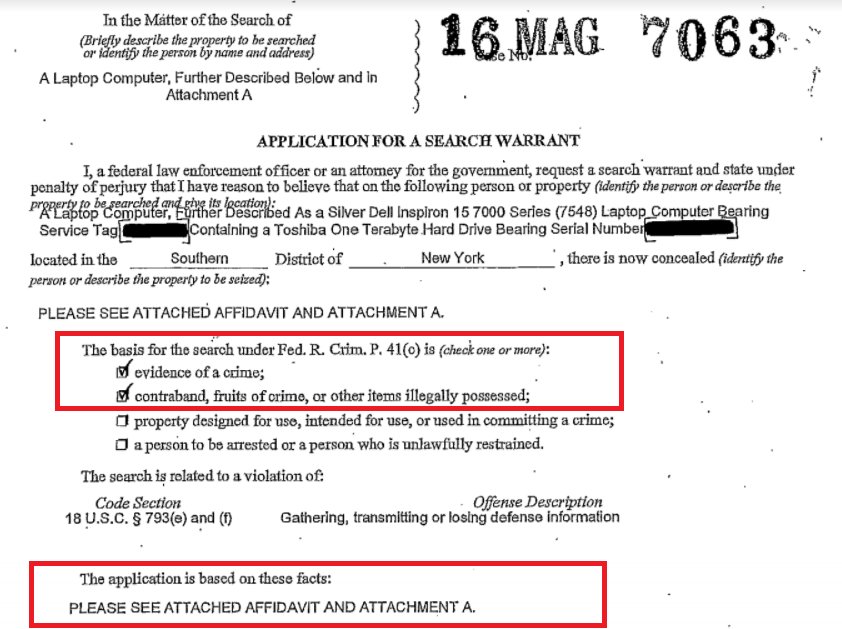 The custom-drafted Attachment A avoids using the word "crime" a single time.
Specifically, the drafter conveniently synthesized "evidence of a crime" and "contraband, fruits of crime, or other items illegally possessed" from the statute/boilerplate application to "evidence, contraband, fruits, and/or other items illegally possessed.."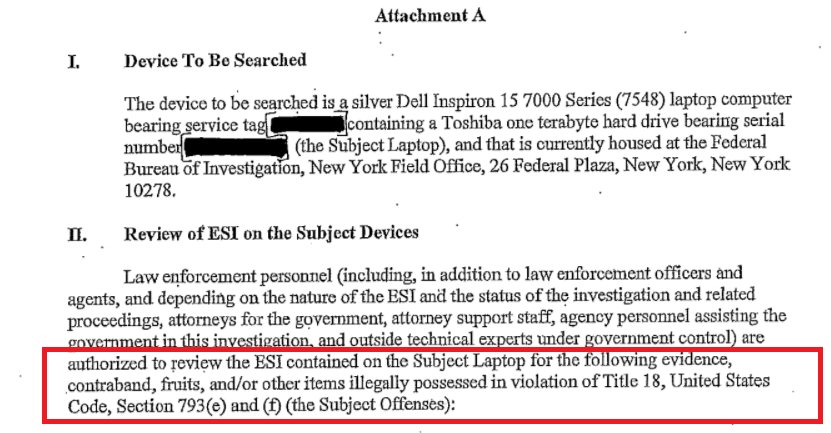 Technically, it still says "in violation of" the Espionage Statute…but some might call that a "matter". (Narrative matters, they tell us, and not calling it a crime is the narrative)
Par 2 does say it "relates to a criminal investigation". But that's the only reference to a crime. Sections 10-17 state statutes, regulations and procedures that could "theoretically" be violated. (But ya know, we're not saying any were)
Section 19 starts Probable Cause for Search section. This is normally where the attorney/agent describes the crime that was committed & why the search is necessary to prove it.
Look at Sections 19 – 27. Zero mention of a crime. Instead, here's what they do: Secs 19-25 outline the FBI's email probe and relay the stats of how many emails she had on the server and how many were classified. But no mention of a crime.
drive.google.com/file/d/0B9k2AK…
Sec 26 is where the agent explains probable cause. Surely he'll explain the crime they're searching for evidence of to justify issuing the warrant.
Nope. What probably cause did they have? Not for a crime, but cause "to believe the laptop contains emails between Clinton & Abedin containing classified info which is owned by the govt." Not emails "evidencing a crime". Just "owned by the govt".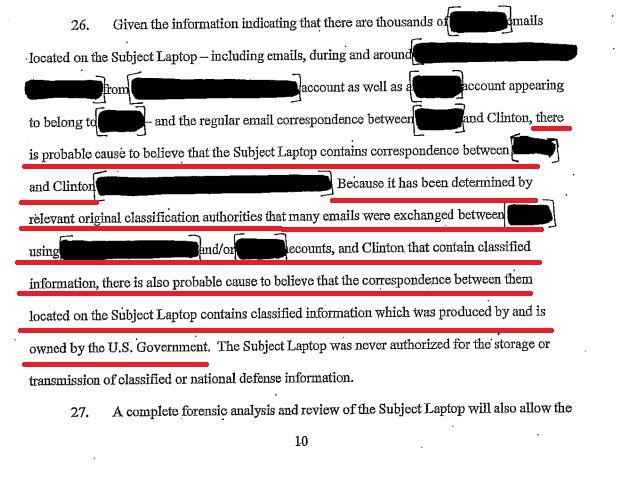 That's not probable cause, folks. Why? The emails aren't "contraband", which is why they don't even argue that. And the Agent couldn't say a crime was committed, because they already cleared Hillary.
You can't establish probably cause without referencing a crime, and this affidavit went out of its way to avoid saying a crime was committed. Having docs owned by the govt isn't prob cause to search your house.
Perhaps you can concoct a cockamamie new argument for this, but…after a year of no warrants the FBI decides to go out on a limb with a novel theory of probable cause?
Back to the question. Why did Comey & Co. do a 180 and bend rules for a search warrant after a year of not getting one? Because they knew they covered up the fix for Hillary, and the new emails might expose them.
Remember, FBI cases are normally handled by the field office where the crime was committed – NY. But Hillary's email case was sent to the DC office and labeled "special" – small group tight-lipped agents. Some might call it a
#secretsociety
thehill.com/homenews/admin…
But now the NY office had a laptop with potentially hundreds of thousands of Hillary emails – including the ones they covered up (showing her "intent"?). Some field agents were calling for Comey to resign. It was spinning out of their control. Panic set in.
Step 1: Announce reopening of investigation because field agents smelled a coverup and would have leaked it if he didn't. Step 2: Cook up a bogus warrant application to get emails & find out if their cover was blown. Step 3: Clear Hillary again before the election.
Luckily for FBI, this was just a matter of paperwork…because they already had the laptop. Amazingly, they reviewed 50,000 emails in 8 days, while today it could take months to go through Strzok's texts, they say.
Then, surprise surprise, they finished the review and Comey was able to clear her again before the election. All with the help of his first search warrant and Strzok pulling all-nighters to get it done before the election.
Because as long as Hillary won, nobody would find out how they let her off, used her oppo research to spy on Trump, and conducted a sham Russia investigation to sink his campaign and later build a faux case for impeachment.
Little did they know, America had enough of this swamp nonsense even without knowing this was going on, so they elected Donald J. Trump and now the house of cards is crumbling all around them.
UPDATE: I wonder if this is what Strzok and Page were texting about when they said they had to "get their hands on the hard drive or get their hands on the thumb drive"?
thegatewaypundit.com/2018/01/fox-ne…