Both numbers are crazy. Can any Facebook marketer explain to me how you run 6m different ads?
Does every targeting variant count as a distinct ad? Does this include e.g. automated generation of text+image versions according to diverse targeting criteria?
bloomberg.com/news/articles/…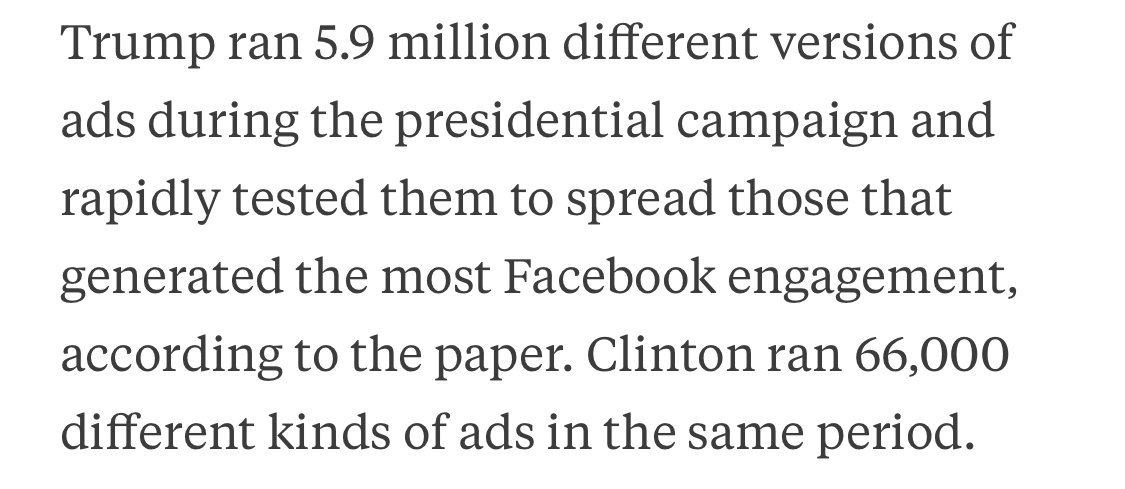 I mean, is it for example like:
- you have 1,000 predefined regions/cities
- for each region you have 5 text variants for 5 sub groups (using additional targeting criteria e.g. according to political views)
- resulting in 5,000 different versions of ads per occasion?
Or, for example:
- for every promoted FB post, automatically upload 1,000 tiny seed audiences to Facebook and then target similar people ('lookalikes')?
Or:
- set up a high number of fine-grained FB retargeting campaigns (triggered by signals from Facebook pixel, websites, apps etc)
- (semi)automatically modify+update these campaigns every 2 days?

I mean, if you run 6m different ad campaigns, there must be some factors of scale.
The RNC's
@GaryCoby
told Wired in Nov 2016 they were running 40,000 to 50,000 ad variants every day, that's 1.5 million a month.
Of course it is much about testing. But what are the mechanisms and variables scaling this up to 175,000 variations a day?
(
wired.com/2016/11/facebo…
)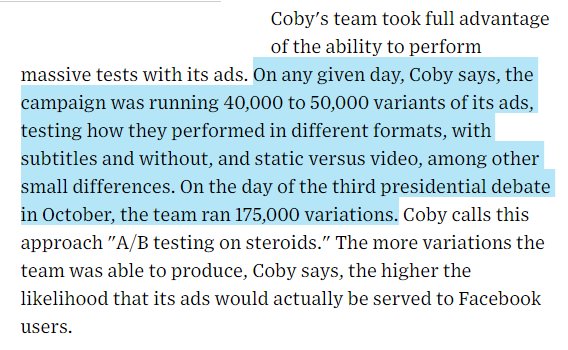 And if I get this right he states:
- they mostly used 'direct response' ads
- with targeting based on the campaign's email/CRM data
- also based on tracking website visitors and 'engagers'
- most likely heavily using Facebook's 'Custom Audiences' tools


...not primarly optimized for engagement (likes/comments/shares), but for making people click / respond to a 'call to action' that was included in most of the ads. But engagement was the precondition for high response rates (?)