#TRUTHBOMB
: NO ONE IS TO BLAME FOR THE APPOINTMENT OF THE SPECIAL COUNSEL...BUT TRUMP HIMSELF.
The following thread is a TIMELINE featuring some of Trump's actions that directly led to the appointment of a Special Counsel.
May 3 - Comey testifies before the Senate Judiciary Committee.
He refuses to answer if there's any evidence of collusion. This triggers Trump's fury and his decision to fire Comey.
nytimes.com/2017/05/03/us/…
May 6 - Trump and Stephen Miller draft a letter to fire Comey at his golf club in NJ.
The first line in this original letter mentions the Russia investigation, as the reason for his firing. The letter is never sent.
Mueller has that original draft...
nytimes.com/2017/09/01/us/…
May 8 - Trump meets with Sessions and Rosenstein. Rosenstein agrees draft a memo, which is used to justify firing Comey.

It isn't known whether Trump revealed his pre-occupation with the Russia investigation OR the original letter.

That day he tweeted:

May 9 - Trump fires Comey.
He cites Sessions' recommendation, which used Rosenstein's memo as justification.
Rosenstein didn't recommend firing, but focuses on handling of the Clinton email investigation.
Trump also mentions Comey told him 3 times he isn't under investigation.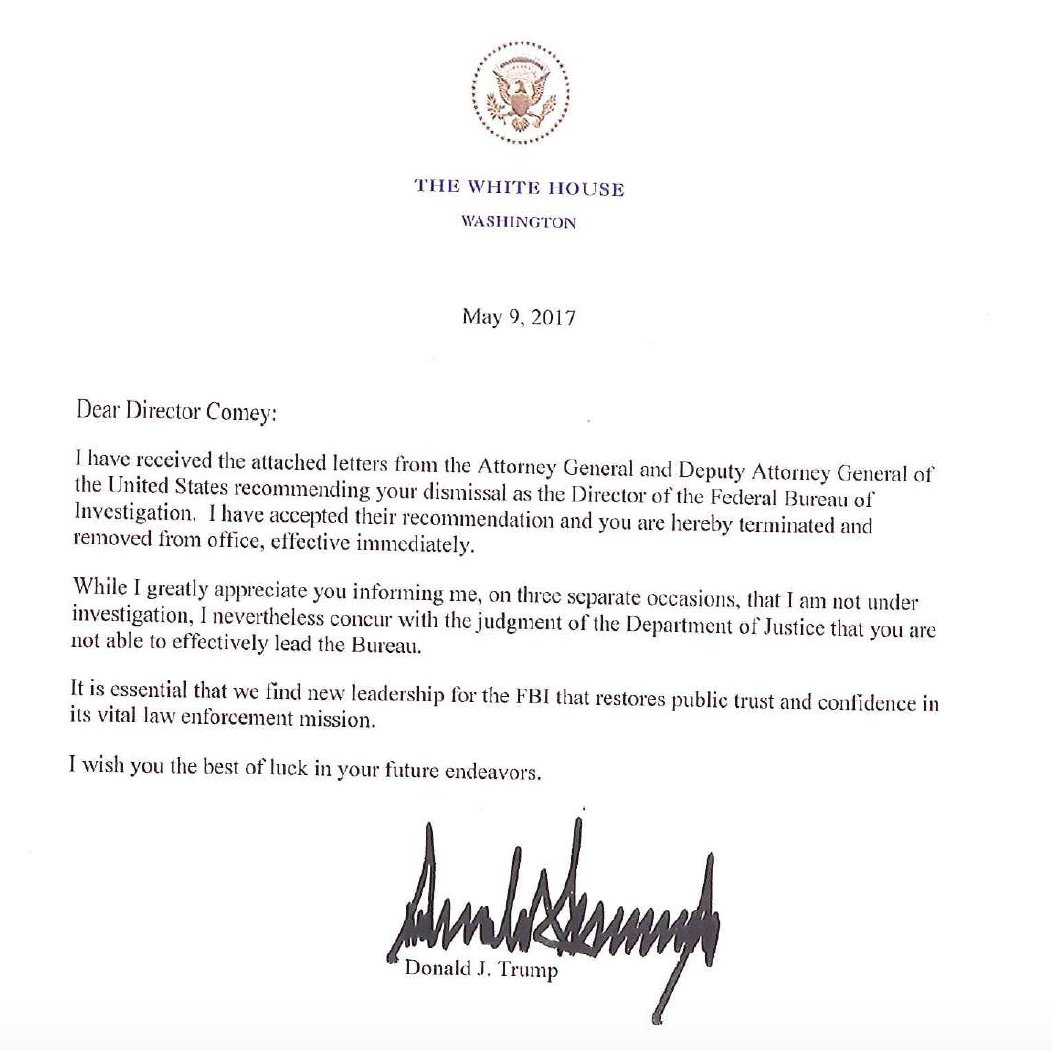 May 10 - In the Oval Office with Russia's Sergei Lavrov and Sergey Kislyak, Trump admits firing "nut-job" Comey lifted pressure from the Russia investigation.
"I just fired the head of the FBI...I faced great pressure because of Russia. That's taken off."
nytimes.com/2017/05/19/us/…
May 11 - Trump admits to NBC's Lester Holt that he fired Comey thinking of the Russia investigation.
"In fact when I decided to just do it, I said to myself, I said, 'You know, this Russia thing with Trump and Russia is a made-up story, it's an excuse by the Democrats...'"
May 12 - Trump tweets a threat to Comey about "tapes, in hopes of intimidating him into remaining silent.


May 16 - NYT reports existence of the Comey memos and Trump's attempt to obstruct and "let go" of the Flynn investigation.
Later, we learn Trump's tweet led Comey to ask a friend to leak details, in hopes of spurring the appointment of a special counsel.
nytimes.com/2017/05/16/us/…
May 17 - Comey's efforts are successful.
Rosenstein, the ranking authority due to Sessions' recusal, announces the appointment of a special counsel to investigate Russian election interference and any connections to the Trump campaign or associates.
He appoints Robert Mueller.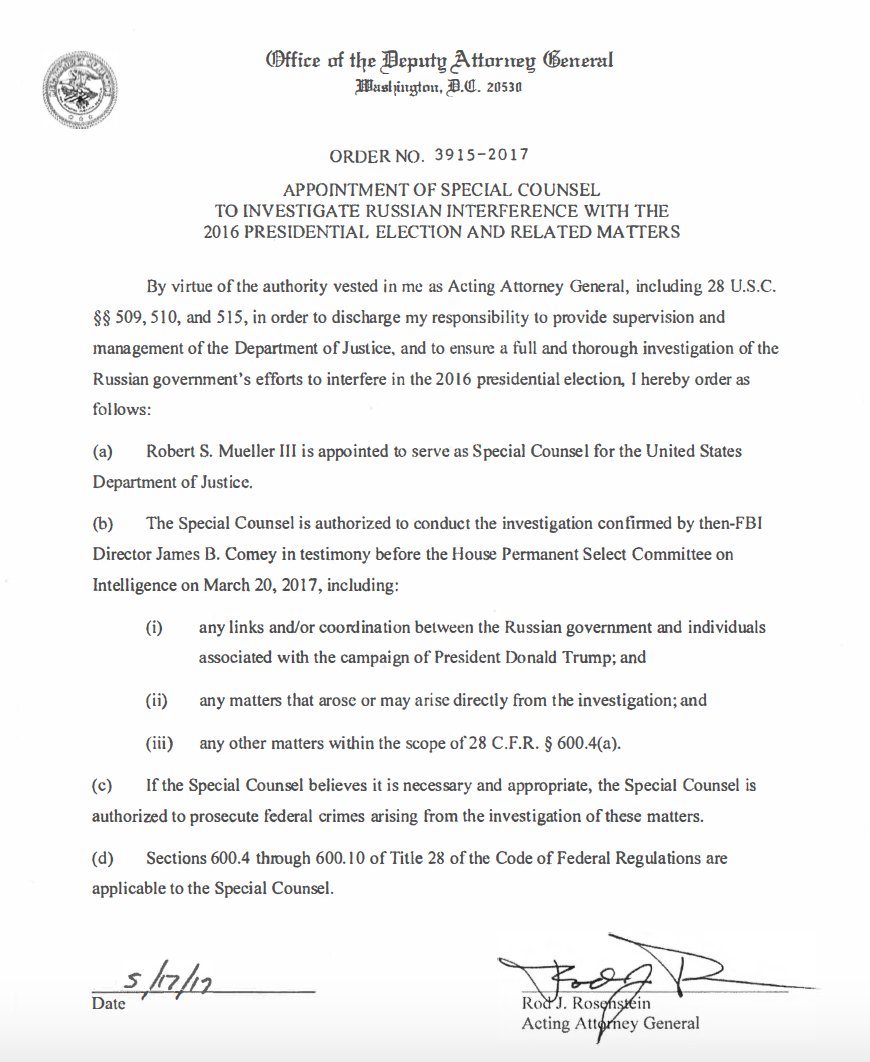 #RECAP
:
5/9
- Trump fires Comey, mentions investigation.
5/10 - Trump admits firing lifts Russia pressure.
5/11 - Trump admits firing b/c Russia.
5/12 - Trump tweets threat.
5/16 - Trump's threat leads to leak of attempt to obstruct investigation.
5/17 - Mueller appointed.