Useful history here for those who don't know it: Trump got mercilessly owned by both
@sethmeyers
+
@BarackObama
at 2011 WHCD as he sat in the audience. It was his "Rosebud" moment. I'll tweet the surreal scene as described in DEVIL'S BARGAIN (
amazon.com/Devils-Bargain…
) -->
First off, Trump almost skipped the WHCD because he was invited to Steve Wynn's third wedding in Vegas the night before and Clint Eastwood and Frank Stallone were gonna be there. And '80s celebs are gods to Trump...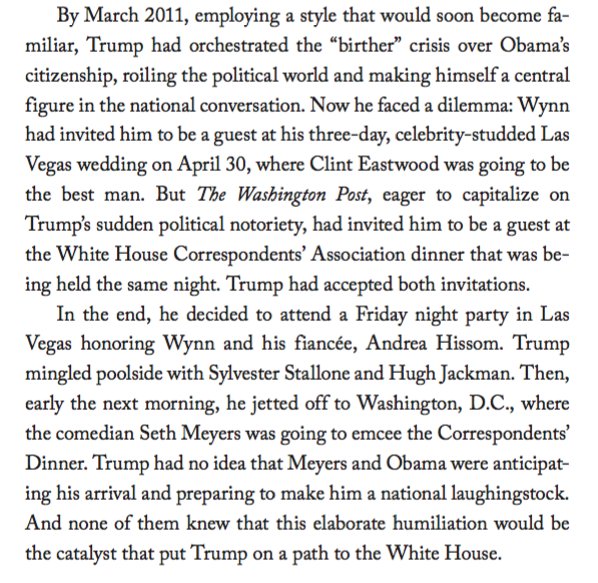 It was a setup -- only Trump was apparently the only one not in on the joke. The "joke" was that in the slightly gross social taxonomy of the WHCD, Trump, then at the apex of his outre birther-racist phase, was a great "get" (for the not-yet-Bezos-owned Washington Post)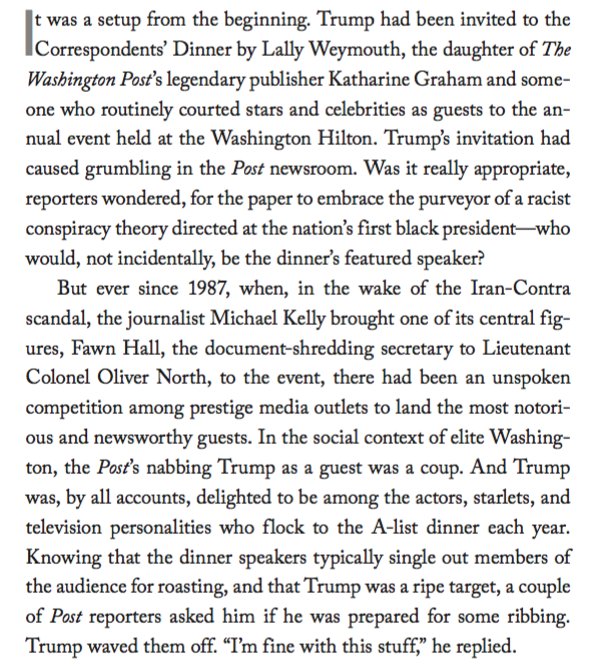 I'd forgotten that the WH speechwriters, including
@jonlovett
(in his pre-podcasting-demigod iteration), brought in a ringer to help write the Trump beat-down:
@JuddApatow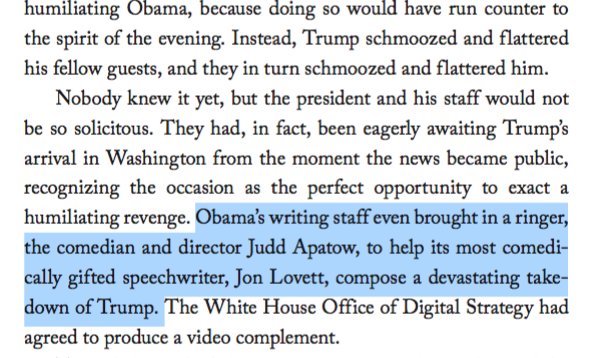 Obama was surprisingly good at delivering his end of the comedy routine -- knew how to wield the stiletto: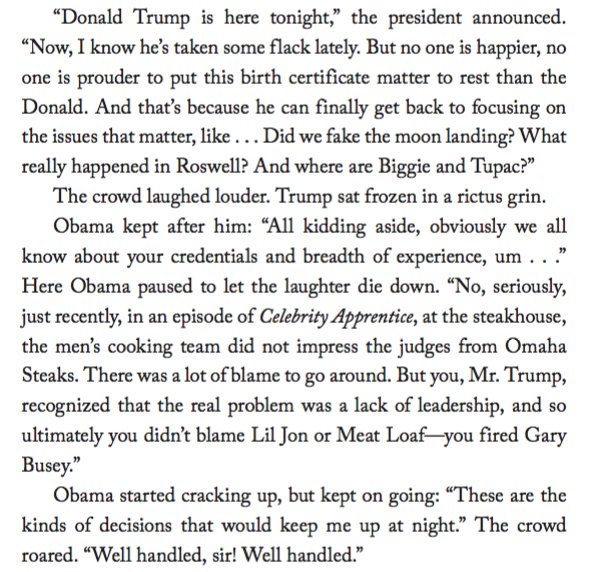 But
@sethmeyers
was merciless. If you watch Trump during the speeches, he's just utterly humiliated -- no chuckle, no smile. The whole thing seared him (more on that here:
nytimes.com/2016/03/13/us/…
)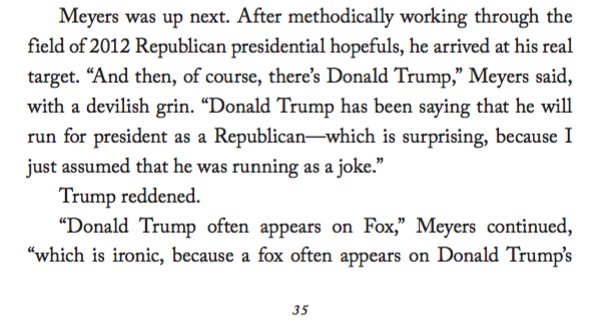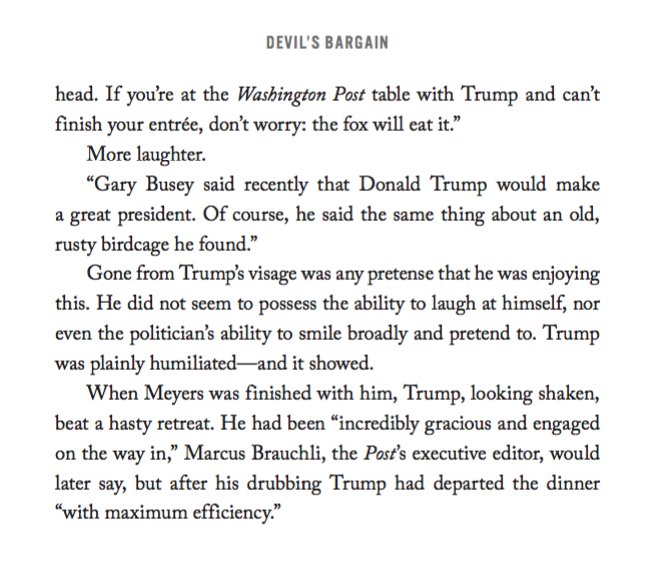 Everybody in politics thought Trump was finished. His dignity had been snatched away, he'd been sent limping back to his rightful station. But that isn't what happened at all. Trump got the last laugh (for now). Clear from his tweetstorm tonight, though, that it still burns him.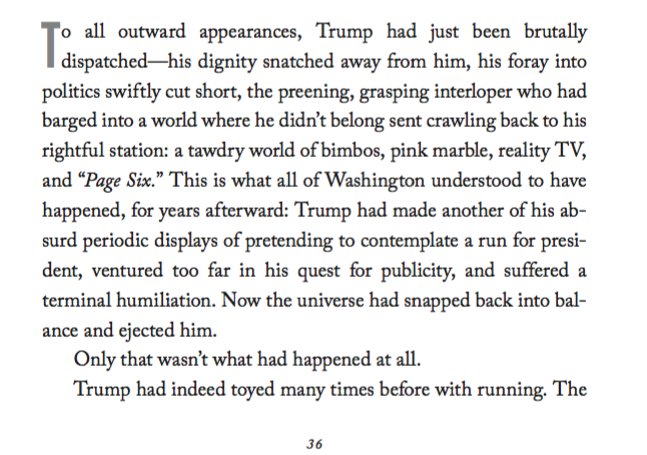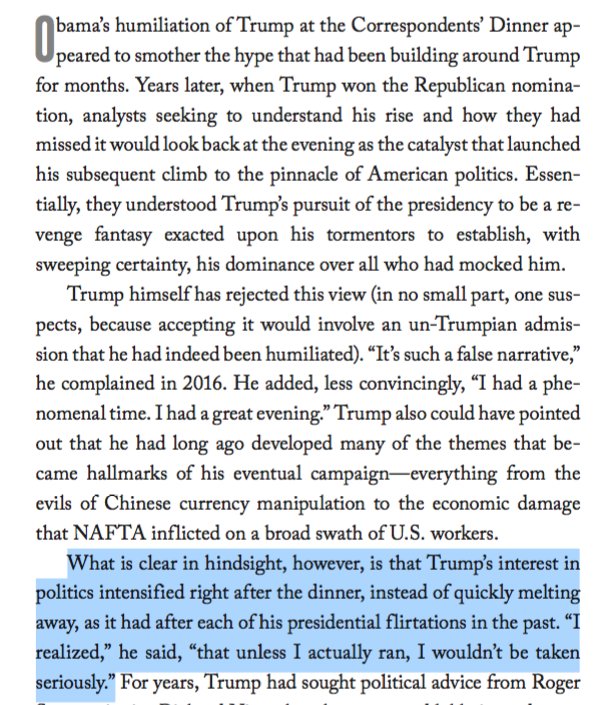 If you don't want to read the book-length version (what are you, a heathen??) then definitely read the
@maggieNYT
@alexburnsNYT
write up from mid-campaign:
nytimes.com/2016/03/13/us/…
. It's one of those X-ray pieces that captures the whole surreal affair perfectly. Fin!