South Dakota plans to execute Rodney Berget this afternoon. His lawyers are asking SCOTUS to halt the execution and consider whether he is eligible for execution due to questions surrounding his alleged intellectual disability. Petition:
documentcloud.org/documents/5023…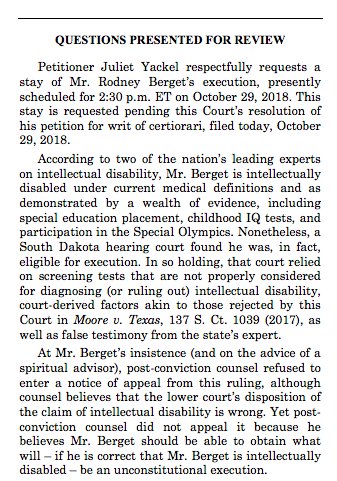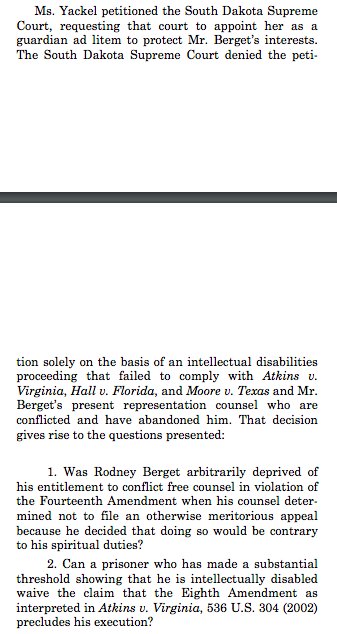 This would be South Dakota's first execution since 2012. The state has only carried out three executions in the modern (i.e., post-1976) era.
South Dakota opposes the stay request, which comes in an unusual posture. It was filed not by Berget — who waived appeals — or his lawyers, but instead by Juliet Yackel, who sought to be appointed guardian ad litem for Berget to represent his interests:
documentcloud.org/documents/5023…


Finally, here's the reply, arguing, in part, why Yackel should be allowed to file the request:
documentcloud.org/documents/5023…

Breaking:
#SCOTUS
won't stop the scheduled execution of Rodney Berget in South Dakota, denying Juliet Yackel's stay request and cert petition. No dissents were noted.

It should be noted that, as described above, the case was before the justices in an unusual posture since Berget is not himself challenging the execution on appeal. / In another time, I could see this getting some attention, but I think it was very unlikely to do so now.