1/
[POLL & THREAD]:
What will be the next crypto asset added to Coinbase / GDAX?
3/
Back then, voters thought it was the #1 most likely that a privacy focused asset like ZEC or XMR would be added next to Coinbase. This has not yet happened.
4/
The #2 vote was an alternate ledger. We have yet to see Coinbase add support for any alternate blockchain or DLT asset like XRP, IOTA, or ADA.
5/
A blockchain fork came in #3. We have seen Coinbase add support for forks of both Bitcoin and Ethereum with BCH and ETC.
6/
The least voted for option by far was a dapp token. A couple weeks ago, we saw Coinbase list ZRX:
8/
Over 12k people sold out the $24m ICO (for 1/2 of the total tokens) in about 24 hours. ~64k addresses now own ZRX tokens. The 0x team, advisory board, and pre-ICO investors have strong ties to Coinbase.
10/
The ZRX listing was a few months after Coinbase said they were 'Exploring Cardano, Basic Attention Token, Stellar Lumens, Zcash, and 0x':
blog.coinbase.com/coinbase-is-ex…
11/
Of the remaining 4, 3 require integrating support for full new blockchains (ADA, XLM, ZEC), while 1 is another ERC20 token (BAT).
12/
BAT is another popular ERC20 dapp token. Brave is a 'new browser that blocks ads & trackers that slow you down & invade your privacy'. The browser is live but much of the token is more or less TBD. (I got $6 for moving a triangle 3 times today tho!)
basicattentiontoken.org/faq/#Brave-BAT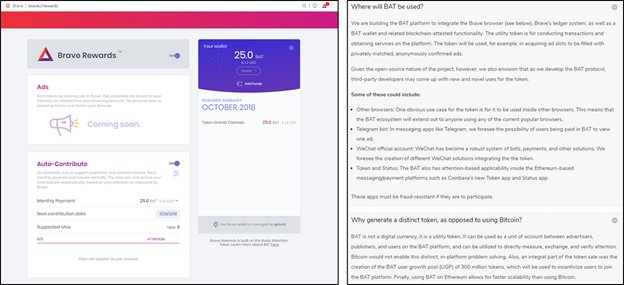 13/
The BAT ICO sold out in <30 seconds. Only ~130 got in & 5 buyers bought 1/2 the supply. The top 20 addresses owned 2/3 of BAT shortly after the sale.
coindesk.com/35-million-30-…
17/
If anything, if the results of today's poll turn out anything like they did in December, I think the chances of the dapp token option are likely largely understated for many of the above reasons.