I want you to know something terrifying...
Only
@RoKhanna
and
@Ocasio2018
even voiced opposition to
#PayGo
from the Democratic Party.
Rank and file Democrats on Facebook ignored Dr
@StephanieKelton
regarding this matter.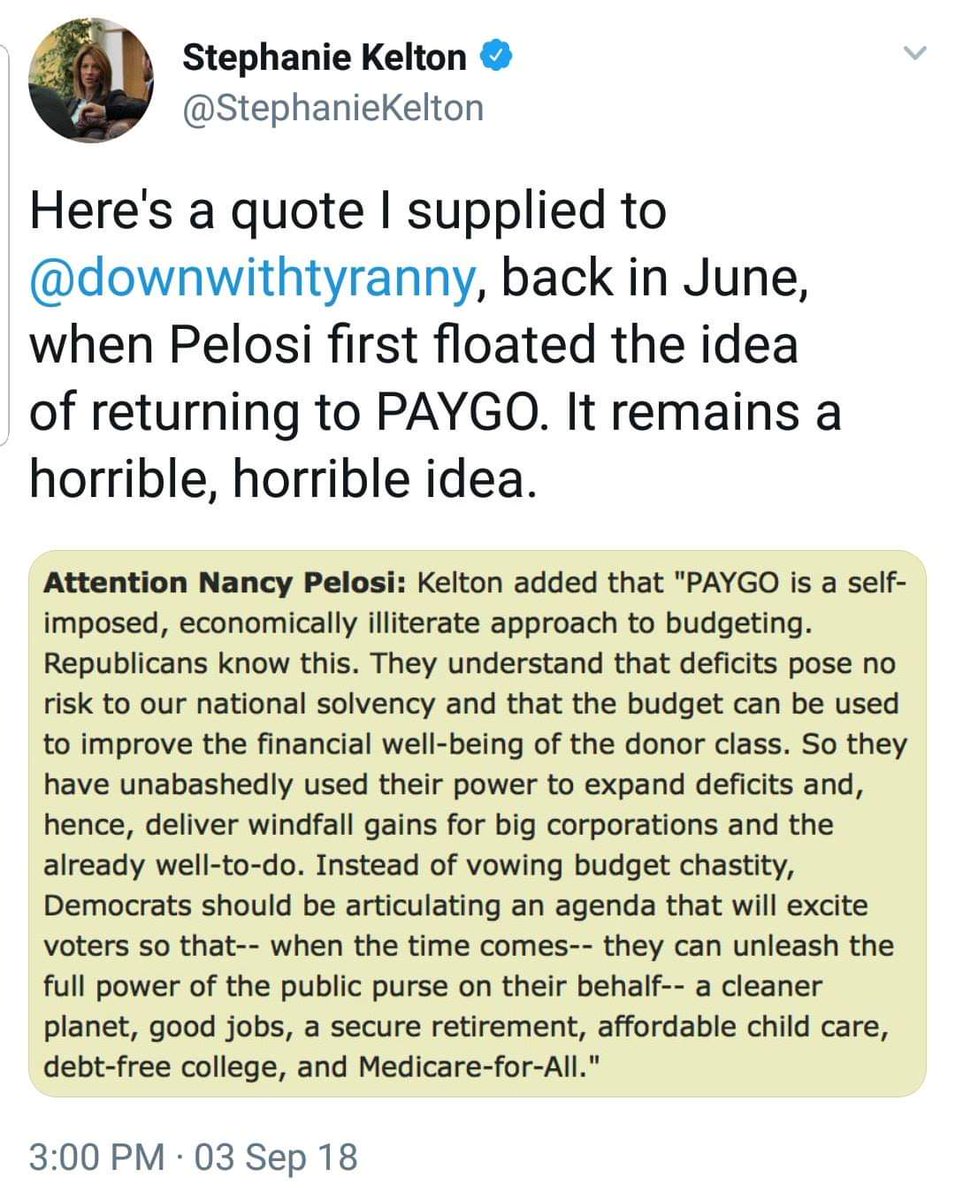 Rank and file Democrats give Republicans all the ammo they need pretending the nation is constrained by taxation for spending.

Rank and file Democrats have accepted austerity is the "right thing to do". To be "fiscally responsible" and "clean up the Republicans budget mess".
Rank and file Democrats do not realize our nation creates dollars when it spends and destroys dollars when it taxes.
Rank & file Democrats end up supporting
#GreenNewDeal
killing economics of austerity then do the Republicans job for them by asking "How are you gonna pay for it"
@GreenPartyUS
don't understand econ any better & fight to reduce deficits, debt & even go the xtra mile of wanting to end the non-existent fractional resrv system & hve sadly focused energy to bashing Democrats & not educating on the peril of PAYGO which = as bad as all the above
No... this should be a call to arms for every person literate in macroecon that understands the US has a sovereign free floating fiat currency that is non-convertible to gold or silver & backed only by our nations full faith & credit in our real resources.
Federal taxes do not & cannot fund federal spending.

Federal taxation MUST be decoupled from spending.
Nancy Pelosi's
#PAYGO
strategy is a Green Deal Killing, self inflicted wound brought to you by neoliberalism and economic illiteracy so profound, the Republicans couldn't have killed progress any more effectively if they tried.