1.
In Syria today, five ISIS fighters were captured by the Syrian Democratic Forces. Among them was at least one American, who years ago had (no joke) sent his resume and a cover letter to the the Islamic State requesting a job teaching English:
nytimes.com/2019/01/06/wor…
2.
Warren Christopher Clark, the 34-year-old American captured in Syria, is originally from Houston where he worked as a substitute teacher at a school district in Sugar Land. Here is the CV and cover letter he sent to ISIS, which was discovered by
@SeamusHughes
of
@gwupoe
: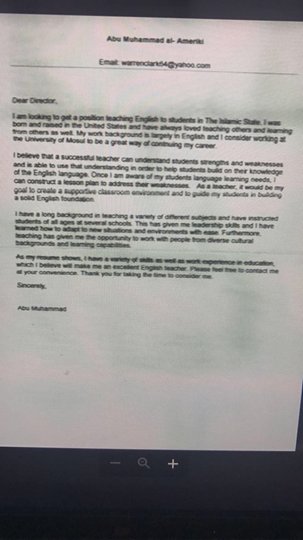 4.
This is the mugshot of Clark that the Syrian Democratic Forces released today. According to interviews conducted by
@SeamusHughes
with Clark's friends back in Texas he was so extreme in the things he said that buddies thought he might be an FBI agent trying to entrap others

5.
A second ISIS fighter caught in the same raid in northern Syria by the SDF is also described as a US citizen. The press release says that Zaid al-Hamid is "originally from the US." However, I'm starting to have doubts about that:
sdf-press.com/en/2019/01/5-t…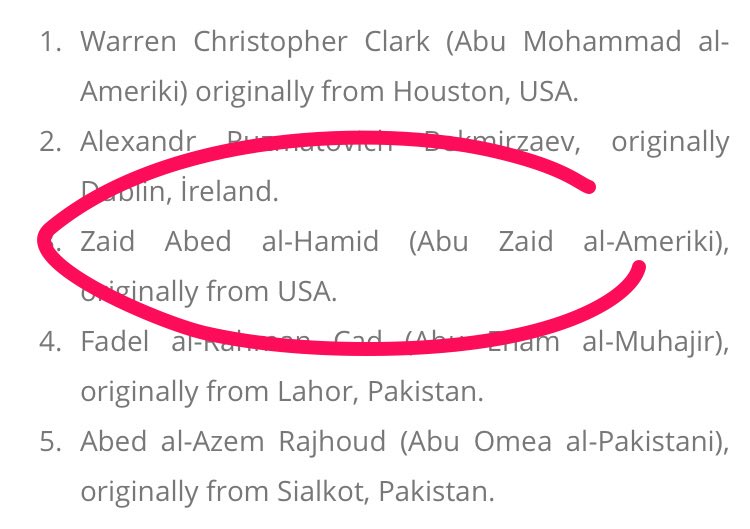 6.
Zaid's name appears on a cache of internal ISIS registration forms obtained by my colleague
@KaramShoumali
. In those forms, he appears as a reference for a new recruit arriving in the caliphate in 2014 from Trinidad & Tobago. Here is his mugshot:

7.
Usually, ISIS fighters act as "references" for other fighters coming from the same geographic zone. So why would an American be acting as a reference for a recruit from a Caribbean nation? Remember his mugshot (above) and check out this ISIS video:
jihadology.net/2015/11/05/new…
9.
I wish I could claim that sleuthing work was mine. It's the work of academic Simon Cottee, who is working on a book about foreign fighters from Trinidad. Zaid appears in a database he maintains of ISIS recruits from Trinidad, and he joined ISIS in April of 2014.
11.
(Granted, he's lost a lot of weight, thanks to the caliphate diet). Zaid's history of extremism goes way back. In 2011, he was arrested for allegedly plotting to assassinate the prime minister of Trinidad:
guardian.co.tt/article-6.2.45…
12.
Now it's possible the SDF is still correct: It could be that Zaid is a dual citizen or that he spent time in the US. Simon Cottee says he appears in at least one video where he wears the "al-Amriki" nom de guerre ("of America".)