Caveat: I genuinely have no real information from the committee. This is an educated guess.
And this is nothing official, of course. Just me.
Remember, the Commission's charge was quite explicitly ONLY the foundation budget. They were not charged with—and very carefully stayed away from—the question of who was paying for what.
The thing we never mention in
#MAEdu
funding is the split. It isn't written down anywhere, as far as I know, but the underlying assumption at the beginning of the calculation of the municipal wealth formula is this: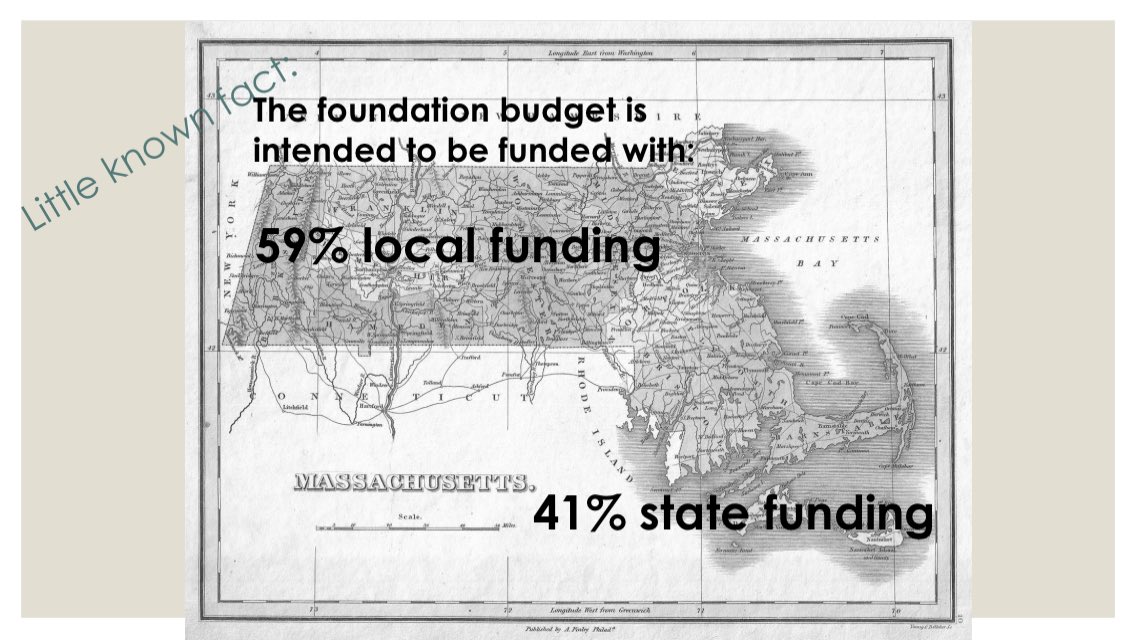 So of the WHOLE STATEWIDE foundation budget, the state pays for 41%, and local municipalities pay for 59%.
Now, that's the foundation budget funding.

The split of REQUIRED spending, once you add in minimum aid increases and hold harmless, is more like 55/45. The state is kicking in extra and requiring that it go to schools.
But then remember that nearly every district is actually spending more than required.
That brings us to the trick: if you increase the WHOLE STATEWIDE FOUNDATION BUDGET, both parts of that split get bigger, right?
The split can stay 59/41, but the actual dollars go up.

In fact, this is what happens every year.
Remember, though, that the state has also said that no district is required to fund more than 82.5% of their foundation budget.
So even as those foundation budgets get higher, they're going to effectively top out in some districts.
And plenty of districts have targets well below 82.5%, anyway.
But for a few—and I'll bet you know who you are!—if the increase is high enough, BUT they aren't at an 82.5% target, their local contribution is HIGHER under that higher budget and their Ch.70 aid is LOWER.
Remember, Ch.70 aid fills the gap between local required contribution and foundation.
That's how a handful of districts in the
@MassBudget
model saw less under Promise than under Governor Baker's bill.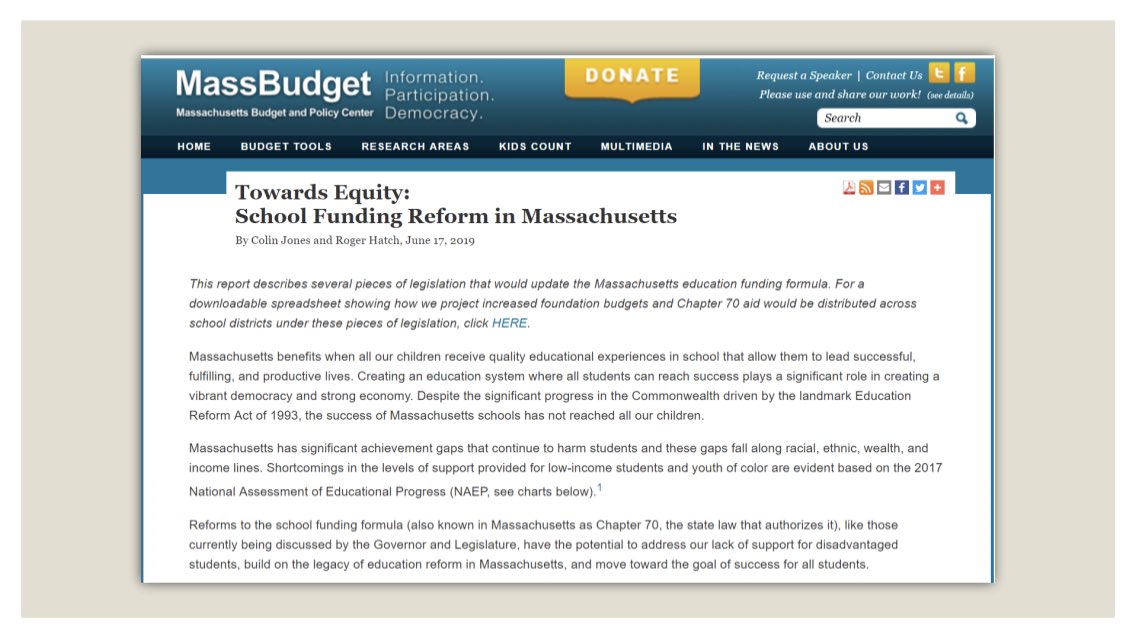 Now, all of that is hypothetical state aid: no one LOSES anything they actually now have under these projections.
But no one likes a negative number, either.
And these are not poor districts, to be clear. But they aren't the wealthiest districts, either.
So: do you change the split? Eliminate the cap (which is the "everyone gets aid" insurance)? What numbers do you juggle to get these not-the-highest-but-pretty-high-wealth-districts to get "more"?
(PS: one is Ashland, on which School Committee the Senate President served; tough to ignore)
Note that this is not the neediest districts.
Note it is not the "depending on those minimum increases" districts.
Note that it isn't the rurals or the shrinking districts, necessarily.
But they are a handful with clout.
It isn't responding to this chart; it possibly is responding to the
@SchlFinance101
quote, though.
/fin