Here's the next science talk.
Watch climate scientist Prof. Kevin Anderson, Director of the
@TyndallCentre
speaking at
@OfficialUoM
in January 2018.
@ExtinctionR
wished to see him too. He's a bit of a quick talker, so I added subtitles. Sorry for any mistakes in there.👇[THREAD]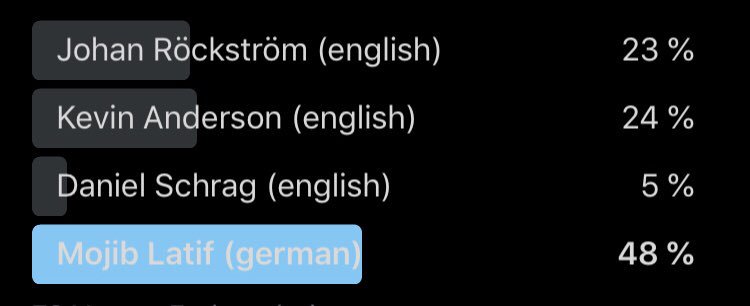 In this first video Professor Anderson (
@KevinClimate
) explains commitments to the
#ParisAgreement
and how far we have come by now: "We had 28 years of abject failure on
#ClimateChange
by people with no hair, grey hair or dyed hair. We've actively chosen to fail."
[THREAD 2/11]
In this second video Professor Anderson talkes about different climate policies, that have not worked so far and explains what real mitigation would mean: "Delivering on the
#ParisAgreement
is far more challenging than most scientists and politicians will admit."
[THREAD 3/11]
In this video Prof. Anderson explains the carbon budget for "well below 2°C" and what it means: "You have to reduce demand dramatically but there are virtually no scenarios that do that. We can't possibly question demand because growth goes on forever, infinite."
[THREAD 4/11]
Prof. Anderson touches on the equity dimension of the
#ParisAgreement
and explains about the different working groups of the IPCC and how everyone wanted to be deceived. "The mitigation group offered carbon budgets that were twice as big with lower reduction rates."
[THREAD 5/11]
In this video Professor Anderson explains Negative Emission Technologies and in particular "BECCS" and how every single mitigation model relies on this: "The next generation has to suck the CO2 out of the air. Not us. We are passing responsibility to our children."
[THREAD 6/11]
Professor Anderson explains why it is naive to assume that negative emission technologies are going to work: "This would support the ongoing fossil fuel industry, which in many of the scenarios is still operating in 2100. We're absolutely trying to fool nature."
[THREAD 7/11]
Prof. Anderson talks about equity: Wealthy parts of the world will have to act faster. That means a 75% reduction in CO2 by 2025 and fully decarbonised energy by 2035-2040. "I think 2°C is possible, just. But if I was asked in 2-3 years time: I think no, it's not."
[THREAD 8/11]
In this video Professor Anderson (
@KevinClimate
) talks us through different available options for low emissions energy production and explains why Carbon Capture and Storage (CCS) can't be part of a solution: "CCS will not be and never can be made very low carbon."
[THREAD 9/11]
Prof. Anderson about the top 10% emitters in the world: "If they reduce their carbon footprint to the level of the average European, that would be a 33% cut in global emissions. Huge opportunities to deliver almost over night — if we did care about our children."
[THREAD 10/11]
Thanks for watching and 🙏 to
@KevinClimate
.
I hope there were some new insights in there for you. If so, please retweet with a comment (your favourite statement).
You can find the full lecture here:
Want more?👇
[THREAD 11/11]