I think it's high time we talked about the supposed 'EU Army'. During the referendum campaign, this was one of the key arguments deployed by the leave campaign.
1/
In December 2017, 25 nation states formally signed up to the PESCO pact on defence integration. Unsurprisingly, this prompted cries of 'I told you so' from leave supporters - possibly the only chance they've been able to do this since the referendum.
2/
But here's the thing - PESCO is not an EU Army. It's a framework for greater cooperation between member states, including in training and procurement. And on top of that, it's completely voluntary, even for EU member states.
3/
Yep, that's right - being in the EU doesn't mean we would be obligated to join PESCO. Malta and Denmark have opted not to join. Furthermore, even for those that have signed up, they're not obligated to participate in all of the individual projects
4/
Now, any thread on Brexit wouldn't be complete without exposing some of the hypocrisy of leave supporters. See, the other thing about PESCO is that it is available for non member states to join. An idea which has been mooted by none other than our own foreign secretary
5/
Here he is, just a couple of weeks ago, expressing support for the pact.
6/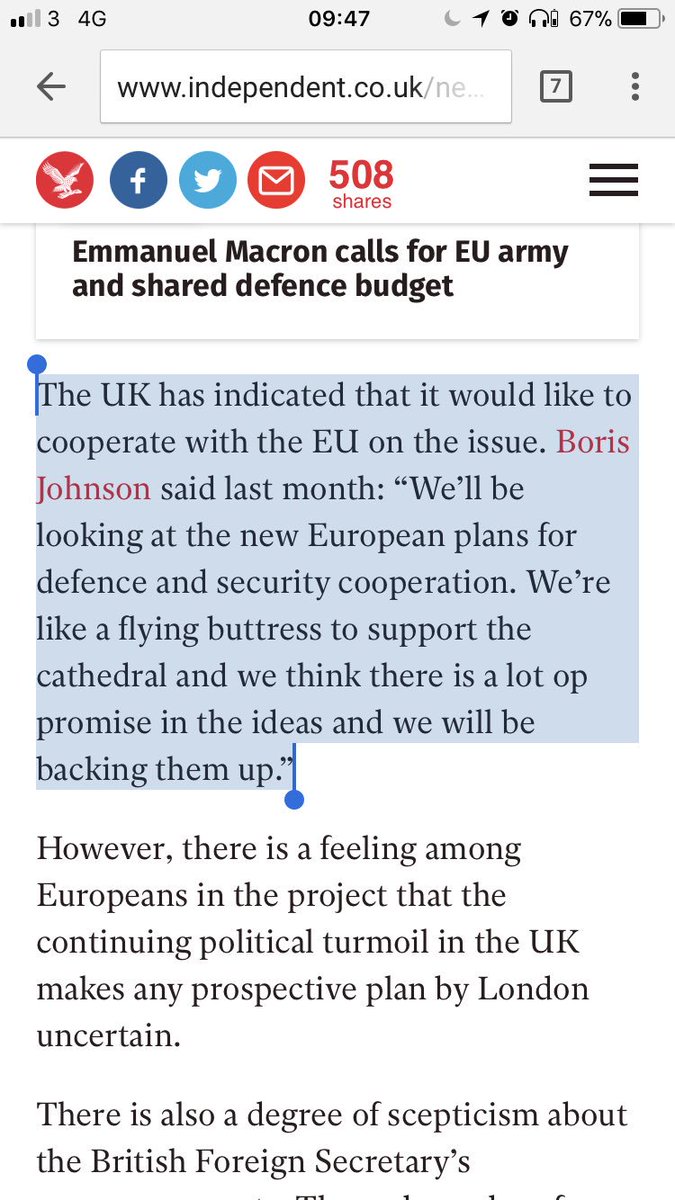 So we may end up leaving the EU and still joining the so-called 'EU Army'. Or we could stay in the EU and yet still opt out. This fact alone negates this particular argument for
#brexit
7/
Now it's true that there are those in the EU who are in favour of an actual EU army. Juncker has said as much himself. So it is possible that PESCO is a stepping stone in that direction. But is that really such a bad thing?
8/
Given that under NATO Europe is disproportionately reliant on the increasingly isolationist US, does it not make sense to have a viable alternative?
9/
And for those who believe that our government should make its own decisions on defence, well we don't exactly have the best track record on this, do we? Had deployment in Iraq been a collective EU decision, I suspect that whole debacle would never have happened.
10/
At the very least, it would likely have been better managed. And the economies of scale provided by a Europe-wide procurement strategy might have meant that our troops would not have suffered the widely reported shortages of equipment when they deployed.
11/
So to sum up:

Is PESCO an EU Army? No
Is PESCO obligatory for member states? No
Is an EU Army such a bad idea anyway? No

And despite Brexit, we might just end up joining anyway!

12/12