My dispatch from
#Sweden
, which is experiencing an unprecedented surge in shootings, bombings and sexual crime. The crisis is mainly restricted to areas predominantly populated by immigrants, so ordinary Swedes read the news with disbelief:
thetimes.co.uk/edition/world/…
In
#Sweden
, a country of 10m people, more than 320 shootings and dozens of bombings were reported in 2017, along with more than 110 murders and 7,226 rapes — a 10% increase on 2016. More than 36% of young Swedish women say they feel unsafe at night.
thetimes.co.uk/edition/world/…
I visited some of the worst areas, including
#Malmö
's
#Rosengård
, where children as young as 14 roam the streets with Kalashnikovs & bulletproof vests. The average age of gang members is 22, the vast majority of them hailing from migrant families.
thetimes.co.uk/edition/world/…
The percentage of women in Sweden who reported being victims of sex crimes rose from 1.4% in 2012 to 4.1% in 2016. In 2014 a study on the geography of outdoor rape in Stockholm found two-thirds of the suspects were non-Swedish citizens.
thetimes.co.uk/edition/world/…
Tino Sanandaji a Swedish economist of Iranian-Kurdish origin and author of Mass Challenge, a bestselling book, told me: "Sweden was successful in abolishing the traditional class society, but politicians are now creating an ethnic underclass."
thetimes.co.uk/edition/world/…
Attacks on Swedish police in some areas are so frequent that Rosengård's force works from a black fortress of reinforced concrete with narrow windows and a 10ft-high electric fence. It was bombed last week, days after a police car was blown up:
thetimes.co.uk/edition/world/…
Swedish authorities have publicly admitted they are unable to investigate rape cases immediately because the resources are focused on gang crime. "We are forced to choose between two evils," the police said. Four gang rapes reported in Malmo since November
thetimes.co.uk/edition/world/…
Stefan Lofven, Sweden's prime minister, said last week that he was ready to deploy the military to "stamp out" organised crime. The next day another bomb went off in Malmo, this time in front of a private property.
thetimes.co.uk/edition/world/…
In Sweden, publicly debating the link between immigration/integration and crime is still a taboo. Even intellectuals of migrant background such as
@paulinaneuding
and the economist Tino Sanandaji have faced the worst of accusations:
thetimes.co.uk/edition/world/…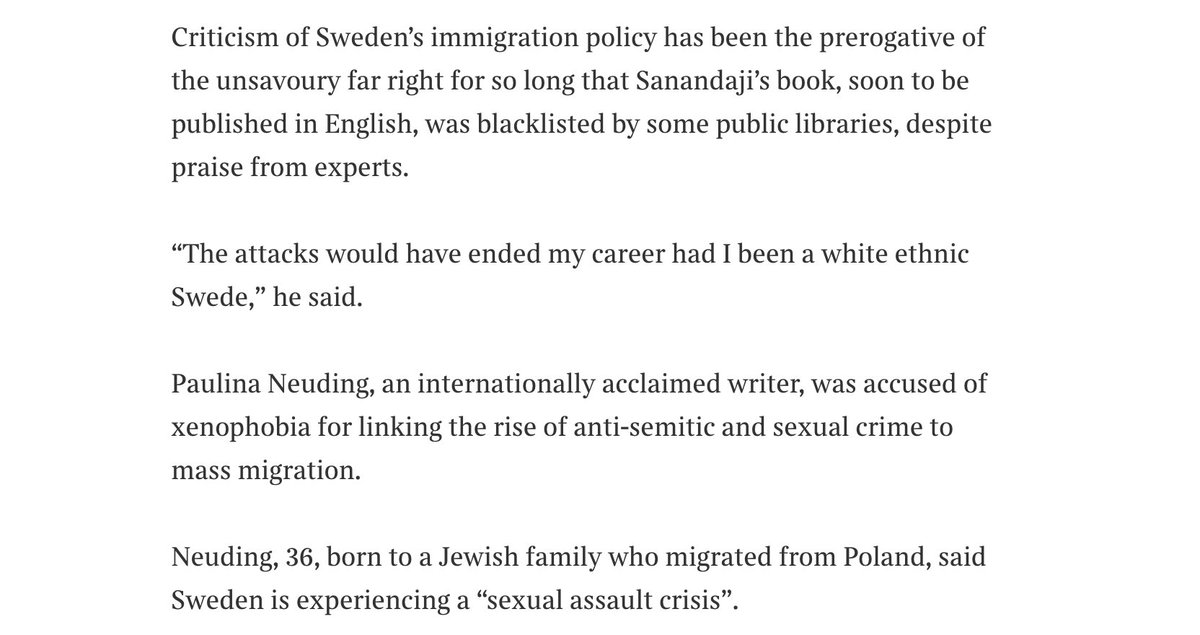 Sweden's immigrant-populated areas have better infrastructure and services than parts of central London. But crime, anti-social behaviour is surging. This happened to a 60 Minutes TV crew in Stockholm:
Anti-Semitism & immigration in Sweden: A 2013 study showed that 51% of anti-Semitic incidents were attributed to Muslim extremists. Only 5% were carried out by right-wing extremists; 25% were perpetrated by left-wing extremists.
@paulinaneuding
in
@nytimes
nytimes.com/2017/12/14/opi…
There are so many grenade attacks in Sweden that the Government is contemplating an amnesty period for the weapons to be handed over to the police without penalty, just to get some off the streets
theweek.co.uk/90114/sweden-p…