1/
THREAD. Mueller's indictment of 13 people far away from US jurisdiction and who won't appear for trial reminds me of a similar and very publicized but under-discussed incident just as he assumed FBI directorship.
2/It was presaged a few months earlier by an incident that I just noticed and resonates to this day.

It goes back to v important 1996 Khobar bombing incident. Considerable evidence pointed to Osama bin Laden and Al Qaeda (who were not nearly as well known then as now).
3/
FBI Director Louis Freeh, based on evidence fed to him by Saudi torture of prisoners, was convinced that the bombing was due to "Saudi Hezbollah"- a convenient Shia villain for Saudis, as opposed to native son bin Laden. But Freeh couldnt convince Washington DOJ field office
4/
in political manouevre, Freeh re-assigned the case from FBI's Washington field office to Virginia field office
deseretnews.com/article/833096…

5/
Washington DA Lewis objected strenuously to Freeh's reassignment, saying that Freeh's evidence had simply been to thin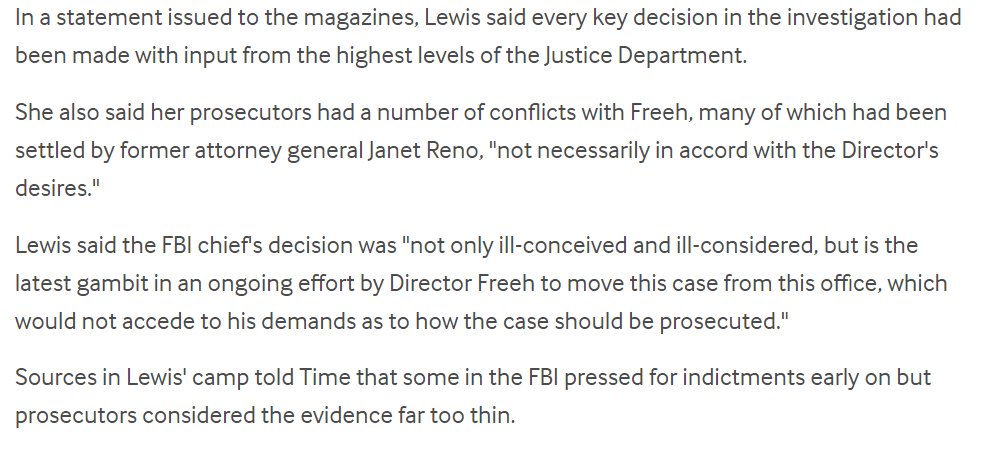 6/
Freeh's previous attempt to reassign to Virginia had been rejected by Janet Reno, but this time it was approved by Acting Deputy Attorney General Robert Mueller.

7/
and who was the compliant "U.S. attorney in Richmond, Virginia"?
Drumroll..... none other than James Comey.
More on this later.
8/
watch timing: March 2001, just after Bush2 inauguration. Freeh's efforts to blame Khobar Bombing on "Saudi Hezbollah" had been frustrated during Clinton administration, which was well aware of Al Qaeda threat. Bush2 admin (Mueller) let FBI chase shiny object, Hezbollah.
9/
Khobar bombing attacked housing complex in Khobar, Saudi near Aramco headquarters on June 25, 1996. If you knew nothing about incident, AlQaeda was by far the obvious culprit, especially after 9/11 but even at the time. But not to Freeh, Mueller, Comey
en.wikipedia.org/wiki/Khobar_To…

10/
in May 2001, New Yorker ran a puff piece on Freeh's investigation into Khobar, his "last case" prior to scheduled retirement in July.
newyorker.com/magazine/2001/…
11/
in June 2001, Comey got a grand jury in Alexandria, Virginia to indict Saudi Hezbollah for the Khobar Towers bombing
justice.gov/usao-edva/file…
12/
in an interesting coincidence, Comey indicted 13 Hezbollah named defendants (plus one Lebanese 'John Doe'), all of whom were well out of reach of US arrest. One can help but wonders whether Mueller's indictment of 13 Russian troll minders will be any more effective.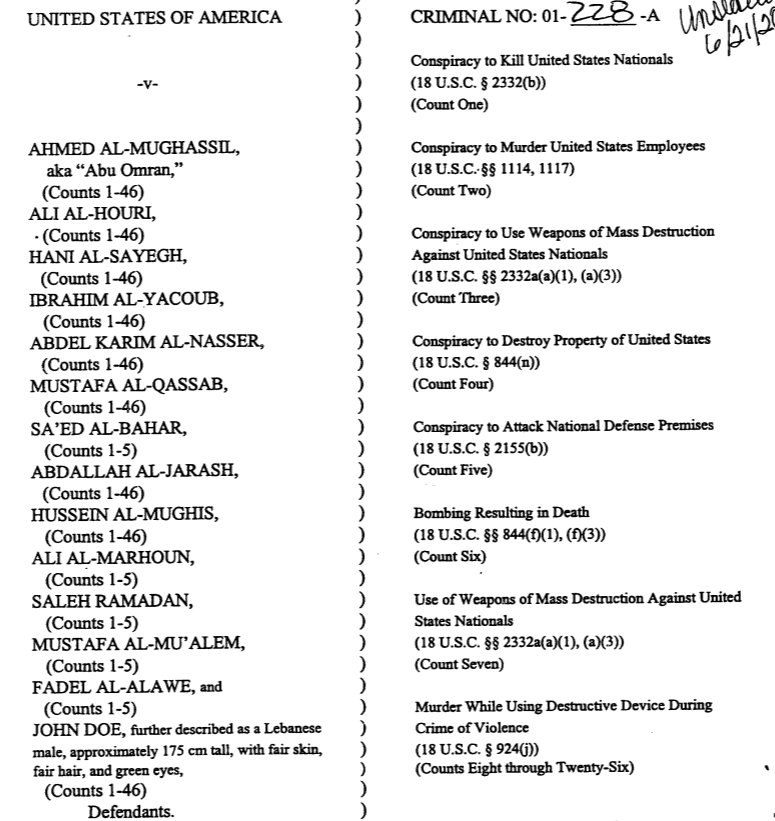 13/
in August 2015, one of the Hezbollah accused, Ahmed al-Mughassil, was arrested in Beirut airport and renditioned to Saudi. His betrayal was blamed on Saad Hariri, who more recently has been in the news as a sort of hostage in Saudi.
reuters.com/article/us-sau…
14/
in December 2001, Comey's "success" as a Richmond division federal prosecutor in Khobar Bombing case division was recognized by appointment as DA in the prestigious New York Southern Division and, only two years later, to Deputy Attorney General.
nytimes.com/2001/12/01/opi…
15/
Mueller promoted from DAG to FBI Director on Sep 4, 2001. Although FBI had focused Khobar investigation entirely on Hezbollah, a few days after his appointment, the original Khobar suspects, Al Qaeda, made their presence felt so forcefully that even Mueller couldn't ignore
16/
in Feb 2003, Mueller helped stoke US anti-Iraq war frenzy, claiming that Saddam had failed to destroy WMD and that FBI had "particular concern that Saddam may supply terrorists with biological, chemical or radiological material".

17/
while Colin Powell and George Tenet have both been universally criticized for their false information to Congress and the UN, Mueller has mostly and undeservedly received little criticism for his equally shabby performance
18/
Mueller lead-in paragraph little noticed. He alleged that Syria (+Iran, Iraq, Sudan, Libya, Cuba, North Korea), "designated as state sponsors of terrorism" were "active in the US and continue to support terrorist groups that have targeted Americans".
cnn.com/2003/ALLPOLITI…

19/
what a load of bilge from Mueller. In 2003, Syria (which has been of interest to me) was not "support[ing] terrorist groups that have targeted Americans", let alone "active in US". On contrary, it was helping US against AlQaeda. Mueller's fabrication was as bad as Powell's
20/
as a thought experiment: suppose Mueller and Comey had (more plausibly) blamed AlQaeda for Khobar bombing in June 2001 indictment instead of Hezbollah, what impact would it have had on subsequent events? Would FBI have been more alert to Al Qaeda in summer 2001?
21/
Negligible basis for Mueller's allegation against Syria, but, if Comey and Mueller had indicted Al Qaeda rather than Hezbollah, what conceivable basis would Mueller have had for claiming that Syria had supported "terrorist groups that targeted Americans"?
22/
did Comey and Mueller's implausible indictment of Hezbollah, instead of Al Qaeda, for Khobar bombing contribute to US decision to invade Iraq? How much blame do Comey and Mueller share for disastrous US Middle Eastern policy over past 15 years?