What if....
1.
The shooting was supposed to occur during the 1st fire drill WHEN Hogg was interviewing kids in the closet@ 9:30am.
Something failed. Time was reset.
#QAnon
https:/thegoldwater.com/news/19411-Teacher-Describes-Parkland-Shooter-Dressed-In-Full-SWAT-Riot-Gear
2.
When heavily drugged Cruz is summoned to the school, the alarm is sounded, shooting occurs, Cruz leaves school with other witnesses and goes to McDonald's, found and arrested without a peep or a fight. Just a dazed look in his eyes.
3.
Haven't heard anyone say yet that they saw Cruz as the shooter. Instead heavily armed men shooting, 3 of them by some witnesses.. And the deputies outside are seen hiding, standing down.
4.
Cruz was known to authorities. Maybe he is our modern day Oswald. Notice how no one has access to this kid. Was he found with weapons? Did they dust his hands for him powder?
5.
What's with the video of police carrying that suspicious bag out of the school and throwing it in the back of the truck? Could it have been the body armor seen by teachers who witnessed the actual shooter after they removed it?
6.
Why did they arrest Cruz? Where is the evidence he was the shooter? How did they locate him so fast? Cellphone? It's not smart to automatically believe he is the shooter without solid proof and yet this case is just about shut down.
7.
Explain how this is filmed at 9:30am by Hogg's own account.
9.
Why did the police take Cruz BACK TO THE SCHOOL after they arrested him, instead of taking him to jail??
Did he forget to leave his fingerprints behind or sometbing?
#QAnon
#FloridaSchoolShooting
12.
Screenshot of Hogg's video where he stated 9:32 am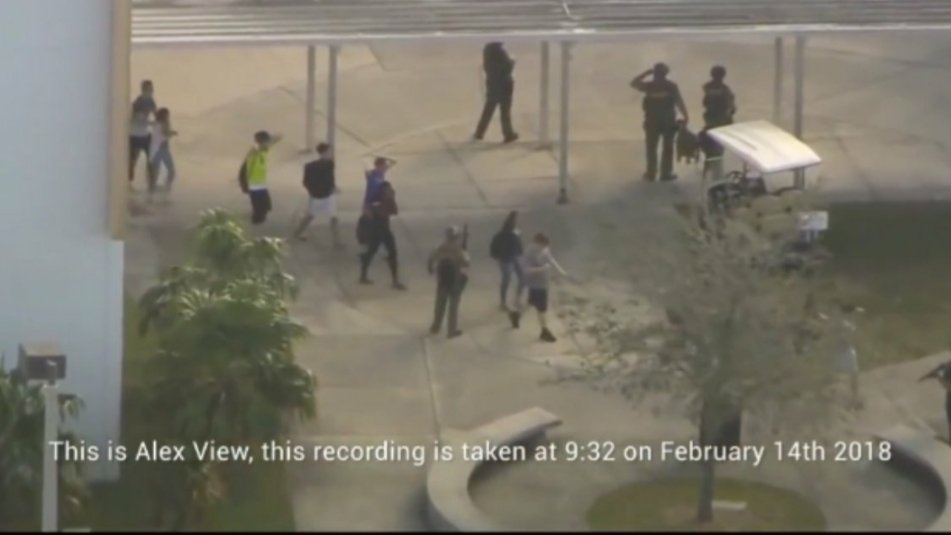 Screenshot