1/
ISIS did so many crazy things that hardly anything surprises the outside world any more.
But docs I found at regional ISIS-court in Tabqa,
#Syria
show Syrians suffered from this daily ISIS extremism.
I made top 10 of oddest court cases.
Here my 2nd story on
#ISISfiles
. 👇
2/
As most of you noticed, my 2nd story on the
#ISISfiles
is in Arabic. But in this thread I'll tweet some points in English to explain the report a bit. Do check.
@akhbar
3/
First, the
#ISISfiles
I found show that most ISIS judges in
#Tabqa
area were non-Syrians:
- Algerian Abu Maram al-Jazaeri
- Tunisian Abu Obeida al-Tunisi
- Saudi Abu al Abbas al-Jazrawi
- Tunisian Abu Hudaifa al-Tunisi
- Egyptian Abu Ismail al-Masri
etc.
@akhbar
4/
Not all ISIS-court docs I found are super shocking but I think they're significant.
Until now ISIS crimes often told by witnesses, very important of course.
But docs are something else: Names judges, accusers, witnesses, dates, tel numbers. And info on ISIS structure.
5/
Let me now paraphrase the top 10 of odd ISIS court cases that I highlighted in my report.
Number 10 is a truly bold verdict:
ISIS judge convicts Syrian man of insulting chief al-Baghdadi. Punishment: 80 lashes and shaving off hair of the accused.
@akhbar
6/
Number 9 of ISIS verdicts:
Judge Muhammad al-Tamimi issues order to chop off right hand of a Syrian man accused of stealing a scooter. "After cutting off the hand, the arm must be put in boiling oil to block the veins so accused doesn't bleed to death."
@akhbar
7/
Before I continue thread on
#ISISfiles
, pls help me report this account -->
@52umih8XIOvUXca
.
This ISIS supporter is threatening me: "I will enslave u if I see u."
This is what female journalists experience when reporting on ISIS. Endless threats of rape &enslavement.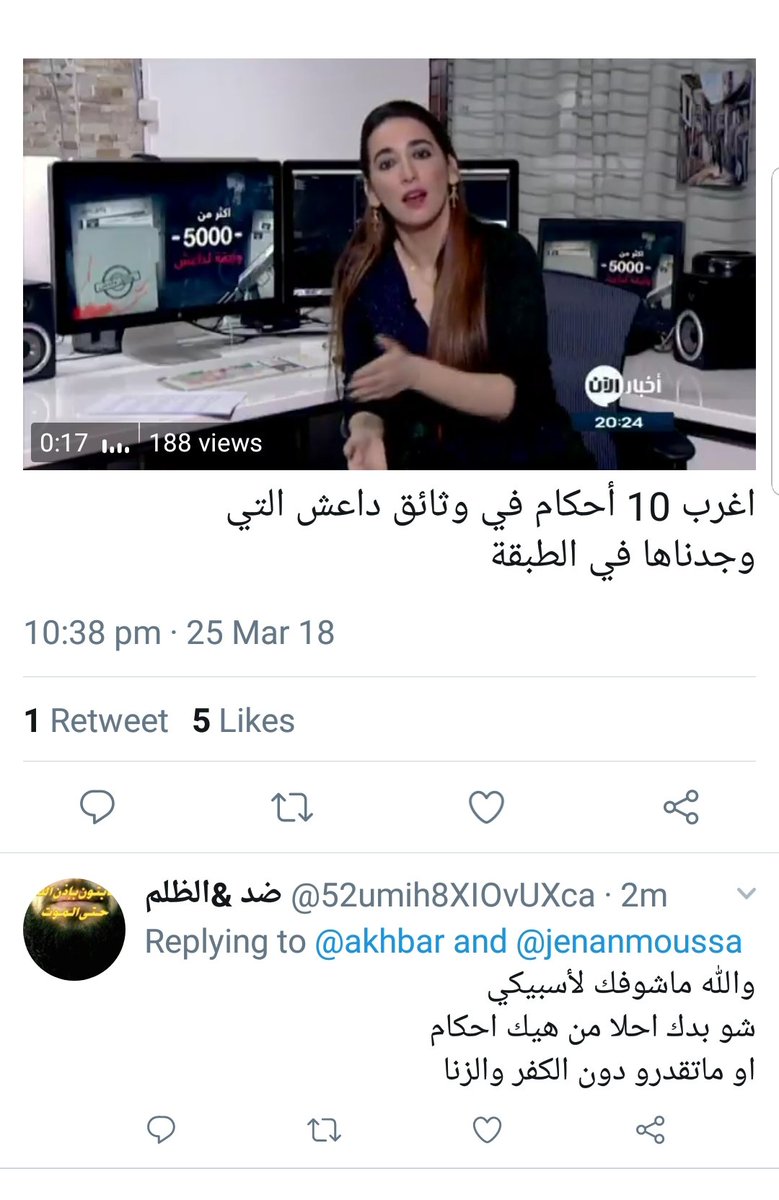 8/
Number 8:
ISIS religious police (hisba) had strict ruling on separating young boys from older men in especially playgrounds, swimming pools and gyms. This to prevent homosexual behavior.
#ISISfiles
@akhbar
9/
Another document on ISIS rulings: "Beating is allowed in ISIS prisons but within limits - only on the lower part of the feet. Beating of prisoners is only allowed under supervision of the head of the prison or the cleric."
@akhbar
10/
Document of another ruling I found, this time by ISIS hisba (religious police):
"Hisba noticed medication in pharmacies contain porn pics. Each pharmacy owner must write statement that they'll hide pics of women &other immoral pics on medication the moment they receive it."
11/
Don't be surprised when ISIS blows up a shrine, grave or mosque. Their policy:
"Blow up shrines when u can. If there is a mosque close to a grave, then deal as follows:
a. If mosque was there first, only destroy grave.
b. If grave was there first, then destroy mosque too"
12/
Ruling I found among
#ISISfiles
shows ISIS has back up of all its documents.
Feb 2015: "Due to bombing on HQ of brothers by crusader coalition" ISIS issued ruling ordering "courts to create electronic archive by copying court cases on hard disks &give it to head of court."
13/
Another interesting document that I mentioned in my report.
Court case of a Syrian man who dared to stand up against an ISIS fighter. According to
#ISISfiles
, he was sentenced to 200 lashes. And forced to ride on donkey through town of AlMansoura to be humiliated by ISIS.
14/
Here another bizarre
#ISISfile
I found in Syria:
Syrian man was accused in ISIS court of blasphemy. Acc to a witness the accused had spoken blasphemes words IN HIS SLEEP. Punishment for blasphemy is death. Even ISIS judge thought this was going too far. Accused was released.
15/
I also found this
#ISISfile
: The group is looking for an executioner.
ISIS writes: "Abu Obeida al Shemmari, head of judicial police, is to carry out punishments including cutting hands &legs of thieves &corrupt people. By this ruling he becomes the swordsman of Tabqa court."
16/
This is all regarding my 2nd of 5 reports about
#ISISfiles
I found in Syria.
I found many more ISIS court cases. Obviously I can't publish or describe them all. But files are important because many show names of judges, accused, witnesses, etc.
Thank you for your attention.