Ok guys, tonight we'll be doing a thread on last week's Wisconsin Supreme Court race. Democratic-aligned Rebecca Dallet beat GOP-supported Michael Screnock by almost 12%.
#SCOWIS
#wopolitics
#ElectionTwitter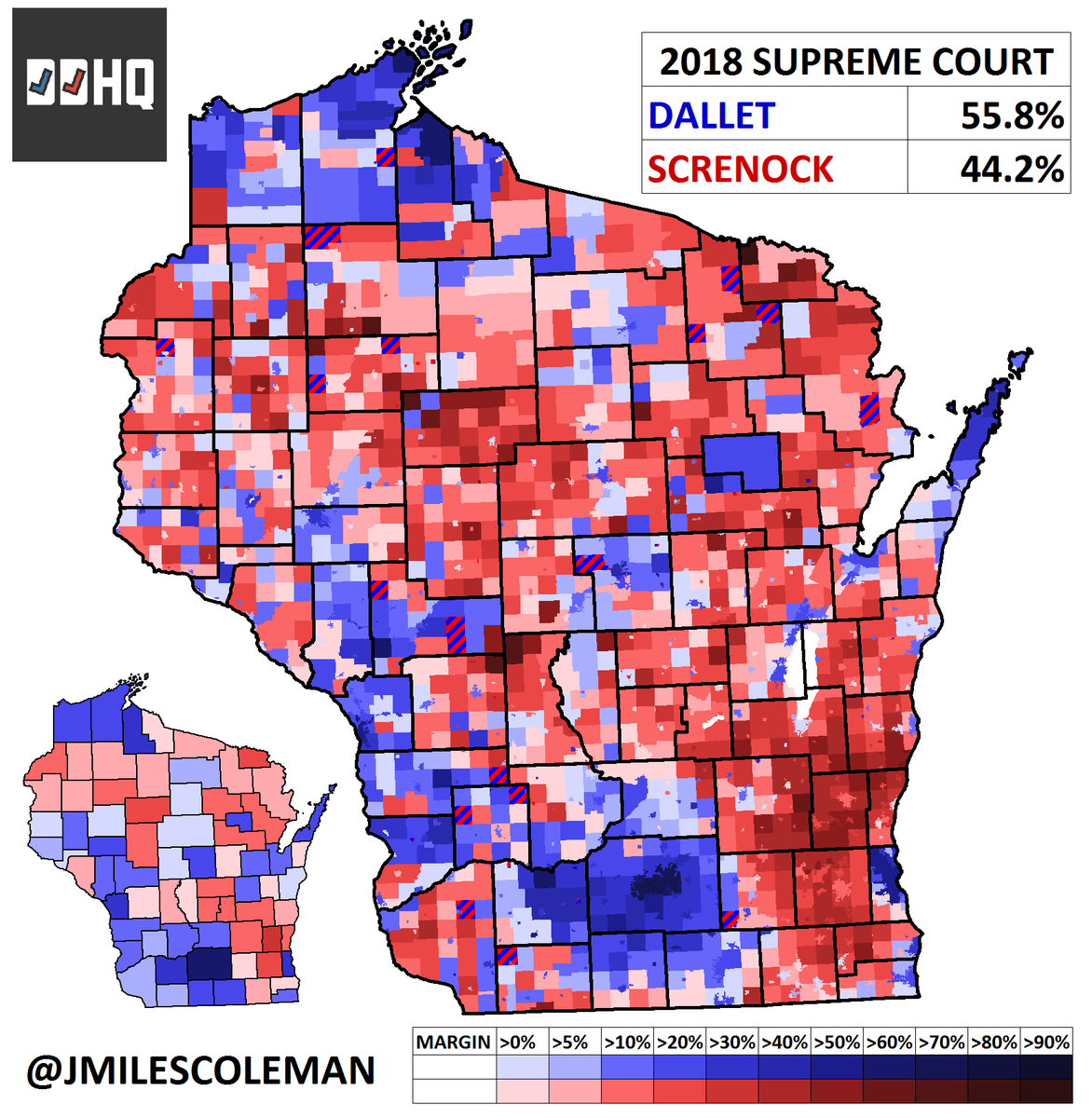 Compared to Clinton, who narrowly lost, Dallet had a lot of upside. She performed better in 69 of 72 counties. Further, looking at partisan loyalty, nearly 2/3 of her municipalities (496 of 757) voted for Trump. She flipped 24 counties. Only 2 HRC towns went to Screnock.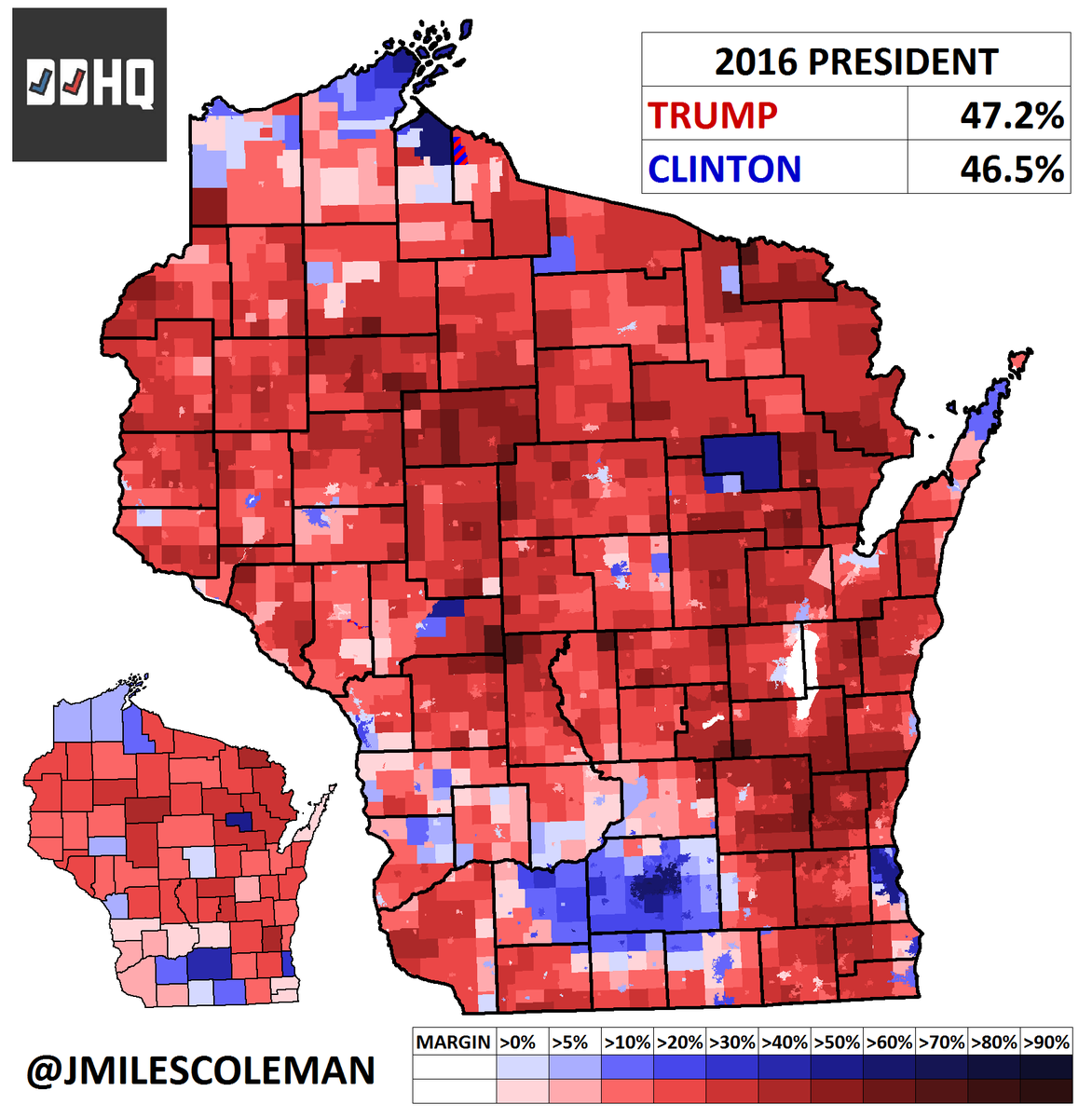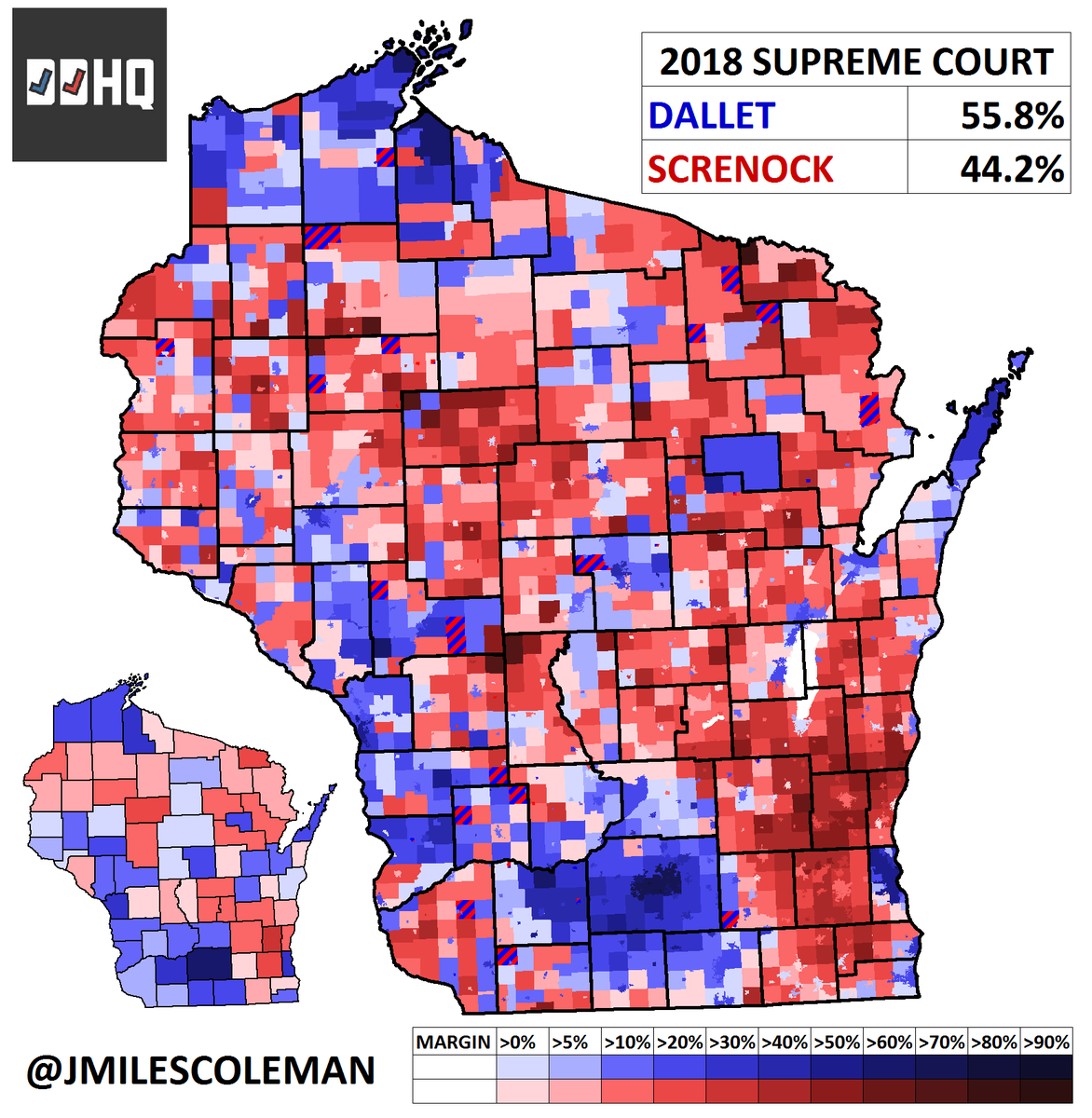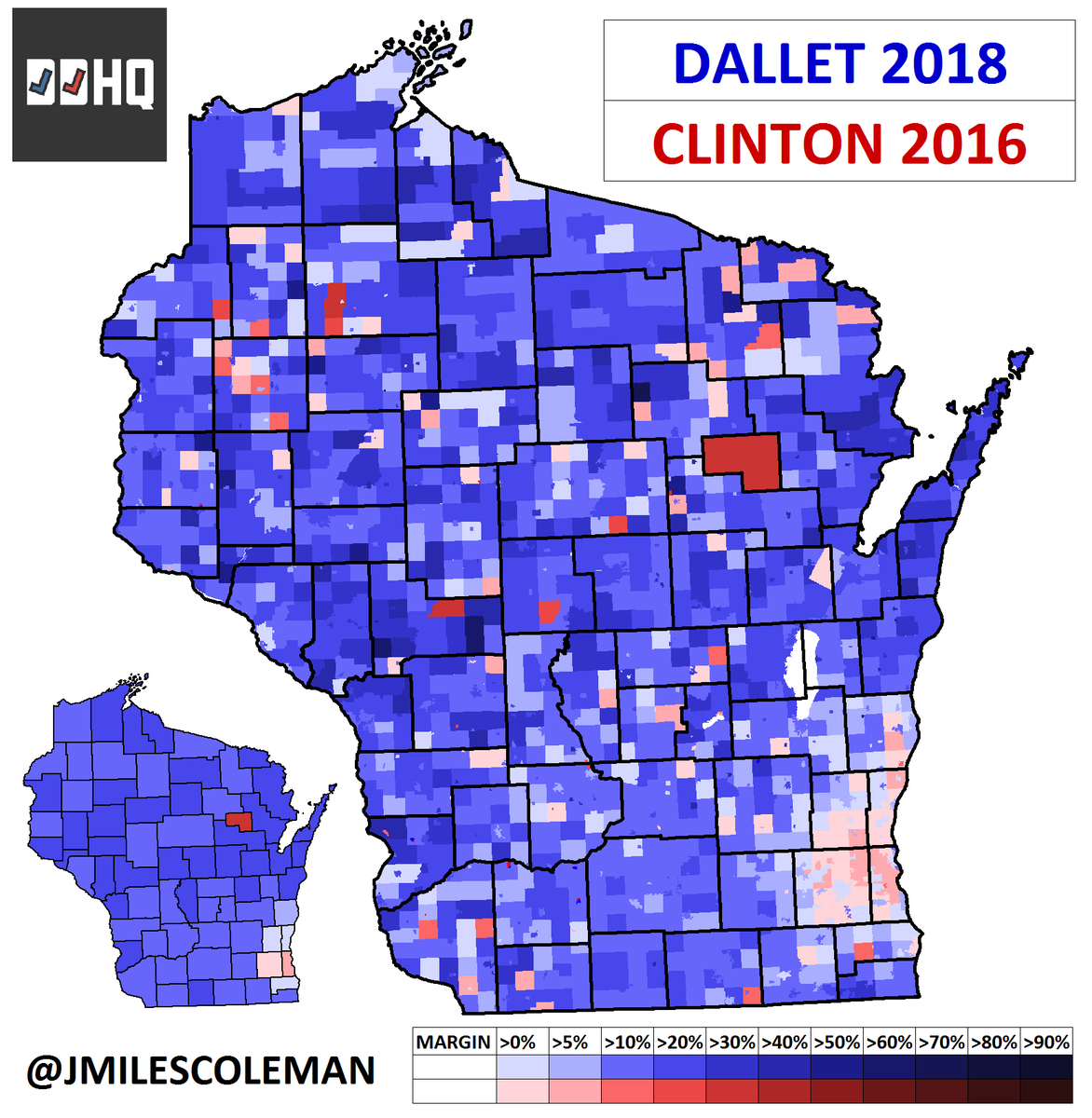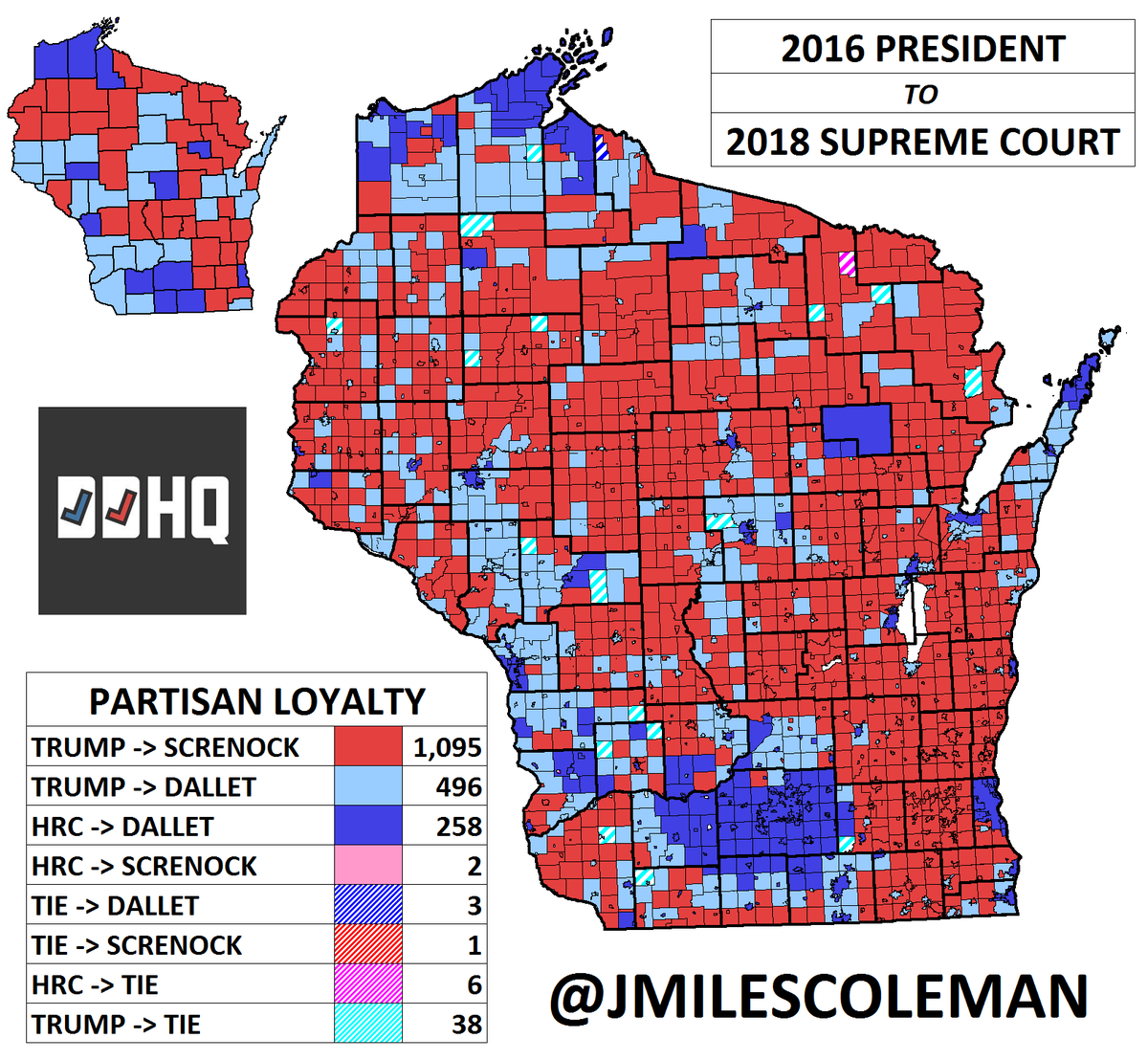 In the 2016
#WISen
race, Sen. Ron Johnson (R) won a rematch w/ex-Sen. Russ Feingold (D). Feingold ran under HRC overall, but better in rural areas. As a result, there were fewer Johnson municipalities for Dallet to flip. She still flipped 432, as well as 18 counties.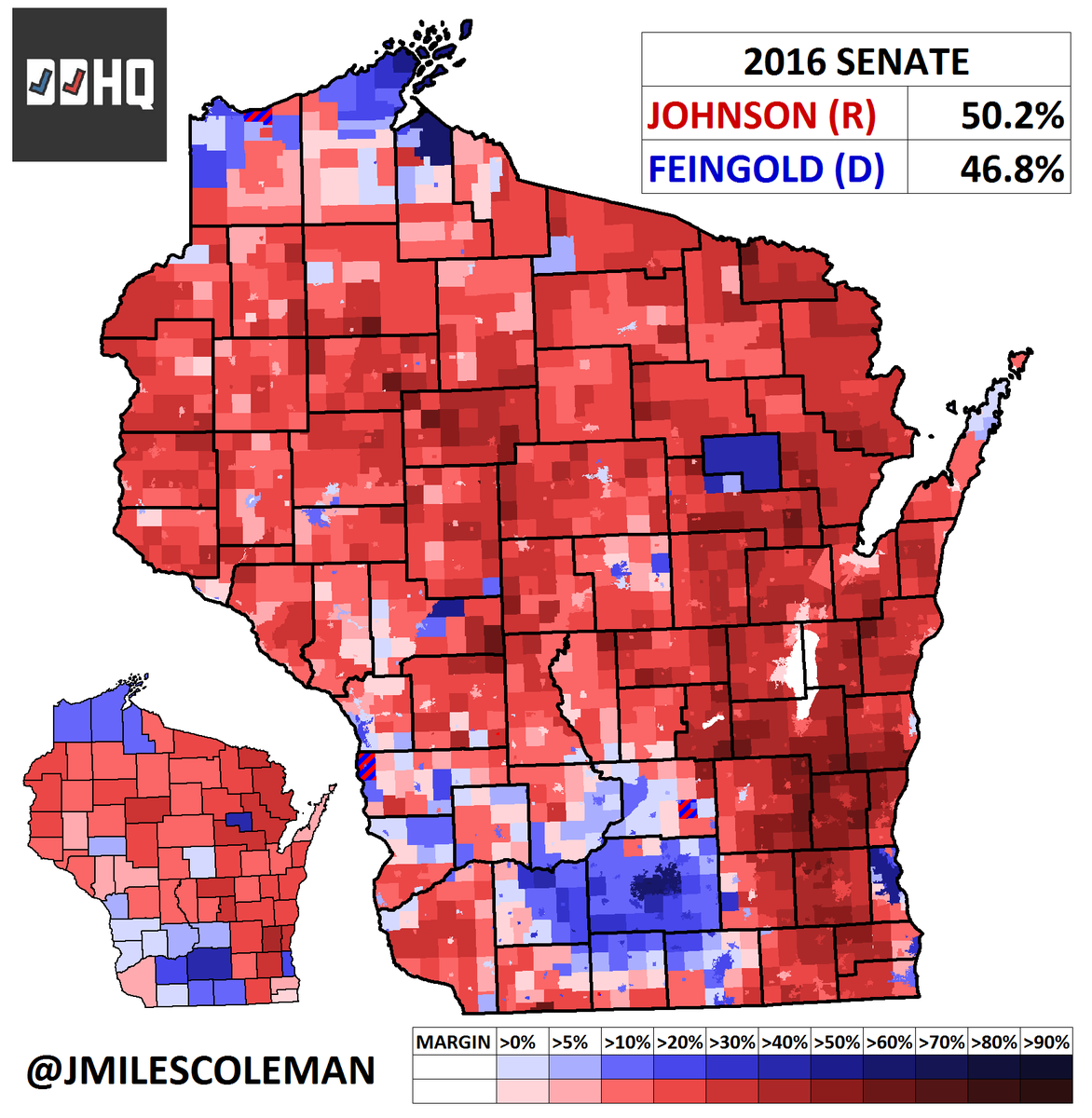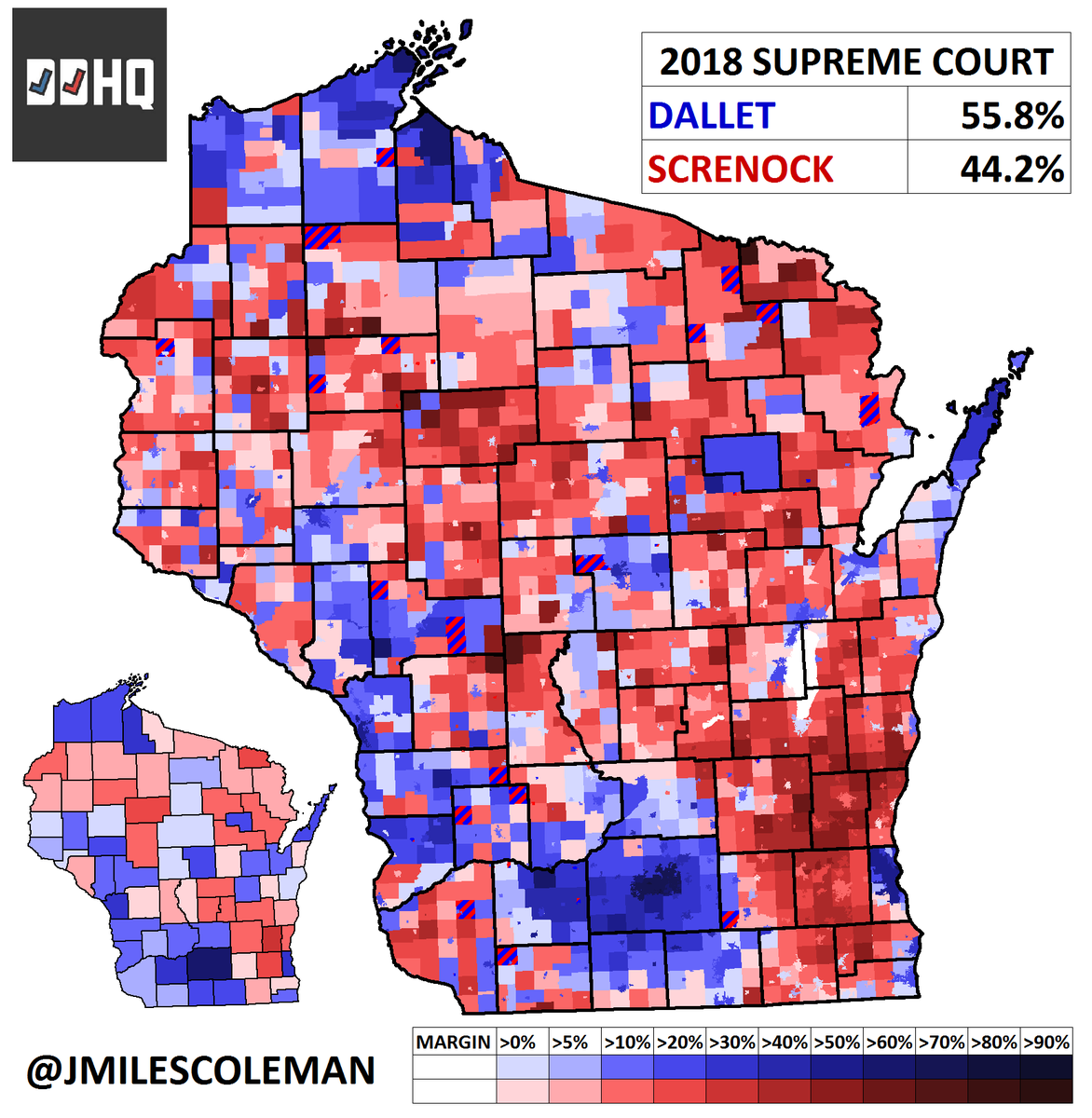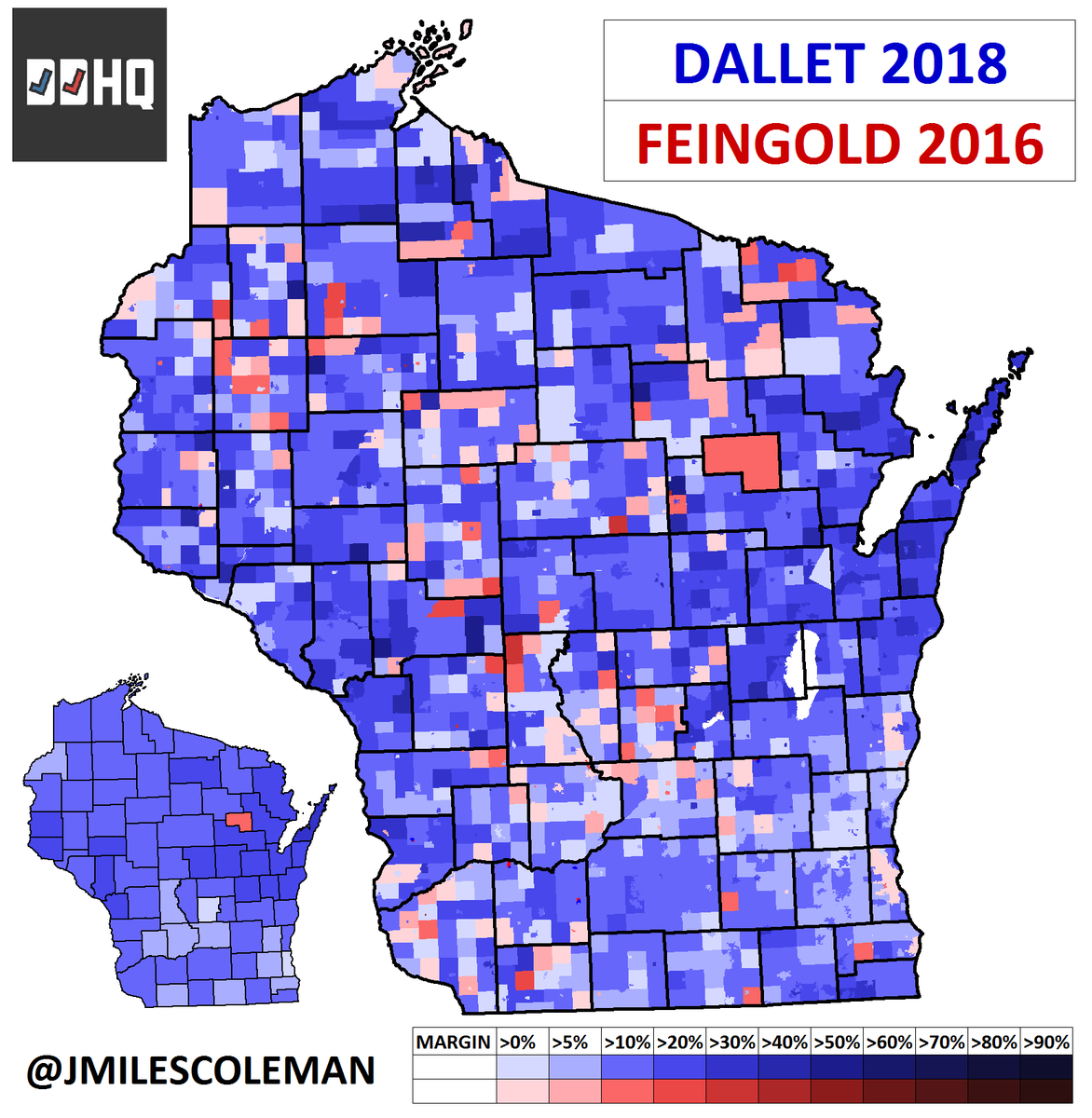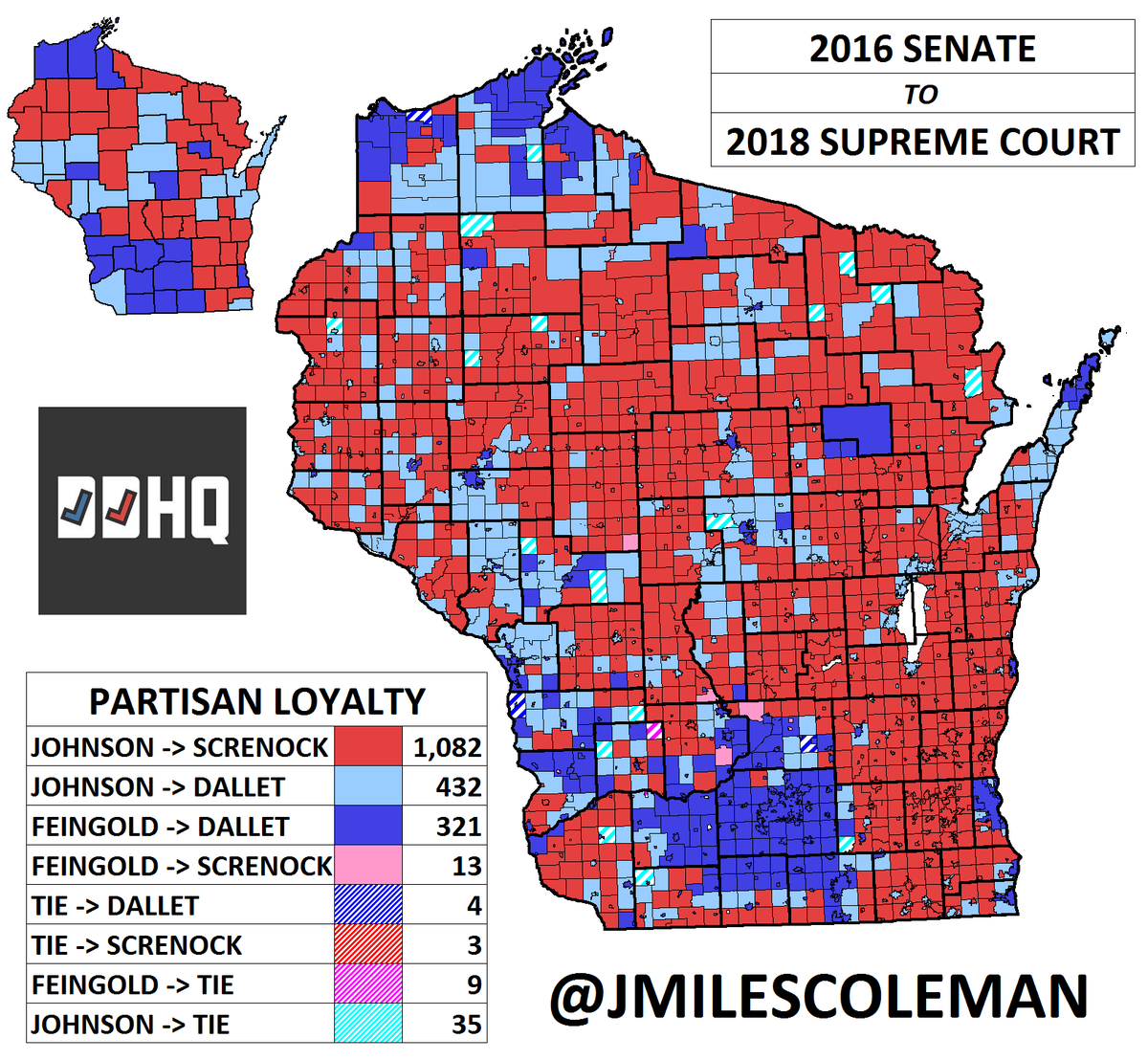 "But Miles, what about Scott Walker? Isn't he up this year? How'd this result compare to his
#WIGov
races?"
In 2014, Walker won
#WIGov
by 6% against Mary Burke. Dallet held 341 towns that voted Burke, plus added 411 Walker municipalities. She only lost 29 Burke municipalities. Juneau how many counties Dallet improved over Burke in? All but two - Menominee and... Juneau.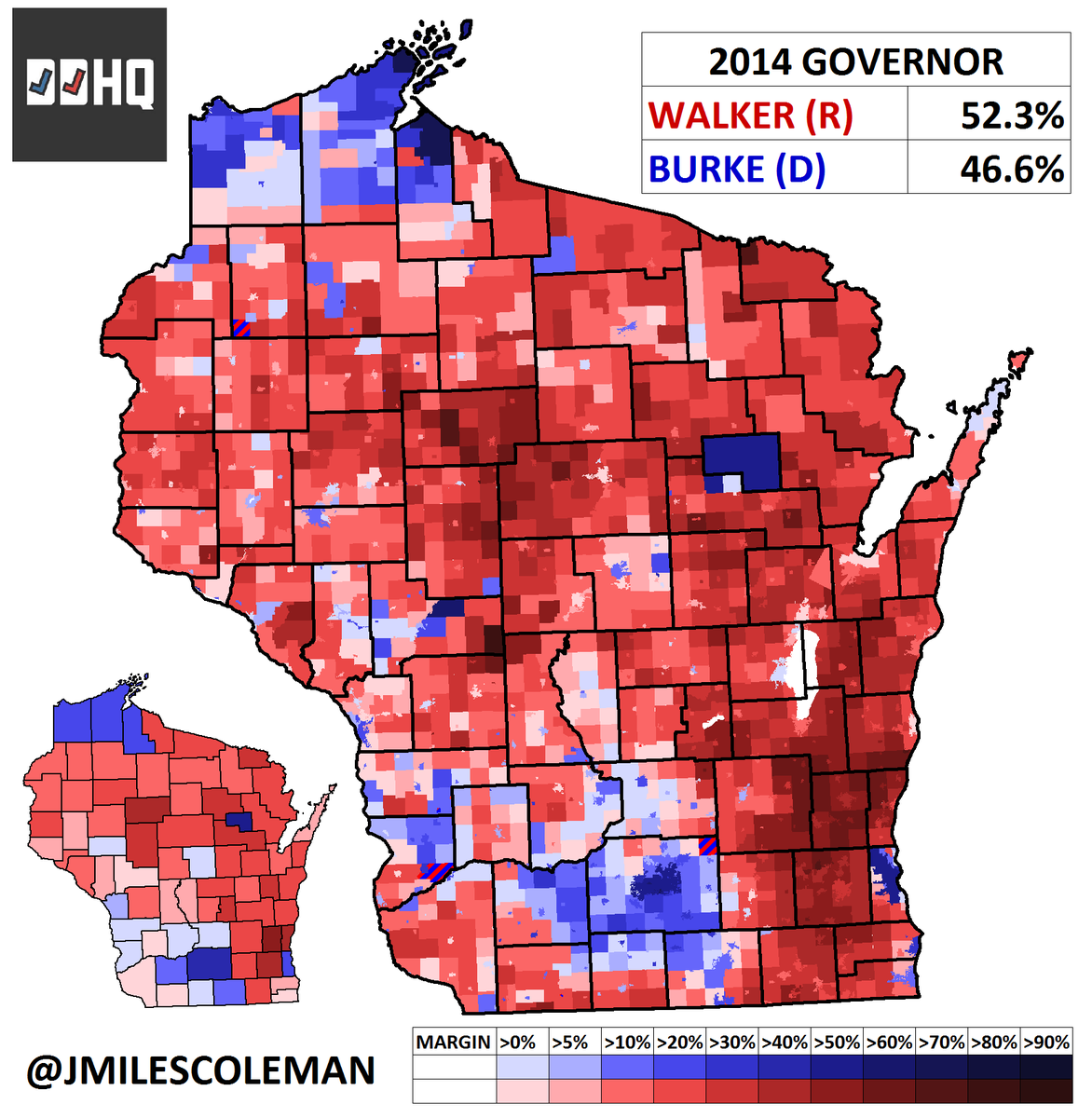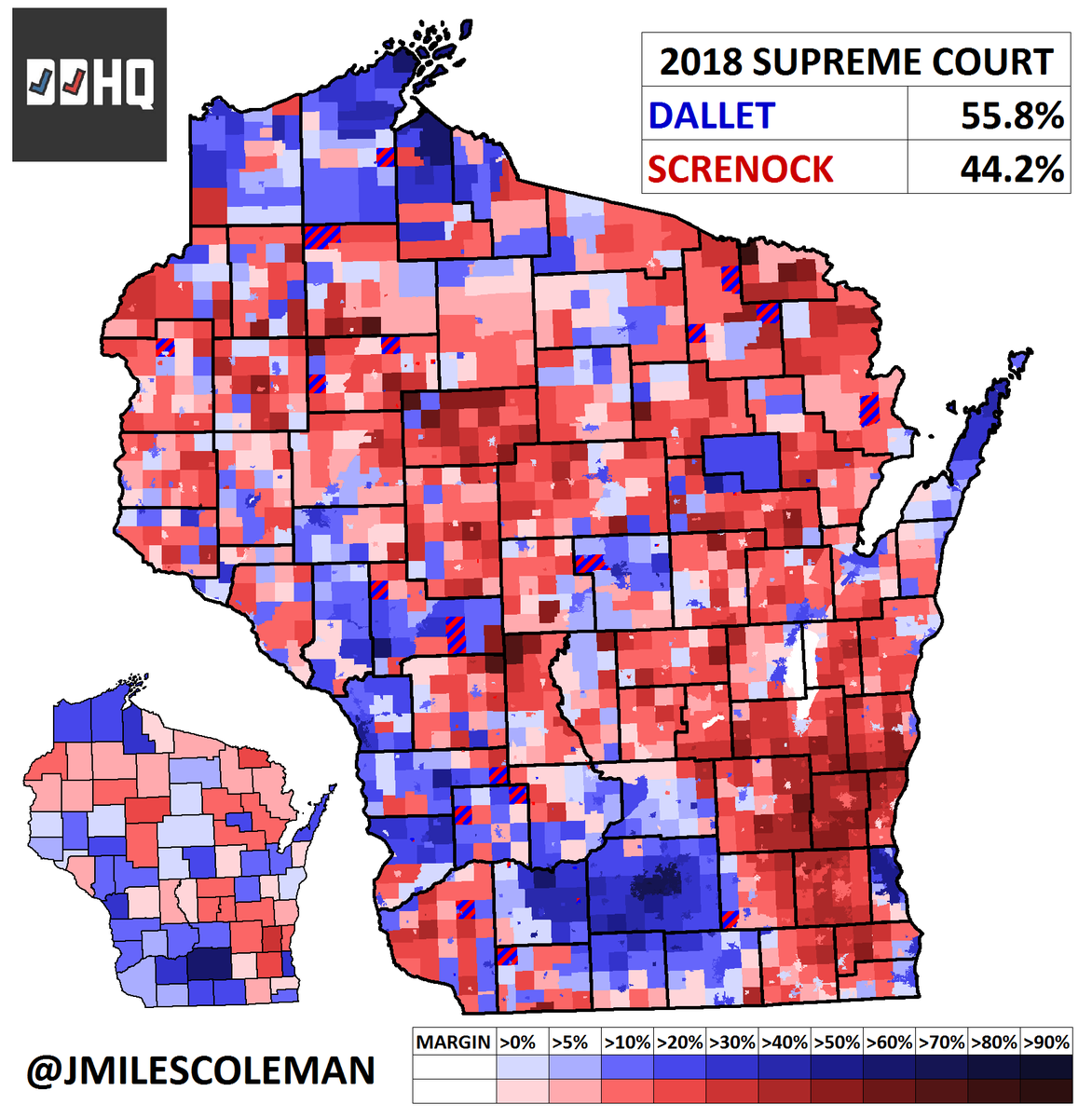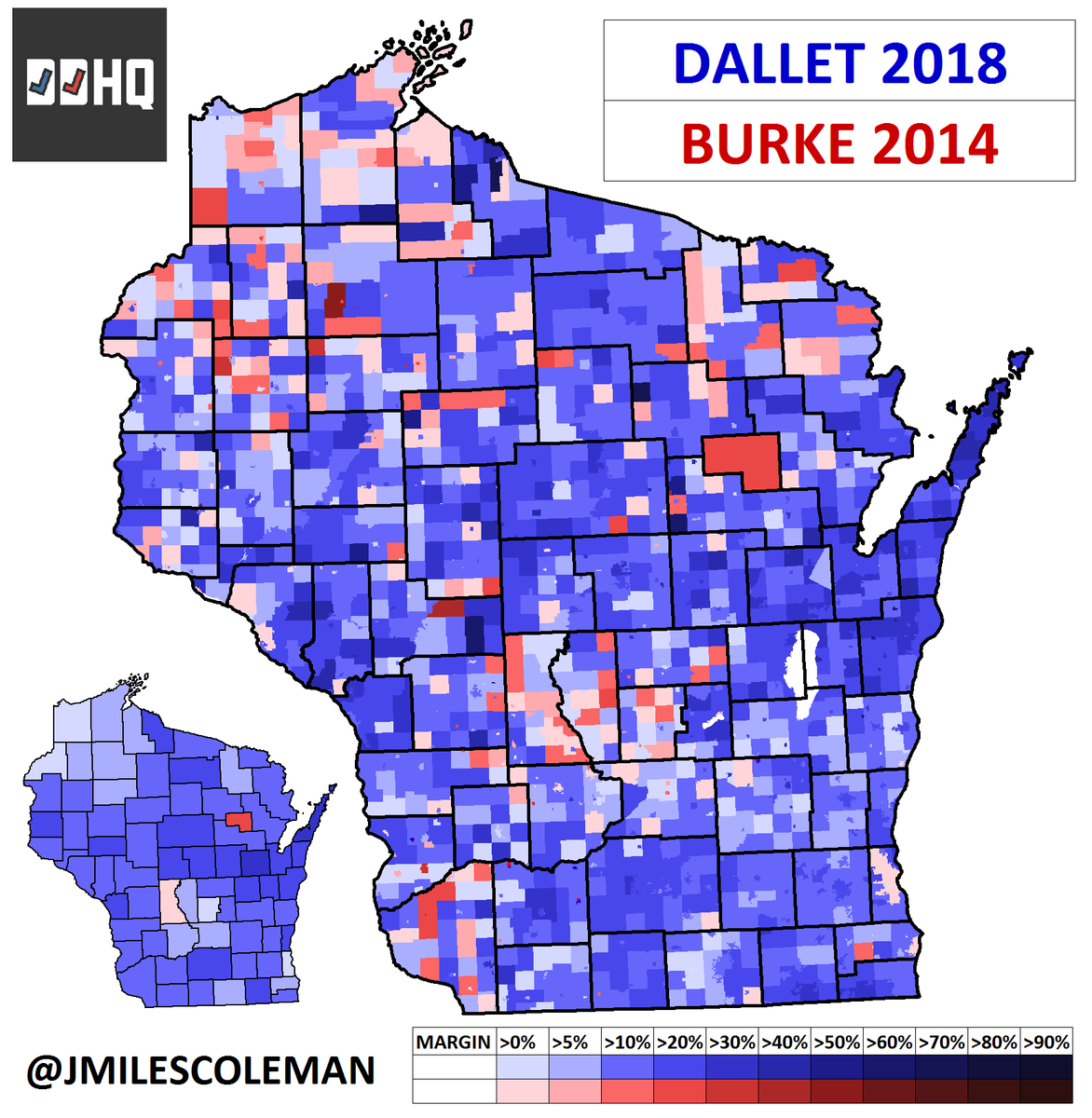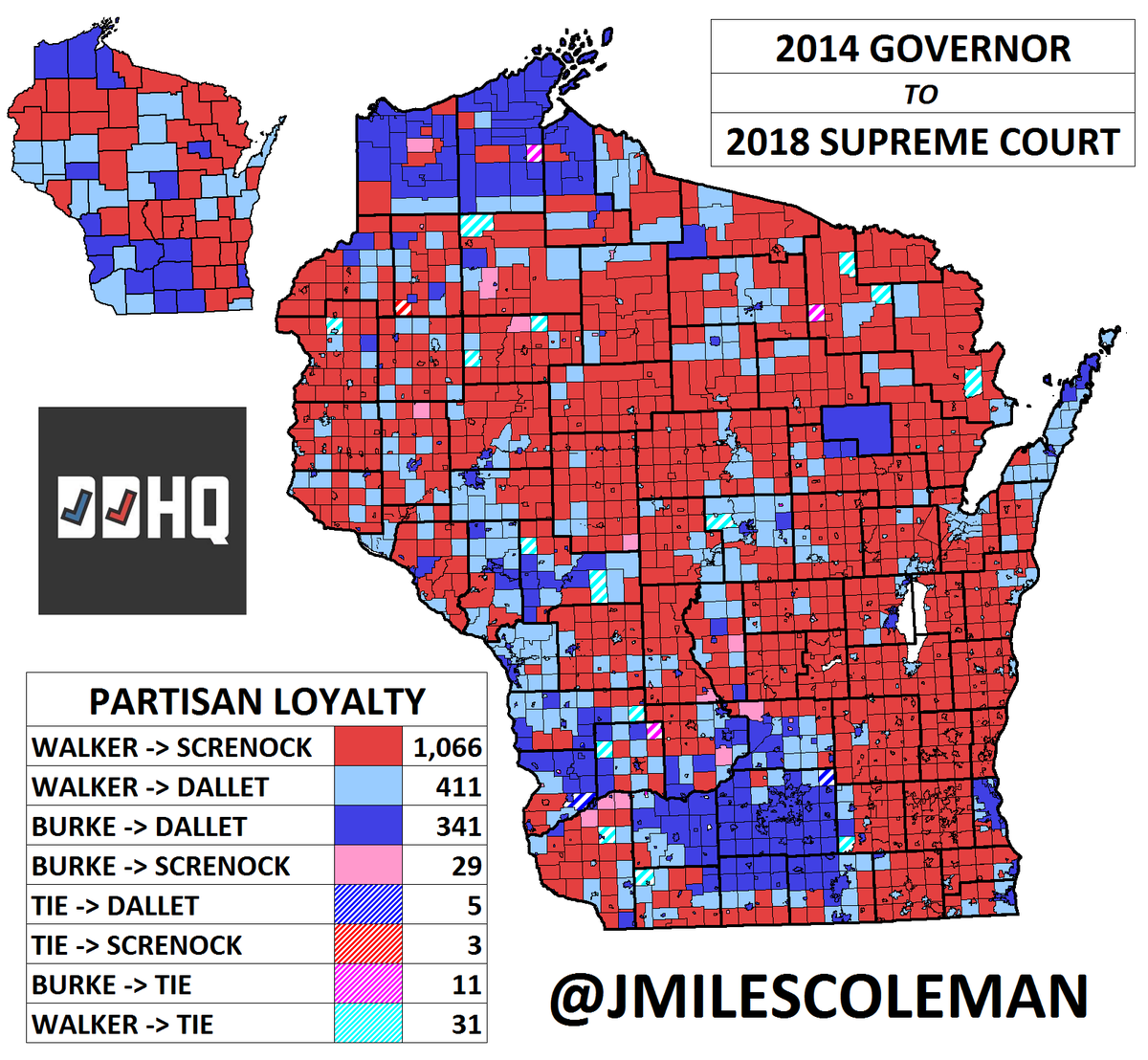 "But Miles, all these maps are nice, but what does Dallet's result look like compared to other *Democrats* who won in WI? These are all R wins..."
Lets consider 2012. Obama beat Romney by 7% in WI. While Dallet won by more, and did better in certain areas, the loyalty map is more interesting. There were actually more Obama -> Screnok towns (205) than Romney -> Dallet ones (176).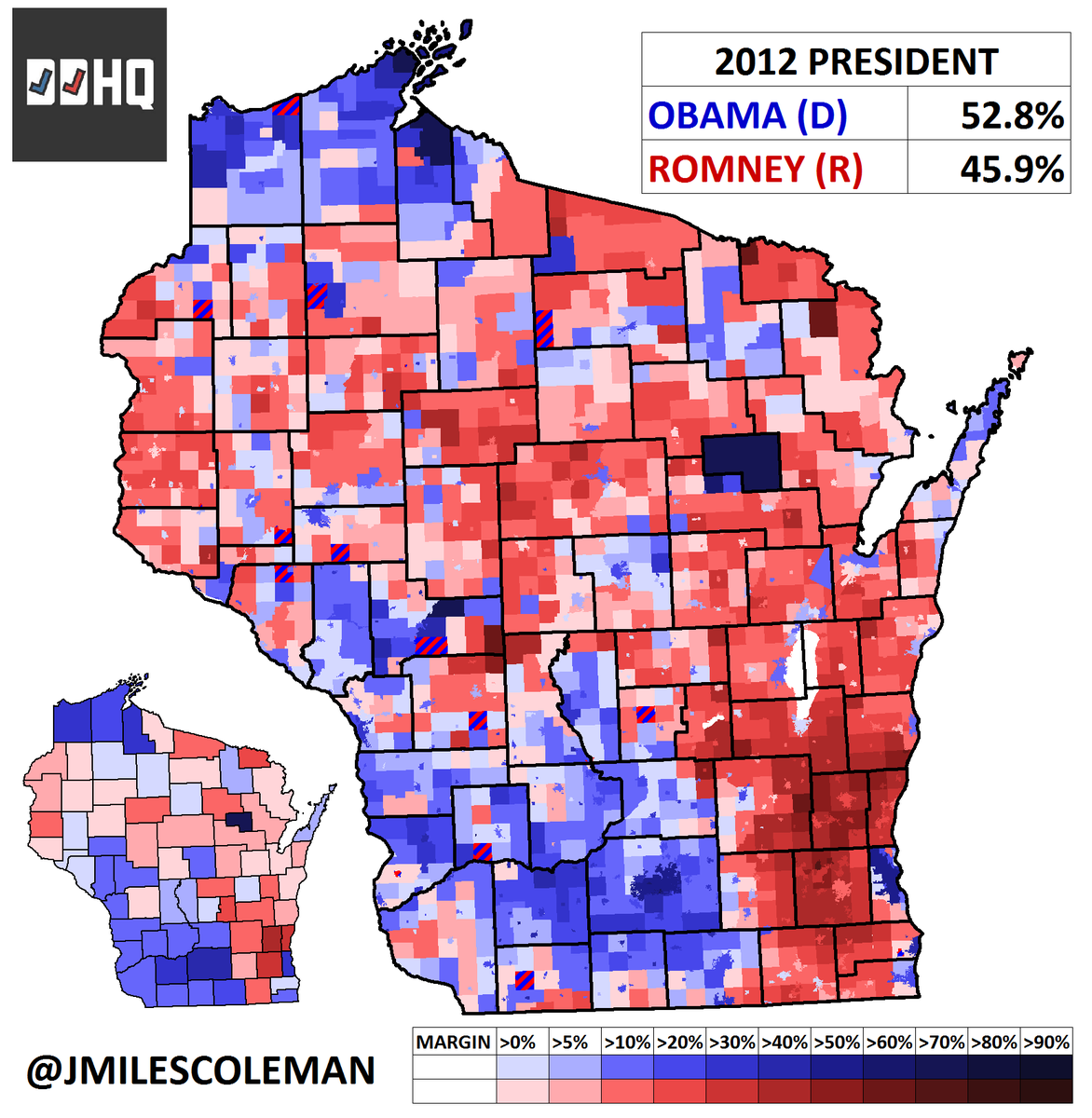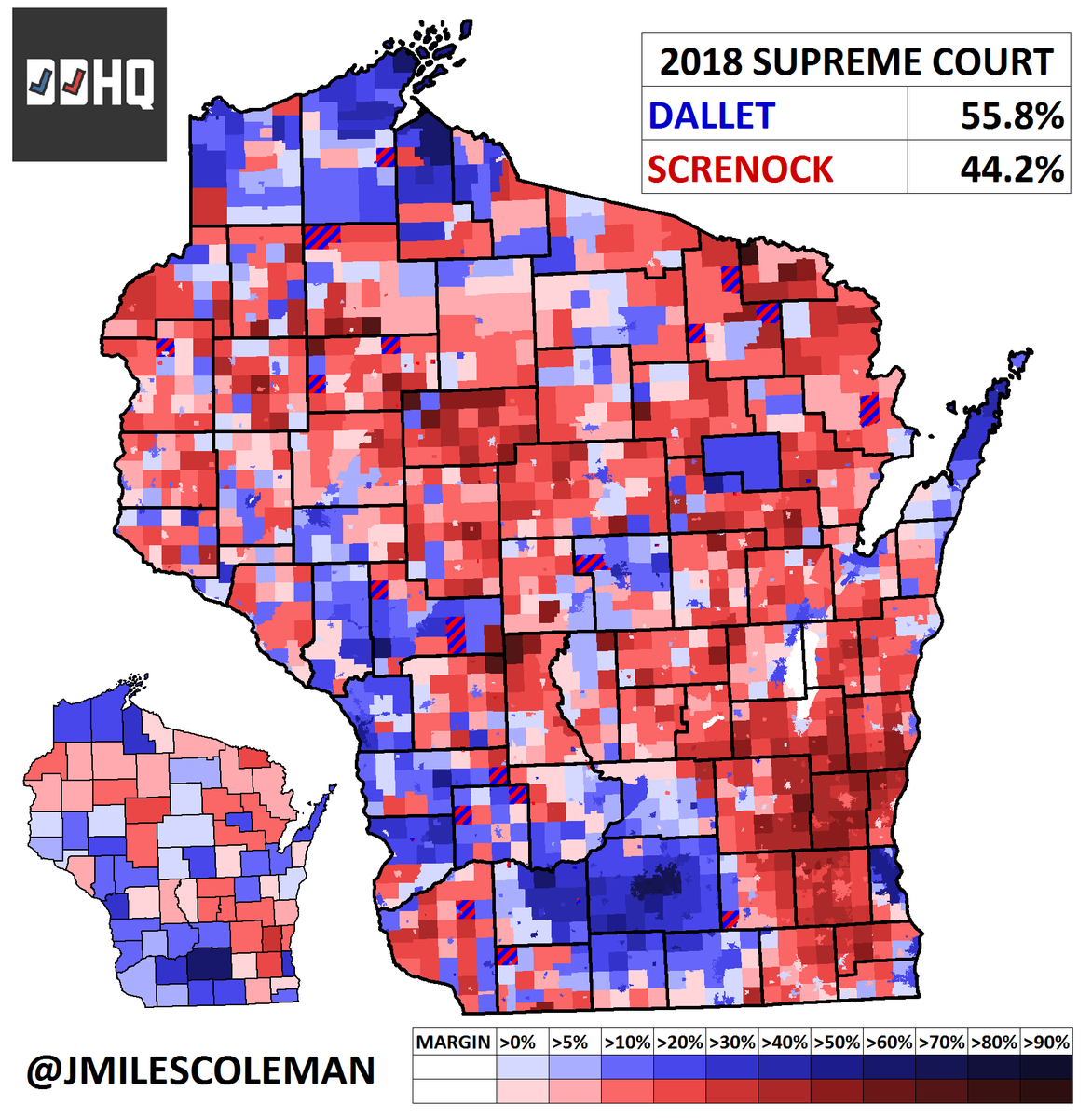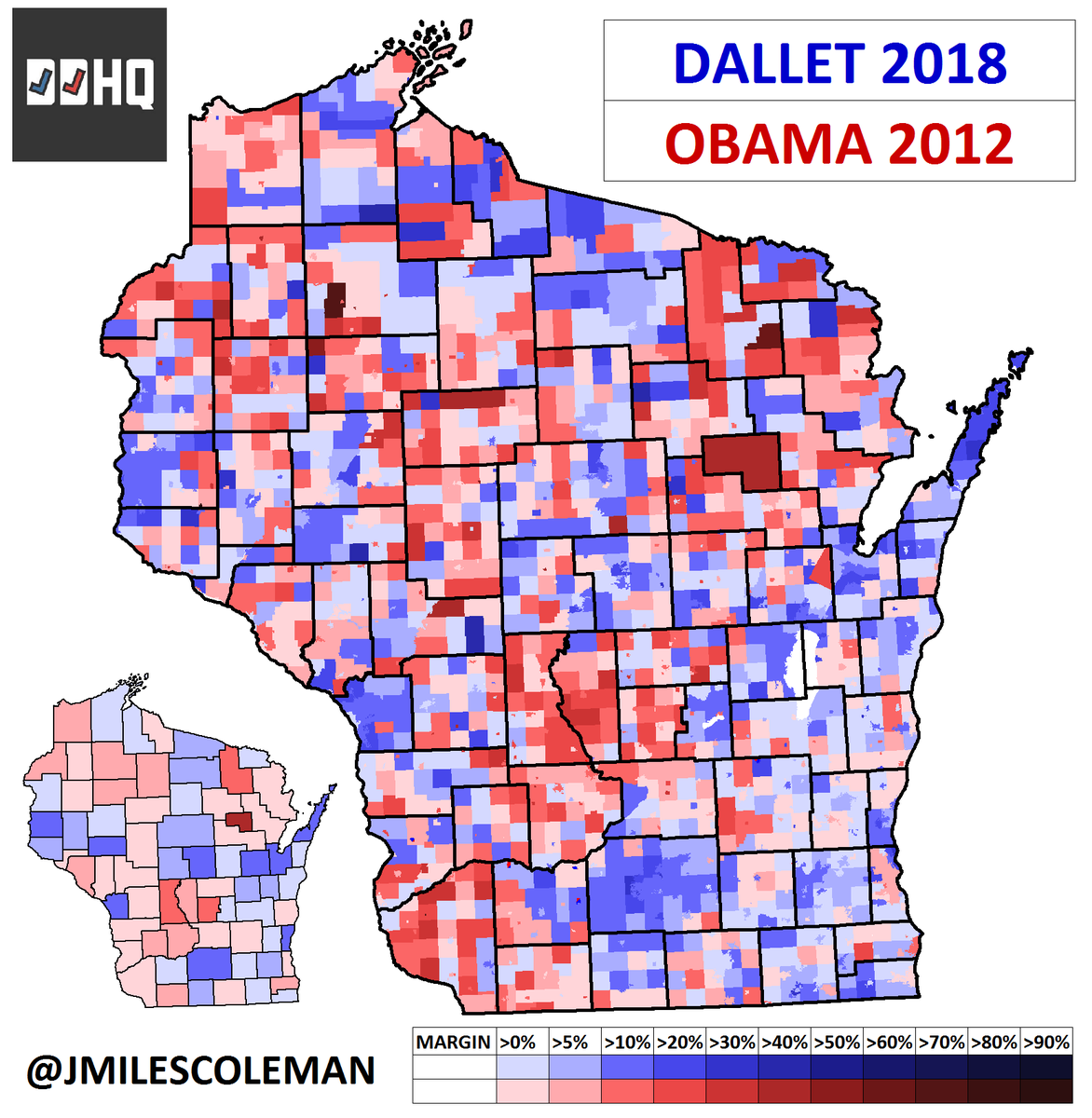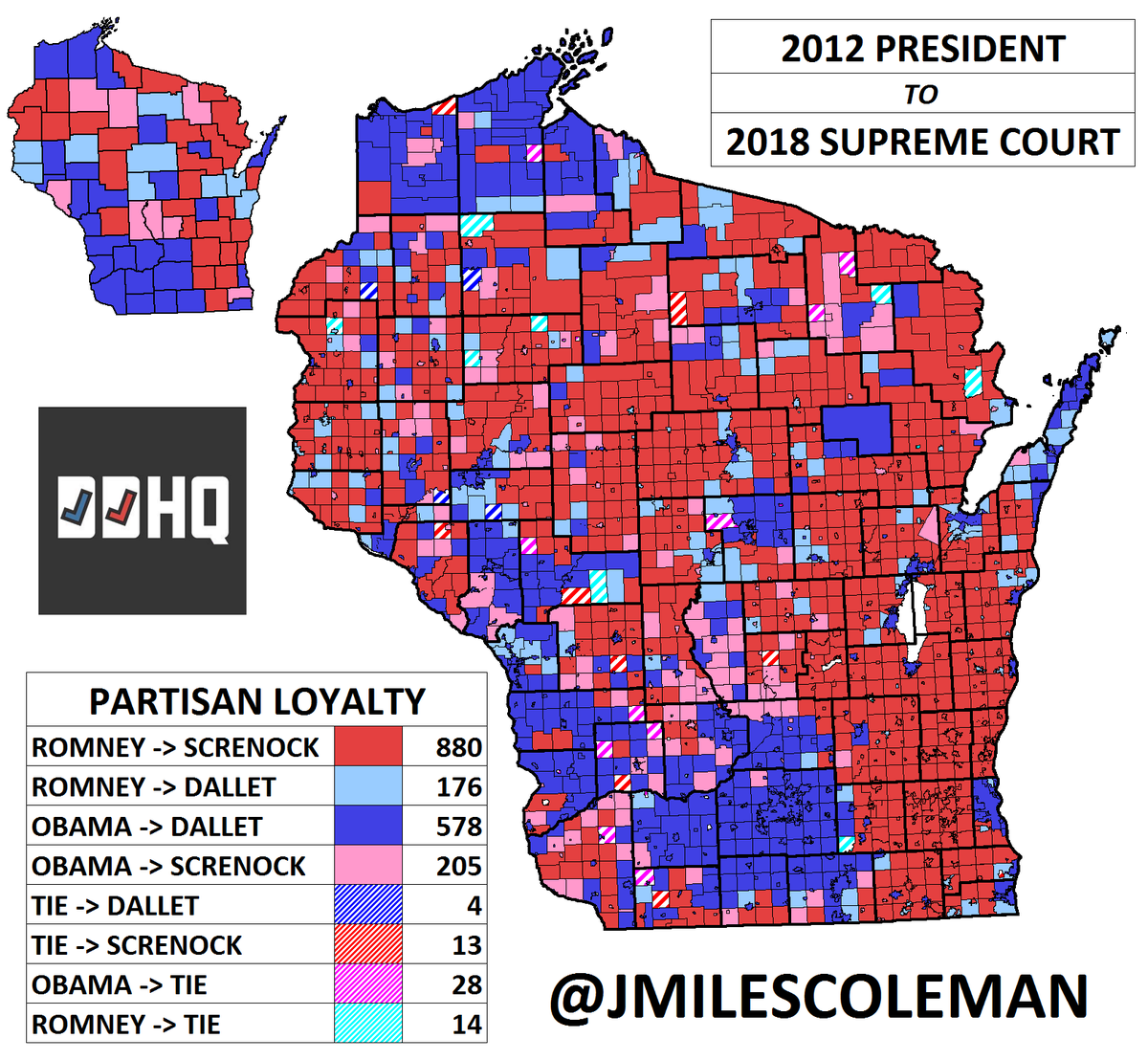 In that third map, note Dallet's strength in the northern Fox Valley (roughly from Green Bay into Appleton/Oshkosh). By contrast, Obama did better than Dallet in much of the rural north/west. Price County, for example, went to Obama by 3 *votes* in 2012. Dallet lost it by 5.5%.
"Well, how bout Tammy Baldwin? She's up for reelection this year. Wasn't her last
#WISen
race in 2012 pretty competitive? What does the swing there look like?"
Baldwin beat ex-Gov. Tommy Thompson (R) by 5.5%. Like Feingold in '16, she had more rural appeal. As a result, this map is like Obama's, but w/ a more stark urban/rural split. e.g, compared to Obama's swing maps, note darker red in Forest Co., but deeper blues near Dane.
#WISen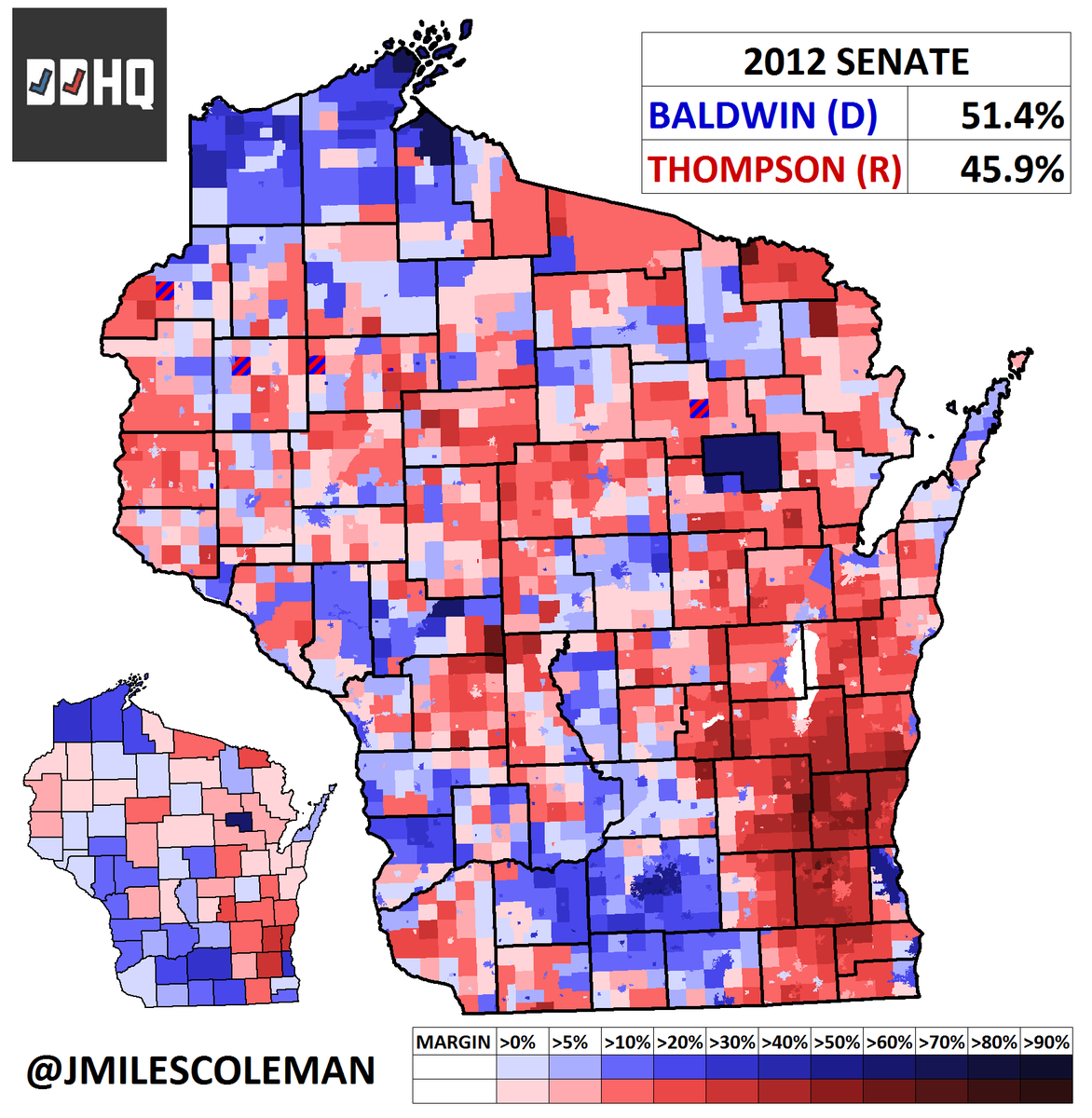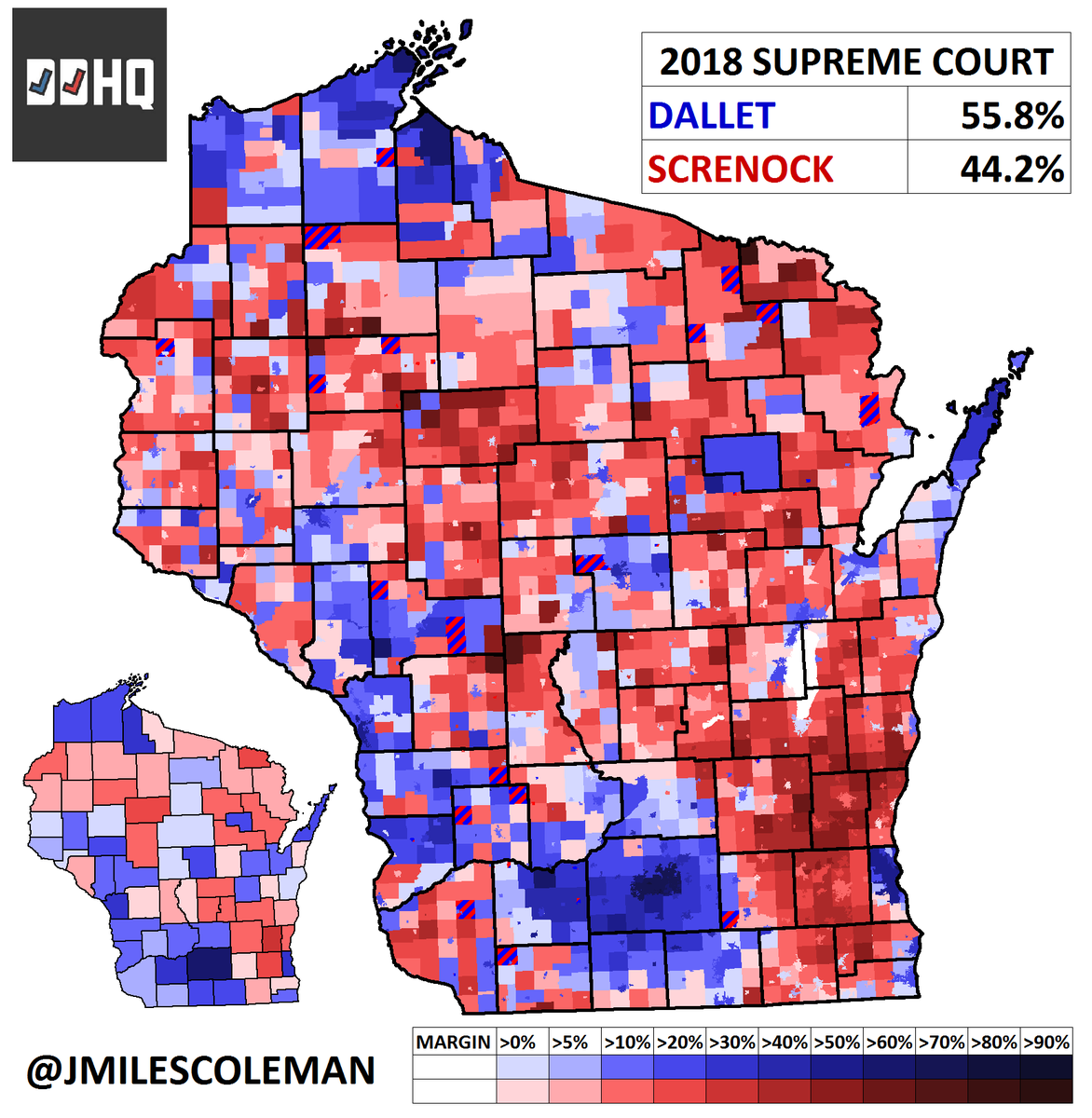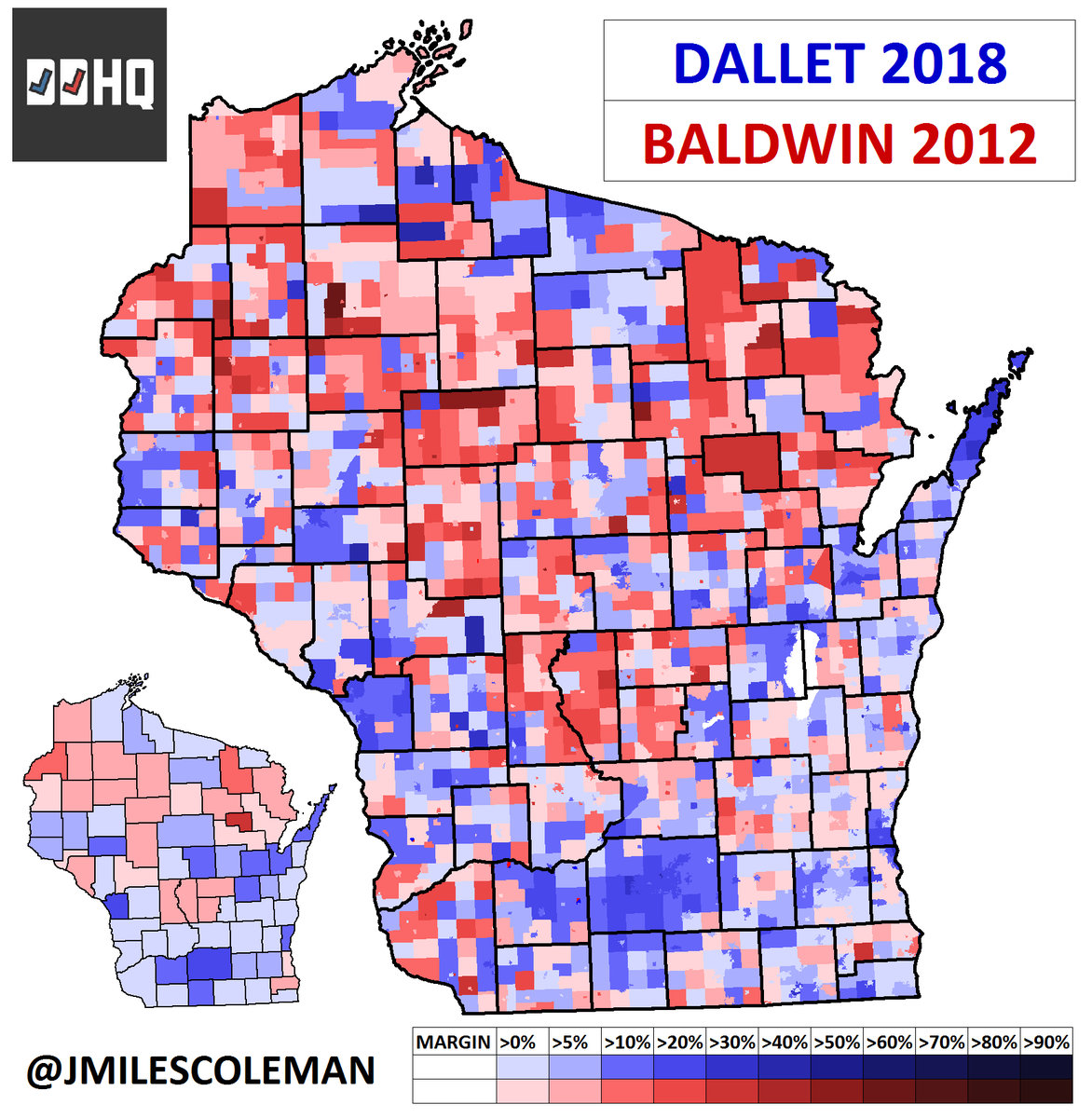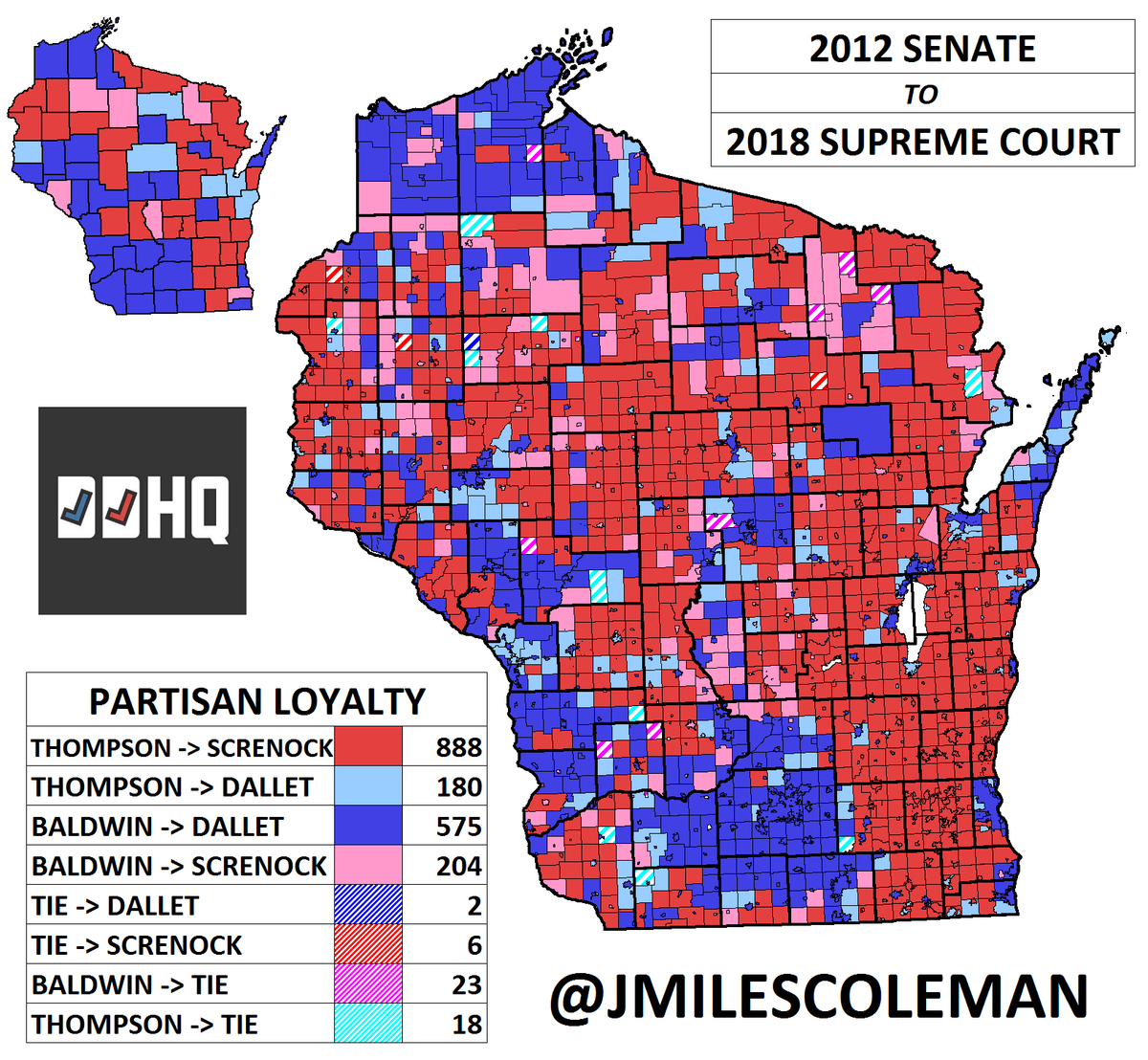 So yes guys, both Walker and Baldwin are up again this year. I'm sure after November, I'll be making more of these swing maps for those races. :)
#WISen
#WIGov
#wipolitics