Follow me for a real-time video thread of Trump's speech tonight in Indiana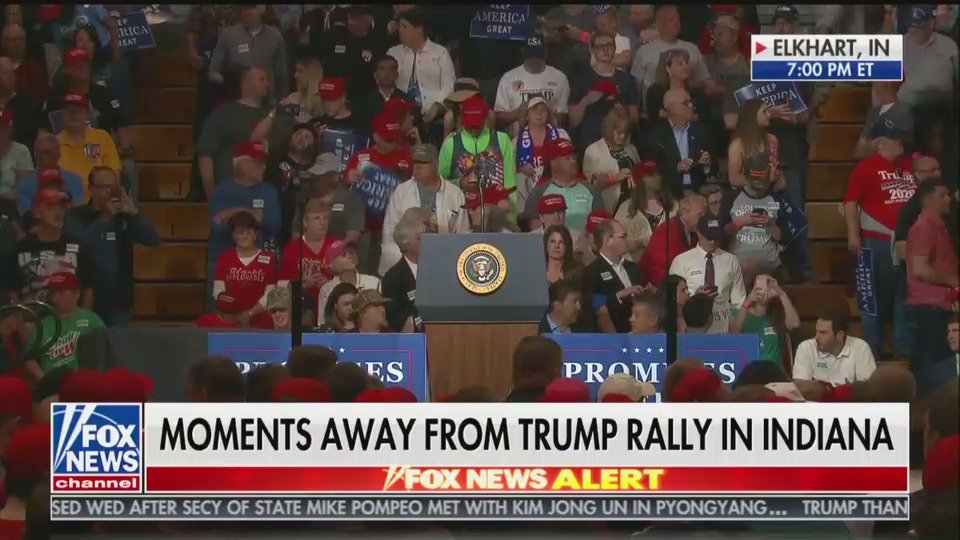 LOL
@BillHemmer
introduces Trump by touting that the Republican primary elections (against Republicans) "went the Republican way."
A seat of white faces behind Trump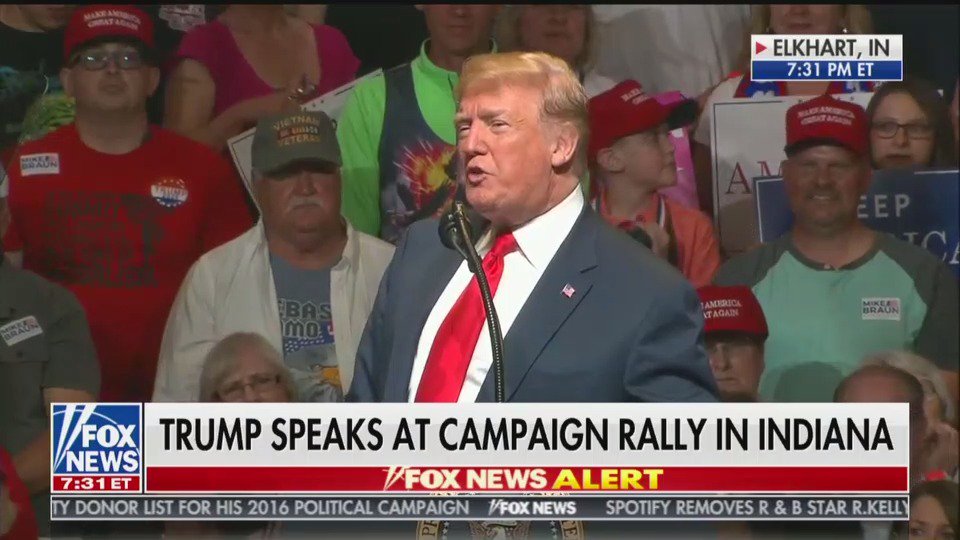 Trump claims he is meeting with Kim Jong-un "to pursue a future of peace and security for the world, for the whole world." Then attacks "fake news" media for thinking it was possible he might land us in a nuclear war in the first place.
Trump dusts off one of the 2016 campaign greatest hits, praises Bobby Knight for (for believing Trump could win) for a couple minutes. Tells a very odd story about his first phone call with Knight.
Trump has a little tiff with the crowd (there must be a lot of Colts fans) about whether Bill Belichick is worthy of cheering (crowd mostly boos)
Huge boos from the crowd when Trump goes in on the assembled "fake news media" for the first time
Trump recalls his dire campaign messaging to minorities: "I'd read and I'd say, 'high crime rate, lousy education, this, this.' I'd read like 6. One day in front of a massive crowd. 25,000, 35,000 people. I said 'vote for me. What the hell do you have to lose?' They did."
Trump says the word "women" a whole bunch of times in a very short span of time.
"Women! Do we love women?"
Trump talks about which Trump-branded campaign merch items are his favorite
Trump brags about not "paying" for hostages who were in North Korea, attacks Obama for purportedly "paying $1.8 billion for hostages."
Trump is now shouting-out Indiana Republicans and giving U.S. Senate candidate Mike Braun time to speak. We're about 30 minutes in and nothing at all yet on Mueller or Cohen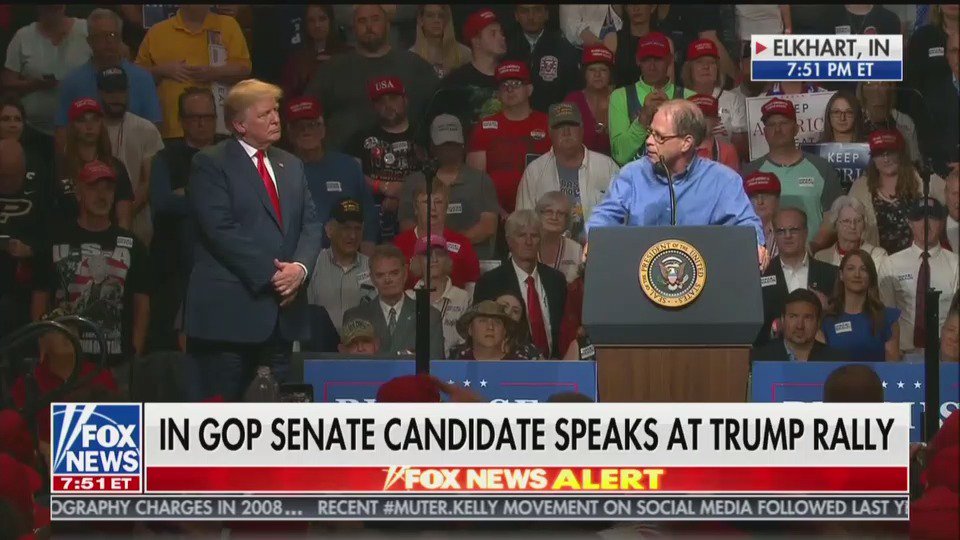 Trump attacks Keith Ellison for wearing a shirt that said, "I do not believe in borders."
Huge, if true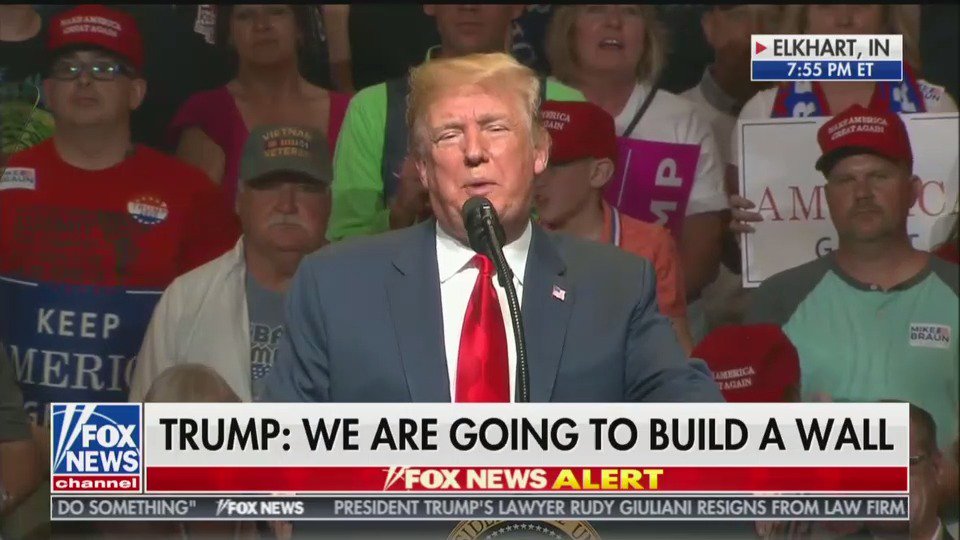 Trump claims that people in San Diego are "desperate for their wall because they don't like people running over their front yards and all of the problems, right?"
Trump hits Sen. Joe Donnelly for being opposed to torture.
"Think of that. Why in the world would anybody be voting against enhanced vetting?"
Trump tells the crowd: "Never believe that your second amendment is not under siege."
TRUMP: "We put our large beautiful hands (?) on our hearts for the pledge of allegiance."
TRUMP: "This November, Indiana will face an important choice. You can send a really incredible swamp person back to the Senate like Joe Donnelly, or you can send us Republicans like Mike Braun to drain the swamp."
Crowd starts chanting "drain the swamp."
Trump, with a straight face, claims that "under my administration, we're fighting against the lobbyists, the special interests and the corrupt Washington politics."
Trump claims that when he started running for president, "the big store chains" weren't "saying merry Christmas, merry Christmas." Implies that because of him, they're doing it again now. (It's May.)
Trump brags about choosing "one of my friends" David Friedman to be his ambassador to Israel, says he "made a lot of money as a lawyer." 👀
Trump puffs himself up for being so frugal in choosing a site for the embassy in Israel. (He's told this story like four times at different events, and it still barely makes sense.)
The crowd is silent as Trump rants and raves about "Tiffany locations" in New York and London.
Trump claims that staying in the Iran nuclear deal would have "ultimately very quickly" let Iran "have a nuclear weapon" and would have "spread bedlam and death and destruction all over the Middle East."
TRUMP: "Loyal citizens like you help to build this country, and together we are taking back our great and beautiful country."
Trump's shout-out to Indiana is all about sports: "It's the state that gave us Notre Dame football, Hoosier basketball. And the legendary Indy 500."
Trump takes credit for the American economy being the largest of any country in the world.
"People forget. People forget. We're not going to let them forget."
Trump spoke for over an hour and *didn't once* mention Bob Mueller, Michael Cohen, or the Russia investigation at all. Notable.
Missed this when it happened live, but notable that Trump mused about getting "an extension on the presidency," said media "would be happy because when I'm not here their ratings are going to sink, so they'll probably be very happy."