THREAD WHO IS VALERIE JARRETT: Not related to
#RoseanneBarr
's comment but it is in regard to why VJ is so disliked on the right & by many on the left. Although often referred to as a "nice person w/ some skill," her access & input into the Presidency was unmatched!
#Truth
(1)
(4)
MORE ON VALERIE JARRETT'S BACKGROUND - Hyde Park Daly- run Chicago politics that raised up and groomed Barack Obama >>> Terrorists like Bill Ayers, and then there's Louis Farrakhan and the Communist Party USA.
Also ties to
#MuslimBrotherhood
jewsforsarah.com/?p=22755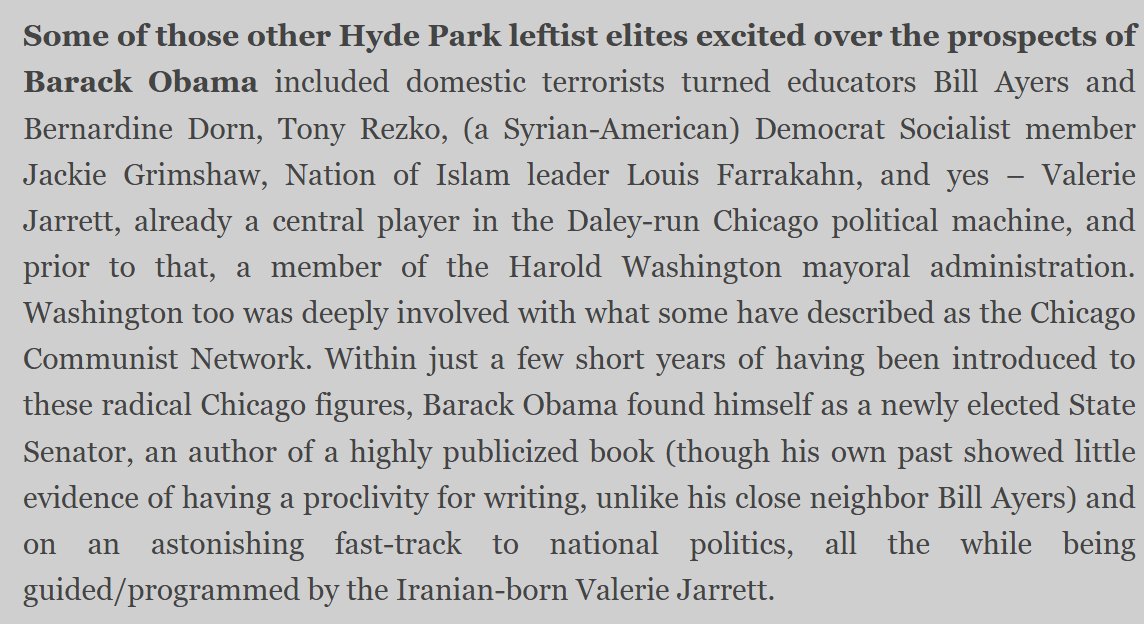 (5)
THIS WIKILEAKS LEAK SHOWS VALERIE JARRETT'S OPPOSITION TO THE KILLING OF OSAMA BIN LADEN-MILITARY HAD PLANS TO ACT ANYWAY:
#Obama
conflicted & w/o opinion, an absentee President afraid to act outside of VJ's approval. He finally gave the go ahead.
wikileaks.org/gifiles/docs/1…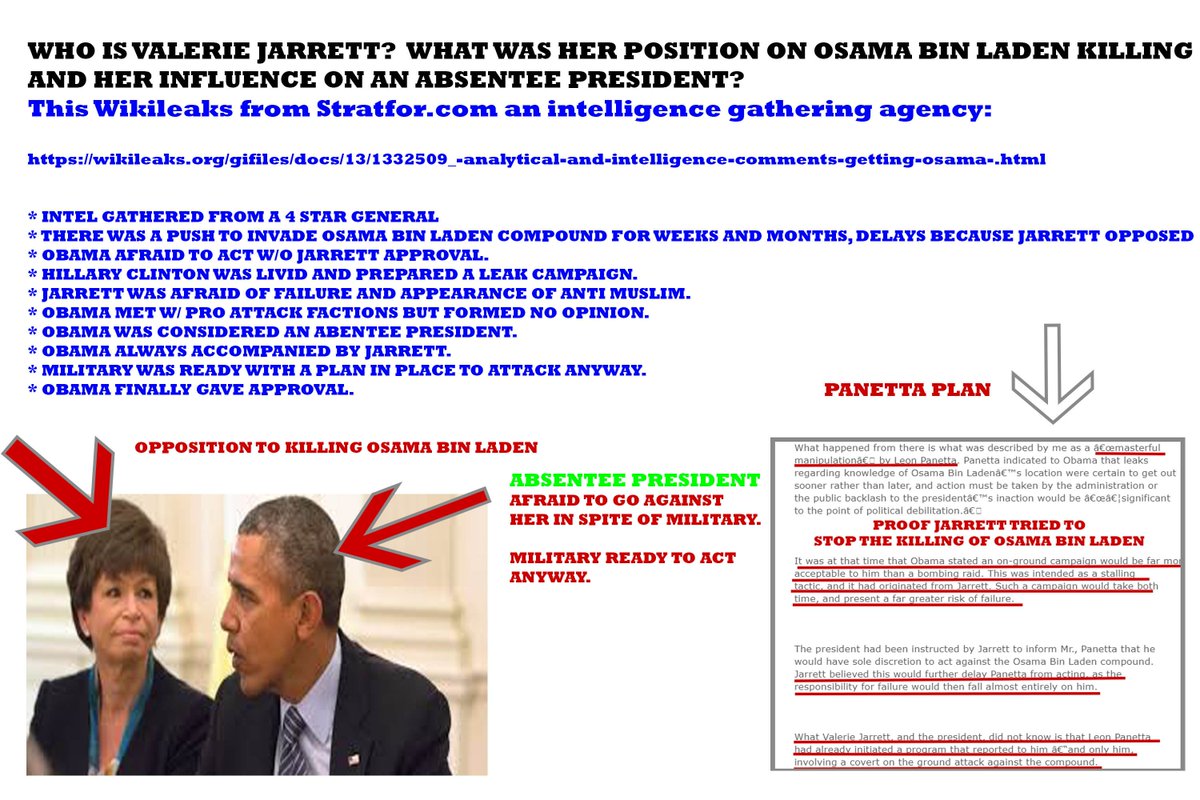 (6)
VALERIE JARRETT'S POWER WITH OBAMAS- Whatever they do she will be right there. It's like a marriage. From Community Organizer to Netflix not a thing happens that isn't run by her. Here's an interesting article from Chicago Mag-
bit.ly/1t8TVRY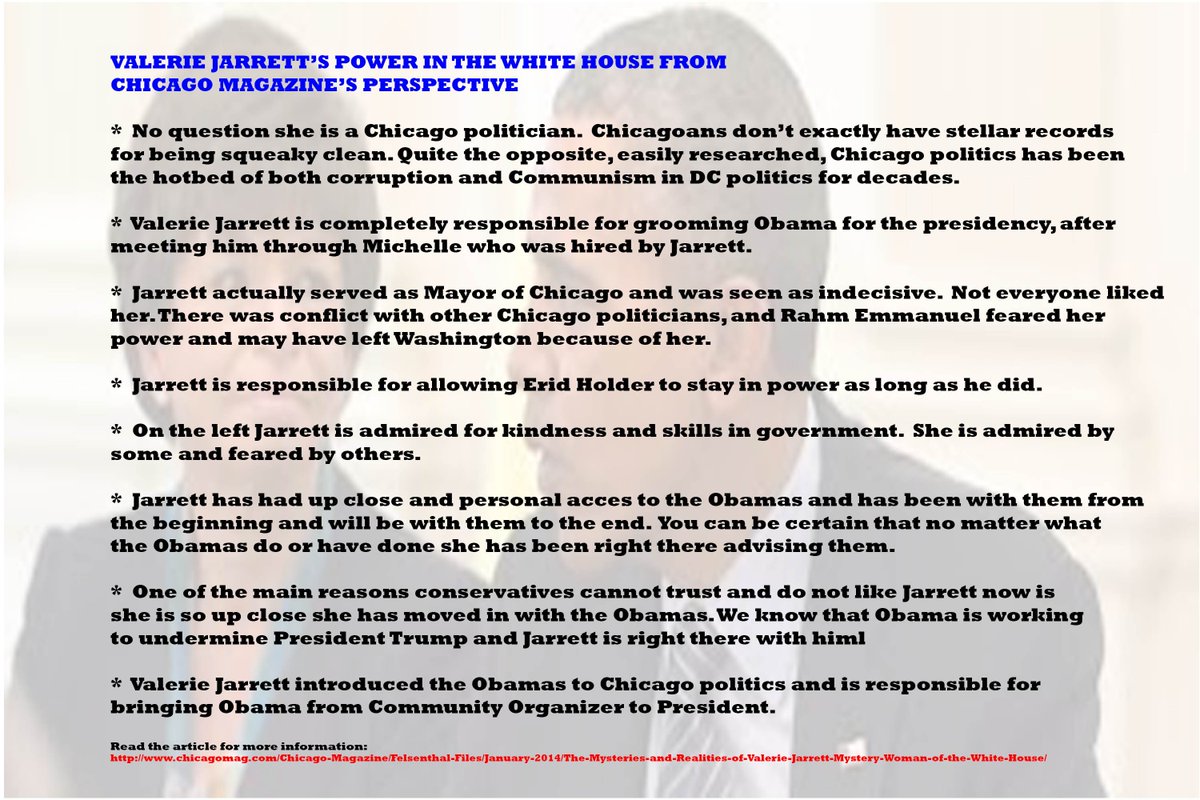 (7)
FROM WIKILEAKS DNC EMAILS:
Valerie Jarrett & Barack Obama- the Political Operative & Community Organizer responsible for giving us the Iran Deal.
wikileaks.org/dnc-emails/ema…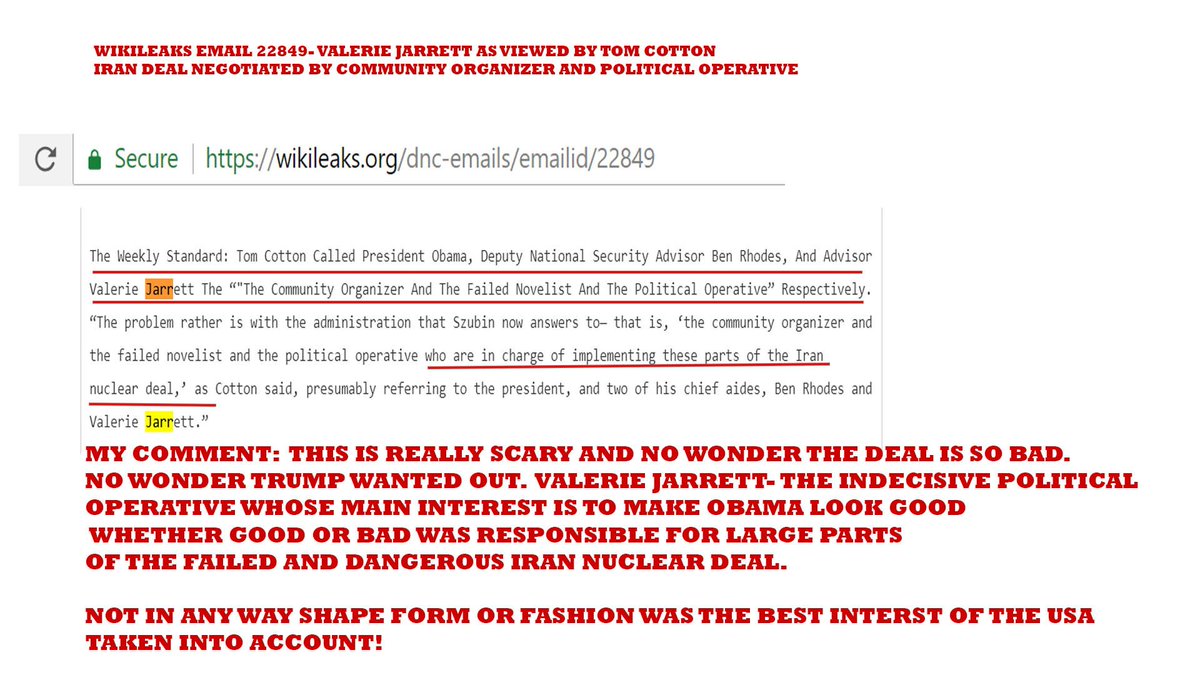 (8)
There's so much more but that is a summary of Valerie Jarrett. It's understandable why any Red White and Blue loving American would be concerned about a person who's father was a Communist spy, & whose contacts include Farrakhan, Muslim Brotherhood, Ayers (terrorist) & others
(9)
My question to America is, "How did we ever let such a team, a communist team, like Valerie Jarrett & Barack Obama w/ Muslim Brotherhood & Communist ties get to the White House?" How did this ever happen? .
@potus
they left you a mess!
I can't figure out how to ready my replies.