For previous pieces (and methodology), see:

DExEU vs Shadow DExEU: and

Cabinet vs Shadow Cabinet:
However, within the articles themselves (a subset of 1300
#Brexit
stories from Jan this year), we can see backbenchers begin to have a real impact...
On the
#Leave
side, it's a similar story. 9% of references (again, equivalent in scale to the entire Shadow Cabinet) are driven by just 10 Conservative Leave supporters. Labour Leave supporters like Kate Hoey and Frank Field account for an additional 2%.
So what about the individual MPs driving column inches – who's impacting debate the most?
On Labour's
#Remain
side,
@Chuka
Umunna, referenced in 6% of
#Brexit
articles, is ahead of *all* individual Shadow Cabinet members barring Jeremy Corbyn himself…
@ChrisLeslieMP
,
@OwenSmith_MP
and
@DavidLammy
also have meaningful volumes of references.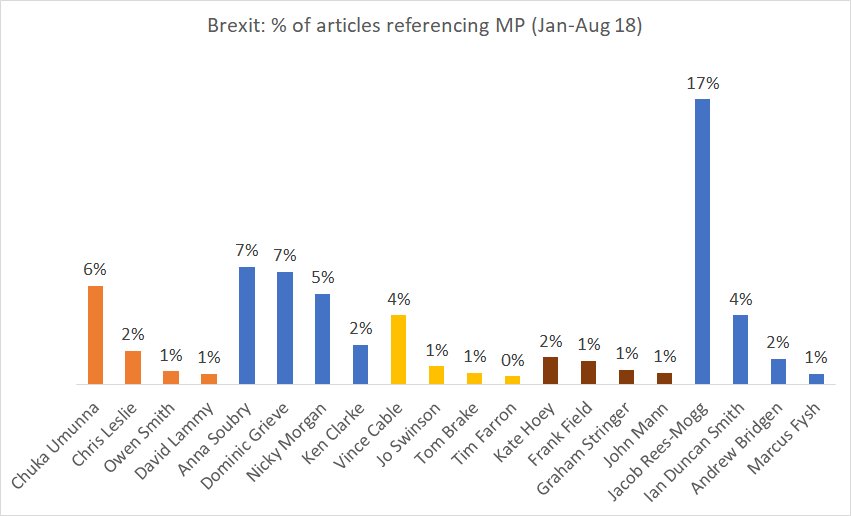 On the Conservative EU-friendly side
@Anna_Soubry
is the clear leader among Backbenchers in terms of driving the
#Brexit
agenda, with 7% of articles referencing her. That's as much as Keir Starmer, Diane Abbott and Tom Watson combined - see .
@NickyMorgan01
and Dominic Grieve are also driving stories for the Conservative backbenchers, cited in 5% and 7% of
#Brexit
stories.
On the
#Leave
and hard
#Brexit
side of the spectrum, Labour's backbenchers have a small effect – particularly Kate Hoey and Frank Field, but it's really the
#Conservatives
that have a significant impact.
A startling 17% of the 1300 online news items assessed referenced Jacob-Rees Mogg (which to me seems wildly disproportionate to coverage of his pro-EU counterparts), with 4% covering Ian Duncan Smith.
What does it show? Well, Conservative Leave Backbenchers are more likely to be cited in the Mail, as is the Shadow Cabinet. In fact the Mail references Conservative Backbenchers more frequently than Labour Frontbenchers (including Corbyn!)
Compared to other sites, the BBC is more likely to reference EU-friendly Conservative Backbenchers, while it less likely to reference EU-friendly Labour MPs. The opposite is true for the Independent, while the Guardian sits in the middle of the pack for most groups.
Buzzfeed favours the Lib Dems, while the Sun barely references them at all…
Anna Soubry features in the Mail, BBC and Buzzfeed more prominently, while Vince Cable is favoured in the Guardian and Independent.
Broadly speaking however, despite some variation, most of the outlets illustrate comparable trends in coverage/citations of individual MPs – ultimately it's really the tone and angle that differs.
In conclusion, Backbench MPs are having far larger effect on the tone and shape of the
#Brexit
debate than the Labour Frontbench.
So, the real opposition to a hard Brexit is not from the Shadow Cabinet. Just 16 x-party Backbench MPs fighting government policies around hard Brexit have achieved 31% greater impact on the news agenda than 27 Shadow Cabinet members combined.