Map of countries with confirmed Chinese
#5G
deployment plans (Red) testing & under consideration (pink). This update adds Iceland (in testing).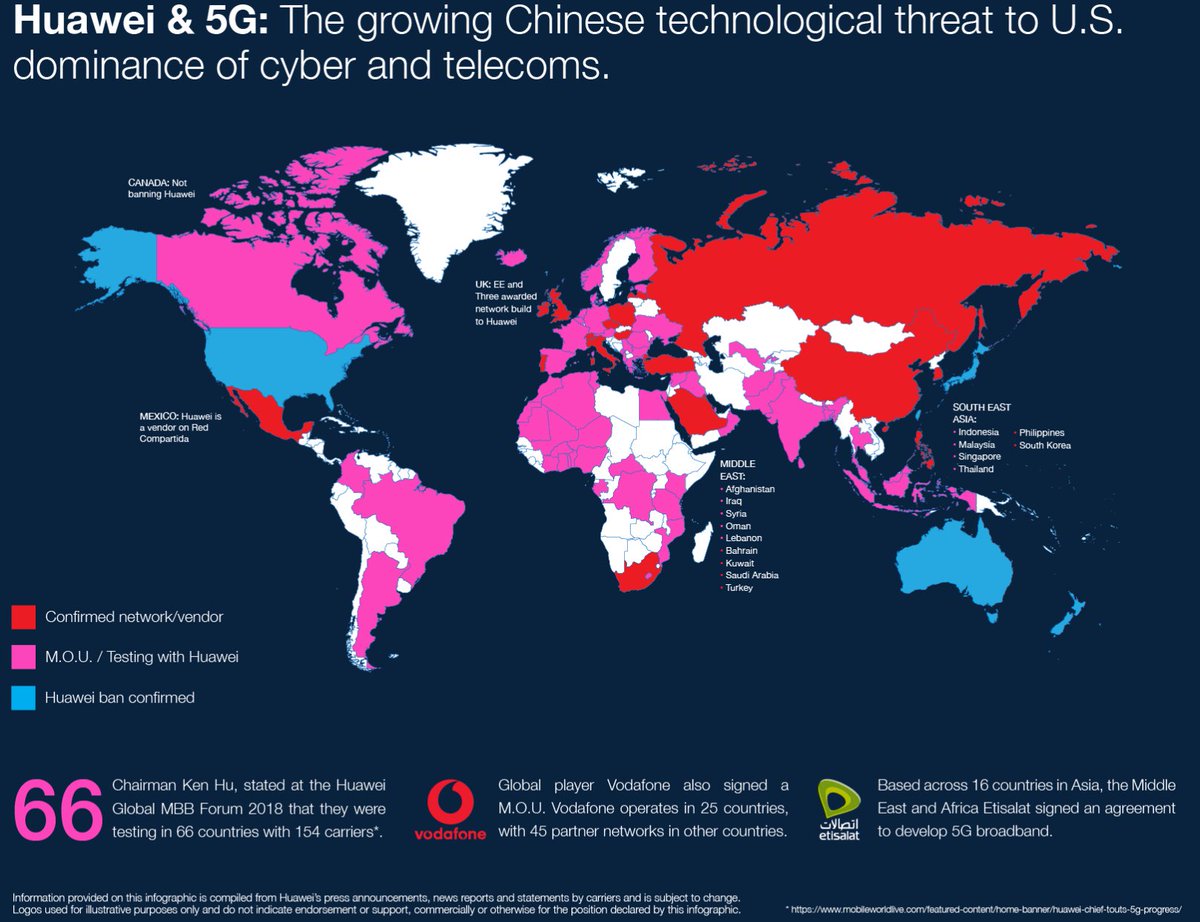 @Molos123
Not going to pretend this is not serious because when you understand Beijing's 'Digital Belt & Road' strategy & their '2025' plan to dominate 5G/Cyber globally, that map is telling & must be rolled back. The West's own mobile wireless oligopoly has been used to facilitate it.
London should look at this closely & ask themselves some tough questions. How much kowtowing is required & at what price your obligations to your historic allies & the free world? Cop on. Tell the grubby rent seeking carrier lobby to take a running jump.
@Molos123
The wholsale model would undermine the core of the Chinese strategy for co-opting other Countries.
Huawei's path to global domination of wireless industry's been carefully plotted in Beijing & calculated to exploit a fundamental structural weakness of the current Western model
...for network deployment.

In short, that weakness is that the vast cost of entering the Western marketplace leaves carriers starved for cash, slow to make long term investments, and vulnerable to lavish incentives from China encouraging them to choose potentially risky or..
...compromised Chinese equipment for their networks.

The current model of spectrum auctions has the effect of placing valuable tracts of spectrum in the hands of a very small number of retail carriers, which have often paid enormous sums to acquire them...
..leaving them highly leveraged, and compelled to squeeze every possible dollar out of these assets in order to recoup the costs of acquisition.

Retail carriers, having acquired exclusive spectrum use rights, must immediately spend billions of dollars on a network capable of..
...monetizing that spectrum and serving customers across the country. This further leverages their businesses & means that the usual outcome is that tens of billions of dollars in capital have been expended before a single cent of revenue is generated.

This highly leveraged...
..business model has a number of clear & observable impacts on the wireless industry:

*It slows the pace of development, because retail carriers, having invested tens of billions in spectrum acquisition & network deployment, are slow to invest further billions in network...
..upgrades until it becomes essential. The oligopolistic nature of the marketplace, with just two or three nationwide retail carriers in most countries, significantly reduces the pressure on companies to stay ahead of their rivals in terms of network performance.
This in turn affects the equipment manufacturers, which are often compelled to slow the pace of innovation due to a lack of willing customers for network upgrades. At the root of this problem is the financial pressure the current system places on carriers, who are incentivised..
...to keep consumer prices high & the pace of new products relatively slow. It turns retail carriers into rent-seekers, more interested in maximizing the revenue potential of their existing customers than in seeking to improve their service.
It leaves carriers & equipment manufacturers very vulnerable to predatory pricing & financing from the Chinese. This is the door through which Beijing has quietly walked. Whether Huawei's equipment ultimately reaches the standard of its Western competitor companies or not, it...
..is available, fast, & cheap.

Wholesale, open-access wireless addresses the current weaknesses

Increasingly, observers of the industry in the West, including the GSMA[1] & Ernst & Young[2] have recommended the adoption of a wholesale model for spectrum allocation, noting...
..in the case of the GSMA, that:

"In most countries 4G coverage is still incomplete eight years after the technology was first introduced. For example, according to ARCEP, the French regulator, while the population coverage of the four licensed operators varies from 98% to...
..92%, geographic coverage ranges from 86% down to 69%. At the higher pioneer band frequencies, the roll-out of 5G is likely to be considerably slower if the traditional model is adopted"

This slow place of deployment is directly attributable to the issues raised above, with...
..the GSMA going on to note that carriers are slow to invest in network upgrades outside of those areas most immediately & dramatically profitable.

All of this is compounded by the fact that the wireless industry has reached total saturation in terms of devices per population:
There is at least one device for every person & the pie isn't growing under the current model, so the retail carriers are fighting for market share in a stagnant market, but also desperate to maintain their "average revenue per user," or ARPU in industry jargon. 5G promises an..
..explosion in the number of devices-but that can only happen if we have much greater pricing flexibility & much lower average prices-than we currently see. Only a wholesale-only carrier can offer that flexibility & the price reductions needed to fully take advantage of the...
..possibilities that 5G offers.

A wholesale model, with wholesale-only network operators responsible for building & managing their network infrastructure, & consumer-facing service providers competing to purchase bandwidth on that network, would have the following benefits,
...none to the advantage of Beijing:
1.
Retail carriers would be relieved of the financial burdens of spectrum acquisition and network deployment. This would allow them to focus on consumer services & compete on the basis of consumer price & product innovation. This would...
..have the impact of increasing the demand for better technology than the Chinese can provide & also speeding up the pace of, & demand for, innovation.
2.
Wholesale operators would accrue very significant economies of scale. Put simply, servicing & upgrading a large wholesale..
..network/s will incur much lower costs than the industry currently faces in an attempt to upgrade multiple networks at once. This will reduce the wholesale operator's sensitivity to Chinese price incentives and increase the demand for higher quality Western equipment...
3.
The Chinese network-equipment industry has been built to take advantage of the existing model - a slow pace of innovation, a focus on cost reduction, & a relatively fixed ecosystem of large consumers. Shifting the model to one with a faster pace of innovation & a focus on...
..coverage & network capacity would play to the skillsets of innovative Western manufacturers, & undermine a strategy China has spent two decades perfecting.
4.
Wholesale network operators would transform the criteria by which the marketplace is judged by changing the customer
base of the operators within it. At present, carriers serve their retail customers, which allows them to focus on the most profitable segments of society at the expense of the others. Wholesale networks, mandated to provide a service nationwide, would dramatically increase the..
..size of the marketplace and exponentially improve the service provided to rural subscribers.

A wholesale open-access wireless strategy will undo China's financial strategy

The Chinese strategy to harness Western carriers has been underpinned by a set of financial assumptions
..about the trajectory of the price of data over the next several decades. Chinese suppliers, supported by the government and the banking system, offer cheap equipment to Western carriers, & augment this with very attractive vendor financing agreements, & in some cases, equity..
..investments in those networks. These investments in turn are supplemented by western dollars from institutions like the World Bank. In some cases, a Chinese investment of one dollar will result in an additional investment of three to four dollars from supportive non-Chinese..
..institutions following Chinese money.
The advantage of wholesale, open access wireless is that it confounds these financial models, & would throw Chinese strategy into disarray, for several reasons:
1.
Open access wireless will result in an explosion in demand...
..for data because of the price model. When a wholesale-only carrier is committed to selling every byte of data available, on a price-sensitive model, down to prices just above zero for the least-in-demand capacity, that will dramatically increase demand. It will do so because..
..uses of capacity that were not previously economically viable will become viable.

2.This increase in demand will be accompanied by a dramatic, and rapid, decrease in price. This is because the wholesale operator is committed to selling data at virtually any price, as long...
..as there is demand. This will allow many MVNOs and other new market entrants to offer consumers service at a much-reduced price to that currently available. For example, U.S. prices for data currently retail at up to ten times the price in Germany, & other European countries.
This will in turn force existing carriers to lower their prices, in order to remain competitive.

The financial plans underpinning the Chinese strategy rely on a gradual decline in data prices over the next two to three decades, one carefully managed by an oligopoly with...
..common interests. The announcement that the U.S. was choosing to pursue a wholesale, open-access network would radically undermine these price assumptions, that underpin the Chinese network-financing strategy. It would cast doubt over Beijing's entire strategy, and would deter
..those non-Chinese financial institutions currently assisting Beijing's financing of Western networks by calling into question the long term value of those investments.

By accelerating that price decline dramatically, an open access, wholesale wireless network...
Here's an update to this thread from yesterday. If you read it you know what was said on how Beijing has used the combination of Commercial (retail) carriers & one off spectrum auctions. This is from a Huawei
#5G
presentation today in Barcelona: