THREAD: Plan A, still on course
JCs strategy could soon pay off. Despite relentless waves of subterfuge he is lazer focused on pressuring the Tories on their achilles heel, the EU. For all the critique of his method, no1 can doubt his drive to make peoples lives better.
1/
Ignoring the sabateurs denies them soundbites to endlessly manipulate in lieu of discussing Labour's manifesto. They can't attack him on that. It is what this country wants & needs.
What's perceived as weakness in JC is a refusal to let them dictate his agenda.
2/
The chance afforded by brexit to split the Tories in half is real, rare & imminent. If JC retains the whip till brexit is resolved Tingers cannot come out unscathed. They'll either have to vote FOR makin a JC gov more likely or break the whip, enabling Tories & losing all cred
3/
The left swing has clearly not taken the disciplinary board yet. Each new over-reaction is indicative of a small number of people within the party framework, it is not indicative the direction of the party or members in general. Talk of the lefts demise is greatly exaggerated.
4/
A defining difference between Bliar & Corbyn w/ regards to their leadership style - the former was a dictator who shut out members & pulled all the strings. JC is trying to democratise the party. He doesn't get involved with the disciplinary process & that's right.
5/
Look at the fauxrore (sic) over a staffer from the GenSec office sayin some complaints didn't merit suspensions. Now imagine the endless cycle of wasteful reportage if JC tried to influence things personally. Their goal is to distract him from politics. Cos he wins there.
6/
All this 'bend like the reed' stuff makes sense *now*, before brexit. But things need to change once a WA passes. I predict JC will become much less willing to give ground. If brexit can be resolved, a GE is likely & with it, a chance to shuffle the deck.
7/
After brexit there will be no use placating them. 2018s rule change makes it easier to challenge incumbants & recent VoNCs give hope they will be easily defeated.
JC can go into the next election with far fewer sticks in his spokes & far more dedicated socialists behind him.
8/
There is more cause for confidence to be restored w/ news that a corrupt right wing branch of the party is being suspended by the NEC. With links to Joan Ryan, servant to Shai Masots Israeli Influencer Initiative, Enfield rigged candidate selections .
10/
skwawkbox.org/2019/03/08/bre…
The damage done by the dastardly deeds of Watson & Co will pale into insignificance compared to the fall out for May & the Tories when they fail to resolve brexit. There is no way out for them. All the chaff won't divert the rocket up their ass.
11/
theguardian.com/politics/2019/…
There's still a lot of right wing Labour officials making life difficult for the member-backed leadership, but their desperation belies their fragility. We cannot expect JC to fight them by himself. It is up to left members to help the continued rejuvenation of the party.
12/
That time will come very soon but for now next weeks votes are the focus. May will be defeated. What she does from there can only bring a Lab gov closer.
If she delays she'll need a big reason & w/ ministers already hinting at a compromise, JC is looking like a PM in waiting.
13/
This week Tory islamaphobia finally reached the headlines, w/ 14 suspensions & ministers obliging to embarrass the party further.
Elsewhere they've angered leavers, remainers, the Irish, the EU, the BAME community, the youth & many more besides. How will they campaign at GE?!
14/
While Tories strive to ruin their electoral acumen, Tingers do the same. Up against a transformative manifesto they will crumble into irrelevance. The left r wounded but it is superficial. The real damage will be done to an establishment that spent 3yrs gaming the electorate.
15/
They've the weight of the MSM behind them & that has always been seen as a crucial pillar of victory, but the equation has changed. 2017s GE result proved the old media's stranglehold is no more. We defied expectations before & we'll do it again, together, for the many. 16/
THIS is why he doesn't comment on drama. When they quote him, he wants it to have to be about his mission.
#Lexit
#jeremycorbyn
#brexit
#gtto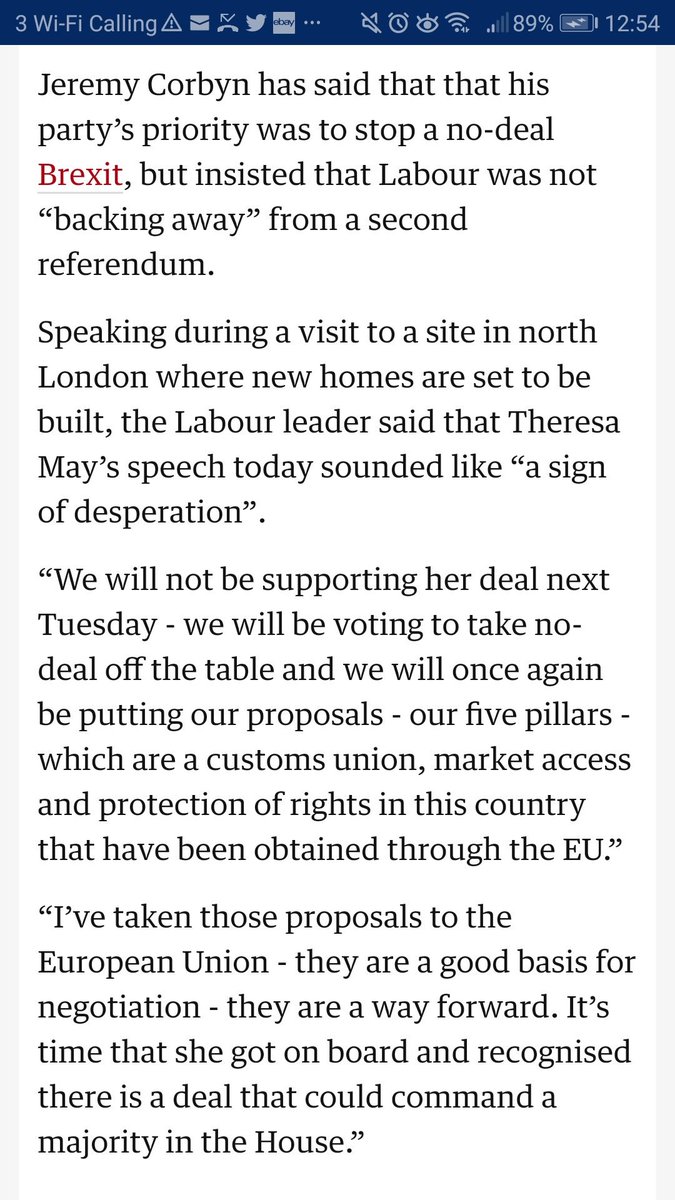 Arrogance eats itself
They got away w/ it for so long, w/ such ubiquitous control but the cracks will soon reveal a schism
The longer u get away w/ bad behaviour the more entitled your resistance to change becomes, as u sociopathically game reality like a private simulation
18/
Now TM warns us that if her deal doesn't get thru, "we may never leave the EU". The stench of irony would make Sir Didymus wince. Who's talking about 'no brexit'?! Not the LOTO. He's very clear Labour want to facilitate a compromise brexit that can get a majority. 19/
If no-brexit happens it will not be an accident. It will be the choice of the PM and her government to not allow a different deal to pass.
There is a workable solution staring her in the face. It's not proper brexit but it's less restrictive than her iron maiden BRINO.
20/
But she doesn't want to take that olive branch because that would effectively crown JC our brexit-pergutory saviour & shoe in at a snap election when the DUP abandon the Tories.
Lifetime anti-EU activist Corbyn is having to play the long game. Stay for the ride.
21/