THE CLINTON FUNDED STEELE DOSSIER WASN'T USED IN THE MEDIA BEFORE THE ELECTION says
@gabeschoenfeld
Except:
—The Weekly Standard
—New Yorker
—Yahoo News
—Mother Jones
—Slate
—NBC
—MSNBC
And by the Clinton campaign:
—Press release "bombshells"
—Tweets read by millions
THREAD
Here's
@BulwarkOnline
's
@gabeschoenfeld
making the claim that "the sensational material in the (Steele) dossier only came to public attention" in Jan 2017 when it was published in full by BuzzFeed:
thebulwark.com/sophistry-in-t…
It "defies logic and common sense" to think otherwise 🤔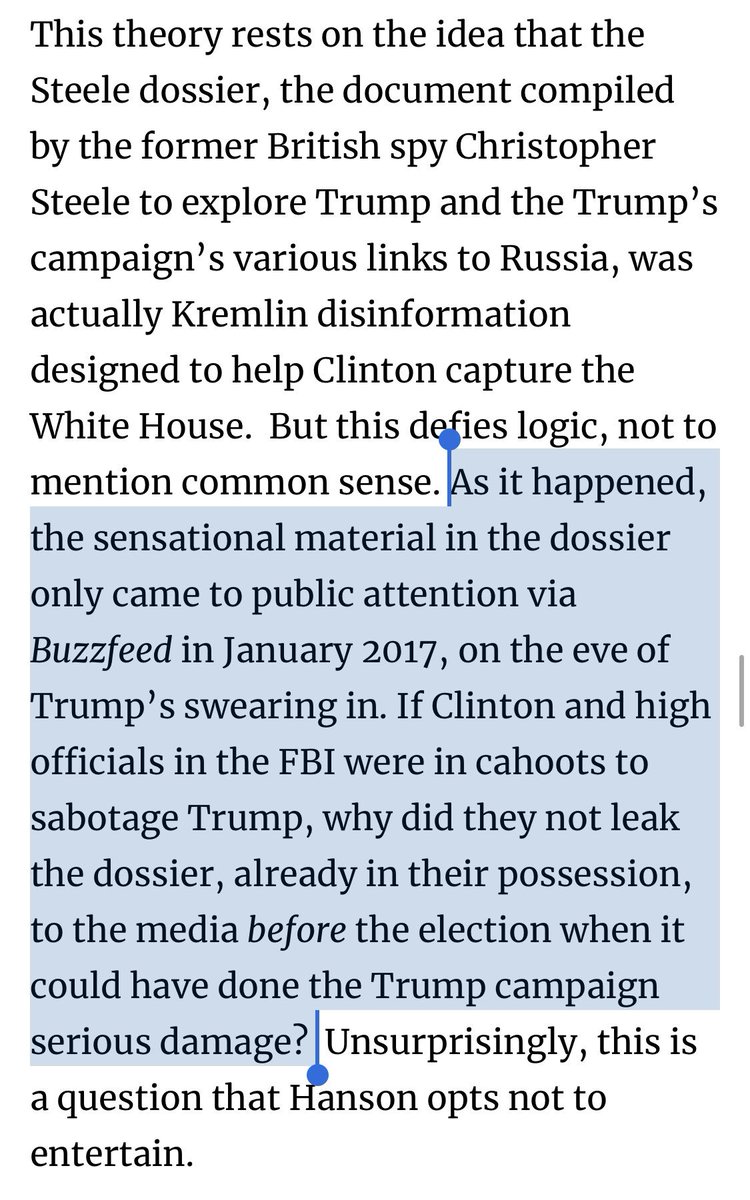 Here's are the Yahoo and Slate stories being hyped by MSNBC and Rachel Maddow, plus even more allegations (Nov 1):
msnbc.com/rachel-maddow-…
Here is a Clinton campaign press release about the Yahoo News story, calling it a "bombshell" showing "chilling" ties between the Trump campaign and the Kremlin (Sep 23):
presidency.ucsb.edu/documents/hill…
Apparently voters deserved "the facts BEFORE Election Day"
@gabeschoenfeld
?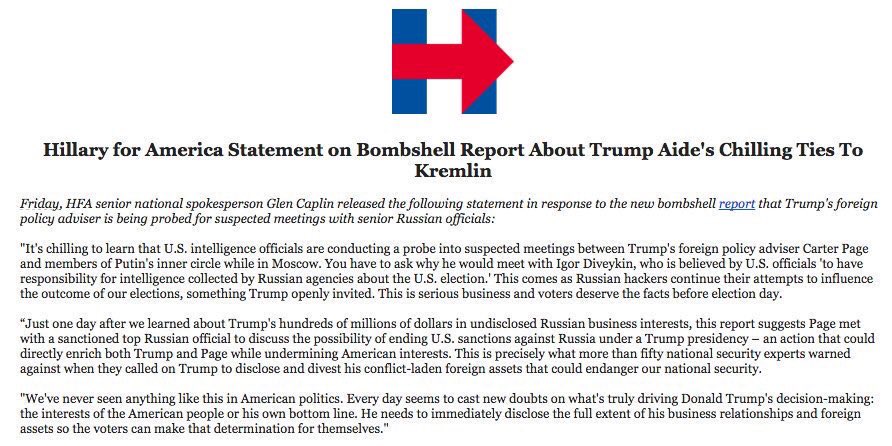 And when the
@nytimes
tried to spin this same line about Steele's info not being reported pre-election even they were forced to issue a correction*
*which itself failed to account for all the stories here. The correction needed a correction, that's how bad the NYT is on Russia


And why wasn't the *entire dossier* leaked in full BEFORE the election?

—The dossier allegations are so laughable with so many basic errors it would have undermined it. Specifics can be debunked, so innuendo/rumor was BETTER for Team Clinton

—Nobody expected Trump to win anyway
FACT: *Millions of voters* were told BEFORE the Nov 2016 election:

—Trump was "compromized" by Putin

—His senior advisors were secretly meeting sanctioned Kremlin officials

—Trump Tower was secretly communicating with a Russian Bank

—FBI/CIA/NSA was looking into Trump's team
Just because those media leaks from the Clinton/Steele/Fusion operation didn't work and
@realDonaldTrump
was elected POTUS anyway, doesn't mean they didn't happen
Q: Why didn't the Steele dossier appear prominently in places like the NYT to hurt DJT?
A: They couldn't verify it!
"We heard about the back-channel (between) the Russians and Trump...we found no evidence it was true"
—
@nytimes
Exec Editor Dean Baquet
mobile.nytimes.com/2017/01/20/pub…


Steele (escorted by Glenn Simpson) personally met with the
@nytimes
&
@washingtonpost
in Aug/Sep 16 to shop the dossier for Clinton
Both outlets assigned reporters to look into it & the only reason they didn't print it? THEY COULDNT PROVE IT
And still can't,
@gabeschoenfeld
Addendum: add Newsweek to the list. Even Tentacle Porn guy Kurt Eichenwald was pushing the dossier pre-election
newsweek.com/donald-trump-v…