Panel 2 at the MANE Forum: A flourishing era of Asian
#mediation
.
Moderator: Mr Viswa Sadasivan
Panellists: Mr Akira Kawamura, Mr Jerry Zhang, Ms Laila T Ollapally, Prof Hi-Taek Shin, Mr George Lim SC.
George is an IMI Board member, and Laila represents CAMP, an IMI QAP.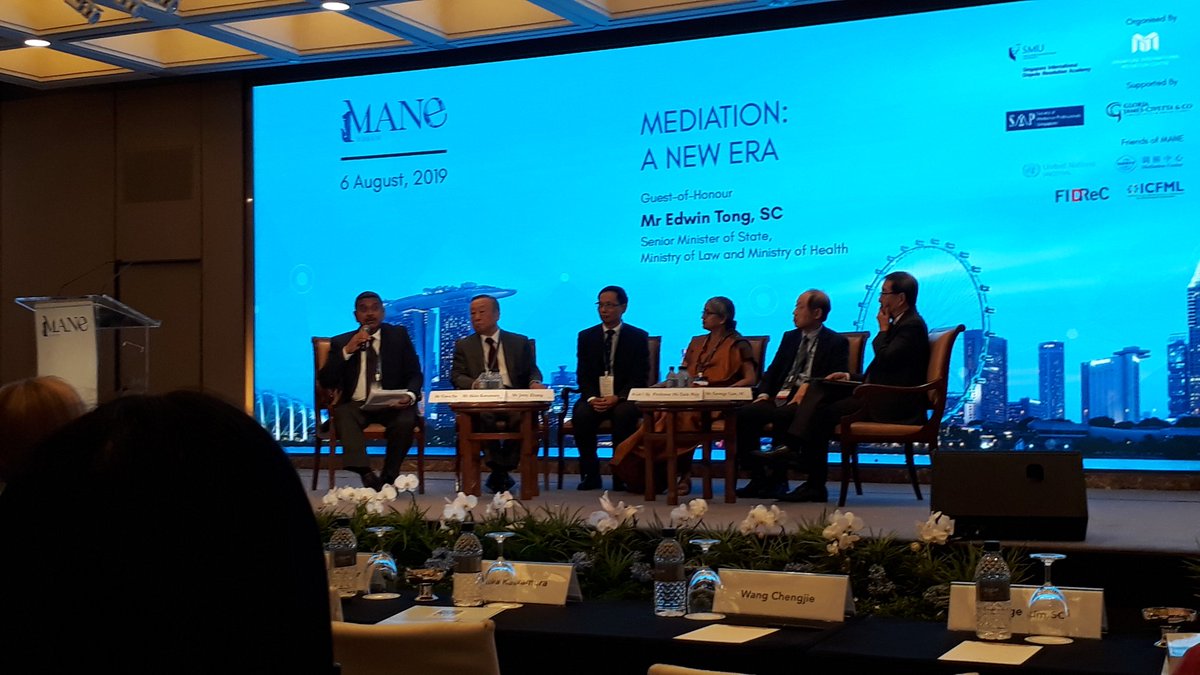 Akira Kawamura re ADR in Japan: "Now we have a game-changer.".
The Kyoto centre:
1.
Provides international mediation facilities
2.
Is a centre for mediation research and education
On the verge of opening a new similar centre in Tokyo.
#mediation
#arbitration
#Japan
Laila T Ollapally - unless mediation is as lucrative as other forms of dispute resolution, we're not going to attract the best candidates.
#mediation
#mediators
"The second wave of the mediation revolution is in our DNA."
Prof Hi-Taek Shin: "Mediation is an important social function... to maintain harmony in the community."
#Korea
has a historic and cultural connection to
#mediation
, including
1.
By the courts
2.
By specialised administrative mediation commissions
George Lim: China is very interested in mediation, with its 26mill disputes; India has 33mill open disputes. JIMC was set up in Japan just this year.
"With the richness of the cultures, the people here - it's time for Asian mediation."
#singaporeconvention
Moderator Viswa Sadasivan: "We all talked about culture - are we manufacturing this divide? Is there really something different about Asian mediation?"
#qanda
#mediation
#asia
#culture
"In terms of seeking harmony, we want the same thing - we want peace.". Mediation, litigation, arbitration - these are the means to get to the end.
- Mr Jerry Zhang
#culture
Laila Ollapally re mediation and culture: "I want to understand their culture, but when I met the parties, all I see is their humanity."
#mediation
#inspiration
Mr Akira Kawamura: "When I came here, I thought my Japanese [mediation] culture would be different. Now that I meet my colleagues, I see that we are nearly the same."

Raises question about the lack of growth in arbitration/ADR in Russia.
Prof Hi-Taek Shin re
#mediation
an
#culture
: It comes down to
#communication
style - "Asian communication has much more context". It comes down to communication style and implied messages. Misunderstanding comes from interpreting messages from within our own cultural framework.
Audience member Sarah Blake of Resolution Institute: the mediation process must be flexible enough to incorporate different cultural standpoints.
@ResolutionInst
#mediation
#culture
Audience member Jeremy Lack: we as humans all have the same hardware; the problems are in our software. "It's about understanding the software scripts and how to work between them - and that's where we need the intercultural expertise." How do we address diffs in process design?
Prof Joel Lee: "Sometimes the 'cultural card' is played too much. We have more in common than there are differences that separate us. The key thing is to 'lose our minds and come to our senses' - respond to the parties in the room." Don't get trapped in assumptions.
Mr Sadasivan: "Why must lawyers dominate mediation? It corrupts the process. I am proud to be a mediator, and I am even more proud to say 'I am not trained as a lawyer'."

Mediation salary is a problem for lawyers because they're used to $$$ - why not go to 'normal human beings'.
(The audience vigorously defends lawyers.)