Boris Johnson has been Prime Minister for 50 days. He promised the UK would leave on 31st October, with no Election before Brexit, and to keep Corbyn out.
At
@CapX
I introduce "Downing Street Cluedo": which of these 8 cards might Boris try to play next?
@CapX
By Oct 19th, the PM seems certain to face this unenviable "Boris Trilemma"
* Extend Article 50?
* Revive Theresa May's Deal?
* Resign - maybe letting Corbyn be PM?
He must make one of the biggest u-turns in political history to unlock a General Election. Which will he choose?
@CapX
I would welcome Twitter hive-mind views on
- whether the Prime Minister has any other viable course of action that is not identified in my piece
- which choice the Prime Minister seems most likely to make (and what then follows from it)
capx.co/what-is-boris-…
A more partisan piece, but several shared points on how the PM got "snookered" (so may have to resign if can't find a way out). Though the forward-facing argument in this piece is that Johnson & his party may lack the stomach to keep polarising enough.

David Davis says the government might have found a 'secret loophole' in the EU notificaton act - a legal way to avoid extending (though he himself has 'no idea' what it might be. I suggest maintaining a
#secretloophole
watch, as this plan develops
standard.co.uk/news/politics/…
Plan
1.
Find
#secretloophole
(Work in progress)
2.Wait
(No spoilers!)
3.
Unveil cunning plan in Oct
4.
Commons concedes
"Well done. It wouldn't be fair play to no confidence you after that"
5.
No deal on 31st Oct
(Goes v.smoothly).
6.
Get votes to call Election
6.
Landslide!
More on the
#secretloophole
plan
Pass Brexit Day during Oct 19th-29th (by persuading 20 gvt opponents to support it?)
More
#Secretloophole
news
"No 10 advisers say they have devised a secret plan, *known only to the PM and three advisers*, which they claim will allow them to ignore the order without breaking the law. Most legal experts are sceptical that such a ruse could work"
@MoS_Politics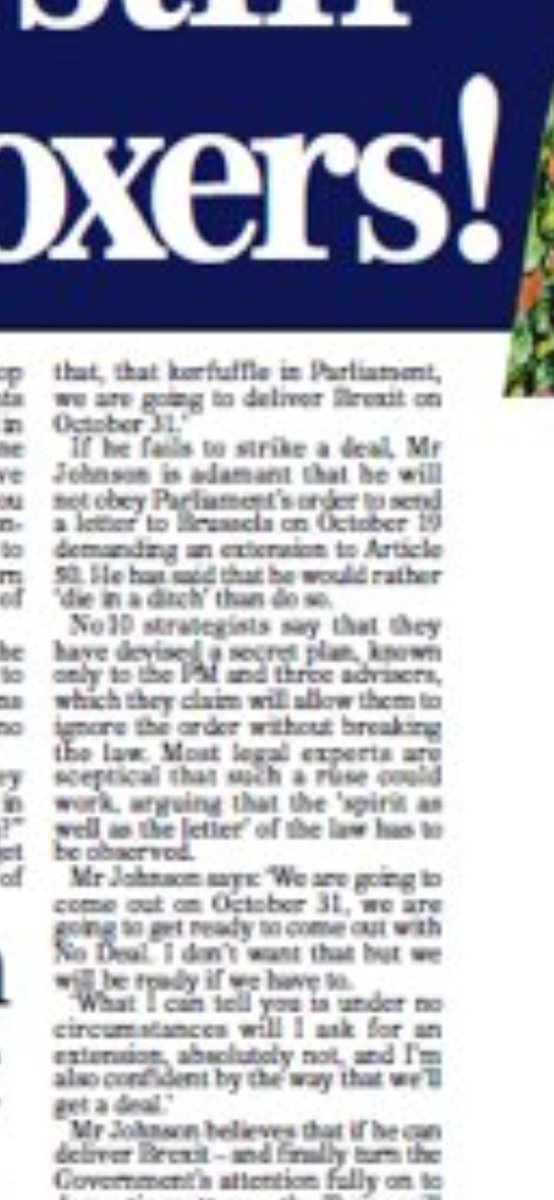 Congrats to
@JolyonMaugham
who has spotted a
#secretloophole
1.
Govt presents a deal and wins Commons vote for it (before 19/10)
2.
It had insincere support & takes no steps to ratify the deal after 19/10
3.
UK can leave without a deal on 31/10
That might work as a
#secretloophole
but there are 3 ways to stop it.
1.
MPs do not vote for a deal if they believe/fear it is insincere.
- ERG & PM can't pass deal without Letwin, Boles, Gauke votes & pro-deal MPs with whip inc Cabinet ministers (oppose/resign to blow whistle)
2.
Bill requires PM to seek extension on/by Sat 19th Oct
If he is going for a deal, sincerely, pro-deal ministers & MPs should insist he gets extension first (under the law).
They will then vote for *his deal* (post-summit) in w/c 21st Oct.
Extension falls on *ratification*
3.
If ruse pulled off
- look sincere about Boris own deal (not just presenting May WA)
- win majority votes for deal, without anybody realising there are 15 insincere votes (Eg could be ERG ruse, not no 10 ruse)
- lose ratification.
Remedy: MPs no confidence gvt & put new PM in
Advice from LBJ: Count!

If the govt does not have the numbers to survive (if it did find a legal route to No Deal) then no secret loophole could save it
The best version of this madcap plan is the
#secretloophole
double bluff
- ERG votes for the deal, insincerely, as a no deal ruse
- gvt uses actual pro-deal votes (perhaps with further opposition abstentions) to then ratify the deal!
Equally bonkers & unlikely