The 9943 Marlowe RealToken is a lot of 'firsts' in Ethereum!
- First tokenized real estate property
- First security token integrated into DeFi
- First piece of real estate liquid and tradable inside of
@UniswapExchange
and directly on the RealT website itself
The largest owner of 9943 Marlowe is
@UniswapExchange
at 12.66%
RealT owns 88% (and falling!) of the Marlowe pool
Individuals contributing to Uniswap liquidity receive both rental income and exchange fees!
The largest human owner of 9943 Marlowe owns just 11.8% of the property!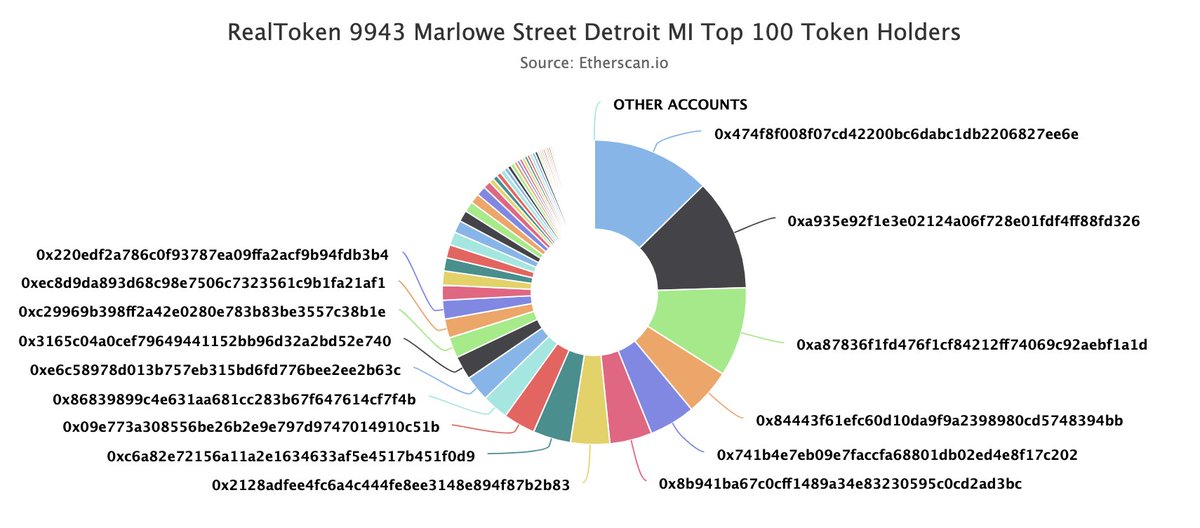 9943 Marlowe is owned by 107 individuals from 33 countries

Here's some of RealT's most popular countries!

France🇫🇷
Canada🇨🇦
Singapore🇸🇬
Hong Kong🇭🇰
UK🇬🇧
Germany🇩🇪
Australia🇦🇺
Spain🇪🇸
Netherlands🇳🇱
Denmark🇩🇰

9943 Marlowe even has owners in

Slovakia🇸🇰
Reunion
Romania🇷🇴
Turkey🇹🇷
9943 Marlowe is now pushing out 28.33333 Dai per day to its owners! 💸

So far, over 3,000 Dai has been distributed to 9943 Owners!🤑
RealT has come a long way since our launch earlier this year!
We have other properties on our website that are still available!
Sign up at
RealT.co
. Buy RealTokens today, receive rent tomorrow!
We look forward to tokenizing the world, one property at a time!