Here is some perspective.
1.
Our POTUS is bragging that he created stocks to plunge. This effects lives and people's incomes.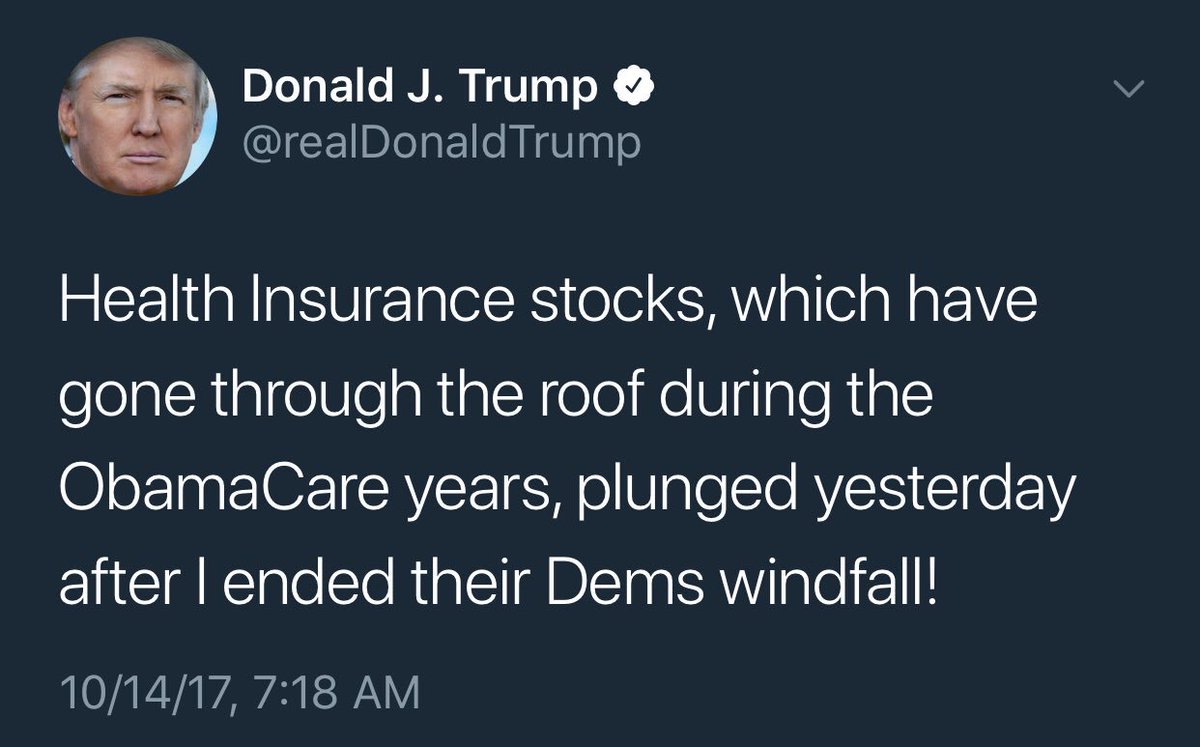 2.
When companies see a massive decline in stock prices they tend to lay off employees. But in this case, the government intentionally..
.. and knowingly crippled aspects of the HC market to pick apart Obamacare. This not only effects Obamacare, but commercial ins as well
3.
When a stock price plunges (and in this case will not increase again) a company to offset their loss will raise prices/premiums..
.. so they can maintain in their current structure and market. The consumer pays the difference in an already over inflated market.
4.
Less people will enroll in insurance due to the rising costs and access. Which will result in a plunge in sales again for Ins. Companies
5.
With less people enrolling, this means the healthcare market overall will see a decrease in patients and will result in a loss of revenue
In the overall market so other companies will feel the effects of Trumps actions, not just the insurance companies.
6.
So american citizens who work for insurance companies will no longer have jobs because to maintain survival, these companies have to..
.. lose a massive amount of their cash flow. And the quickest way to do so is remove employees. So now there is a surplus of unemployed..
.. healthcare employees who do not have jobs. The market itself will struggle and other companies from drug companies, to pharmacies..
.. will lose money and will not be able to hire these unemployed citizens because they too will have to lay off or fire their own.
7.
Doctors will see less patients, they will also increase costs.
8.
Drug manufacturers will sell a lower amount of life saving medicines and to offset their losses, they too will increase prices.
9.
Premiums for non ACA insurance markets will go up to also offset the costs of the rising markets.
10.
People will stop going to see their physicians, which can and will rise in the amount of deaths per year for treatable illnesses.
11.
So by Trump gutting the insurance markets, he is killing our economy, raising unemployment, killing hundreds to millions ..
.. of American citizens, pushing inflation to the highest point in years, crushing the stock market, and lower consumer spending.
Trump not only knowingly did this but he Is bragging about it. He is setting our country back years. We will see another recession..
.. which he created very early on in his presidency. So to fix our economy we Must demand he is removed immediately.