2.
Allow me to introduce Senator Kamala Harris of Berkeley, California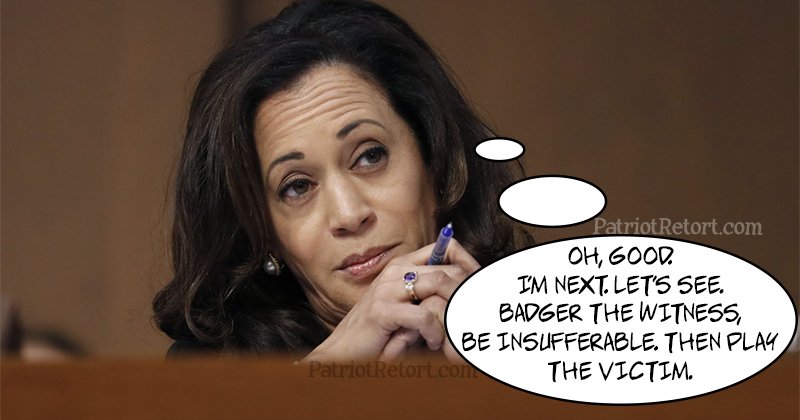 3.
A possible Democrat 2020 presidential candidate, following the Barack Obama model
4.
Of doing fuck all in one partial term as senator and assuming that is all the experience needed to be the POTUS
5.
Her career before her ascension to Senator is being a DA in California that somehow stumbled up the ladder until she became CA's AG
7.
Attempting, failing, to cover up a drug lab technician stealing cocaine, then not telling ANY defense attorneys
sfgate.com/bayarea/articl…
8.
And failing to understand that the federal government handles interstate commerce, not the state
10.
This isn't even covering the rumored Kamala 'kneels more than an entire NFL team' Harris sex scandals.
11.
Having through serendipity and the tendency for identity politics to obfuscate hilarious incompetence become senator has emboldened her.
12.
Heated exchanges are par for course, w/ interruptions and speaking over people such as this exchange w/'Sessions
13.
An exchange with Admiral Rogers! "Senator if you could could I get to respond please ma'am?" "No."
14.
"Are you saying if its classified you will not discuss it?" Yes, Senator Harris, that is what 'classified' implies.
15.
That same video at 3:40, after an I'm not kidding you 2 minute long diatribe, she then demands a yes or no answer from Rosenstein
16.
The question? Will he send a letter at her request removing virtually all oversight and limitations from Mueller's investigation.
17.
Given what Mueller's doing now to the lobbyists of DC, we can be assured she had no idea what her demand entailed.
18.
Even I think that's McCain comes to Rosenstein's defense, hilariously enough. At least, I think that Cryptkeeper-like voice is McCain.
19.
She's had plenty of hilarious exchanges with General Kelly as well, such as this exchanged
20.
The running over whoever she's questioning Is presumably a habit from her time as an attorney.
21.
Another Kelly masterstroke "We've already discussed how (the ICE) have the lowest morale of any federal agency"
22.
"Under the Obama administration." :D Notice how quickly the topic changes LMAO
23.
a clip from one of Comeys hearings. Absent is her interrupting Comey constantly or getting anything useful
24.
Present is evidence of my 'Comey's stirring up a smokescreen' theory. So much 'can't discuss' or 'I don't remember", zero pushback.
25.
Back to the Rosenstein incident, Kamala Harris tries to get Rosenstein to relinquish his ability to fire Mueller
26.
Aaaand proceeds to get completely shut down by the chairman of the committee.
27.
And here, a short clip of an exchange with Scott Pruitt
28.
where for some reason she insists on him naming one lawsuit he filed for environmental regulation violations. No idea what she was after
29.
Her worst moments don't just come from senate hearings. Behold her speech opposing Sessions nomination
30.
In which she goes full on race baiting, as only a senator from California can
31.
Race baiting, really, is a key feature of Kamala Harris' political career. behold this clip from 2016
32.
Wherein she believes making America great again means repealing the voting rights act and civil rights
33.
And not, you know, making Detroit less of a Fallout-style post-apocalyptic wasteland
35.
Not that Kamala Harris actually gives a damn about civil rights. Enough with her being dumb in speeches and hearings, she was a crap AG
37.
She stubbornly refused the court order to work to parole more prisoners, arguing
38.
"that if forced to release these inmates early, prisons would lose an important labor pool."
39.
The prisoners make 8-37 cents per hour. Yep, the argument was the prisoners couldnt be released because of their valuable slave labor
40.
Then there's the fact that during her time as CA's AG due process and prosecutorial ethics took a back seat.
nytimes.com/2016/05/29/mag…
41.
"In 2015, judges called out her office for defending convictions obtained by local prosecutors who inserted a
41.5. false confession into the transcript of a police interrogation,"
42.
"lied under oath and withheld crucial evidence from the defense."
43.
The one positive note about her I will end on is that having only recently been elevated to Senator she's most likely not involved in U1
44.
That's a good thing. It means she may be one of the few Democrats left standing in the fallout
45.
this I assembled with google searches in less than an hour. Imagine how easy it would be for professionals to destroy her credibility
46.
The face of the Democrat party and their 2020 hopeful. Electoral. Extinction. /end