1)
If you'll forgive a bit of sophistry, impotent anger, and a point that runs counter to the common mindset, I'd like to talk about
#qanon
.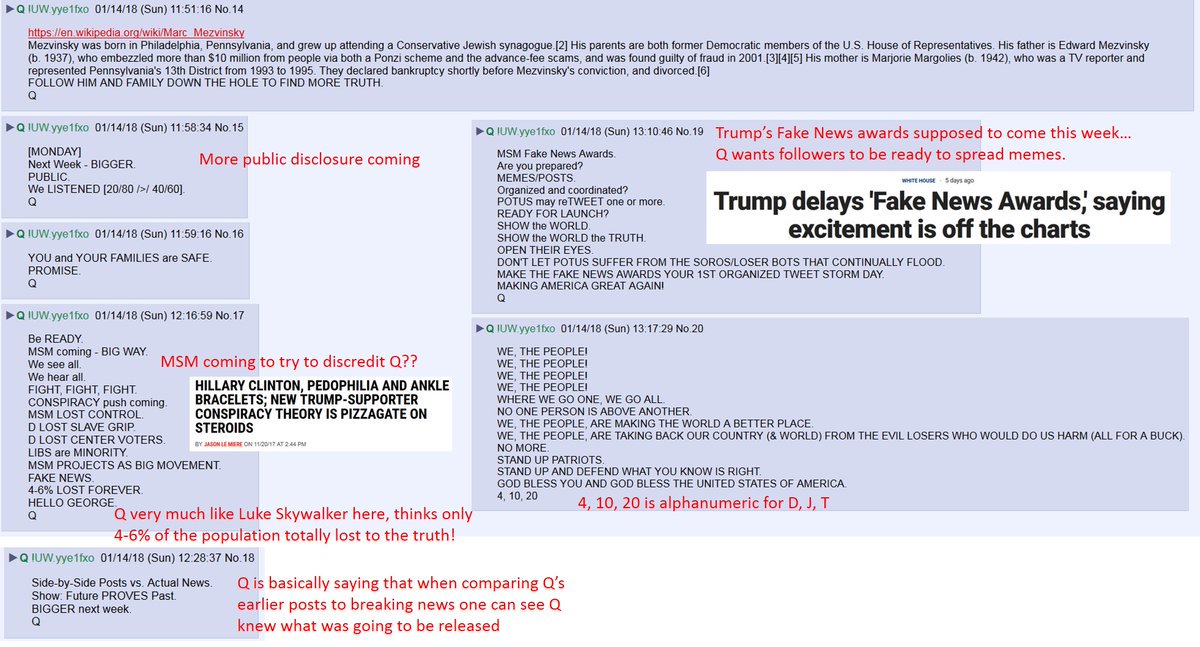 3)
See, the first point about Q is that Q claims to be someone with the equivalent of I believe a top secret security clearence, but for the department of energy, a q clearance. I only claim to be a drunk asshole on twitter who should not be taken seriously. I'm nobody.
4)
The second point? Look at his blurbs, his random comments. Short throwaways. Trying VERY hard to sound mysterious, staccato, code-like. The very tone Q attempts to set is sounding special through posting in a very different grammar than you're used to, to make it stand out.
5)
Look at his 'predictions', his 'hints'. Is any of that ACTUALLY surprising? Is any of that ACTUALLY that radical of a prediction? Or even a prediction at all?
6)
MSM COMING-BIG WAY
No fucking shit sherlock, the OIG report is either currently dropping or will drop soon, its MLK day weekend, DACA negotiations are happening, the Fake News Awards are next week. No shit the MSM is coming, any drunk asshole on twitter could see that coming
7)
Now, the Fake News Awards. Trump's building up the hype. Probably good he delayed it, the delay gets people eager. But Q has committed a grevious error, and its one that ticks me off royal.
8)
Mother fucker is trying to give orders.
9)
See, this is where I get mad. Whiskey mad. There's rules about this kind of shit, and as this guy is on a chan board, here's the most important fucking rule. We are not your personal army. They are not his personal army. No one is anyone's personal fucking army.
10)
"But Kyle, arent you and Q on the same side?"
11)
Technically speaking. I'm a Trump supporter, and if Q is to be believed he works for Trump. But that's where the similarities end.
12)
I am a singular jackass, a meme militiaman showing up where I want, when I want, to fight some dumbassed socialists. A quantum troll/not troll. I have 7000+ followers not because I want a horde of people around me, but because you all seem amused by my antics or some shit.
13)
And on Wednesday when the Fake News Awards happen and I'm shitposting live in the fucking chaos, I'm not going to tell anyone else to be there. Q Anon seems to think he can be some rallying hero with a fucking banner calling Trump's internet army to arms.
14)
I say, fuck that. I'm pissed off that it might be assumed I'm there because some fuck on /pol/ claiming he's some top secret government motherfucker told me to be there. It fucking CHEAPENS my presence to be there.
15)
I shitpost and troll and argue and carry on despite fucking shadowbans fucking with my account because I choose out of all other options to be here, because Twitter js a liberal fucking ant colony and I brought a magnifying glass.
16)
Trump and his crew are winning. They've already won because Trump creates situations in which he wins before it even happens. They don't need some Q fuck riling people up. They didnt need WHAnons before Q who were doing THE EXACT SAME THING Q IS AND ALL OF THEM WERE BULLSHIT.
17)
They don't need me to be anywhere or do anything, but I'm going to show up anyways, because that is what conservatives are. A goddamn volunteer militia. The socialists are a zombie horde intermixed with bots snd paid shareblue fuckwits. A paid or indoctrinated army.
18)
Its like
@davealvord164
implied; we on the conservative side of things are better. Smarter. Independent thinkers. We dont need some
#qanon
fuck to unite us. We figured this shit out months before we even knew Q clearance was a thing.
19)
2 days from now, we're going to fucking crash twitter. How, I don't know, but its going to be a goddamn madhouse. It will be fan fucking tastic. All I'm saying is, show up and shitpost and troll because its what you do, not what some Q or twitter asshole tells you to do /end