Wow. Estonia's spy service has published a 72-page report sketching out Putin regime's malevolent clandestine influence and information operations
From the report, re: Syria: "In 2018 Russia is likely looking for ways to get involved in other conflict areas in the Middle East and Africa. The main purpose of such activity is to irritate the West, and not necessarily contribute to the resolution of these conflicts."
From the report: "In the Persian Gulf region, Russia is trying to undermine the US-led regional security architecture. To do so, Russia is trying to benefit from the frictions between the US and its Arab allies concerning, above all, Iran's role in the region."
"Russia actively supported Libyan National Army led by Gen. Khalifa Haftar, a force opposing UN-supported Libyan unity govt. Russia is also maintaining ties with Libyan unity govt, which understands Russia is equally capable of escalating the conflict as it is of defusing it."
Report's brief summary of how cash-strapped Russia relies on energy firms as an instrument to bend governments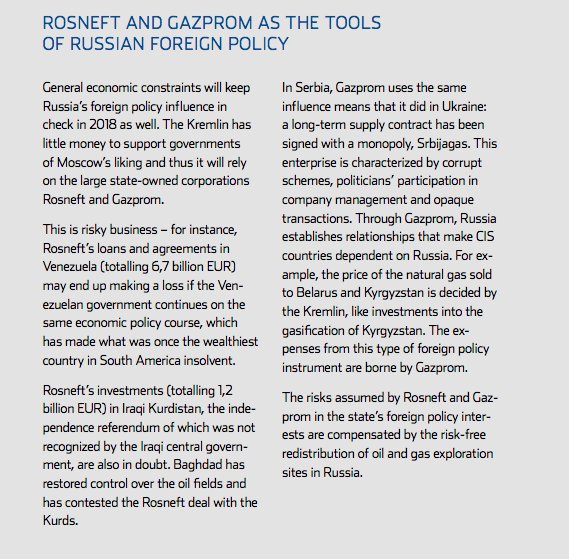 On how Russia aggressively recruits visiting foreigners: "Major international events taking place in Russia – political & economic forums, scientific conferences, youth festivals and sports competitions – play an important role in intelligence collection."
1/3
"Visitors from abroad usually come to such events without family members, live in hotels and feel less inhibited outside official events, which makes it easier
for special services to establish contact and access their personal items such
as telephones and computers."
2/3
"Unsuspecting visitors may not have a clue of what is going on around them in preliminary phase of intel operation. FSB sets up an operational staff that can involve several thousand personnel from intelligence, counterintelligence, counterterrorism and technical support."
3/3
The story of Hugo, an EU businessman who was targeted by the Russian services illustrates the pitfalls of trying to do business in today's Russia