Trump is about to speak at CPAC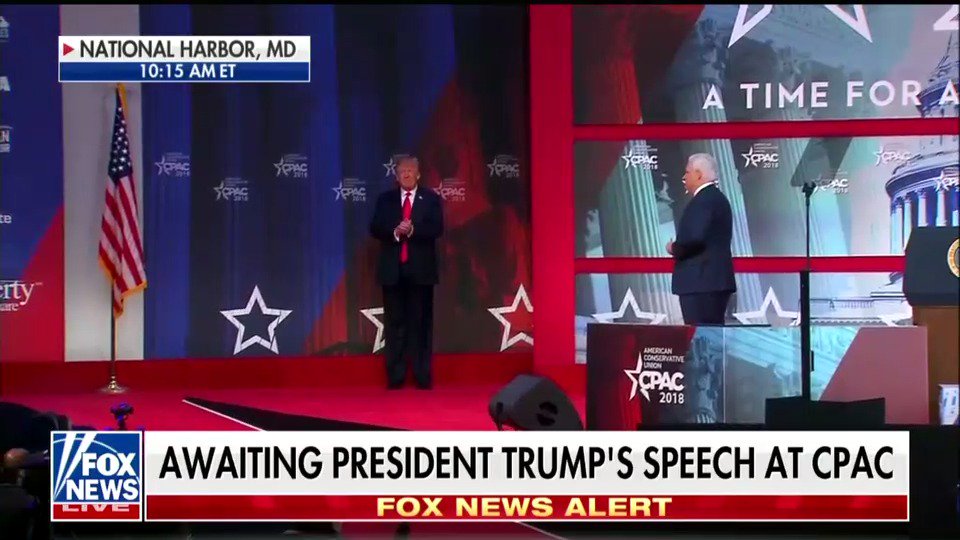 Trump sees a picture of himself at CPAC, jokes, "By the way, what a nice picture that is. I love that. I would love to watch that guy speak. [Laughter] I try like hell to hide the bald spot, folks. It doesn't look bad. Hey, we are hanging in. We are hanging in there, right?"
Boos erupt as protester disrupts Trump's speech. Trump says:
"They were very gentle. He was very obnoxious. It was only one person. We have thousands of people here."
Trump brags about job creation numbers that were in fact the most anemic since 2011
thinkprogress.org/trump-job-boom…
TRUMP, after a long rant about how Republicans are disadvantaged this year: "My administration, I think, has had the most successful first year in the history of the presidency. I really believe that. I really do. I really believe it."
Trump talks a little stroll as crowd goes wild for him accusing Democrats of wanting to "take away the 2nd amendment"
WOW -- After the very classy CPAC crowd breaks out in chants of "Lock her up," Trump says Democrats have "committed a lot of atrocities"
Trump laments that the media reports on his lies and false statements
Trump on the importance of coal: "We don't have to send it through pipes."
TRUMP: "By the way, you don't mind if I go off script a little bit because you know, it's sort of boring. [Cheers and applause] We've got this beautiful speech. Everything is wonderful, but a little boring."
Trump is just out here listing off numbers
15 months after the election, Trump is still taking shots at Hillary and rehashing his electoral college win
Trump on the deep state: "We are fighting a lot of forces. They are just doing the wrong thing. I don't want to talk about what they have in mind, but they do the wrong thing."
The TRUMP DOCTRINE: "But we have to treat people that treat us well. We treat them well. People that treat us badly, we treat them much worse than they could ever imagine. That's the way it has to be."
Very forward-looking stuff from the president
TRUMP on THE WALL: "I had a couple of these characters in the back [journalists] say, 'he really doesn't want the wall. He just use that for campaigning.' Can you believe it? You know, I say every time I hear that, the wall gets 10 feet higher."
CPAC erupts in cheers and "USA!" chants as Trump takes attacks ungrateful professional athletes that refuse to stand for the national anthem.
LOL one of the first things Trump mentioned when paying tribute to Billy Graham was his large crowd sizes.
"We will never forget the historic crowds."
Trump tries to wrap himself in Christianity.
"Americans of all faiths reach out to our Creator for strength, for inspiration, and for healing. A great time for healing. In times of grief and hardship, we turn to prayer, for solace, and for comfort."
Trump on Parkland shooter Nikolas Cruz:
"This was a sick person. Very sick. And we had a lot of warning about him being sick. This wasn't a surprise. To the people that knew him, this wasn't even a little bit. In fact, some said they were surprised that it took so long."
Trump is using a mass shooting at a high school to push for more guns in schools.
Trump on why schools need to be militarized.
"If this guy thought that other people would be shooting bullets back at him, he would not have gone to that school. He would not have gone there."
He hasn't mentioned gun control a single time.
Trump says an armed teacher could've stopped Nikolas Cruz.
"A teacher would've shot the hell out of him before he knew what happened."
Trump kisses the NRA's ass then says his big gun control concession is stronger background checks
We've now come to the racist dogwhistling portion of the speech as Trump hypes a nonexistent crime wave and kicking gang members out of the country
TRUMP calls MS-13 "a savage gang."
"They don't like guns. You know why? They are not painful enough. These are animals. They cut people. They cut them. They cut them up into little pieces, and they want them to suffer. And we take them into our country b/c our laws are so bad"
TRUMP tells CPAC audience that they "better vote for Republicans" or... *checks notes* ... nothing will get done to protect undocumented immigrants?
Trump is using a gory rant about a violent attack against joggers in New York to demonize immigrants and smear them as murderers
Uplifting stuff from Trump, who's out here reading a race-baiting poem about "a vicious snake" who repays "a tender woman" for her hospitality with a deadly bite.
"Jobs are so.... good"
"WOMEN!......... women"
Trump on the power of government.
"Americans are getting to keep a great percentage of their money, instead of paying it to a government that throws it out the window. So I just leave you with this. We have to fight Nancy Pelosi. They want to give your money away."
Trump claims that the World Trade Organization "created China."
Trump closes by casually ramping up tensions w/North Korea & calling journalists "horrible people."
"The media will absolutely support me sometime prior to the election. All those horrible people back there. You know why? B/c if somebody else won, their ratings would go down."