Shocker: Natalia Veselnitskaya—Russian Lawyer Talking Clinton Dirt & Magnitsky Sanctions at Trump Tower Meeting—Is Tied to Russian Govt. After emails expose her Kremlin ties, she admits being an informant & information source for Prosecutor General Chaika.
nyti.ms/2KfLLTY
Trump has obfuscated the June meeting by focusing on "we got nothing from the Russians." In fact, Veselnitskaya passed critical information TO Russia. I wrote about just this last July: The Significance of June 9 Trump Tower Meeting Is Information TO Putin
medium.com/@PaulaChertok/…
What a farce: House Intel Cmte Republicans 'find no evidence' of collusion w/ Russia…on same day Veselnitskaya is exposed as Russian government proxy.
foxnews.com/politics/2018/…
Veselnitskaya was clearly on a mission for Moscow. It's been obvious from the start. The Trump campaign cannot credibly say they didn't know she was from the Russian government. Goldstone said it plainly in his emails to Don Jr. Trump has been dousing us with obfuscation since.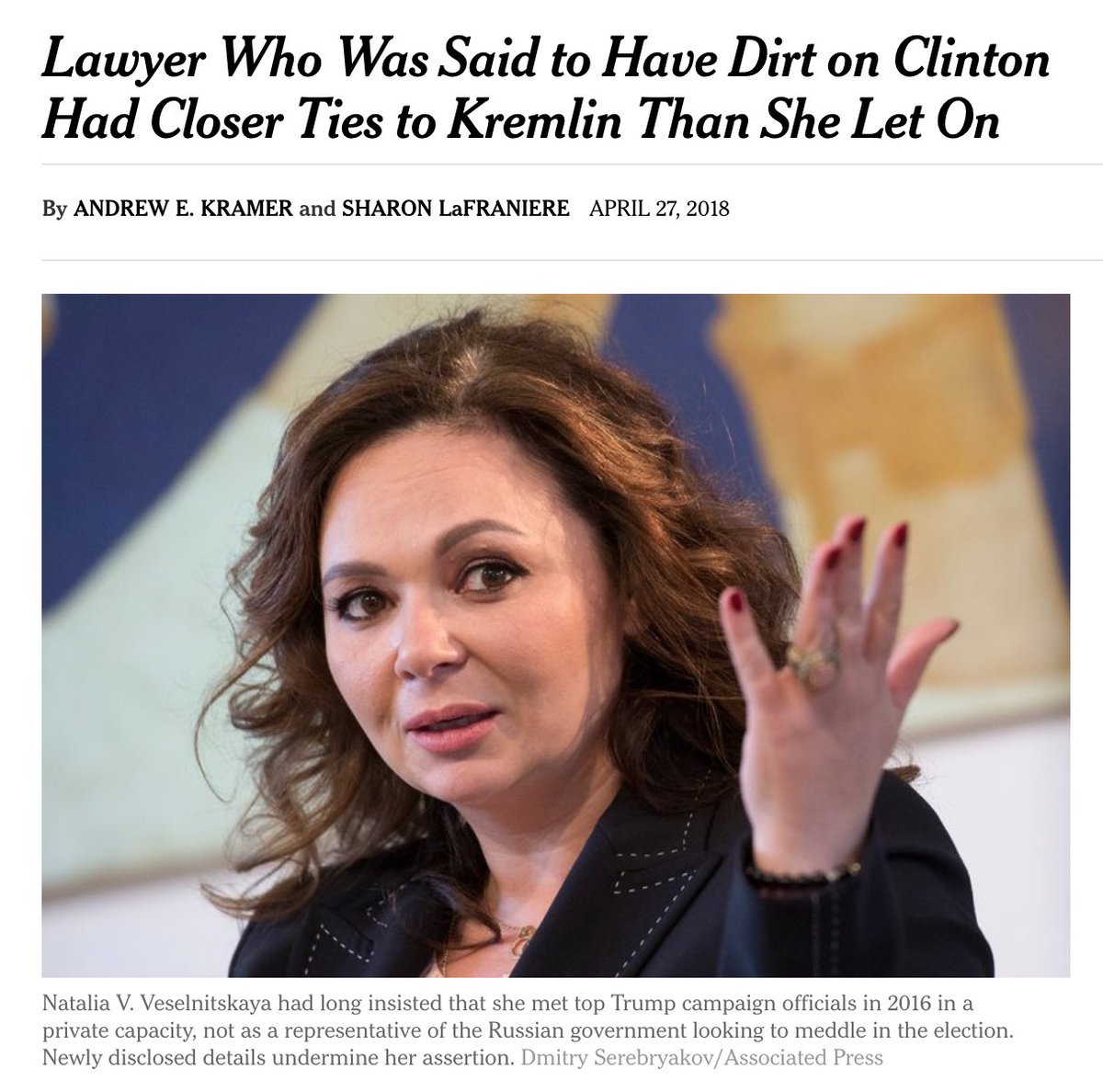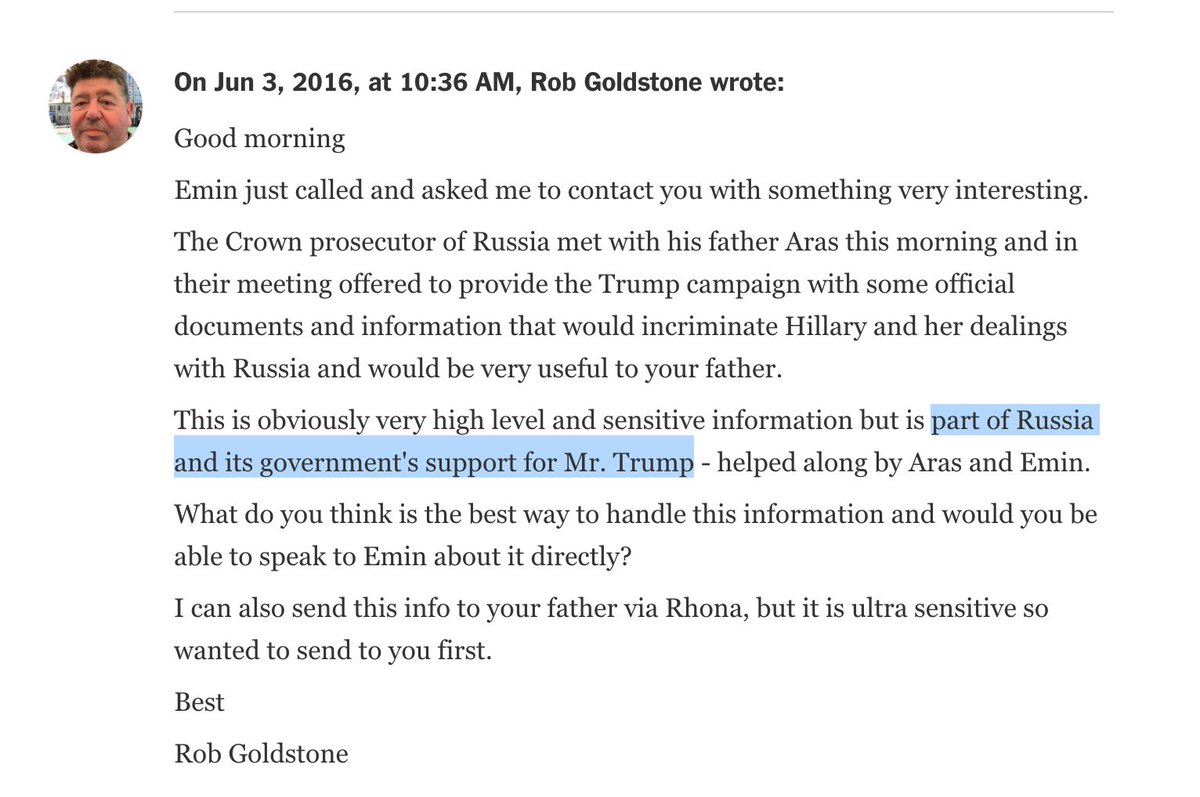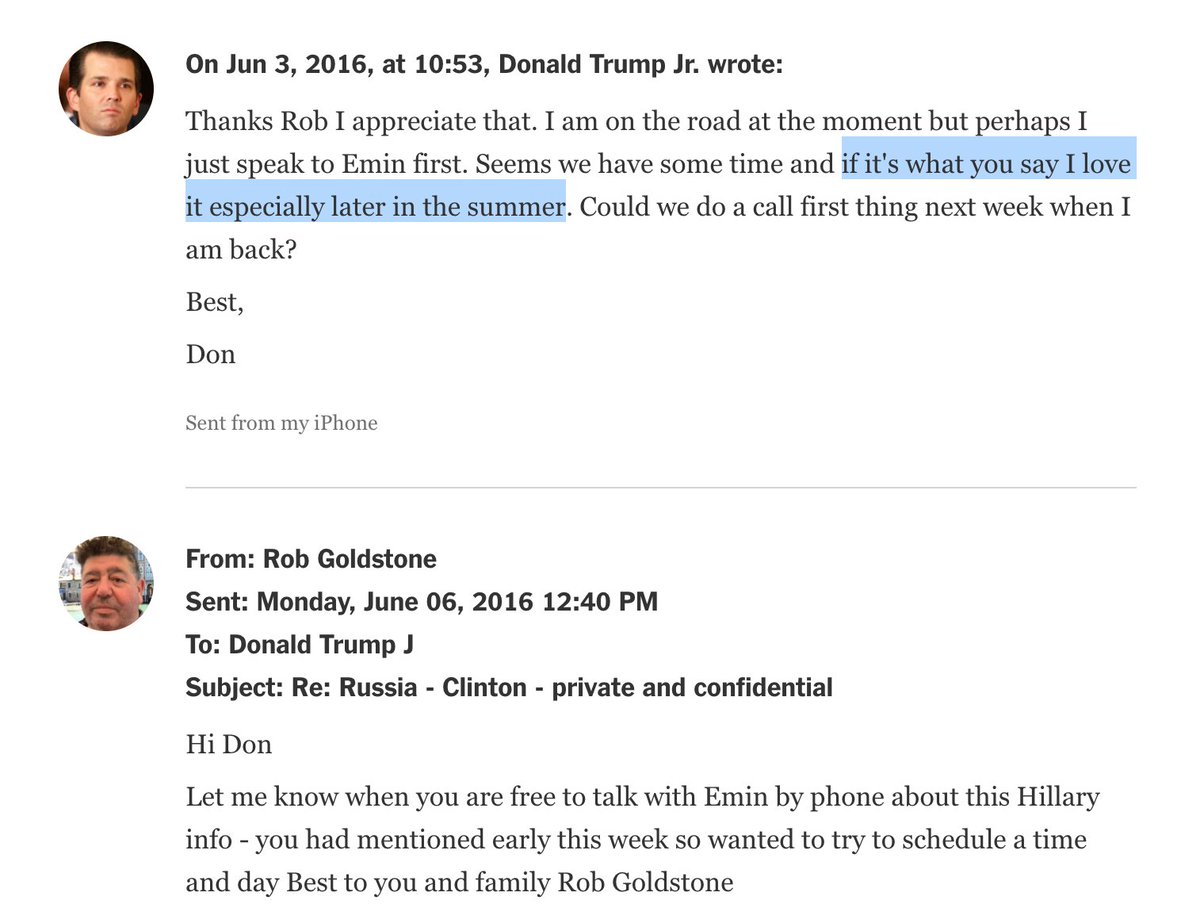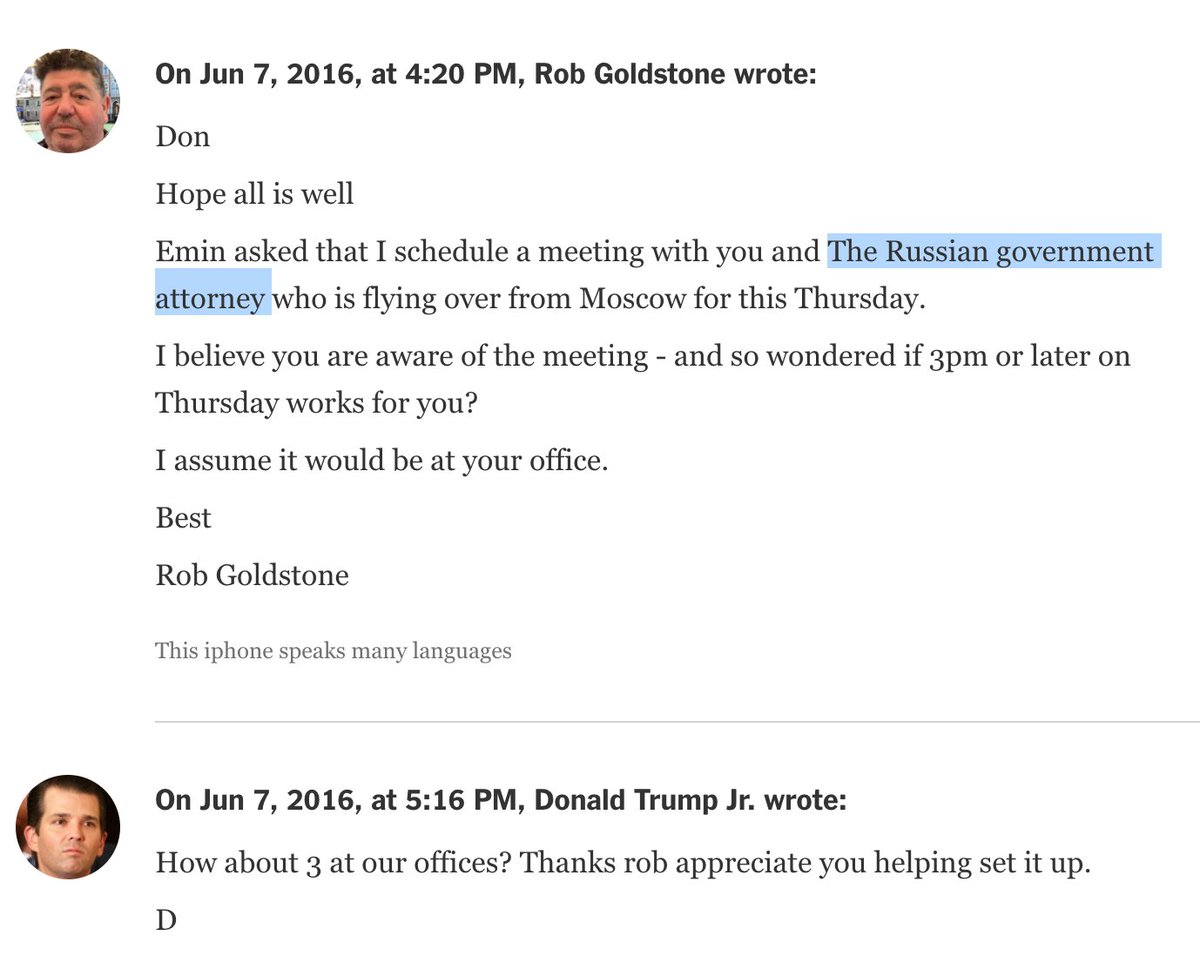 Veselnitskaya's sudden reversal & open admission she's an "informant" for the Kremlin is a shrewd signal to Trump imo. Just as Trump makes a splash w/ Macron, Merkel, Kim…Putin reminds him: Russia has "information sources" like NV and will release what they want when they want.
Trump plays dumb about Russia's explicit election-help-for-sanctions-relief deal. Manafort surely got what Veselnitskaya was doing at TrumpTower. Right after that meeting, Russian help came–via Wikileaks. Russians came to inauguration to celebrate, expecting sanctions to end soon
Focusing on information FROM Veselnitskaya, we play into Trump narrative that June mtg is insignificant b/c Trump got nothing. Truth is, that meeting was earth-shattering. It provided key information TO Russia that aided likely even launched the Kremlin's attack on our democracy.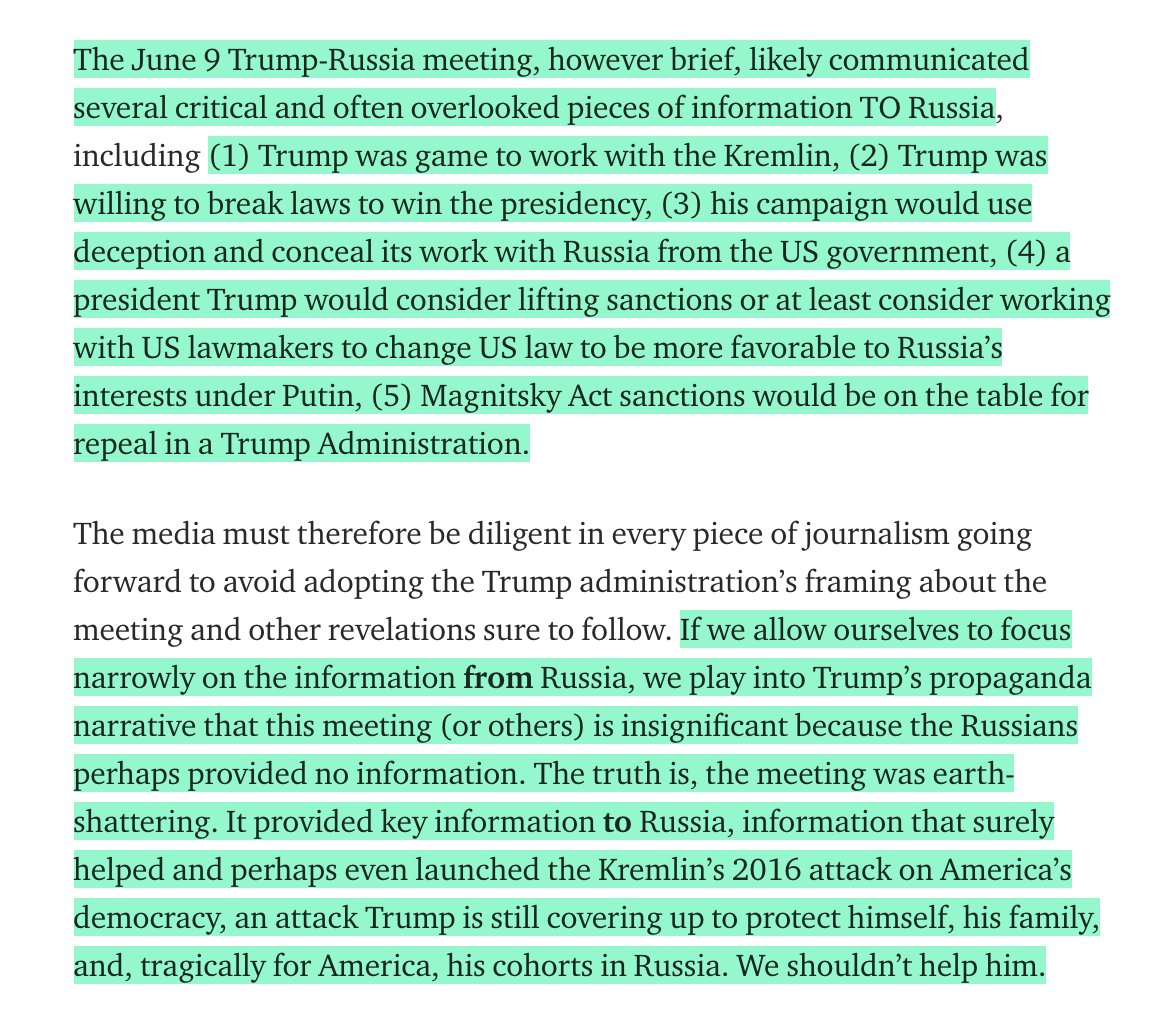 It never made sense that a group of Russians advocating against Magnitsky sanctions with typical Kremlin disinformation (all a Russophobic hoax) arrange a meeting with top Trump campaign brass and "nothing happened." C'mon folks. Don't buy that propaganda.
medium.com/@PaulaChertok/…
NEW: Another lie about the Trump Tower meeting: Trump said there was NO follow-up afterwards. Turns out, there was. Both Veselnitskaya & the Agalarovs approached Trump AFTER the election about sanctions, expecting payback. via
@CNN
#TrumpRussia
#QuidProQuo
#Collusion
#Conspiracy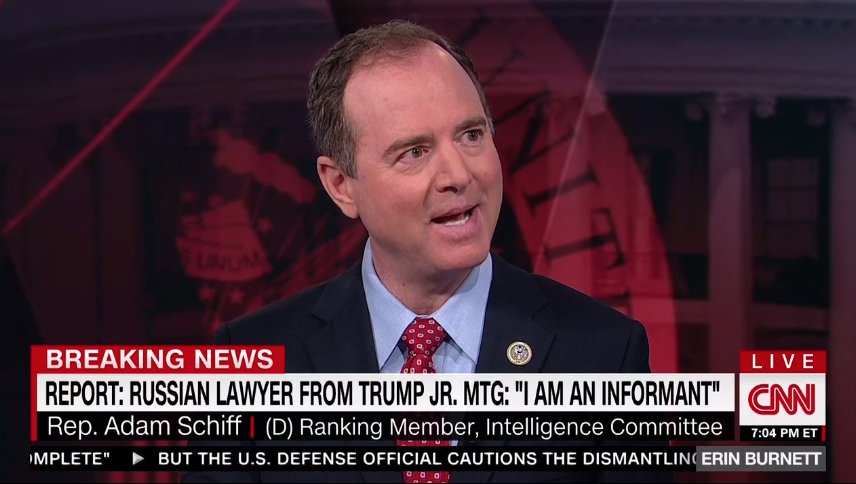 I've watched many interviews w/ Veselnitskaya in Russian media. She is always calm w/ that soft voice demanding your attention. Well, that's not the woman in this remarkable interview.
@RichardEngel
caught her off-guard, which goes to show you, truth is disarming to propagandists