With new claims from
@mod_russia
about false flag chemical attacks being prepared by opposition groups in Idlib, it's worth remembering this similar claim from March where they claimed the same thing about Deraa. CW attacks reported in Deraa? None.
rt.com/news/421589-us…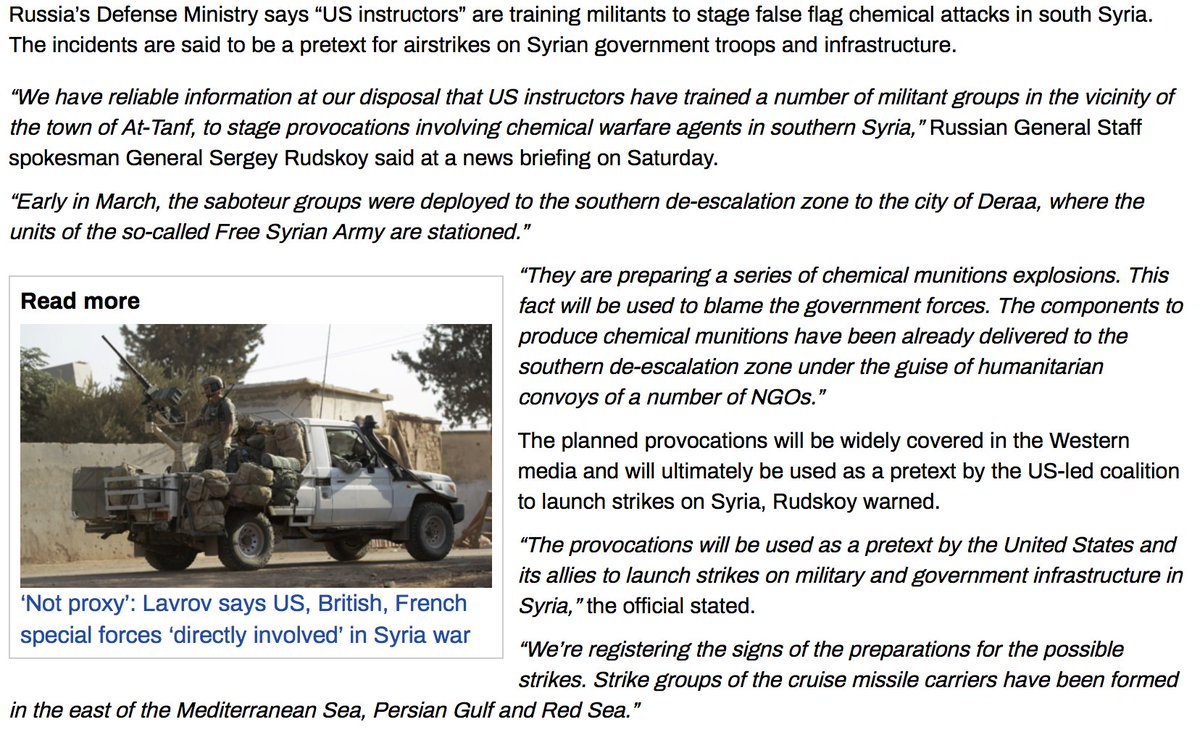 A month earlier
@mod_Russia
claimed they had received a detailed tip off about another false flag chlorine attack being prepared in Saraqib, Idlib. Again, no such attack took place.
rt.com/news/418649-al…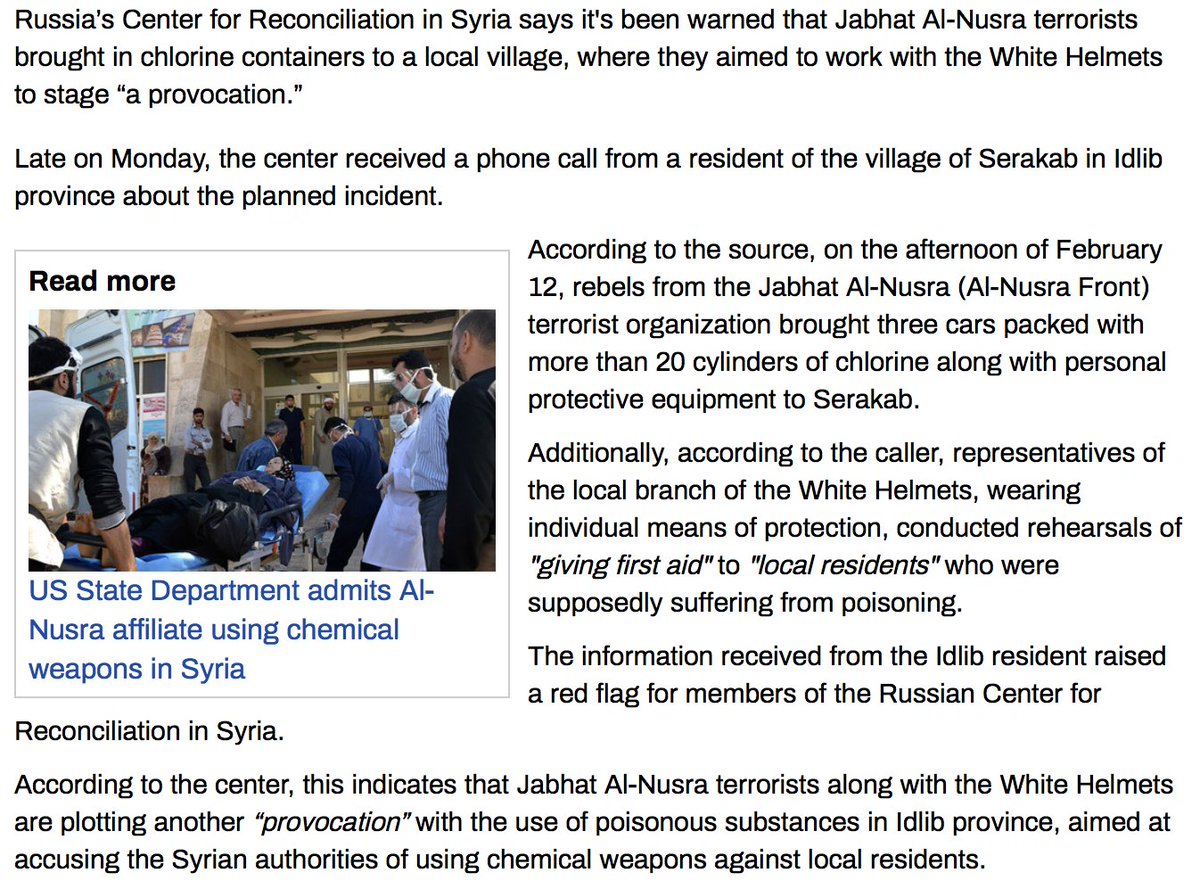 And another claim from
@mod_russia
from June about another false flag chemical attack being prepared, which didn't occur. The Russian government repeatedly makes false claims like this to lay the groundwork for future denials and conspiracy theories.
sputniknews.com/middleeast/201…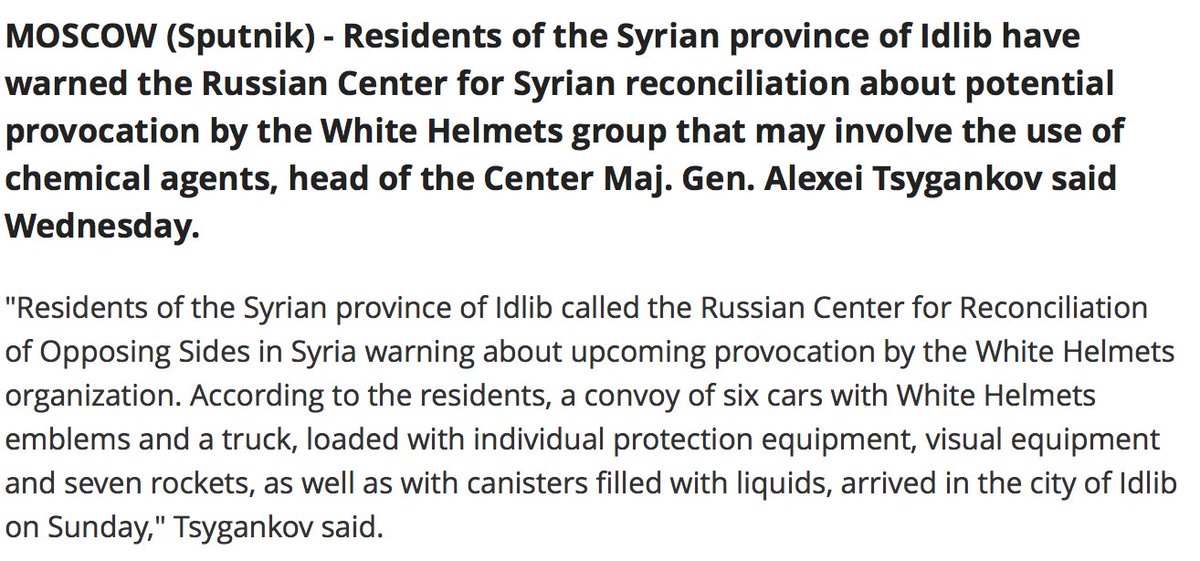 Yesterday we have another claim from
@mod_russia
that a false flag chemical attack is being prepared, again claiming the White Helmets are involved, part of their attempts to demonise the White Helmets and undermine allegations of chemical weapon attacks
rt.com/news/436812-sy…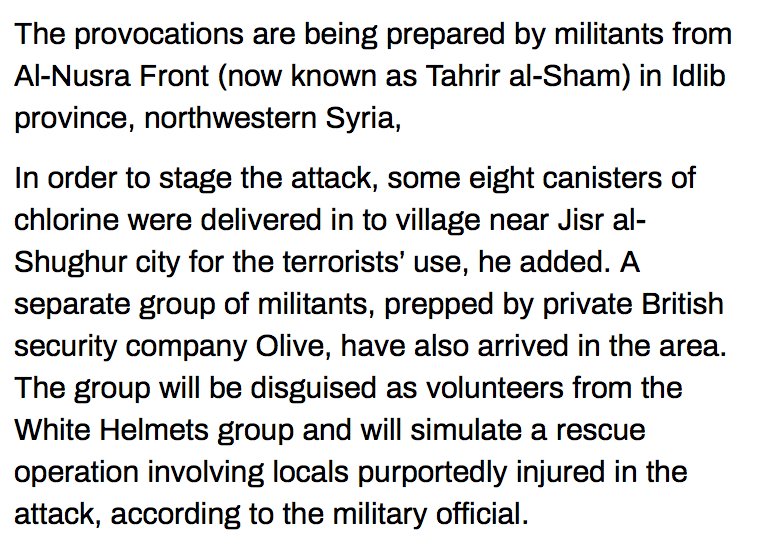 I don't believe this is the Russian MoD being aware there will specific chemical attacks by Syrian government forces, just laying the groundwork for future denials and conspiracy theories if there are.
Continuing my thread from yesterday, the
@mod_russia
continues to make vague claims about preparations for false flag chemical attacks in Syria, with the supposed arrival of "foreign specialists".
rt.com/news/436876-id…
It's worth noting that a number of sources have stated there's been over 200 chemical weapon attacks in Syria since 2012, so just by the law of averages alone if you say there's going to be a chemical attack in Syria soon there probably will be.
More details, claiming people dressed as White Helmets are preparing a false flag chemical attack, pretty typical of the various
@mod_russia
claims in the past, throw in a bit of demonisation of the White Helmets along with your false flag claims.
sputniknews.com/world/20180826…


When the chemical weapon attack in Kafr Zita predicted by Russia doesn't happen you'll see the old conspiracy theorist spin of "ah, well it would have happened but because we exposed it they didn't do it!"