Can US presidential election outcomes be plausibly explained by partisan voters becoming more likely to vote after losses and less likely to vote after wins? According to a simple simulation, maybe so!
netlogoweb.org/web?https://dl…
1/
Notably, ~all this simulation does~ is increase voter participation in each state after a loss (national or state) and decrease voter participation after a win (national or state). That's it! So partisan voter behavior is strictly reactionary.
2/6
The simulations starts after the 1992 US presidential election and can generate the same outcomes as the next 6 presidential elections (1996–2016). (Admittedly, the parameter space in which this occurs is very narrow.)
3/6
I think it's pretty neat that the only starting data needed to reproduce the outcomes of 6 presidential elections are: (1) partisan voting populations by state, (2) electoral college votes by state, and (3) the results of the last election.
4/6
Some of the other general patterns also match the historical record: solid red or blue states, a decreasing number of battleground states, directionally correct changes in electoral votes by party...
5/6
At the state level, it could be better in terms of matching actual voter turnout and each state's election outcomes. Likely next step? Increase voters' memory by reacting not only to the most recent presidential election outcome, but the most recent two or three.
6/6
P.S. If any political science type folk happen to find this interesting, shoot me a message?
7/6
.
@ncasenmare
asked me a great question: what outcome does model predict for 2020? In its current form, looks like a Democratic victory 8/6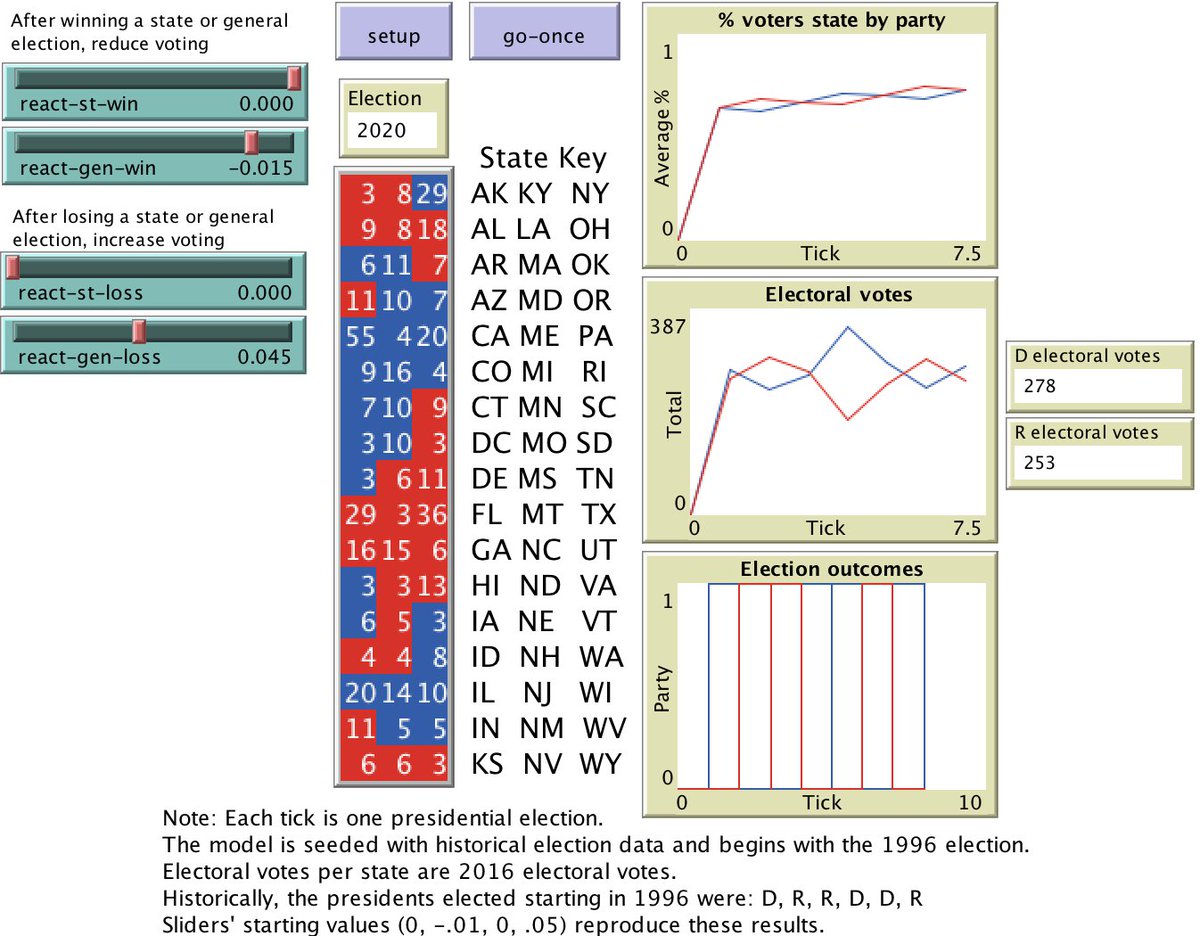 Coming soon: state-level model validation (yearly voter turnout and outcomes), more detail on the parameter space that produce the most historically accurate outcomes, and the reliability of the model's predictions for 2020