(THREAD) Hi, I'm Louise. I work in digital content here at the ECB and I love
#Halloween
. I persuaded my colleagues to let me take over the ECB Twitter account briefly to do my worst on this topic ;-) 1/11

I bought this pumpkin the other day in my local supermarket in Frankfurt's Nordend (a neighbourhood in the north of the city) and had a go at carving it.
#Halloween
2/11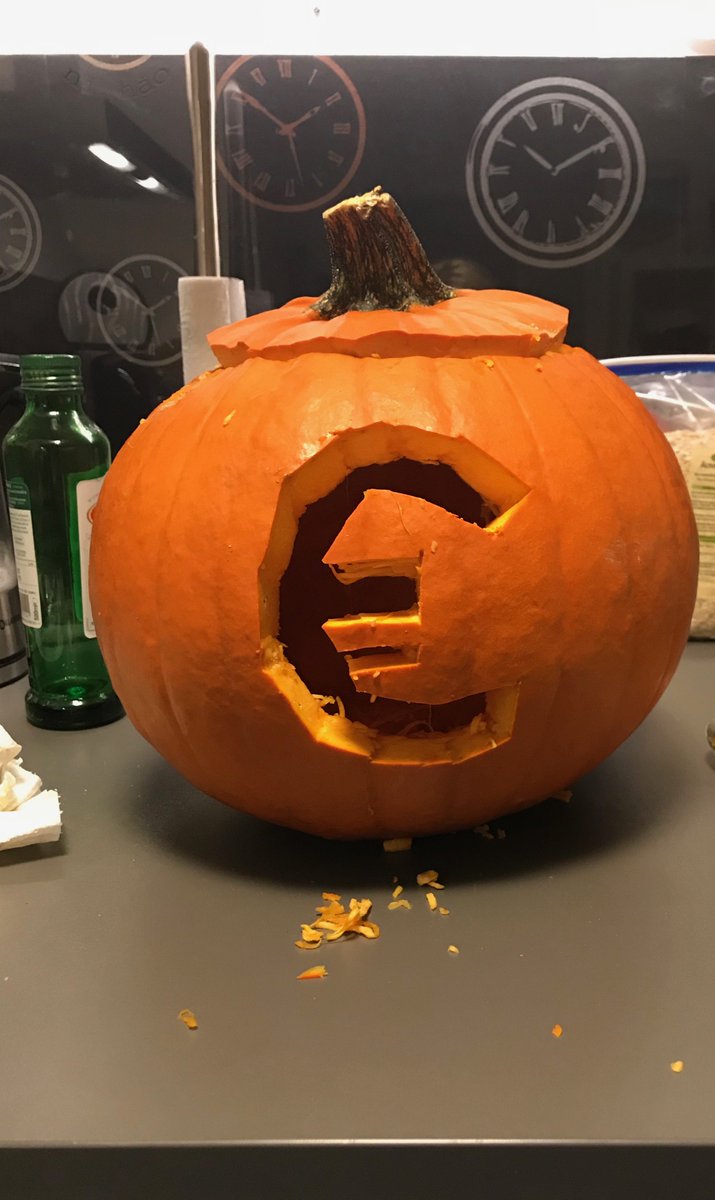 It cost me 5 euros. I thought this seemed a lot, but it is a huge pumpkin – I could barely carry it – so fair enough…
#Halloween
3/11

But this got me wondering how much I paid for a
#Halloween
pumpkin last year. Luckily for me, there are people here at the ECB I can ask about prices going up and down. One of our economists, Ieva, shared data with me which showed… 4/11

Ieva's data showed much more than this one figure. On average, the prices of pumpkins, aubergines and corn actually go up and down like a seesaw!
#Halloween
5/11

For example, August is harvest time, so prices are lower because supply is high. In February, many vegetables have to be imported into the eurozone, so prices are higher. 7/11
Weather also plays a role. In the eurozone overall this September, vegetable prices were quite high. This is probably due to this summer's heatwave, which led to weak harvest results. So in the scheme of things, my pumpkin purchase wasn't such a bad deal!
#Halloween
8/11

Ieva and Bernhard kindly gave me the specific info I was interested in, but in their work they follow price changes more broadly and over time, with more general data on everything we in the eurozone buy – from televisions to
#Halloween
costumes. 9/11

Our economists and statisticians study price developments because our aim here at the ECB is to make sure inflation stays low, which we define as below, but close to, 2% over the medium term. Why and what does that mean for you? Read our explainer
ecb.europa.eu/explainers/tel…
10/11
I'm off now – I hope you enjoyed this thread. We'd love to see replies with pictures of your carved pumpkin or other autumn scenes. It's beautiful out there.
#HappyHalloween
everyone! 11/11