👉Soon after Modi took office in late 2014 he approved Chabahar port in Iran
👉Point to be noted Vajpayee approved this project in 2003. After his defeat Congress slept over it for a decade
👉Port became operational in Nov 17 n first consignment of wheat for Afghanistan dispatche
👉Why am I writing on this topic
👉Afghanistan(AFG) is a land locked country. Trade of AFG with foreign countries took place thro Pak port of Karachi
👉Pak controlled all trade access to AFG
👉Pak AFG trade was 2.7 BN$ in 2014 n Pak hoped it to rise to 5 BN$ in next 3-4 yrs
👉Pak supplied allmost all AFG needs. In short they were a cash cow for Pak
👉Here comes role of Modi, soon after becoming PM he decided to stop easy money flow for Pakistan n wean away its friends
👉Chabahar port is an alternative to Karachi port yes a bit expensive
👉Due to fast operationalization of this port trade with AFG is happening thro this route. This single stroke has played havoc with Pak economy. Lets see in detail
👉Pak trade with AFG falls from 2.7BN$ to 500 MN$. Pak were expecting 5 BN$ trade.
👉Container traffic fell from 70000 to mere 7000
👉Not only Pak direct trade suffered but movement of AFG trade with other countries thro Karachi suffered. Big job loss
👉India offered 75% Air fare subsidy for patients of AFG visiting Pak hospitals
👉Medical tourism was one of the main source of earning for Pak n mostly Peshawar city. The hospitals r empty now
thediplomat.com/2018/05/capric…
👉To increase trade with AfG India has started air cargo service from Delhi, Mumbai,Hyderabad,Amritsar n Kolkatta with 5 AFG cities
👉Indian trade with AFG which was negligent in 2014 has increased manifold at the cost of Pak economy
👉AFG has huge mineral reserves, many countries including China, India has setup or going to setup manufacturing units
👉If there was no Chabahar port this upcoming business would have happened thro Karachi port
👉Modi thro his foresight has stopped this flow of easy money
👉Modi knows before final war begins the enemy supply lines has to cut
👉Now lets come back to MFN issue. Removing MFN involves removal of low tarrifs on Pak goods
👉Pak export to India is 500 MN$ of which cement is mere 23 mn$ n vegetables/fruits 41 mn$
👉Instead of removing MFN even if we ban 100% Pak goods will it hit them
👉MFN was just to show the world that Pak was admant by not reciprocating the same favour
👉The damage done by Modi in AFG to Pak economy is hundred times more than removal of MFN status
👉What does RW gain by harping endlessly on MFN, spreading pessimism about Modi
👉Coming to FATF (financial action task force)
👉Countries supporting terrorism r penalised heavily thro different sanctions
👉India n US has taken lot of efforts to put Pakistan in FATF watchlist
👉Initially Gulf countries n China has opposed it, so it failed but India/US
succeeded in the second effort
👉How it will hit Pakistan. First its rating will be downgraded, as a result foreign borrowing becomes costly. So bank loans become costly
👉Companies will be hit by high input cost
👉As it will be risky to do business insurance cost will increase,
so overheads increases. Currency depriciation, it means a big hit for a already fragile economy
👉Pak economy just can't withstand such pressures
👉Pak currenncy has depriciated a lot against dollar n this is just the start
👉Modi took oath on 26 May 2014. That day 1 US $ equalled 98 Pak rupees today it is 139 for 1 US $
👉Those who r saying MFN is just a start more needs to be done I will only say economic choking of Pak started on 26.05.14 n it is nearing its end now
👉Modi very well know his responsibilities towards people n this sacred land. He doesn't need anyones push. For more on Indus water treaty read by thread
#ModichokesPakistan
of 16 Feb. Hope you enjoyed. Thanks for reading a long thread.
During last 4 yrs Modi choked Pak thro various ways as explained in above thread. Modi finished Pak fighting capability before start of final assualt. Now is the most crucial period, this photo courtesy
@ByRakeshSimha
shows its airspace is empty maybe IN blocked sea route also so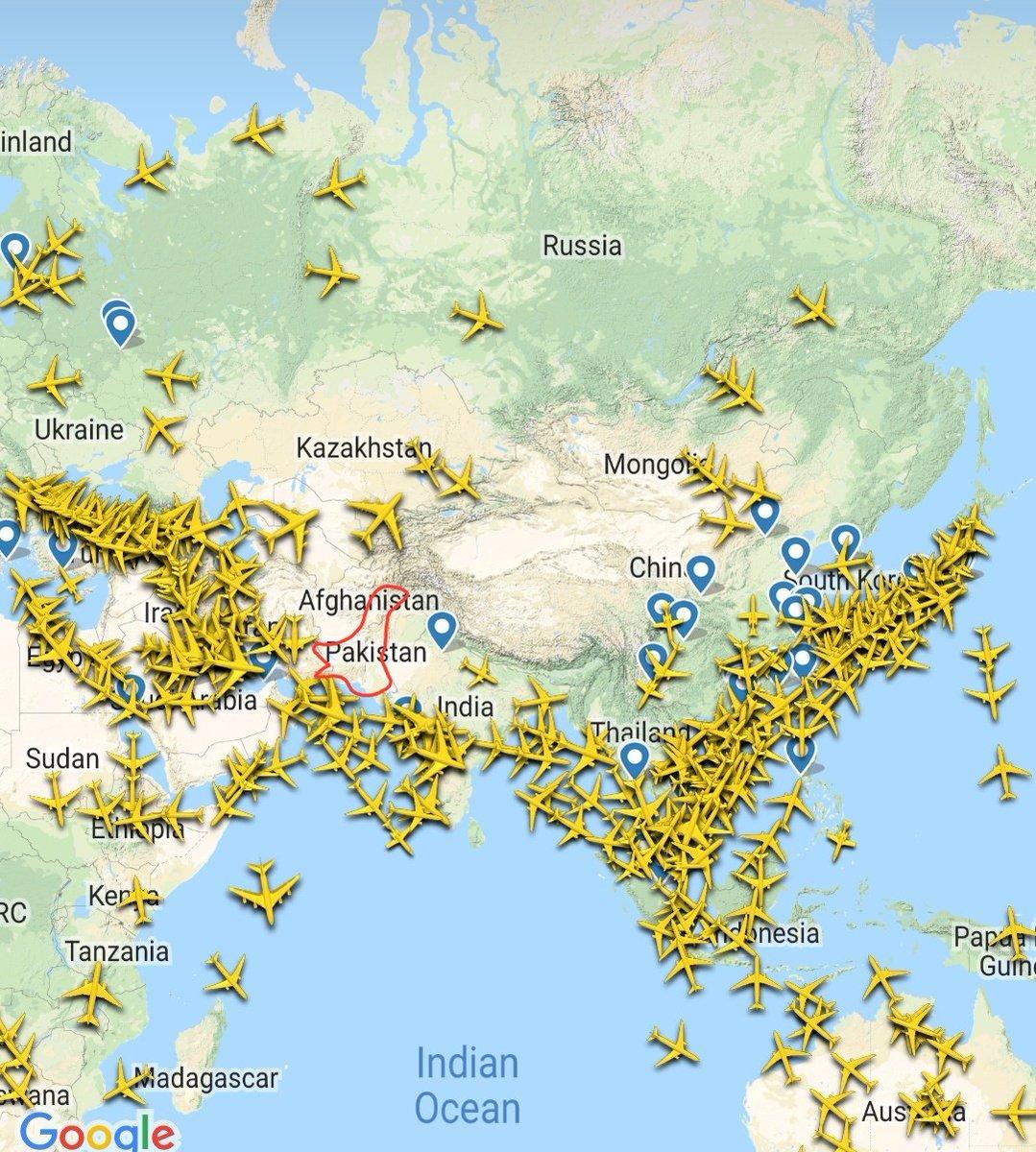 hold the nerve, be firmly with Modi Govt. He will finish this problem once for all.
Due to closure of Air space Pak has lost 2mn$ in just 3 days. This is amount they charge differnet cou tries for utilizing their air space
👉Pak airport handle 2L metric ton of air cargo annually. Last nine days air space closure affected 4500 MT movement
caapakistan.com.pk/upload/AT/stat…
👉One important point in international business deal is time commitment. Air space n port closure has badly hit the exports plus Pak will be seen as a unreliable trade partner
👉International players will think ten times before giving order to Pak. Today no industry maintains
inventory. So if one vendor fails to deliver the whole supply chain gets affected.
👉Modi is screwing even its long term prospects.
👉I bet Pak PM n army chief must be begging to Modi daily to forgive them for Pulwama.
I have explained in above thread how FATF will hit Pak financially. Pak FM admits they will lose 10 bn$ annually n blames Modi for FATF. RW questioning what Modi did should RT this thread
timesnownews.com/international/…
The free fall has started in Pak. Epic maneuver from Modi showing visible results. Modi is a rare gem. Just stand solidly behind him.

Pakistan rupee crashes to 148 per dollar. Record inflation, millions of job losses has brought Pak to civil war condition.

Doom in Pak after Pulwama
👉Milk from 70 to 180/ltr
👉Atta from 11/kg to 50/kg
👉inflation rate from 2.2% to 9.4%
👉medicine rates increased abnormally, raid on 28 pharma co
👉due to continues shelling on border scarce resources of Pak diverted to defend itself, facing epic fall
Pak's bleeding thro thousand cut policy put into use by Modi. Pak getting taste of own medicine

More results of Modi choking Pak economy comes in. Pak budget deficit rises to Rs 1.6 trillion or 4.2% of GDP. Reason increased defence spending n lower revenue. Both r due to continuous pressure on border created after Balakot.
tribune.com.pk/story/1958582/…
Next quarter result will be more devasting. Fuel charges due to PAF always airborne for CAP, army movement, closure of airspace/ports, decrease in industrial production due to blackout n export affected due to port closure will all show up.
Process of Pakistan run by foreign institution starts. Today its State Bank Governer an IMF employee tomorrow it will be FATF/WB. Pak will be subjected to pull from China n West both in opposite direction with India hitting at centre.

Pak offers to de-escalate at LOC. No money left for ammunition n force deployment. Pissed in three months, our revenge has only started. Has Pak army declined to fight due to high casualities. Best policy is to fight reluctant Pak army than terrorist.
hindustantimes.com/india-news/pak…
IMF sanctions $6bn loan to Pak over a 3 yr period with very tough conditions of mopping up additional Rs 1000 bn in taxes. So Pak is selling 2 power plants (300 bn Rs), Rs 600bn thro taxes, Rs 100bn thro power hike. Very ideal condition for civil unrest.
Pak will forever regret
#Pulwama
supari. With a demoralized army due to continuous pounding n casualities now if civilians take to streets during the next few months due to tax hike/inflation/job loss will army be able to control it. Or war begin bet army n civilians over resourc
First Pak increased interest rates from some 9% to 10.75% n within couple of months to 12.25%. Best thing Modi did was meeting Nawaz Sharif on his birthday. It created doubts regarding him in Pak army. Pak army conspired to remove a seasoned politician like Nawaz n bring in a
perfect Aaptard Imran Khan. He is bringing down Pakistan economy at a speed even Modi couldn't have thought. In short Modi forced a namuna Imran Khan on Pak.