Q-Thread 3/25
We have leveled up.
Expect the snowball to pick up pace as it grows.
Now is NOT the time to gloat- NOW is the time to buckle down and focus
Vindication is NOT the news- we have known that for months
Justice IS the news- the vindication has SET THE STAGE.
#QAnon
D-3176
Word of the day is "Hand-Picked". In desperation 'they' are now claiming that AG Barr is the reason Mueller did not 'get'
@realDonaldTrump
. We planned for this. 'They' will be allowed to spew for a few days and then the DECLAS will BRING DOWN THE HOUSE.
#QAnon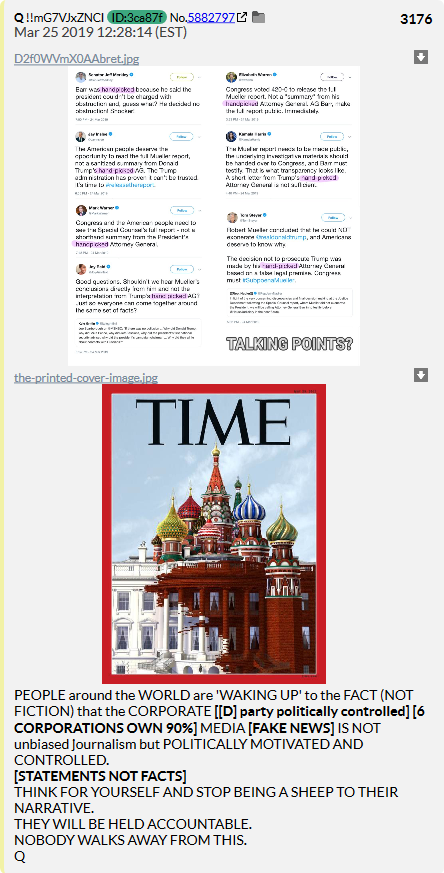 Many in the world do not know that 90% of all media is owned by 1 of 6 corporations. As their eyes are being opened, the public will demand this change.
#QAnon
is again stating there will be accounability and NO ONE will get to just walk away.
#JusticeIsComing
#FakeNews
= ENEMY
D-3177
Do you really want to hear me say it again?
I mean I have said it thousands of times and most of you did not believe me.
You will soon see that your friend Ninja has had your back the entire time.
MUELLER AND ROSENSTEIN WERE RUNNING A STING.
#QAnon
#NinjaNews
#WWG1WGA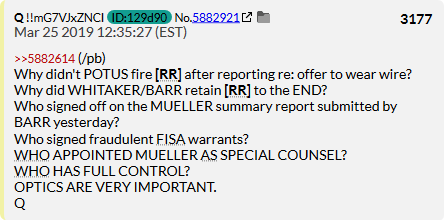 D-3178
The ONLY way to regain the trust of the American people is to provide equal justice under the law to all who took part in the COUP.
I believe that [1] is referencing to [RR]. Look at D-3004.
[1] Makes the statement (text of D-3178)
[1] Opens the door
#GreatAwakening
#QAnon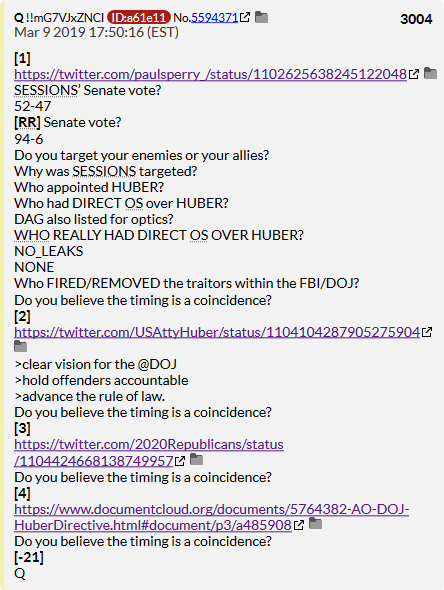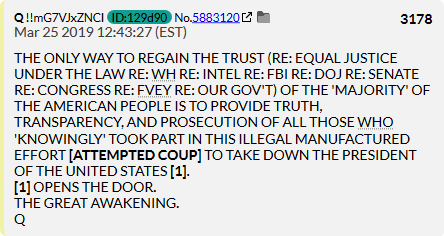 D-3179
#QAnon
is letting us know to LISTEN to Hannity's radio show today as well as WATCH his TV show tonight. It probably will not yield anything that we don't already know, but what we know will be discussed for MANY people who are being enlightened. Public Disclosure.


D-3180
I was watching this live and as soon as
@POTUS
called out the COUP as being "Treasonous", I was like... WHA WHA WHAT!!!
This is MAJOR, for the President of the United States to make this statement in the presence of a foreign leader, where MILLIONS of people are watching.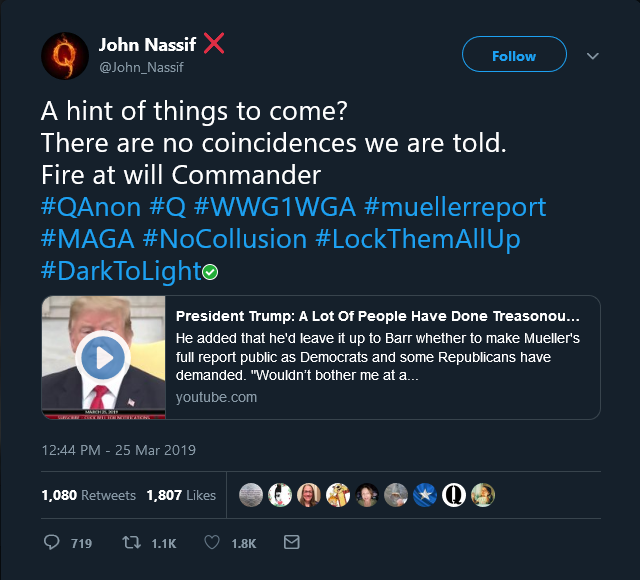 As far as the FULL GRAVITY- OUR President, just stated that there are MANY former government officials that will face military tribunals in order to determine if they 'knowingly' participated in an attempt to overthrow the United States government. TREASON = Execution.
D-3181
BLIND JUSTICE = Regardless of what your name is, title, financial ability, fame, or connections- you WILL be treated EQUAL under the LAW.
#WeThePeople
cannot wait. Wield that SWORD Lady Justice! The 'MAGIC SWORD' of Justice.