I realized late last night that a dominant narrative we are hearing about the
#MuellerInvestigation
from media is flat-out wrong.
#Mueller
did NOT have a very narrow mandate. His mandate was extremely broad. Let's look at it piece by piece.
/1
I went back to
#Rosenstein
's original letter appointing
#Mueller
. A simple reading makes it obvious that Mueller's mandate was the farthest thing from restrictive (as we have constantly been told.) It was actually remarkably BROAD. /3
nytimes.com/interactive/20…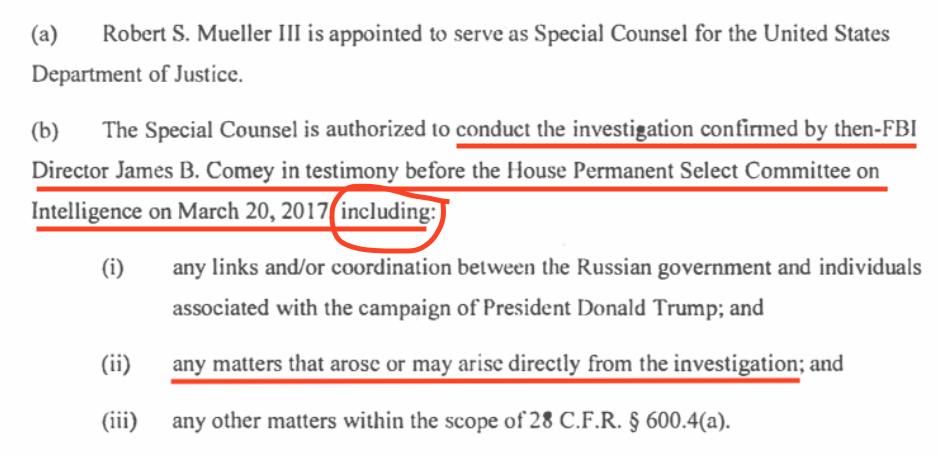 It is certainly not restricted to 'collusion' or obstruction. Since it was so open-ended what DID the
#MuellerReport
find? We need to know.
/4
The next obvious question: what specifically are the parameters of the 'investigation confirmed by
#Comey
before the House on 3/20/17' referred to by
#Rosenstein
in his letter? Below are
#Comey
's words. /5
washingtonpost.com/news/post-poli…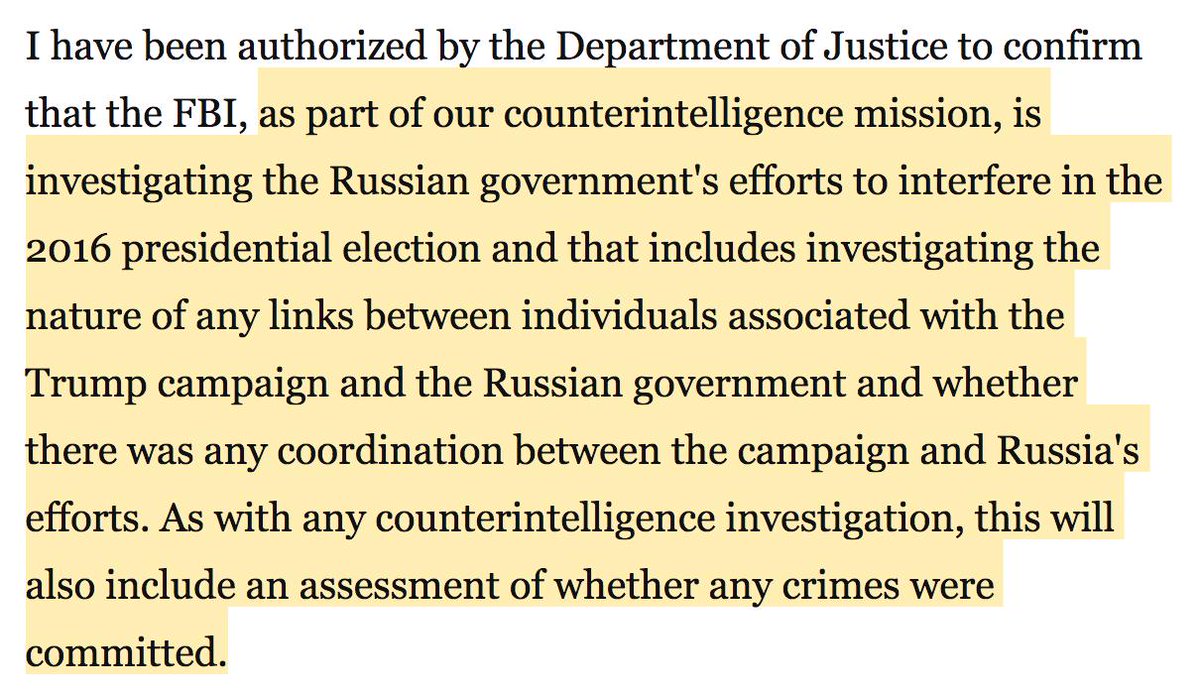 For one thing, the investigation is NOT restricted to coordination with the Russian 'government' as we have at times been told, but more widely includes coordination w Russia's 'efforts'.
/6
Most importantly: the investigation is characterized as a counterintelligence one, the question of whether crimes were committed being SUBSIDIARY. The counterintelligence investigation is not separate as it has been characterized by some, it's at the CORE of Mueller's mandate.
/7
it had a wider purpose: to inform Congress & the American people if there are grounds for IMPEACHMENT. It certainly makes ZERO sense for the House Intelligence Committee to have to launch its own separate, far less robust investigation w/o the benefit of Mueller's findings.
/10
How would we KNOW if any conduct rising to a high MISDEMEANOR occurred UNLESS we see the results of Mueller's investigation? That is critical information for Congress. Barr cannot block it from the American people simply b/c he asserts the bar of a high CRIME was not reached.
/12
Again, for emphasis, the assessment of whether any CRIMES were committed is PERIPHERAL & very clearly not what the investigation was solely tasked to assess. cc: all in media writing on this topic
/13
And for that matter what did
#Mueller
have to say about civil officers
#Rosenstein
&
#Barr
in the context of obstruction? If neither is mentioned, why not? If it DOES mention Barr/Rosenstein, can they be in the position of redacting the
#MuellerReport
for Congress?
/15
In all these cases, the highest standard of criminal proof is specifically NOT required. That's why we MUST see the
#MuellerReport
. Congress/the American people need to make a fully informed assessment of whether any impeachable offenses were committed INCLUDING misdemeanors
/16
All to say, quite clearly
#Barr
is obstructing justice by refusing to release the
#Mueller
report unredacted by his own heavy hand (or by Mueller's team under HIS instructions). We need to understand the findings of the report. It is critical for our
#NationalSECURITY
.
/17
Oh and major PS: there is NO REASON why any third party who participated in a high misdemeanor that put our nation at risk should have any relevant information redacted in order to protect their 'reputations'.
/18
If their reputations suffer because they acted in unethical, corrupt and unpatriotic ways, so be it. For our national security, we NEED TO KNOW.
#Barr
must show
#Congress
the full report.
@HouseDemocrats
@SenateDems
/END