On Negative rates: 3d
Why IMHO this article is wrong, and why CBs are wrong. Why in particular the
@ecb
is wrong
@micheleboldrin
@DeShindig
@Phastidio
@monacelt
@jeuasommenulle
@dlacalle_IA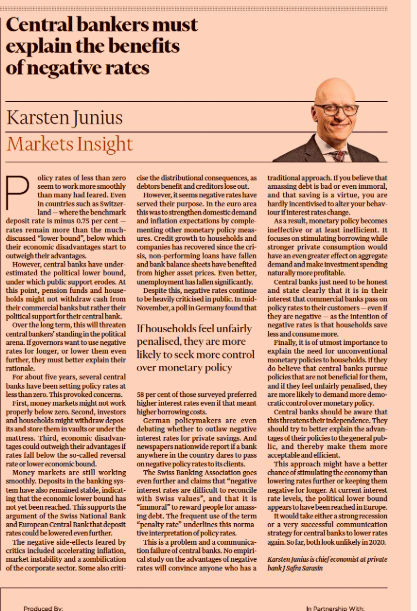 Who is affected by Negative rates?
1)
those who have savings
2)
those who can save
3)
The borrowers
if we buy the narrative that Negative rates were primarily crafted at increasing Consumption vs Savings or spur Investments, why is it not working?
Why 1) and 2) are not consuming more???

Well....1) and 2) are consuming as much as their preferences dictate regardless of the level of rates. And still they can save.

What negative rates can do to the preferences of 1) and 2)?
Well they can only stimulate more savings, if any.

Let assume 1) and 2) wants to retire with a rent of 100eur per month in 10 years.

With Bund at 1%, 1) and 2) have to set aside 90 eur today
With Bund at -1% 1) and 2 have to set aside 110= EUR TODAY!!!
Push the time frame at 30 years with +-1% rate at the 2 figures are
+1% at 30yrs you need to set aside 75 eur today to have 100eur in 30y
-1% you have to set aside 135 eur today top have 100 in 30y

SO DONT BE SHOCKED IF NEGATIVE RATES STIMULATE "S" INSTEAD OF "C"
THE BORROWERS
(3)
Do CBs want Investors to take their own decisions based on zero cost of debt?
Do CBs want Agents to allocate capital on that basis?I mean ROIC at 2%?
Do they want all of us to become zombies?
Pushing negative rates even further is gonna backlash further.
end