A detailed reminder that the US-armed "Free Syrian Army" was mainly a PR front for Al Qaeda, ISIS and other jihadist terrorism in
#Syria
. A must-read:
libertarianinstitute.org/foreign-policy…

2)
Inside
#Syria
, since the beginning, it was always understood that there was essentially no difference between US-armed FSA "rebels" and Nusra/terrorists. The FSA said it themselves:

3)
There is also ample evidence that the US military avoided targeting Nusra (Al Qaeda) and even expected the terrorist group to welcome working with the US-armed FSA: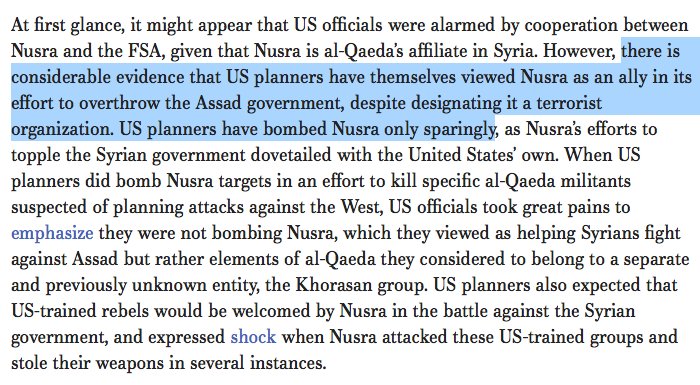 4)
During the Pentagon's disastrous $500M rebel training program, the US-armed trainees went straight into the
#Syria
theater to work with Nusra terrorists:
rt.com/op-edge/313792…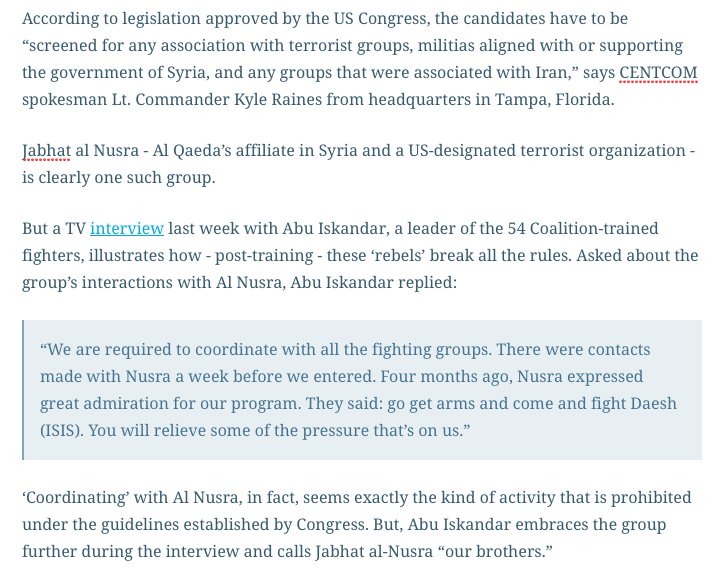 5)
Here's what a CENTCOM spox told me when I asked what the Pentagon thought about its "rebels" working with Al Qaeda: "We don't 'command and control' these forces - we only 'train and enable' them...Who they say they're allying with, that's their business." Literally, wow.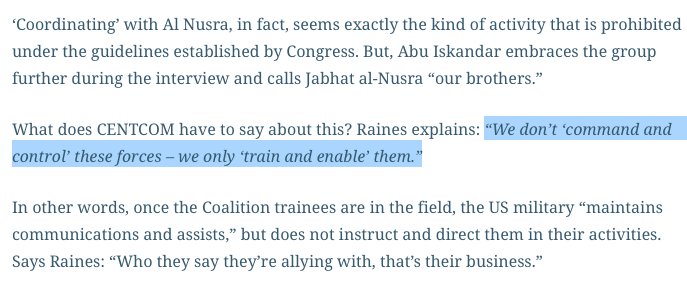 6)
The US funneled weapons directly and indirectly (via allies) to the FSA throughout
#Syria
's conflict, knowing full well these weapons ended up with Al Qaeda (Nusra), Ahrar al Sham, Jaish al Islam, ISIS & other terrorist groups.

7)
It's just the US's way of avoiding detection and circumventing law. When you're in year 7 of a conflict, and you noticed in year 1 that your weapons were being funneled to terrorists, you've been COMPLICIT for 6 years.
8)
It's the old 'plausible deniability' game the US plays while ensuring a steady delivery of weapons to every radical jihadist group operating inside
#Syria
, including Al Qaeda and ISIS.

9)
There's much more to emerge on US cooperation with Nusra, ISIS & other terror groups in months & yrs to come. Journalists must write these stories while the evidence still exists on the ground. So do please read this latest article on the subject:
libertarianinstitute.org/foreign-policy…