We're now going to Brazil, where a Sao Paulo court ruled that the censorship of a play about a transgender Jesus is unconstitutional.
jezebel.com/sao-paulo-cour…
The play The Gospel According to Jesus, Queen of Heaven, which follows Jesus living as a transgender woman in the present day, became so popular inside
#Brazil
that it went on tour around the country.
(Photo:
@JundiaiAgora
)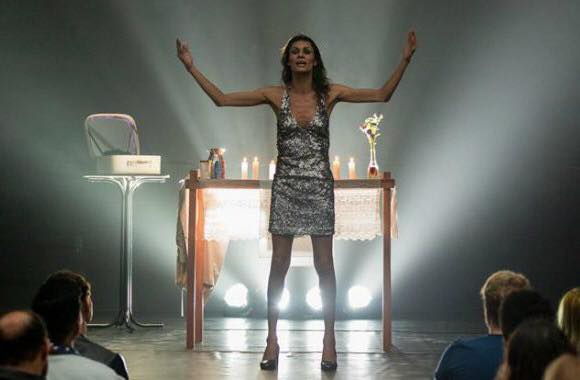 Originally presented in 2009, the play recounts the story of Jesus living in the present as a trans woman grappling with intolerance while at the same time offering a message of forgiveness.
theguardian.com/stage/theatreb…
After a Brazilian judge banned it, the writer of the play, Jo Clifford, said to
@TheScotsman
that her play's critics were unaware of its Christian message of love and compassion.
scotsman.com/lifestyle/edin…
Despite being heavily criticized by the Church of Scotland, the play was not banned in Clifford's homeland. So why did it happen in Brazil? A look at the treatment of trans and gender diverse people there may shed some answers.
A recent report by Grupo Gay da Bahia documented 445 LGBT murders last year in Brazil, including 191 transgender people. According to the report, "more LGBT people are killed here than in those where being an LGBT person is punished with death."
homofobiamata.files.wordpress.com/2017/12/relato…
Last year, a video which showed the killing of a transgender woman after being tortured, beaten and shot stunned Brazil. A study by
@Transrespect
suggests that 40% of the trans and gender diverse people recorded since 2008 occurred in Brazil.
nytimes.com/2017/03/08/wor…
Meanwhile, President Michel Temer's government has been criticized for stripping away LGBT rights, while local politicians are accused of fostering intolerance against the trans community.
pri.org/stories/2017-1…
And Brazilian judges seem to be particularly harsh with the LGBT community. In 2017, a Brazilian federal judge decided psychologists could perform "conversion therapy," a widely discredited practice meant to change a person's sexual orientation.
theguardian.com/world/2017/sep…
Rio de Janeiro's Mayor Marcelo Crivella, an Evangelical bishop from a controversial church operating across Latin America, refused to support gay pride parades. Years before, he wrote that homosexuality was a "terrible evil."
forbes.com/sites/shannons…
Mayor Crivella is just the tip of the iceberg of Brazil's Evangelical, ultra-conservative elite's ascension in politics, which is also executing attacks on progressive culture symbols and events. In 2017, they forced the cancellation of a queer art show.
theguardian.com/world/2017/sep…
Evangelical-backed groups as the Free Brazil Movement were behind that move, which called for a boycott of the museum hosting the queer art show. The boycott proposal escalated to harassment of museum patrons.
smithsonianmag.com/smart-news/ami…
Last year, right-wing radicals also went after feminist philosopher Judith Butler, burning her in effigy when she visited Sao Paulo and wielding crucifixes and screaming "burn the witch," displaying what looked like a protest from the Middle Ages.

A similar group called Tradition, Family and Property (a phrase related to people supporting right-wing values, and often sympathetic to dictatorship regimes in Latin America) protested before a performance of the play and forced its cancellation.
www1.folha.uol.com.br/ilustrada/2017…
Last year, a judge granted an injunction and called the play "offensive," but that has been ruled unconstitutional by São Paulo's highest state court. Judge J. L. Mônaco da Silva wrote that the earlier injunction amounted to "true cultural aggression."
hyperallergic.com/429327/brazili…