We are live at the First Live Surgery Training for
#Gender
Affirmation Procedures in the United States. Dean Dennis Charney and Dr. David L. Reich welcome attendees to the course.

"Primary care is so important for everyone to make sure we address all the needs." - Howard Zucker, Commissioner of Health for New York State
Dr. David L. Reich discusses how our doctors worked to put together a program that would address the basic information that every surgeon should know about transgender surgery.
Dr. Jess Ting, Director of Surgery at the Mount Sinai Center for Transgender Medicine and Surgery, hopes that this can be the start of openness and free sharing of knowledge.
Dr. Gail Knudson, President of
@WPATH
, provides an introduction to Standards of Care and how it relates to surgery.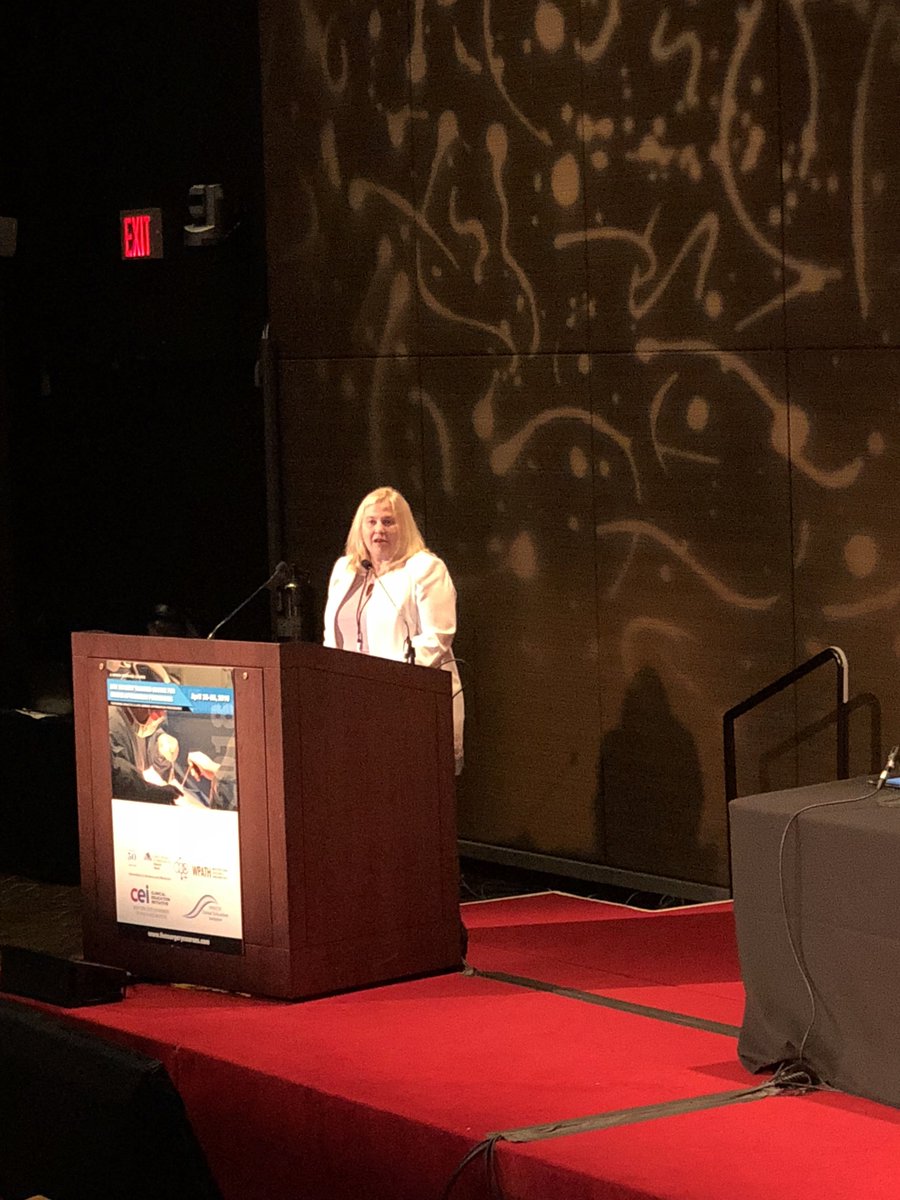 The purpose of
@WPATH
's Standards of Care is to provide safe and effective pathways to achieving lasting personal comfort in order to maximize overall health.
Dr. Gail Knudson discusses the criteria for adults to obtain hormone therapy, chest surgery, breast augmentation, gonadectomy, and genital surgery.


When helping people plan for a surgical procedure, Dr. Gail Knudson suggests exploring past experiences with surgery, stressing the importance of having an advocate/support team, and constructing a list of items to ask the surgeon/nurse.
Dr. Gail Knudson encourages attendees to be involved as
@WPATH
moves forward with SOC 8. They want this to be a living document, and welcome all feedback.
Dr. Scott Leibowitz, Medical Director of Behavioral Health Services for THRIVE, discusses Development of Gender Identity.

#Gender
refers to a person's personal core sense of self as male, female, aspects of maleness and/or femaleness or neither. This typically develops with language around 3 years old.
Dr. Scott Leibowitz explains that gender expression refers to how someone expresses their gender through dress, speech, mannerisms, and behavior.
#Cisgender
and
#transgender
really refer to the connection between gender identity and sex anatomy.

Some biological factors of
#gender
identity include in utero hormonal exposure, genetics, brain structures, and brain morphology. Dr. Scott Leibowitz discusses challenging biology, talking about how gender is a societal construct and gender differences are experienced by humans.
Some of the aims of the initial assessment of a child/adolescent is to obtain a bio-psycho-social understanding, create a diagnosis list, and identify goals of treatment.
Dr. Scott Leibowitz recommends asking open ended questions and working to help parents develop healthy gender language.
For your surgical practice, Dr. Scott Leibowitz recommends developing relationships with mental health clinicians. Assess the clinician's experience, and educate the clinician on the surgical aspects of care.
Dr. Randi Ettner, clinical and forensic psychologist, talks about the role of the mental health professional in
#transgender
surgery. She reviews the history of the surgery, and how much has changed over time.

"By listening, mental health professionals learned that every person's gender identity and gender expression is as unique as a fingerprint." - Dr. Randi Ettner
The mental health professional's role is integral to treatment. Some aspects include counseling to help identity consolidation, addressing family and other social issues, and discussing internalized transphobia.
"The surgeon is the captain of the team, but we're here to support the surgeon." - Dr. Randi Ettner
Dr. Joshua Safer, Executive Director of the Mount Sinai Center for Transgender Medicine and Surgery, begins to discuss
#hormone
therapy and how it is a relatively safe intervention.

According to Dr. Joshua Safer, controlling the level of androgens is a key step. A typical goal should be to replicate the levels of sex steroids according to
#gender
identity.
Dr. Joshua Safer discusses how for any hormone regimen, we are following testosterone. He stresses how important it is to not neglect pap smears and mammograms.
The strategy for a male to female treatment requires anti-androgens. Spironolactone is usually essential. Other anti-androgens like Leuprolide and Cyproterone acetate are also acceptable.
For trans feminine, we follow serum testosterone, estrogen level, and prolactin, among other blood tests. It is important to consider bone density.
Dr. Asa Radix, Senior Director of Research and Education at the Callen-Lorde Community Health Center, discusses pre and post operative care and primary care. Patient education and counseling is essential to this process.

Dr. Asa Radix mentions important questions to ask about post operative care before someone goes through surgery, ranging from support systems to transportation arrangements. It's imperative to discuss a follow-up plan.
Zil Goldstein, NP, the Program Director at the Center for Transgender Medicine and Surgery at Mount Sinai, talks post operative and primary care.

If you have patients going in for free silicone removal, they should do it with a local surgeon because of the many things that can go wrong with post operative healing.
Zil Goldstein, NP, mentions that the most important thing when you are managing a patient after a vaginoplasty is to make sure they are dilating.
Dr. Zoe Rodriguez, Vice Chair of Operations of Obstetrics and
#Gynecology
at Mount Sinai Beth Israel, talks about
#fertility
preservation. Research suggests that about half of transmen and transwomen desire biological children.

As providers, there's plenty that can be done to help patients along and give them options for fertility preservation. Prior to the initiation of gender affirming hormone therapy, hysterectomy, and/or gonadectomy, all patients are advised of the impact of future fertility.
Some of the process for fertility preservation includes a formal consultation with a reproductive endocrinologist, an initial evaluation with bloodwork and a pelvic sonogram, exogenous hormones, and cryopreservation.