As I wrote in December 2016, rogue pro-Trump agents in the NYC FBI office did all they could to make FBI leadership fear an illegal leak of confidential information about the Clinton investigation in October of 2016 *so Comey would violate FBI regs and intercede in the election*.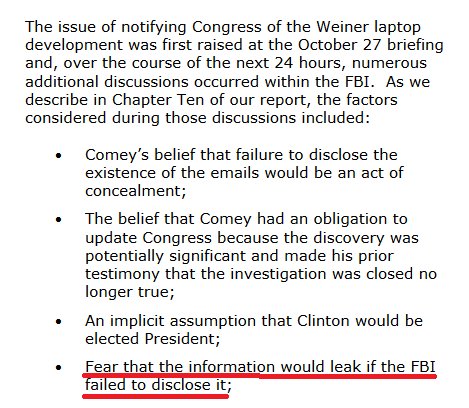 2/
The NEW YORK TIMES reported that Comey feared illegal leaks from the NYC field office. He's saying otherwise now, it's clear, to protect the FBI. The good news: the IG found many other FBI leaders willing to put the good of America above the good of the FBI and tell the truth:


3/
It doesn't matter if Trump's surrogates in the NYC field office of the FBI had a 10% or 50% affect on Comey's decision to interfere with the election in a way that gave Trump the win—Comey says the decision was close and difficult, so 10% would be enough to steal the election.
4/
The IG has concluded that the threat of leaks (apparently orchestrated, as I have shown in prior threads, by informal Trump attorney Joe diGenova) had an "influence" on FBI actions in the days before the election, and that "influence" was "harm."
Trump *stole* this election.


5/
Here's one of my threads on how public evidence seems to support the theory that Trump attorney Joe diGenova aided and abetted illegal FBI leaks to the media in the days before the election, leaks which directly influenced FBI decision-making processes:
6/
Want to know why Donald Trump wanted Baker (an obscure figure in public discourse) discredited and (ideally) fired? Look no further than Baker's attempt to be a whistle-blower on clandestine pro-Trump leaks coming out of the New York field office of the FBI in October of 2016: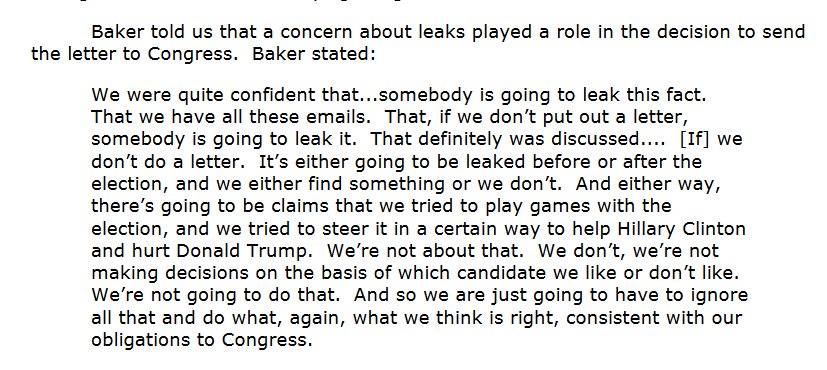 7/
Want to know why Giuliani was on FNC and on radio in late October threatening an "October surprise" that would swing the election to Trump? Because he *knew* rogue pro-Trump FBI agents were planning to illegally leak details of the Clinton probe if Comey didn't write Congress.
8/
Here's more from Baker that helps to confirm that Trump, his campaign, and his allies used rogue FBI agents who wanted him to win the election to force Comey to break FBI regulations and interfere in a national election:


9/
Putting aside that someone told the NYT in October 2016 that Comey *was* affected by a fear of leaks, even Comey—who now denies any such fear—confirms that knowing info about the Clinton probe would illegally leak *from the FBI* helped him justify interfering in the election.
10/
I've said it before: any investigator would hear evasion in Comey's answers on when he learned of the new emails, whether a fear of leaks influenced him, and whether it was FBI regs designed to protect America or attention to the FBI's rep that motivated him. Now we get this: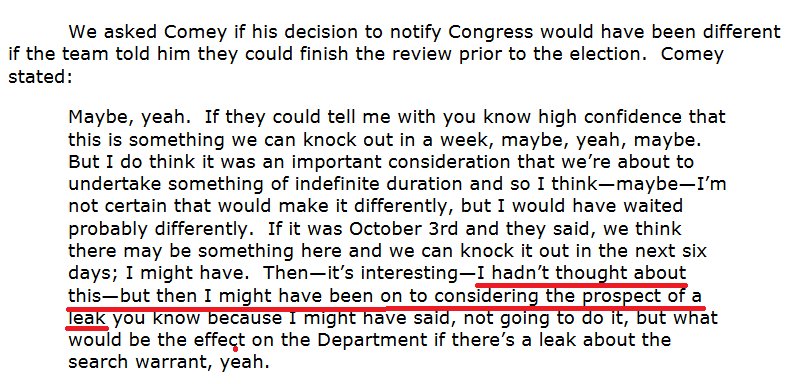 11/
I continue to think Comey was well-intended. I also think he put his own sense of the FBI's reputation over the FBI's own regulations, and then, after the fact, downplayed anything that would make the FBI look bad (e.g. pro-Trump leaks in NYC) in the aftermath of his choices.
12/
The one thing I cannot *fathom* is why Comey is criticized for announcing the charging decision in the Clinton case when Lynch had recused herself *from that decision* and said it was his to make. There's no evidence he gives that July 2016 presser if Lynch is still involved.