(THREAD) BREAKING: The revelation that Trump supporters worked with Putin allies to draw up a plan to end Russian sanctions in *February 2016*—a year earlier than thought and during the GOP primaries—could lead to a smoking gun. Hope you'll read and share.
mcclatchydc.com/news/nation-wo…
2/
Remember how Trump has been saying that Ukraine expert Paul Manafort only worked for him for "49 days" in a limited capacity, when in fact he ran the campaign for five and a half months and was an informal advisor for half a year afterward? We may now know why Trump did that.
3/
Obviously there's the *simple* explanation—that Trump is a pathological liar—and also the political explanation, which is that Manafort faces federal felony charges in two jurisdictions and Trump now wants nothing to do with him, but I'm wondering if there's more in play here.
4/
Ukraine expert Paul Manafort was dragged out of his ignominious political retirement in February 2016 by Trump friend Tom Barrack—the very same month *other* Trump allies were coordinating a massive clandestine peace deal with representatives from Ukraine. That's interesting.
5/
We know Trump, Trump's family, and Trump's campaign have all lied about not just when Manafort was hired but *why* he was hired—falsely claiming he was hired to run the GOP convention. But he was sought out by Trump pals before Trump had anything like a lock on the nomination.
6/
If Trump, Trump's family, and Trump's campaign told the truth—that Trump's closest friend, Tom Barrack, suddenly decided to set up a meeting with Manafort *before February 15th of 2016*—it'd reveal that Manafort couldn't have been hired to manage the GOP convention for Trump.
7/
And know something else: that while Manafort was hired in February and came aboard Team Trump in March, it wasn't until *April* that he wrested control of the campaign from Corey Lewandowski. And you know what his first act was? To set up Trump's speech at the Mayflower Hotel.
8/
It was at that speech—set up by Ukraine expert Paul Manafort, and including a protocol-breaching appearance by Russia's ambassador—that Trump offered Russia a "good deal" on sanctions. I've been harping on that language for over a *year* now—what the hell did "good deal" mean?
9/
We don't know if Trump's cadre of friends recruited Ukraine expert Manafort in February 2016 to help on the Ukraine "peace deal"—a sanctions deal for Putin—they were working on at that moment. But if Manafort even *knew* of it, he knew what "good deal" meant at the Mayflower.
10/
Just to situate us in April 2016, here's a picture of Manafort at the Mayflower Hotel on the day he invited Russia's ambassador to hear Trump offer a "good deal" to Russia on sanctions from a VIP seat 15 feet from the dais.
He definitely doesn't look shady, we can all agree.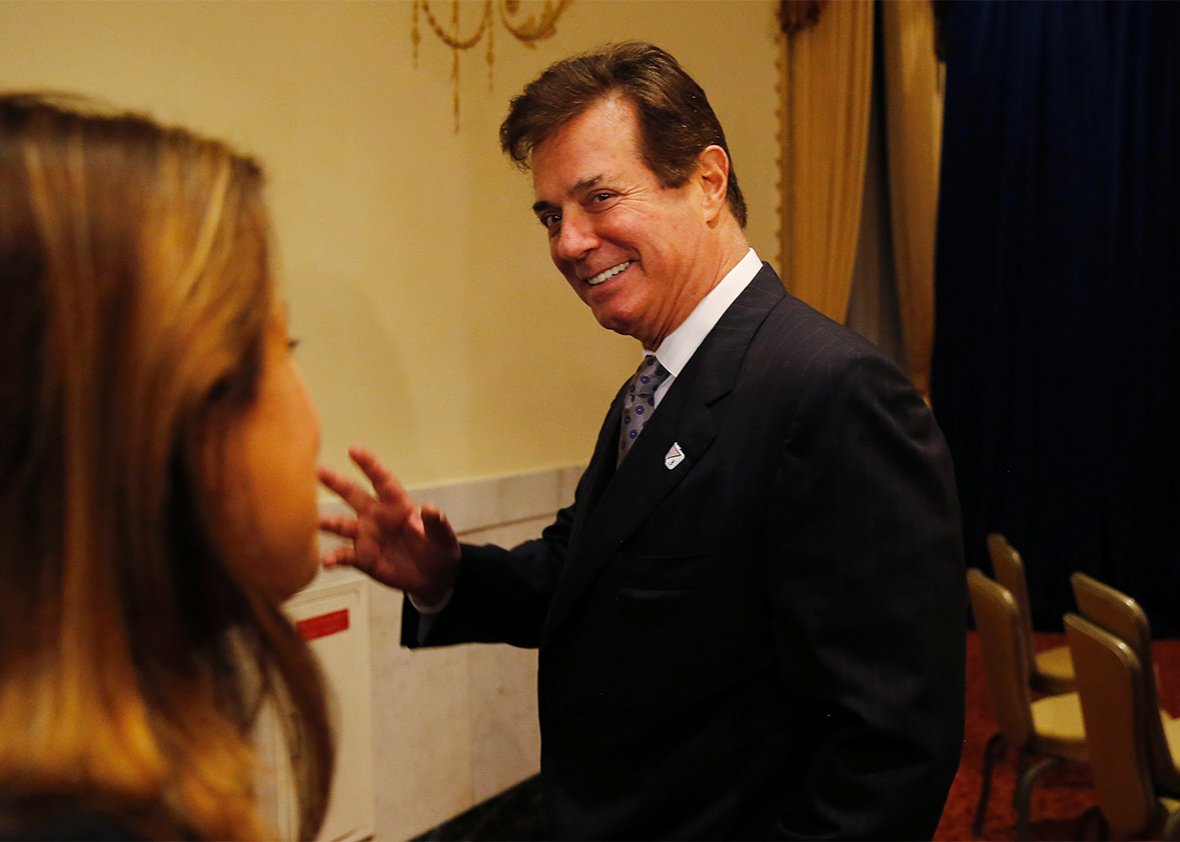 11/
But I can't help but think about Manafort—within an hour of that picture—going to a lengthy VIP "cocktail hour" with Russia's ambassador at a time Trump loyalists were working on a Russian sanctions deal. Does it explain Kislyak's protocol-busting appearance at the Mayflower?
12/
If Russian assistance for Trump hinged on the Kremlin knowing he'd drop sanctions (which it did), and if it was a "Ukrainian peace deal" that was going to get those sanctions dropped (and it was), and if Ukraine expert Manafort was hired for no other clear reason (he was)...
13/
...aren't those things at least somewhat likely to be related?
But there's more. Much more. Because he's the thing you have to remember: do you know what Trump *actually* put campaign manager Paul Manafort in charge of during the GOP convention? That's right: Ukraine policy.
14/
It's been widely reported that it was actually *Rick Gates*—Manafort's deputy—running the GOP convention for Trump. It's less clear what *Manafort* was doing. But one thing we *know* he did was *lie on national TV about whether Trump pushed for a platform change on Ukraine*.
15/
(I hope it goes without saying that Manafort deputy Rick Gates—the man running the GOP convention for Manafort and thus for Trump—was *also* a top Ukraine expert, and that Gates *directly* managed the team that pushed for a pro-Kremlin change to the GOP platform on Ukraine.)
16/
The biggest moment for Manafort at the convention was when he repeatedly said on national TV that the Trump campaign had no involvement whatsoever in the changing of the GOP platform on Ukraine, which was a lie. So why was he in charge of spreading it?
17/
And why did J.D. Gordon—the day-to-day head of Trump's national security team, and the man who pushed for the platform change on Ukraine—tell media that he was told to do so by Trump on March 31, 2016, at the campaign's first national security meeting after Manafort's hiring?
18/
And why (and you should feel free to check me on this) did Trump say the exact phrase "I was not involved" FIVE TIMES IN FIFTEEN SECONDS (think about that for a moment) when George Stephanopoulos asked him about his campaign's involvement in the platform change on Ukraine?
19/
The upshot: washed-up politico Paul Manafort's involvement in Trump's campaign (which also meant fellow Ukraine expert Rick Gates' involvement in the campaign) only makes sense at such at early date—February '16—if Trump saw the Ukraine as key to placating Putin, which it is.
20/
Mueller has Gates—maybe soon, Manafort. All he needs to do is close the circle by establishing that Manafort, Gates, or both were aware of the Weldon-Rovt Ukraine peace deal (Russia sanctions deal) in February/March '16 and Trump-Russia coordination is legally CONFIRMED. /end
UPDATE/ I just found the link between Manafort and Rovt that I was speculating on in this thread. I'm embarrassed to say it only took me 60 seconds (literally).
UPDATE2/ And Weldon is connected to—wait for it—Russian oil/gas. "DOJ probed his actions to support a Russian-managed energy company that gave his daughter a $500,000 PR contract. Soon after the contract signing, he corralled 30 lawmakers for a dinner to honor the company's CEO."