Revealed: Google is planning to launch a censored search engine in China that will blacklist websites & search terms about human rights, democracy, political opposition, academic studies, religion, & peaceful protest:
theintercept.com/2018/08/01/goo…
The confidential project - code-named "Dragonfly" - has been underway for more than a year. It's a dramatic shift in Google's policy on China nearly a decade after the internet giant pulled its search engine out of the country, citing concerns about "forces of totalitarianism."
A source familiar w/ the plans is raising concerns about the censored search platform, saying Google is "collaborating in the oppression of [China's] people." Amnesty International has condenmed the project, calling it "a big disaster for the information age."
Google's CEO Sundar Pichai has spearheaded the project, saying he cares about "servicing users in every corner." In December, Pichai travelled to China & held a private meeting with Wang Huning, known as "China's Kissinger," one of president Xi Jinping's top advisers.
The plan is to launch the search engine in a custom Android app designed for China. Versions of the app have been given names such as "Maotai" and "Longfei." It could be released within the next six to nine months, pending Chinese government approval.
Documents & sources say the app has been designed to automatically identify & filter websites blocked by the so-called Great Firewall. It will remove any blocked pages - such as news articles from the New York Times website - from the first page of results users are shown.
The search app will also "blacklist sensitive queries" so that "no results will be shown" at all when people enter certain words or phrases, documents state.
The censorship will apply across the platform: Google's image search, automatic spell check & suggested search features will incorporate the blacklists, meaning that they will not recommend people information or photographs the government has banned.
Google refused to answer any of my questions about its plans for a censored search engine in China. But it has now issued a statement to Bloomberg, essentially saying: "no comment."
bloomberg.com/news/articles/…


Examples cited in the documents of websites that will be subject to the censorship include those of British news broadcaster
@BBC
and the online encyclopedia
@Wikipedia
.
theintercept.com/2018/08/01/goo…


Amnesty's
@PatrickPoon
: "This has very serious implications not just for China, but for all of us, for freedom of information and internet freedom. It will set a terrible precedent for many other companies..."
theintercept.com/2018/08/01/goo…


Source familiar w/ the project fears "what's done in China will become a template for many other nations." Says: "I'm against large companies & govts collaborating in the oppression of their people & feel like transparency...is in the public interest."
theintercept.com/2018/08/01/goo…


A key factor in the timing for the planned release of Google's censored search app in China is the current trade war with the US. The tensions have impacted Google's dealings with Chinese officials & slowed down the process.
But Google search chief Ben Gomes recently told staff that due to President Trump's unpredictable style of governing, they must be ready to launch at short notice, in case "suddenly the world changes or [Trump] decides his new best friend is [China's President] Xi Jinping."
Some background: Since 2015, under Sundar Pichai's leadership, Google has made a concerted effort to ramp up its presence in China. It launched a translate app for China in March 2017; an AI research hub in Beijing in Dec 17; file manager app in May 18; WeChat game in July 18.
Google also last month invested $550 million in Chinese online retailer
JD.com
& it operates a big advertising team out of China, which has been quietly raking in billions of dollars. Most of this activity has flown under the radar & not had widespread coverage.
Each of these events - the app launches, the AI research hub etc - are incremental parts of a broader strategy: normalise Google's presence in China so it'll be easier to gain the government's approval to operate the search engine (& later other Google services too, eg. YouTube).
New statement from
@Amnesty
calls on Google to abandon its China censored search plan. It's a "gross attack on freedom of information," says
@PatrickPoon
, & "impossible to see how such a move is compatible with Google's 'do the right thing' motto":
amnesty.org/en/latest/news…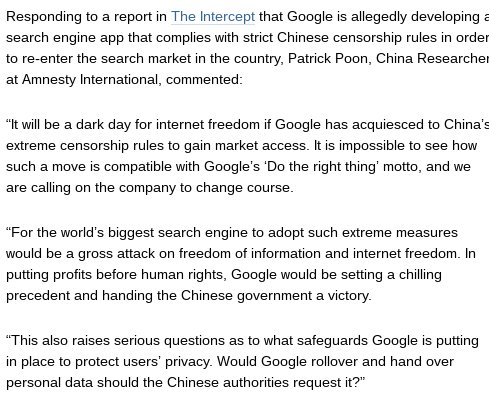 Vice News has a Google source who's confirming my report & suggesting the publicity may hinder the launch of the censored search.
news.vice.com/amp/en_us/arti…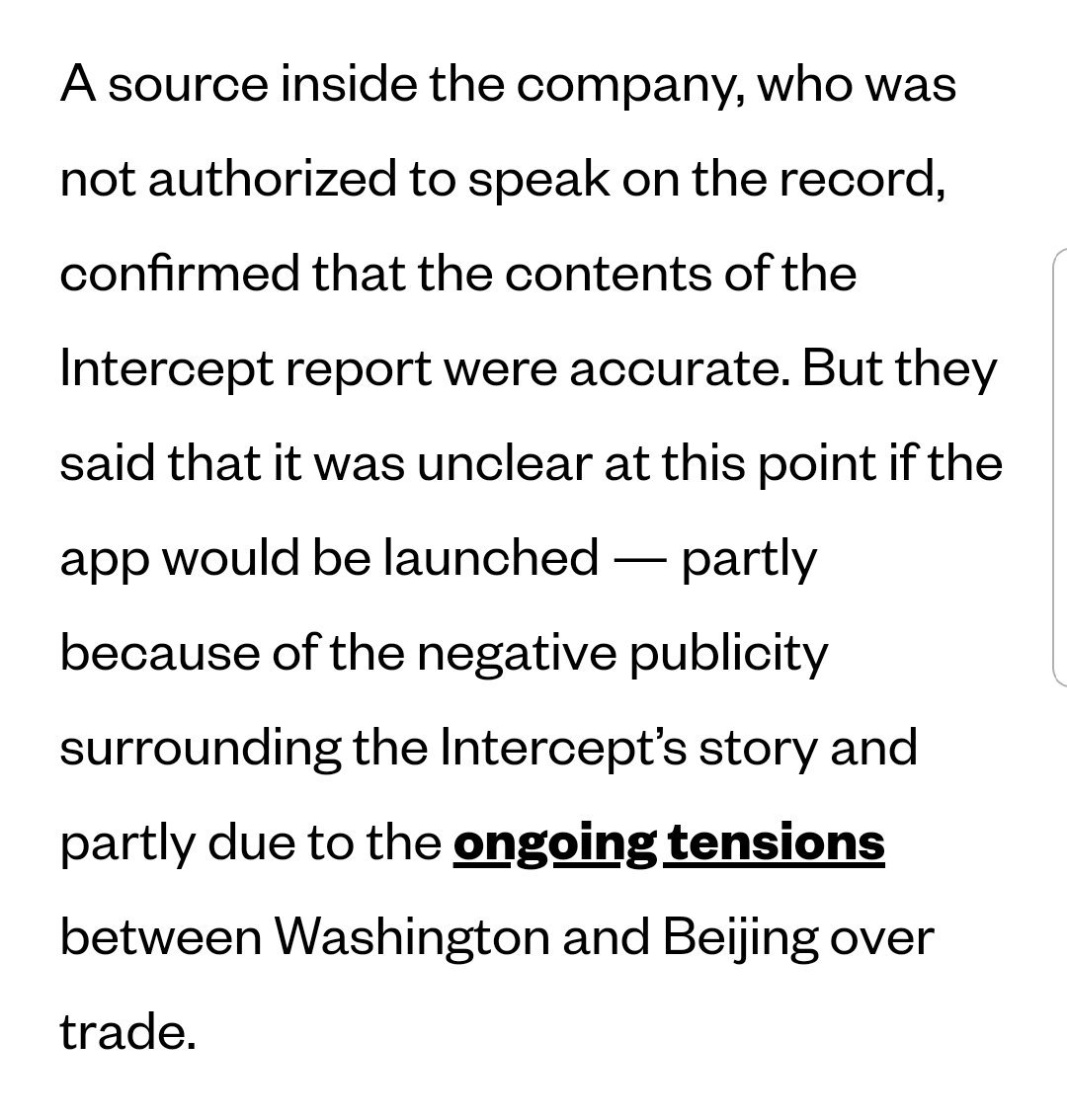 Sen. Rubio wades in, calls Google's plans "very disturbing":
Now
@nytimes
has two sources confirming the story. The dam has burst & the leaks are flowing.
nytimes.com/2018/08/01/tec…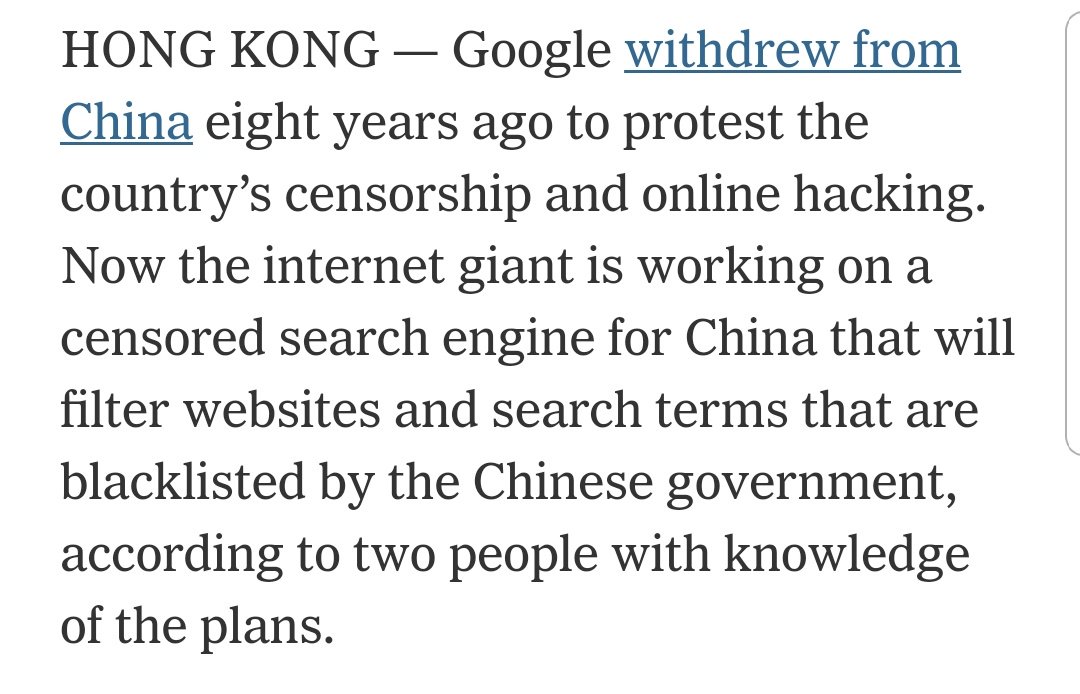 Some more follow-up coverage about "Dragonfly":
bbc.com/news/technolog…
theguardian.com/world/2018/aug…
reuters.com/article/us-chi…
ft.com/content/90db5b…
vanityfair.com/news/2018/08/g…
wired.com/story/google-m…
scmp.com/tech/china-tec…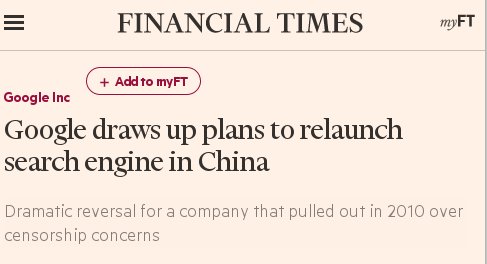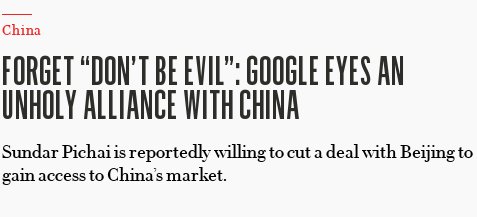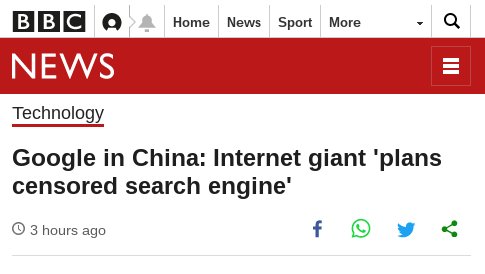 Bloomberg now has Google sources calling the "Dragonfly" project a "censorship engine" & reports one employee asked to be moved off the project citing ethical concerns:
bloomberg.com/amp/news/artic…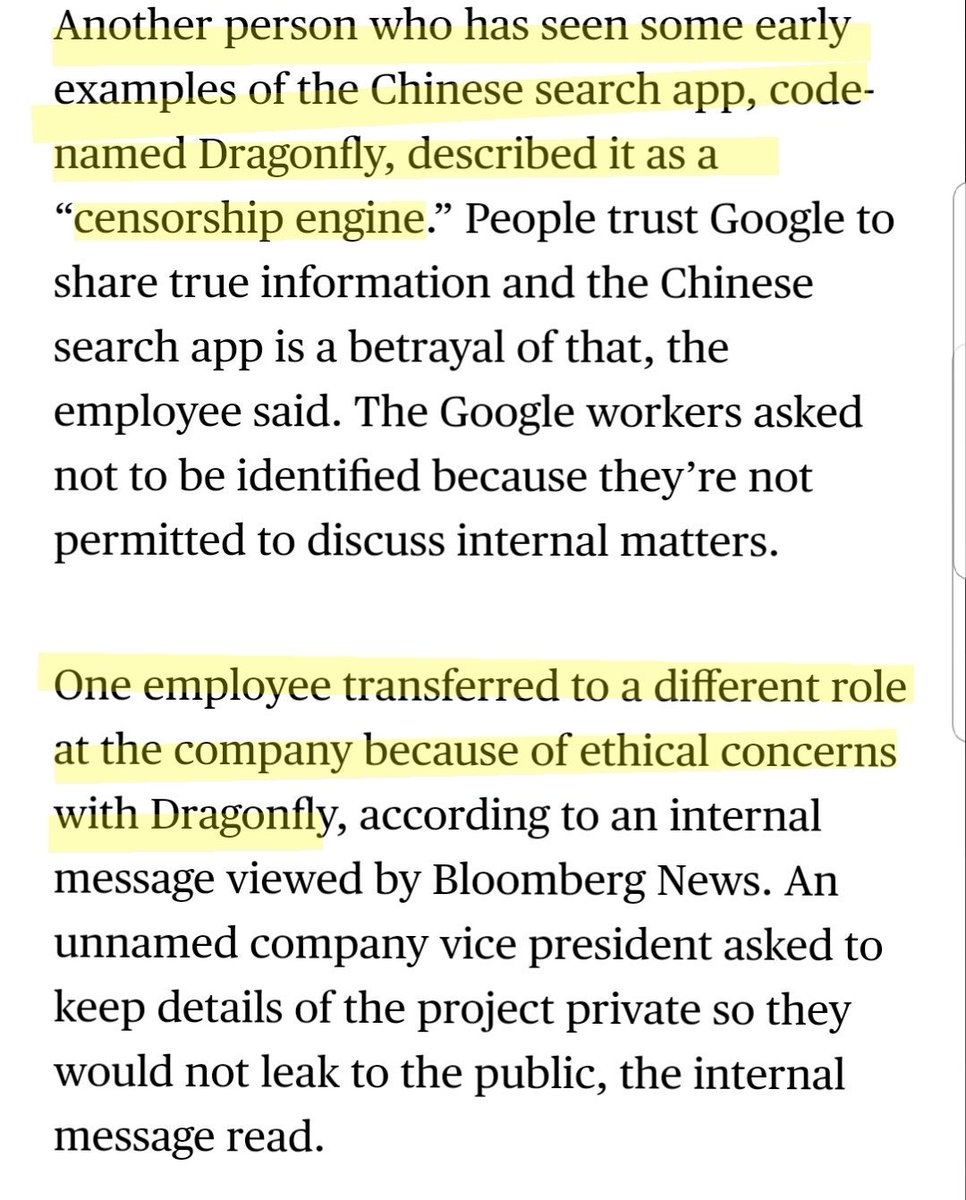 Google has tried very hard to suppress info about this project from leaking out & was successful for more than a year. Employees briefed on Dragonfly were told they could not discuss it with colleagues & to bat away questions regarding China.
But now the news has broke, it is sparking a quiet revolt. People who were uncomfortable with the project are now speaking out & employees who were kept in the dark are angry. Google can't suppress it any longer though internally is still trying. I will have more details later.
State media in China denying Google will launch its censored search in the country, citing "relevant departments." Which is either an outright lie, or since the story broke yesterday officials have decided they're going to block approval of the project.
gadgets.ndtv.com/internet/news/…