THREAD
#Russia
14 POINTS
#Maps
+ critical
#Geography
#Geopolitics
. Here is my hot take on "Understanding Russia," a new book by Marlene Laruelle (
@PONARS
) and Jean Radvanyi (2018). I hardly agree w/ all "French Eurasia" & "anti-Russophobe" arguments; it IS worth a CLOSE read. 1/16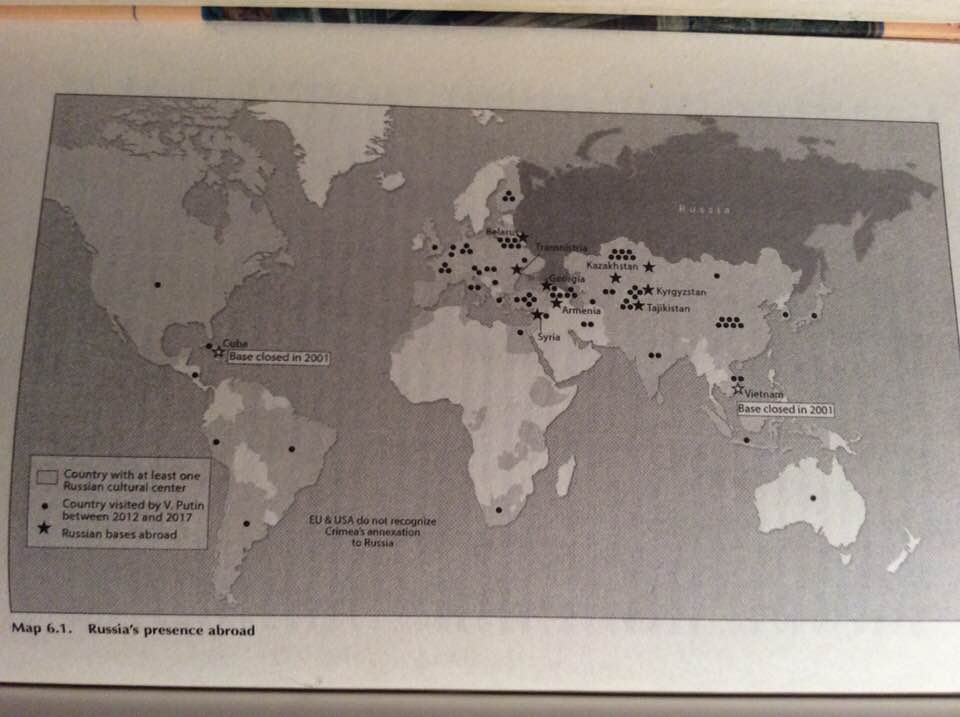 1.
(1814/5-2014) Talleyrand 1814-5 & Keynes 1919 argument, & vs. Obama's "regional" neo-containment (2008-14): Defeated Russia's greatpowerness (derzhavnost') is NOT avoidable. Sidelining a mil-nuclear & gas-rich power is dangerous. (Merkel: re: Putin in "another world.") 2/16
2.
(1954-91) One can consider, for the sake of argument, a postwar Moscow-Paris-Washington axis. The "disease" that neo-Empire Russia(ns) have is "trauma," a kind of geo-body loss, historically akin to French postcolonial retrenchment in proto-EU after the Algerian War. 3/16
3.
(1990s) Beyond propaganda, election cycles, & local pol mobilization, we need far-sighted, less presentist Russians & Russia-watchers (incl. non-ethnic Russians), being sympathetic to harmful effects of neolib globalization & protracted economic transformation & crises. 4/16
4.
(1991-2014) After shock therapy, Russia has had 3 "serious economic crises" (1998, 2008, 2014). Under (non)trickle-down, its middle-class is probably 25%-40% of pop. "Liberalizing" failures have made Yeltsin into Putin's scarecrow, fed Moscow's "normal" Eurasian business. 5/16
5.
(2000s) US/EU can benefit *more* by including & integrating global
#Russia
into "common European home." Putin admitted as much (2000) < US-Iraq war (2003-11), Abkhazia/S Ossetia (2008), & Ukraine/Crimea reframed this balance in 2013-14. Skeptic sez: that optimism is gone. 6/16
6.
(2000s-10s) Moscow's core-centric economy is transformed by migration, depopulation (of cities, esp. Siberia & Far East), & desertification (of rural Russia). W/ illiberalism & authoritarianism, Russians are v fearful & suffer from corruption (86). Oh, how they suffer. 7/16
7.
(2000-18) In terms of scale, Eurasian Russophones (& this incl. Russophones in
#Ukraine
) under Putinist corruption, centralization, & electoral fraud experience disproportionately a geopolitical "crisis" of national & European/Eurasian identities (again, after Empire). 8/16
8.
(2001-15/18) A Eurasian Economic Union is ineffective, but in CIS & landlocked post-Soviet space, it is not JUST a bunch of authoritarian dictators. W/ poor infrastructure & oil+gas overreliance, emerging-market Russia is part of BRICS (Brazil, Russ, India, China) (115). 9/16
9.
(2010s) Backed by the Moscow Patriarchate, the neo-imperial, pro-natalist, anti-LGBTQ "conservative values" & morality (nravstvennost') push in Putin's Russia is less a prejudicial ideology than a geostrategically useful "toolkit" with "unifying themes." (126) 10/16
10.
(2010s) Contra Snyder, the Kremlin has no single ideology. Regrettably, Il'in & Dugin are overblown by hysterical opportunists. If anything, the Kremlin is a victim (AND guilty of) its pop-polygeopolitical signals; like US, it invests billions to disguise weaknesses. 11/16
11.
(2010s) Russian "soft/smart power" (120) is real, but for these authors (Paris & DC), it is NOT be feared. This is NOT a Cold War. Culturally, Russians abroad are NOT being tooled by the Kremlin. Nor are they a "fifth column," or spec. target for the Kremlin's psy-ops. 12/16
12.
(2012-18) Neolib macho Putin III is nasty & brutish; the Kremlin's CEO is a pro-business (no KGB-mafia mention) & convinced cult conservative (58-61). Rightist promo of conserv values actually an insecure balancing act, defensive & offensive, esp. w/ Beijing's cautions. 13/16
13.
(now 2018) Kremlin media ops, mirroring Putin's mistrust, will not last forever. Trans-Atlantic anti-Russia NATO expansion & alliances are a correctible "mutual misunderstanding" (94-95). This can be remedied (THAW time in USSR!) by (guess!) US state policy analysts. 14/16
14.
(2018-24) Modernized Russo-Eurasia (little on human rights) will be beneficial after Putin's uncertain 2024 "end", beyond Trump & (now) far left/far right. A prosperous Russia can favorably gain support "in mainstream business circles & more centrist groupings" (134). 15/16
TAKEAWAY: Neo-détente DC policy book. Putin as temp resource manager. Not much on terror. "Post-Soviet" color revs (54-56) skirted.
#Finland
even accused of destabilizing "a state that has not yet finished defining its own territory" (10). As if no others have this right. 16/16